Monday, I had a crazy (dumb) idea. I decided to tackle the 9 mile loop at Iron Mountain in Poway, CA. I've done this trail a few times before, although not recently. It's long, difficult, and poorly marked, making it easy to get lost. It's also incredibly beautiful and rewarding. You feel like you're the only human on earth. (Of course, if you're worried about being lost, that's not a good thing.) Later in the year, it gets really hot at Iron Mountain, so I figured it might be now or never. And I decided to go.
I did not finish the trail, unfortunately. I did about 6 miles, but skipped actually going to the top of Iron Mountain. I didn't prepare for the hike very well and ended up feeling really sick. But I saw some incredible plants and got some great photos!
My new favorite flower
I began from the Ellie Ln trailhead, walking past a working farm. Soon the plants begin to change from common weeds (filaree, mustard, stinging nettles) to chaparral plants. Where I usually hike, the yucca isn't blooming yet. At Iron Mountain, the yucca stalks are shooting up right now. Some have bloomed already, which means it's too late to harvest them as food. But some have stalks growing that have not yet bloomed... yum!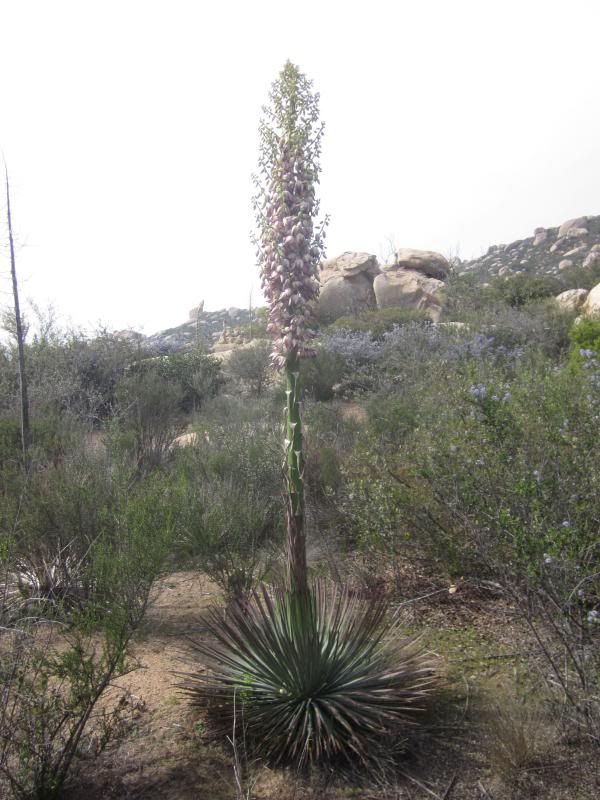 Our Lord's Candle Yucca, Hesperoyucca whipplei. This one's in bloom - too late to eat it.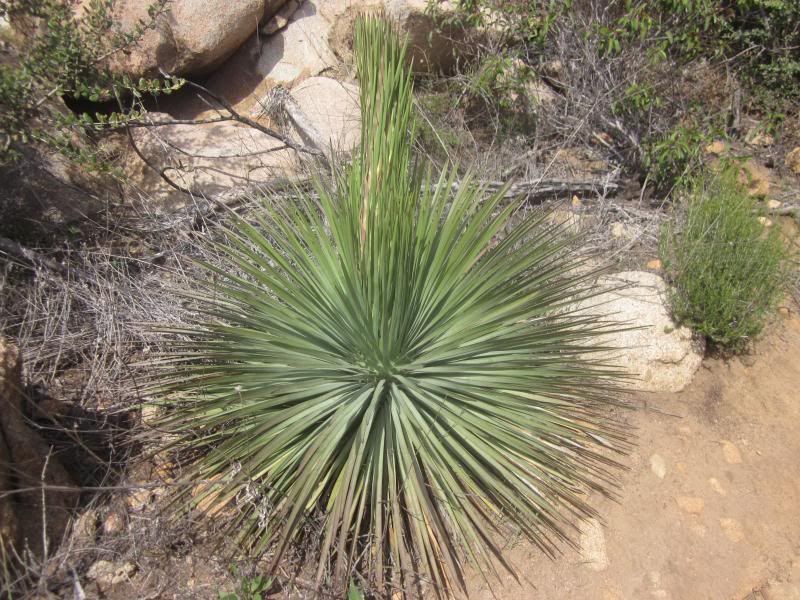 A yucca just starting to send up its stalk. Good to eat!
I came across some gorgeous monkeyflowers: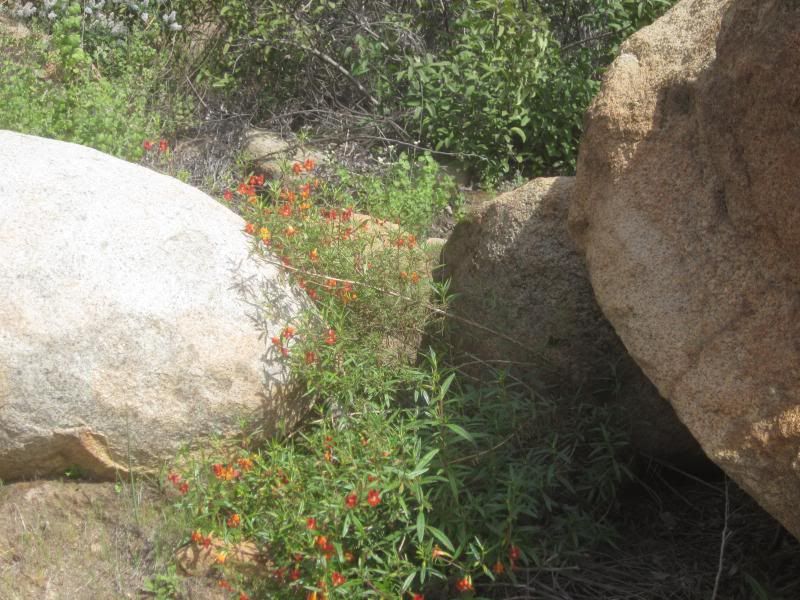 And then I found a plant I've never seen before but recognized at once: a scrub oak. Scrub oaks are no taller than shrubs, they are not the tall trees you think of when you hear the word "oak." We've actually got several species of scrub oaks around here, and I can't tell which one this is. I don't believe these were any sort of food source for indigenous peoples like the Black Oak or the Coast Live Oak were.
Acorn tops
Acorn
A scrub oak leaf
As I trekked up the mountain, I came across some lovely Parish nightshades:
And some manzanita. This is exciting, actually, because usually when I hike, I run into a lot of Mission Manzanita,
Xylococcus bicolor
, which does not have edible berries. Manzanita is Spanish for "little apples," because its fruits look like tiny apples. And whatever species grows all over Iron Mountain has edible berries! From what I've read, the fruits can be made into "cider" or jam.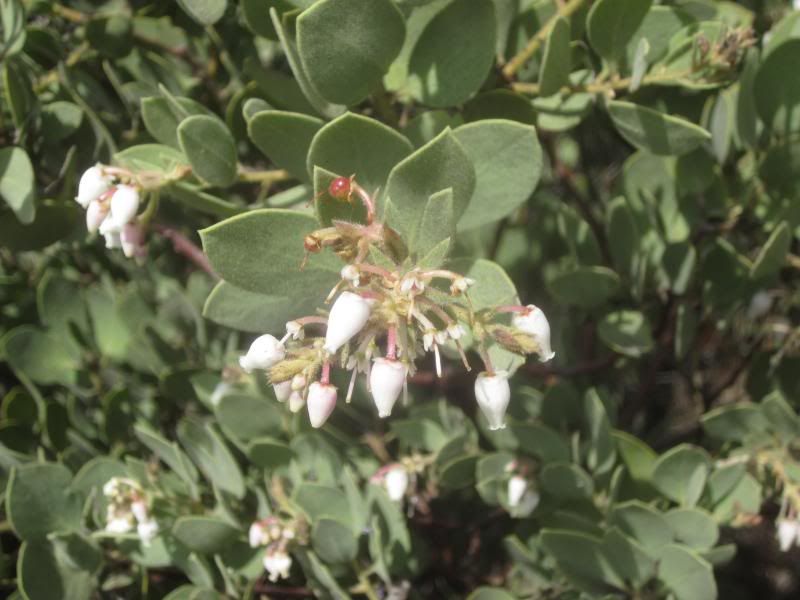 Manzanita flowers
Manzanita with berries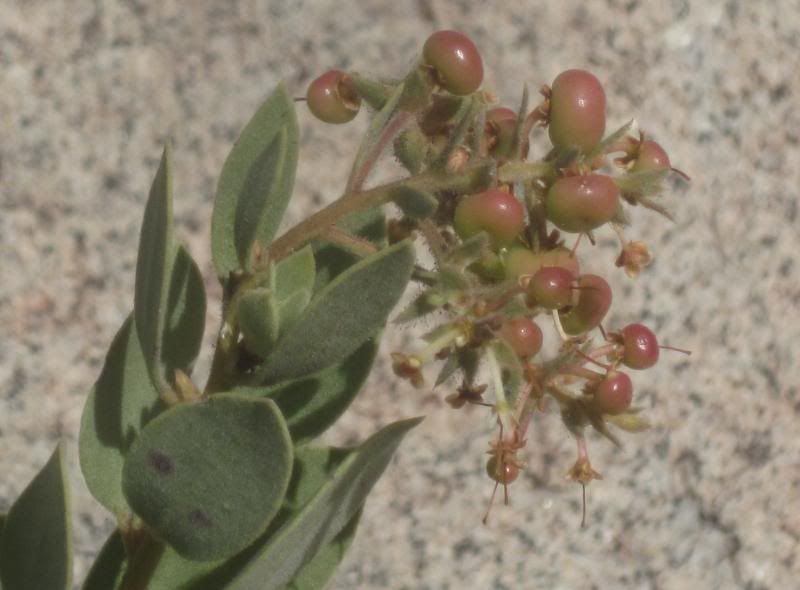 Manzanita's "little apples."
Another cool find was Yerba Santa, a plant often used medicinally by California Indians. I'm pretty certain I found Felt-Leaf Yerba Santa (
Eriodictyon crassifolium
). I'm not sure if that's the one the Indians used, or if they used Shiny-Leaf Yerba Santa.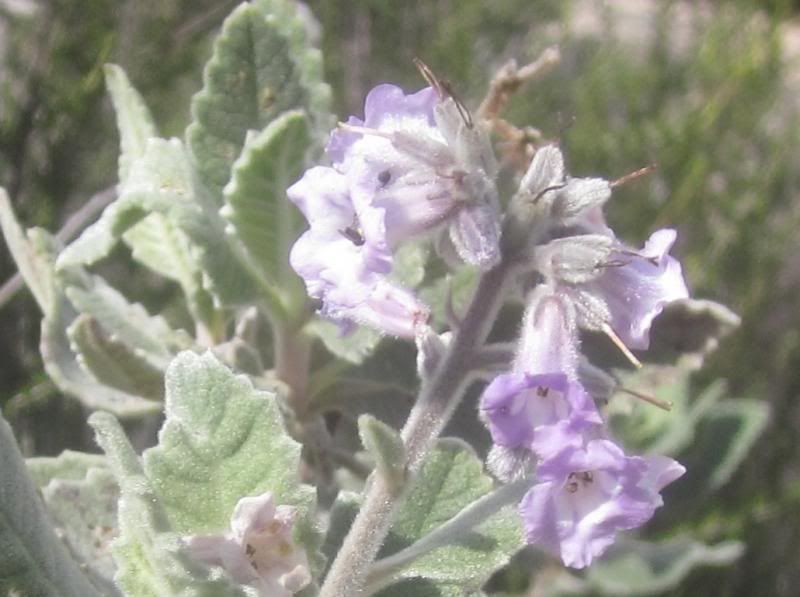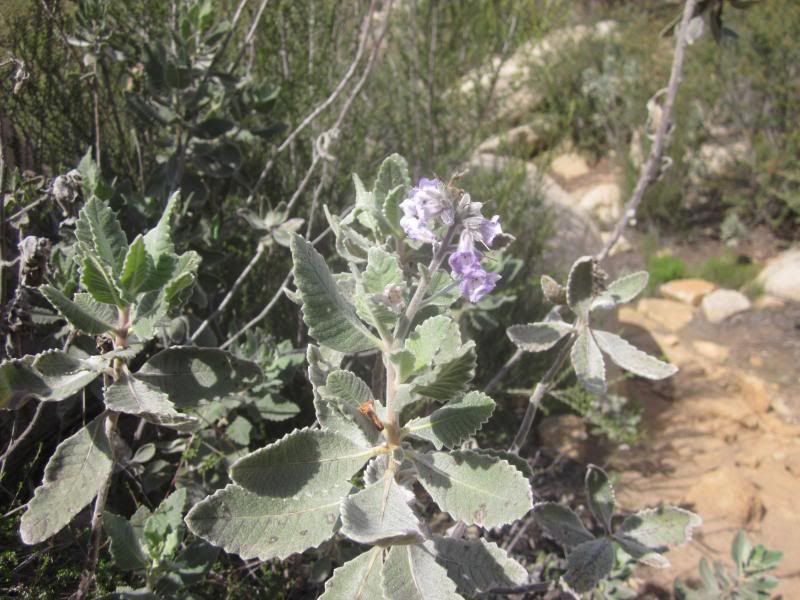 Then I found something gorgeous from the Sunflower Family: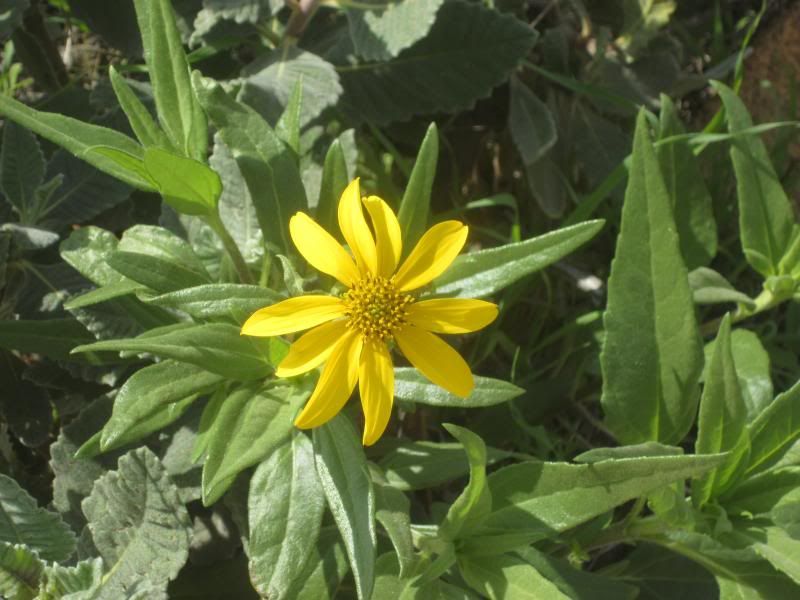 A rock rose,
Helianthemum scoparium
, I think: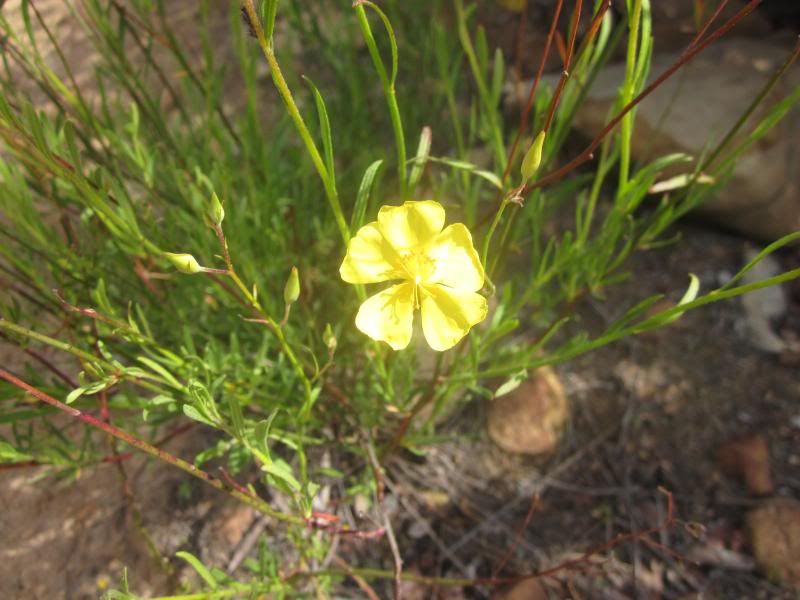 Obviously the Carrot family: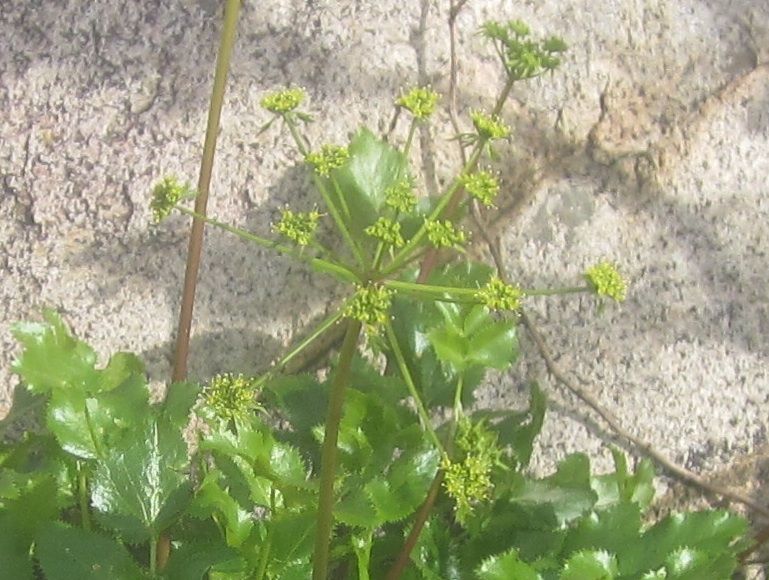 A gorgeous flower from the pea family. I'd put my money on
Lathyrus vestitus
, San Diego Sweet Pea.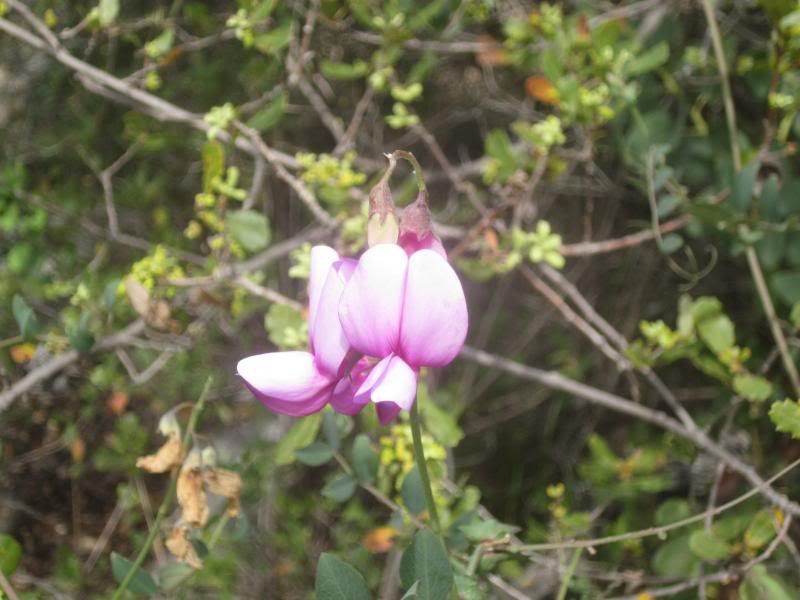 Lots and lots of yucca plants, but none are in bloom. The plant grows for many years before sending up its stalk, flowering, and dying. These plants are obviously too young to send up their stalks yet.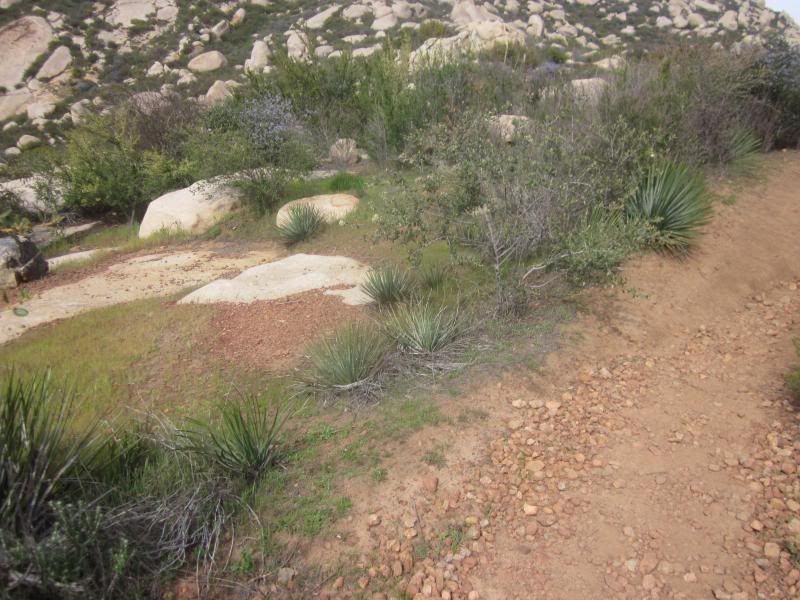 Gorgeous yucca flowers.
Blue dicks, a flower with edible corms. I haven't learned yet when and how to harvest and eat these... but I plan to find out!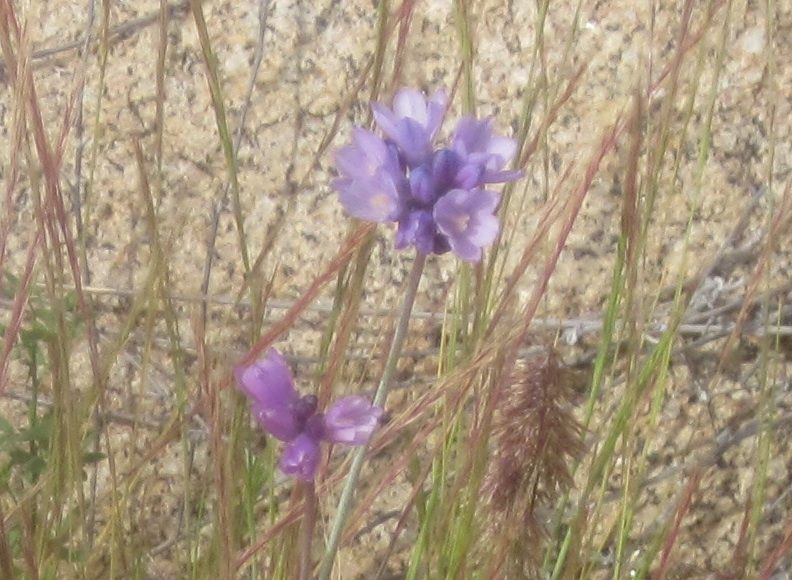 A lovely nightshade:
These look like manzanita berries, but the leaves of the plant are clearly different from the manzanita. Better not eat them!
See? A four-petaled flower that in no way resembles a bell like the manzanita flowers do.
One more shot of this one. What could it be?
Sugar bush,
Rhus ovata
.
I love my monkeyflowers:
Lovely paintbrushes:
At this point, I came across this gorgeous yellow flower. And there were TONS of them!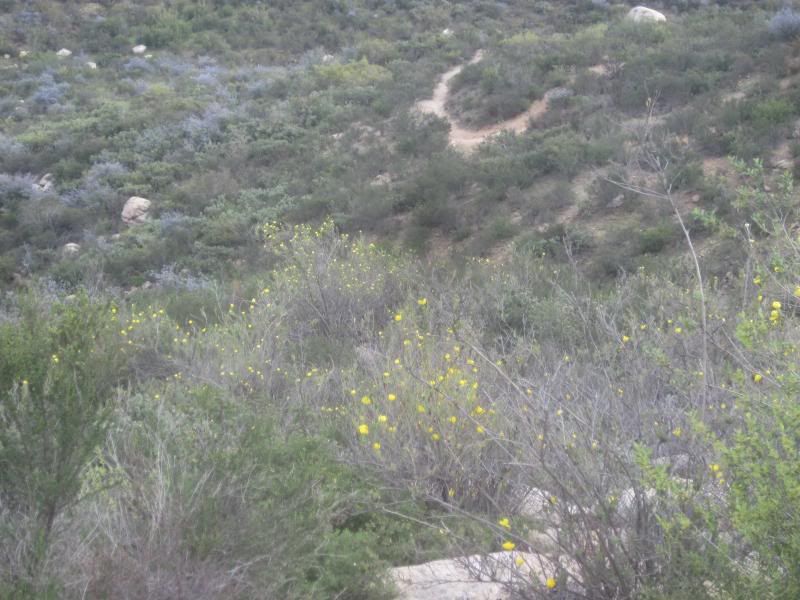 Just past the 2.5 mile marker, I came across a really gorgeous and useful plant: Woolly Blue Curls. It's in the Mint family, and the indigenous used this for digestive problems. You can drink it as a tea.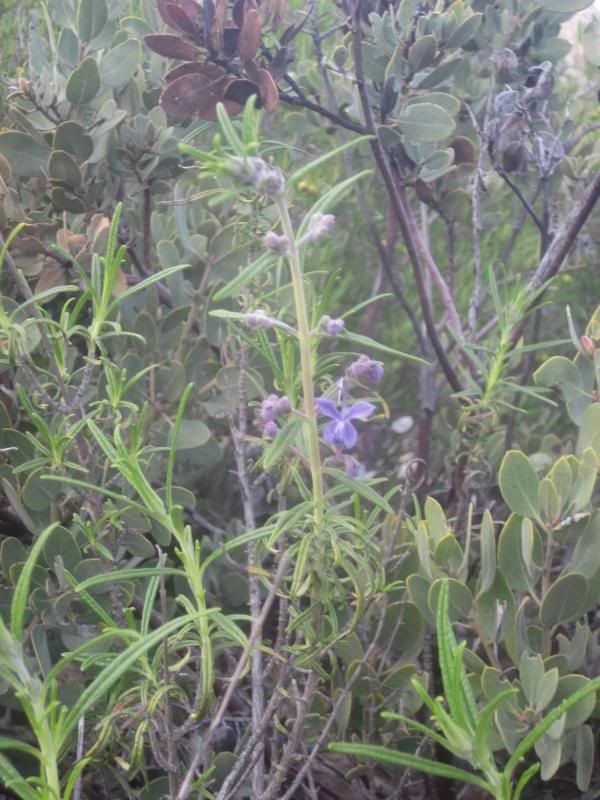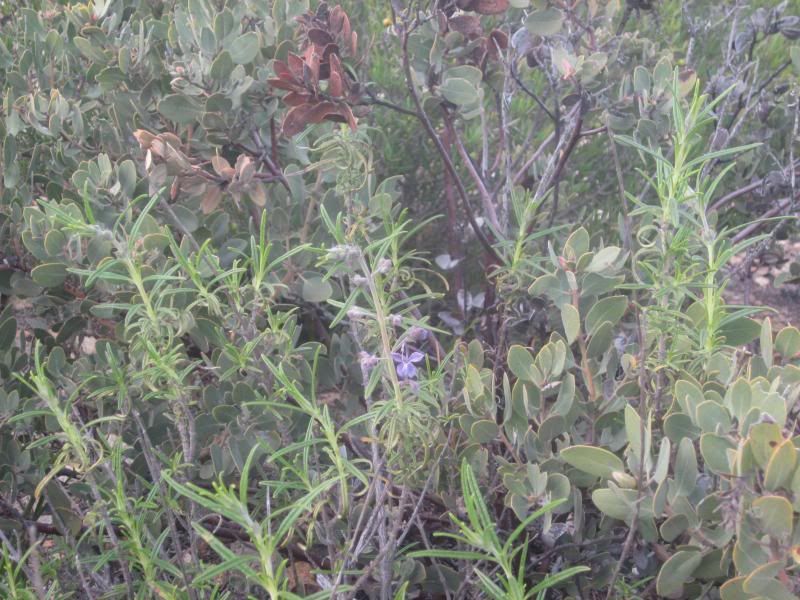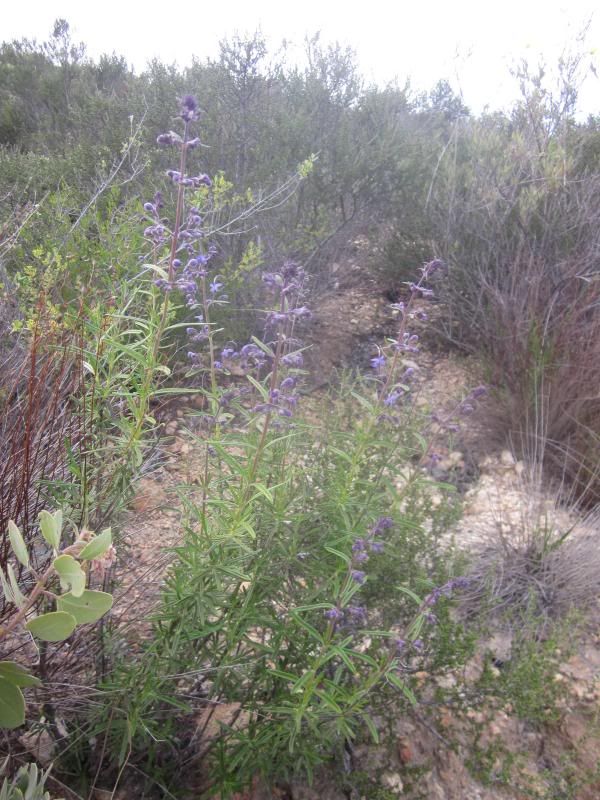 Not too long after this, my trail joined up with a more popular trail and I ran into other hikers - the first people I'd seen since I started out. Instead of going up Iron Mountain, I headed for my car. I was feeling really sick by then.
But not too sick to snap a photo of this pretty orange flower: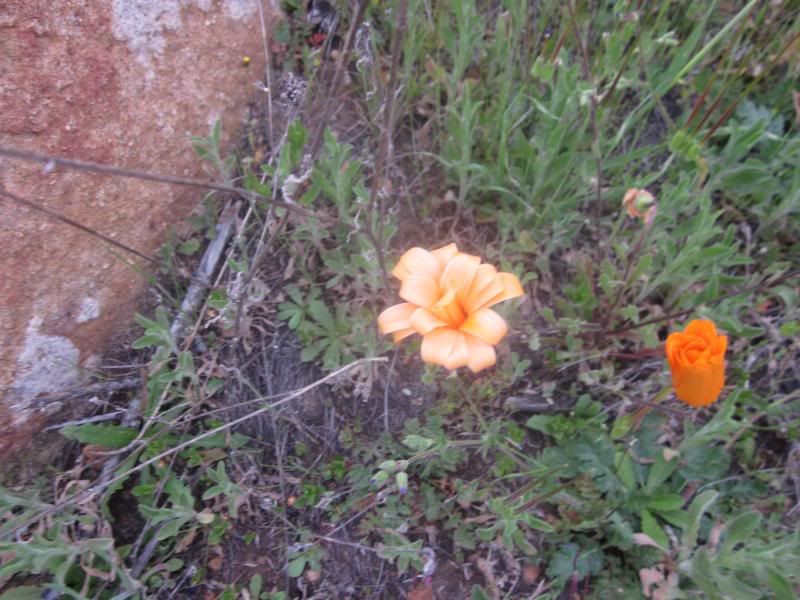 Then I hit a stretch of really gorgeous lupines. There appeared to be two species of them. One with purple flowers and very narrow, thin leaves, and one magenta flowers with very fat leaves.
Lupine leaves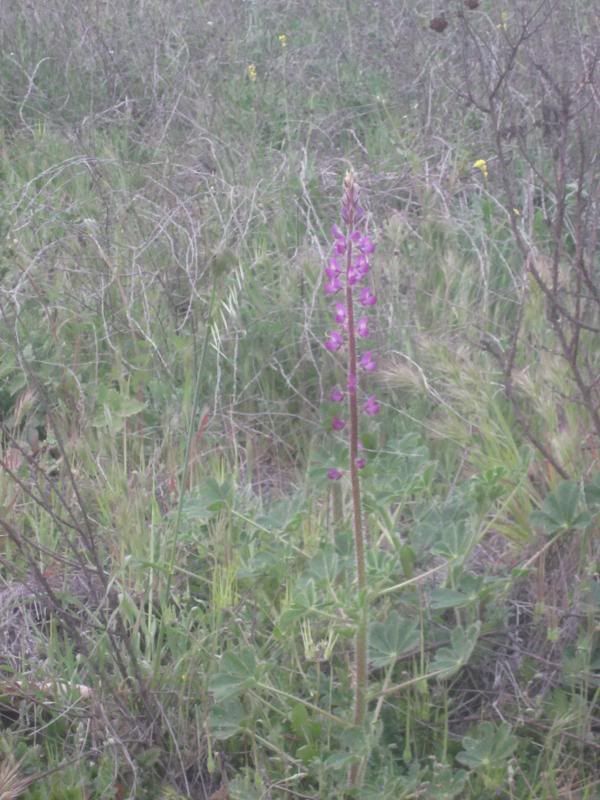 Lots of happy, healthy white sage, not flowering yet. This plant is very useful and it's gathered and sold commercially quite a bit, so I'm always happy to see a patch that is doing well like this one.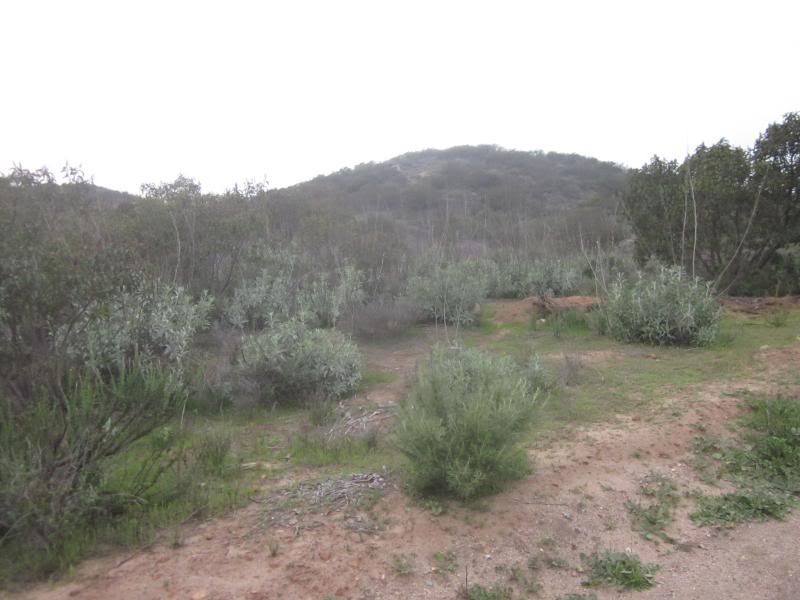 I was feeling so sick that I really think it was all of the beautiful flowers that made the rest of the hike bearable. Like these monkeyflowers:
At last, I came upon the "pond" - one of two ponds on this hike that might or might not exist, depending on the time of year. There wasn't too much water left, and there was just one lonely pair of mallards swimming in the little puddle there. I was hoping to see some red-winged blackbirds, but no luck.
I love this one. I'm pretty sure it's Parry Phacelia.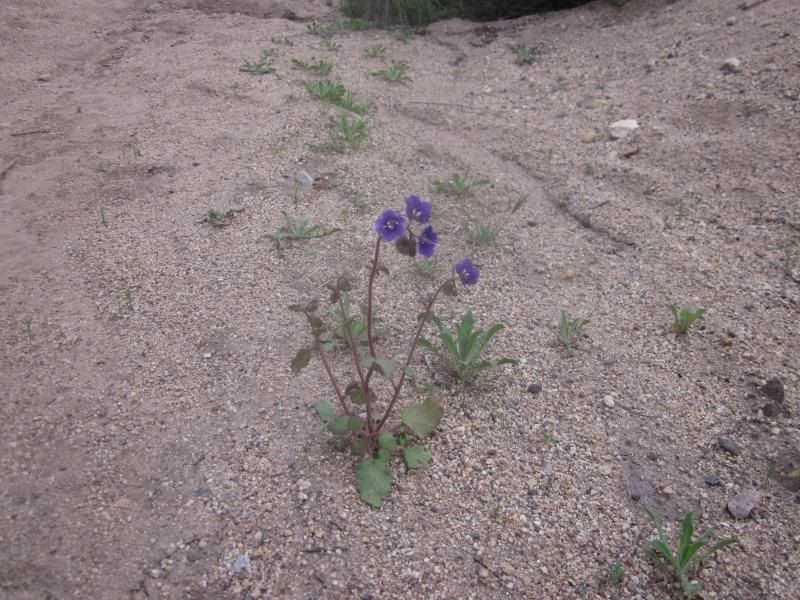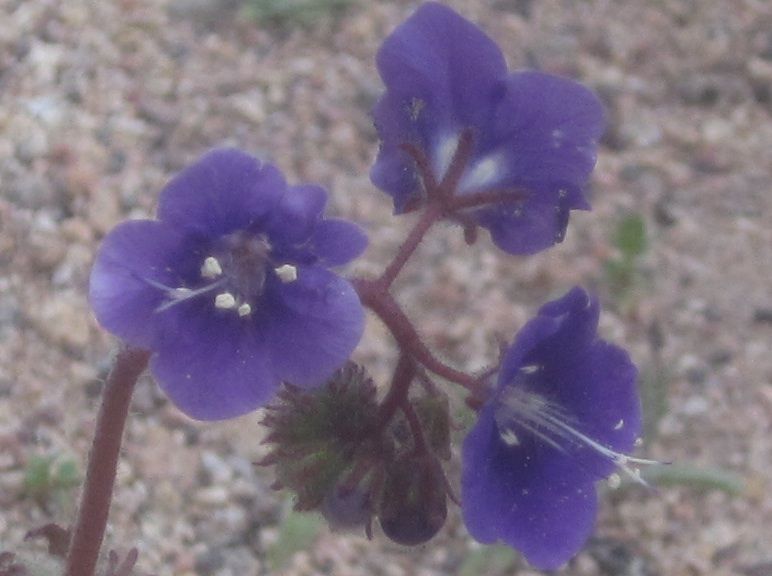 Dodder. The orange stuff. A parasite. The Indians used it medicinally.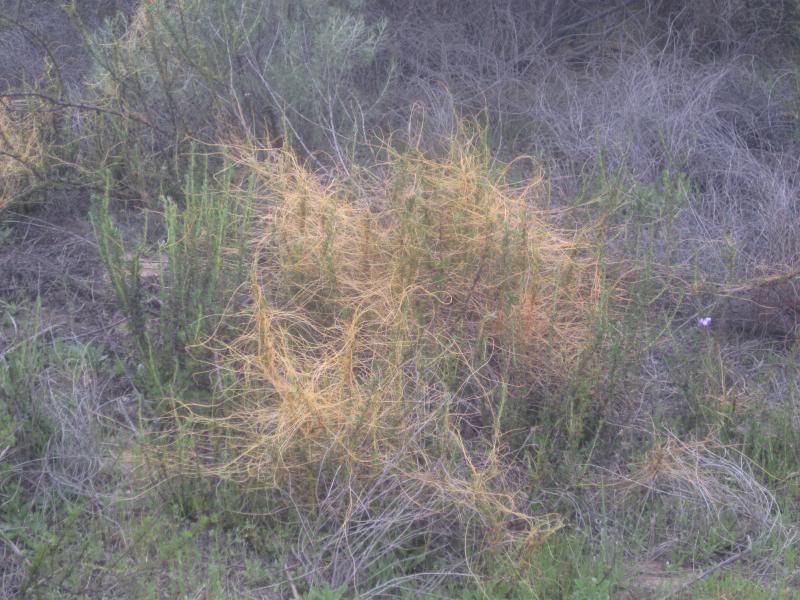 Dodder.
And, last, as I got back to my car, I came across some tree tobacco. This one's invasive.