As always, this trip began with a hellish plane trek that could have been a lot worse. No cancellations, and only one slight delay. A lot of harassment about the size of my very large carry on luggage, which they wanted to check and I wouldn't let them. And a man with long legs refused to let me recline my seat on the entire Chicago to London leg of the trip.
Strangely enough, the man next to me on the flight to London was the great nephew of Norman Borlaug. We talked about Borlaug a bit but he didn't know much about him other than what he was like at family reunions.
I was very worried about whether I could get through Heathrow to meet my connection in just 2 hours and 15 minutes, but since my flight arrived on time and I powerwalked the entire way, I made it with some time to spare. Check out this ad in Heathrow:
So there you go Africa (and Asia and Latin America). Western capital sees you as an "opportunity."
The flight from London to Kenya had surprisingly few black people on it. Mostly it was white people going on safaris. A British couple going to a wedding. A Finnish couple going to play golf. One man I spoke to was a food aid worker. A few people did appear to be African but I did not speak to them. I sat next to a young 20 something from Bristol who was going on a safari.
Despite arriving an hour and a half late, I was met by Samson and Peter of the African Network for Animal Welfare, an amazing group that has save countless wild animals here. They drove me to Kifaru House, ANAW's guest house. Kifaru is Swahili for rhino. Just as we left the airport, I saw a few zebras grazing in the median in the middle of the road and gasped. Then common sense got the better of me and I said, "Oh, they are statues." Samson told me that they were, in fact, zebras. "The herd's not far from here," he said.
We headed to the guest house, located in the tony suburb of Karen on 5 acres of natural vegetation leased from an elderly woman who is originally from the UK but has lived in Kenya since it was a colony. I'm told the land is home to
Sykes' monkeys
(Cercopithecus mitis) - known as Kima in Swahili - but I have yet to see one. At Kifaru House, we met Maurice, who had a hot vegetarian dinner prepared for me, with delicious vegetables that compare most closely with Indian food, I think, and fresh mango and pineapple as well. I have finally managed to time one of my trips so that it coincides with mango season!
We also met Kaka the dog, a dog who has not actually been a puppy for a long time but still has puppylike energy and bad manners. (She jumps up to say hi and doesn't know "Down" or "Sit" - or if she does, doesn't care to obey them.) Kaka is Brother in Swahili. I told my hosts it means Shit in Spanish. Not a bad name for a dog, really.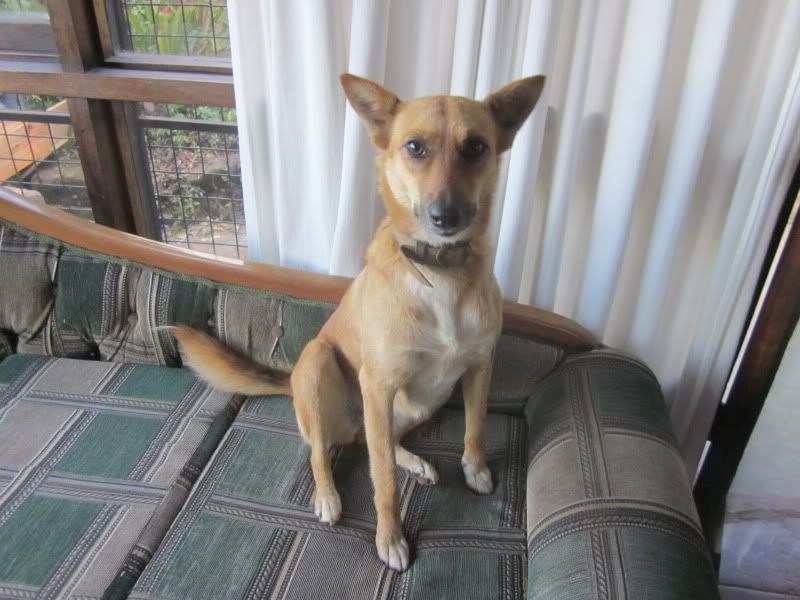 Samson showed me ANAW's "snare art." They remove countless wire snares set by poachers each year and then they employ the communities where the poachers come from to turn them into art that they sell to tourists. The money from the art goes back to the communities so that they will not need to resort to poaching. This is one of several ways that ANAW helps these communities cultivate alternate livelihoods instead of poaching.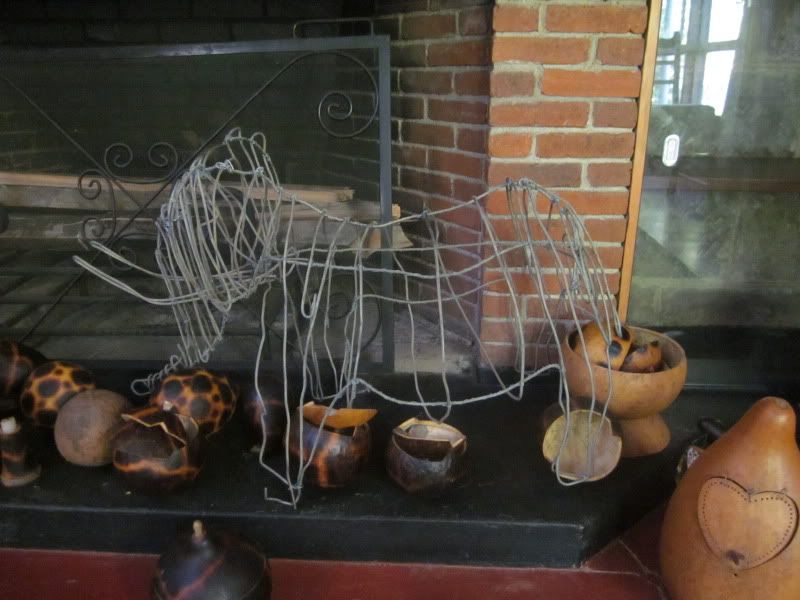 An elephant made from wire snares.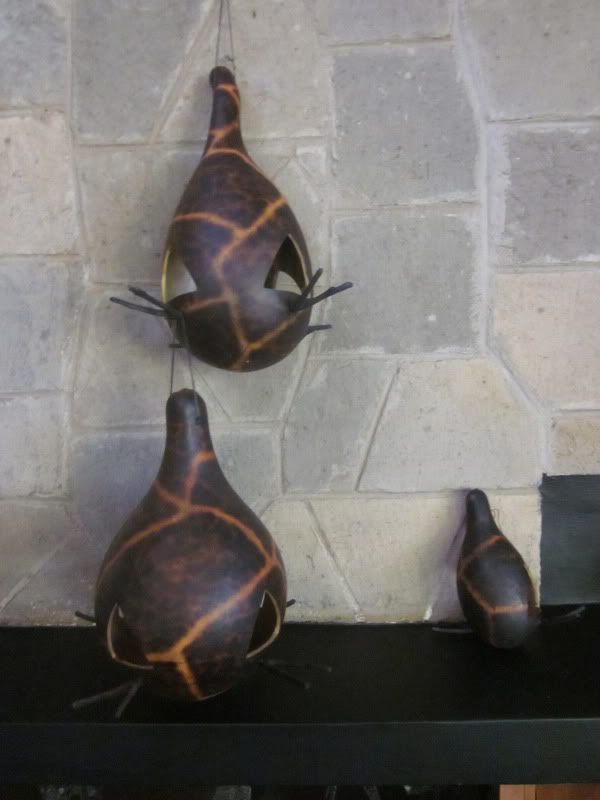 Birdfeeders made from calabash gourds.
I went to bed after dinner and a shower. The next day, Peter promised to pick me up because they had a big treat planned for me - going to see baby elephants and endangered giraffes up close.