Day Six was a second day in the SARDI School of Painful Reality for me. We visited several farmers, most of whom seemed to be doing OK, but we also visited a primary school that just broke my heart. This diary covers our first stop at a small farm near the SARDI (Sustainable Ag & Rural Development Initiative) headquarters.
Francis and I began our day by visiting a nearby farmer, James, who farms one fifth of an acre. That land must feed him, his wife, and his three children, ages 6, 11, and 14, and provide enough income to pay for his children's school tuition. His oldest child is at boarding school.
James went to a SARDI training two years ago and told the trainer that he was interested in working with them. He's worked with them ever since. Note the crops that James grows and the lengths he goes to for water. He lives in a semi-arid area, but does not grow drought tolerant crops like sorghum and millet, instead growing the preferred but thirstier Kenyan staple crop maize. Amaranth and cowpeas, which he does grow, are also relatively drought tolerant. So is cassava, and I think but am not 100% sure that I see some cassava in the photos here.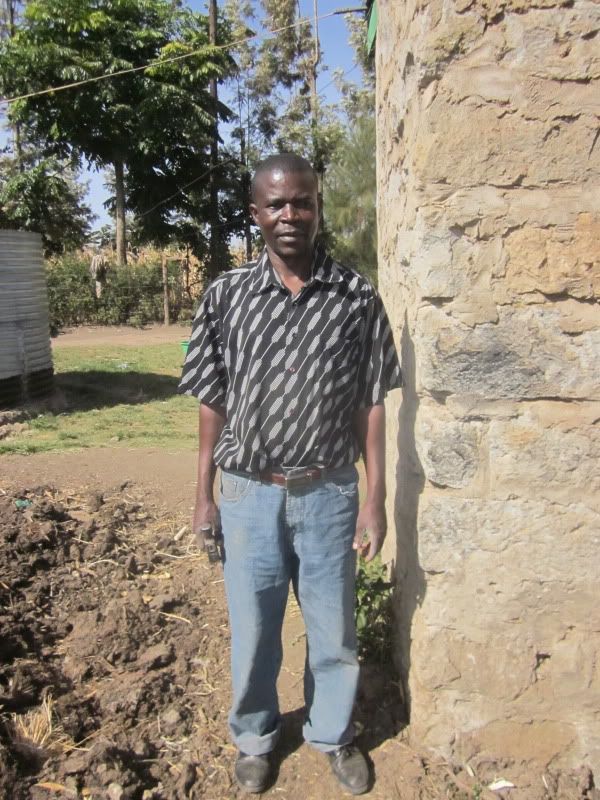 James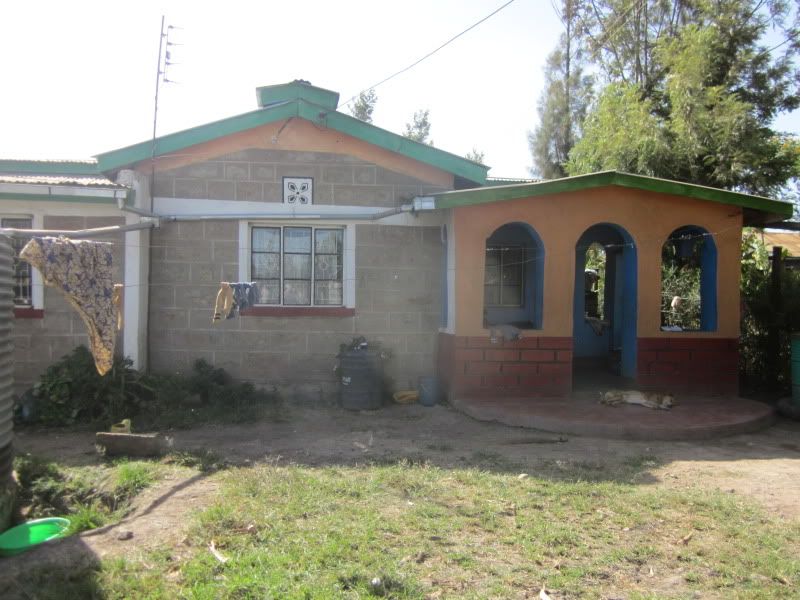 James' home.
Because this is a semi-arid area, James uses water harvesting to store rainwater. The rainwater runs off of his roof into a 7000 liter tank. It fills up every rainy season and the water lasts four months.
Water Harvesting Tank
He also has a well (referred to here as a "borehole"), which is not terribly common among Kenya's small farmers. He got a loan from the bank to drill the well and he has two years to pay the loan back. Drilling the well cost US$1,260. He currently has to manually draw water from it using a bucket tied to a rope, but once he pays back his loan from the bank, he wants to get electric irrigation and a greenhouse.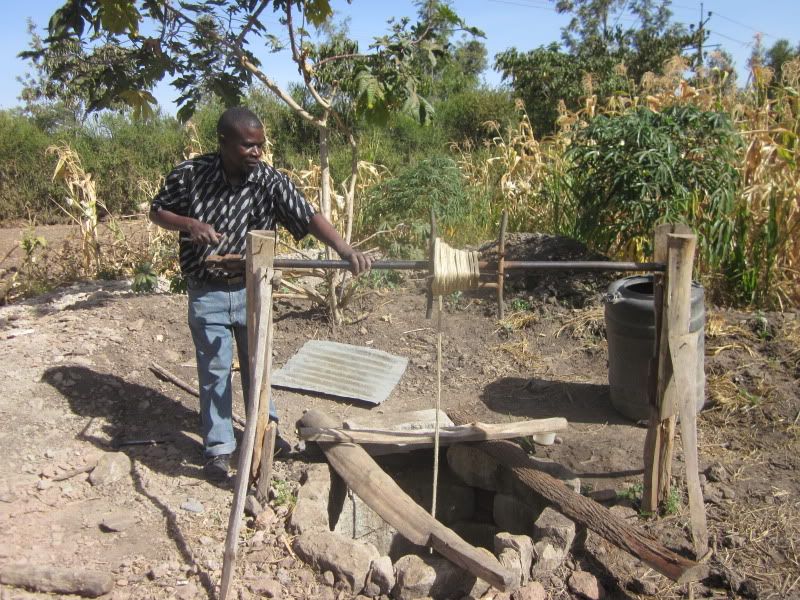 James demonstrates how to get water from his well.
On his tiny farm, James grows corn, beans, and vegetables like kale, cabbage, amaranth (locally called terere), spinach, potatoes, pumpkin, cowpeas, and tomatoes. He also planted avocado and papaya trees. He grows his crops for home consumption, but when he has more water, he wants to grow more tomatoes so he can sell them.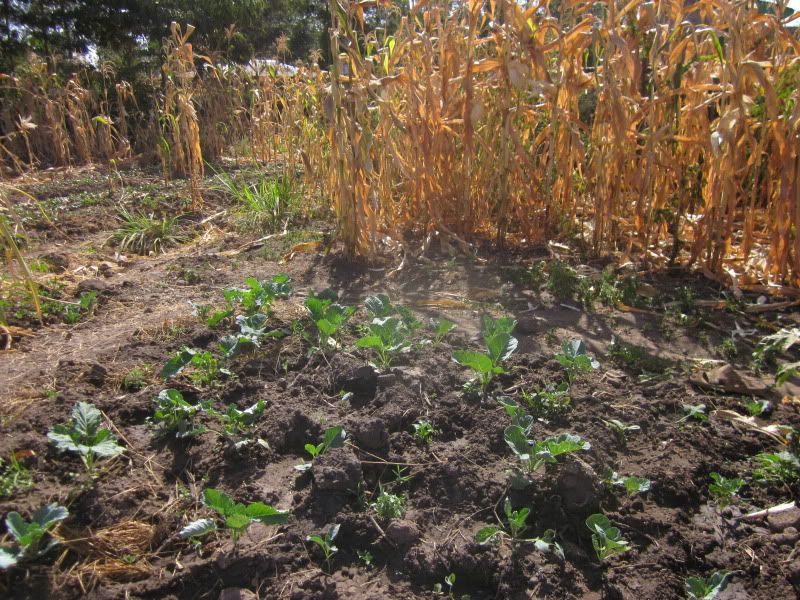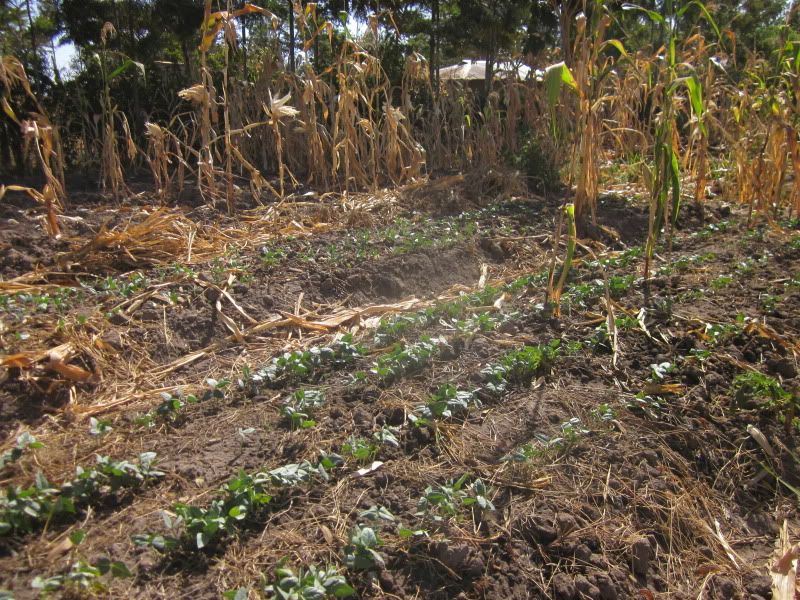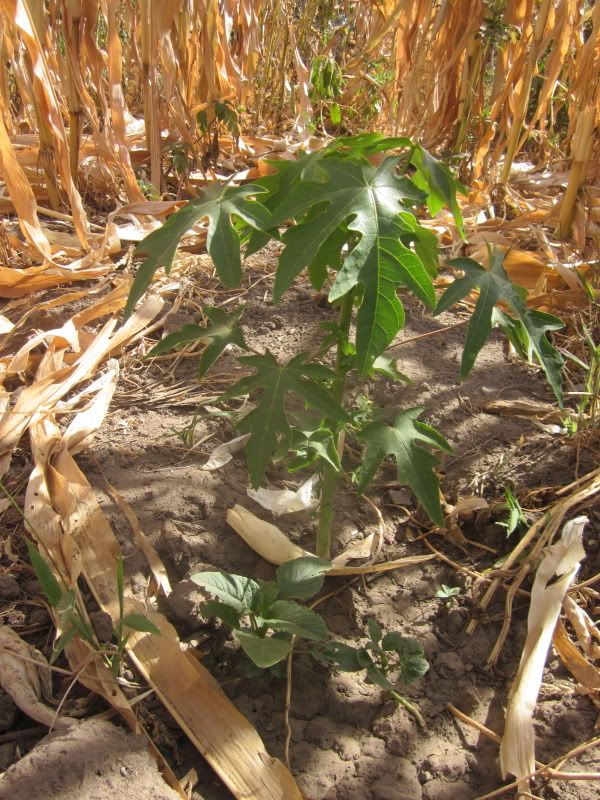 Baby papaya tree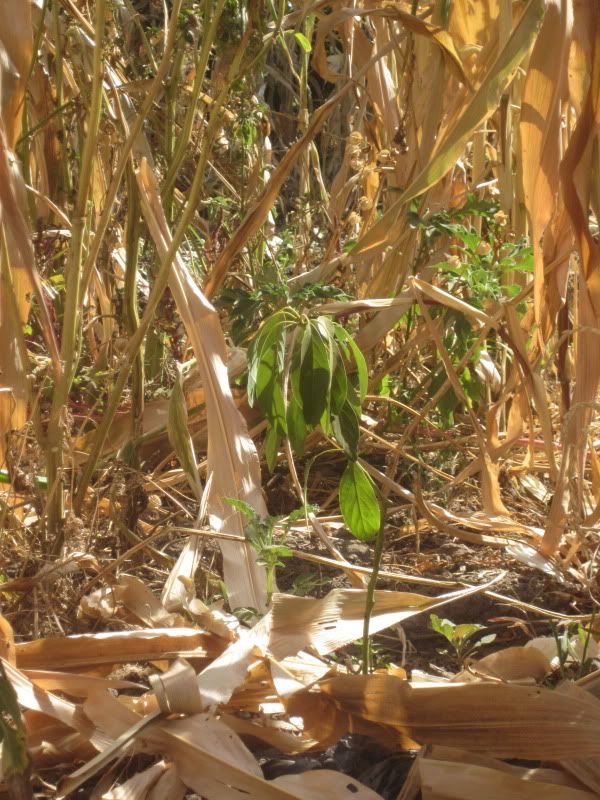 Baby avocado tree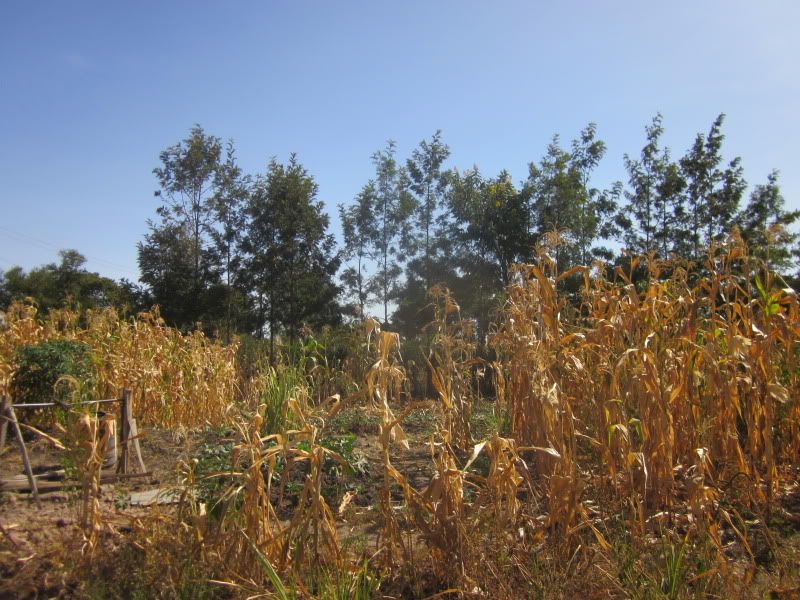 James gets both manure and income from his pigs. SARDI has helped James with marketing his pigs. Sometimes he sells pregnant sows for 20,000 shillings ($240), and sometimes he sells piglets as one month old babies for 2,000 shillings ($24).
Pig housing
Pig
Tiny piglets
Prior to working with SARDI, the maize did not grow well on James' land. Back then, he was using fertilizer. Now he uses only compost and manure and he gets better results. He finds that when he uses organic methods instead of fertilizer, he gets better maize yields and the soil holds the water for much longer. He says that more and more farmers around here are using manure, because fertilizer turns the soil acidic.
"Fertilizer is very costly," he said. "You get 50 kg of fertilizer is costing 5000 shillings ($60). And then you don't have an income." In the past, he needed 2 bags, or 10,000 shillings ($120) worth, of fertilizer for his land. That is the amount he makes for selling either six piglets or half a pregnant sow.
James also told me he rotates his crops. Sometimes he does not even grow maize (the staple here) during the entire year so that he is able to rotate his crops. In those seasons, he buys maize or eats stored maize from past seasons instead. When he grows maize, he intercrops it with beans. Then he plants one pumpkin seed in each corner of the field, because the plants grow very big and take over a large area of the field.
Corn intercropped with beans
Sometimes, he has problems with insect pests like caterpillars or white flies. SARDI has trained him to mix marigolds with water and then spray them on the plants to deal with pests. He does not use chemicals now. In the past, he did use pesticides, but not in very large quantities. They were expensive, and when you grow for home consumption, he says, you must reduce your costs.
After speaking to James, Francis and I left because we had a busy day planned. Here is one last super-cute shot I took while walking back to SARDI's headquarters from James' farm: