After I reached the city of Thika, Samuel Nderitu brought me to see his organization, G-BIACK (
Grow Biointensive Agricultural Center of Kenya
). Since G-BIACK has been internationally recognized with awards, I was eager to see what they were doing. Whereas their focus is mostly agriculture, this post is about the other half of their activities, their women's programs. However, I've also provided an introduction to the organization and to the method of organic agriculture they teach.
G-BIACK
First, a view of some of the posters and murals you see around G-BIACK as you enter: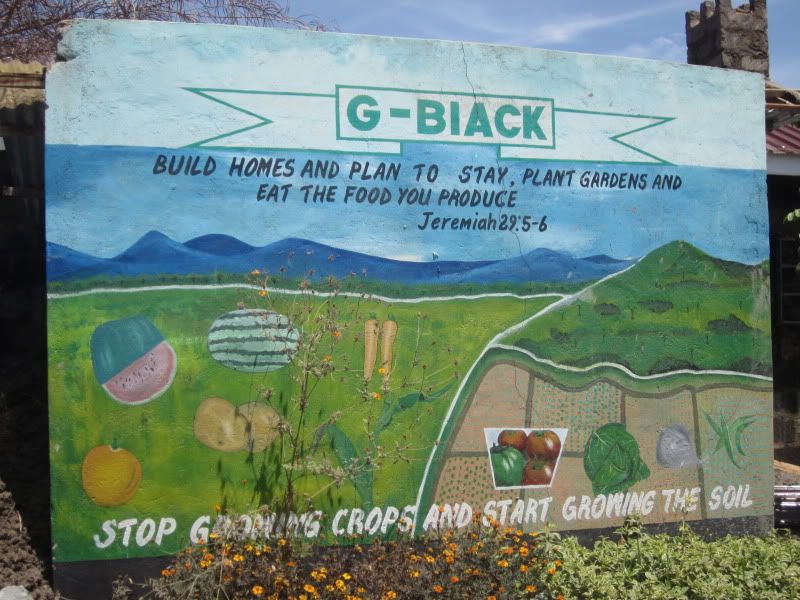 The people of Kenya are EXTREMELY religious. Most are Christian (both Catholic and Protestant) and some are Muslim. The G-BIACK staff reads a Bible passage and says a prayer every morning.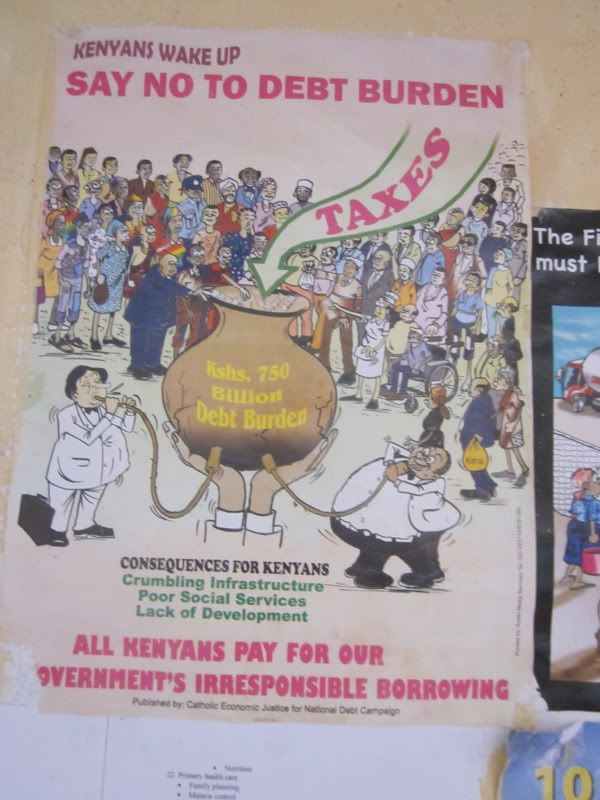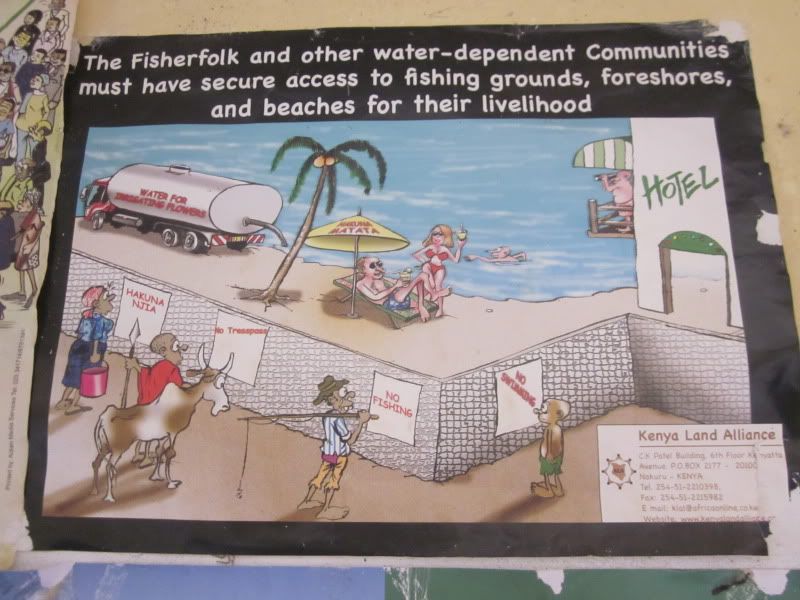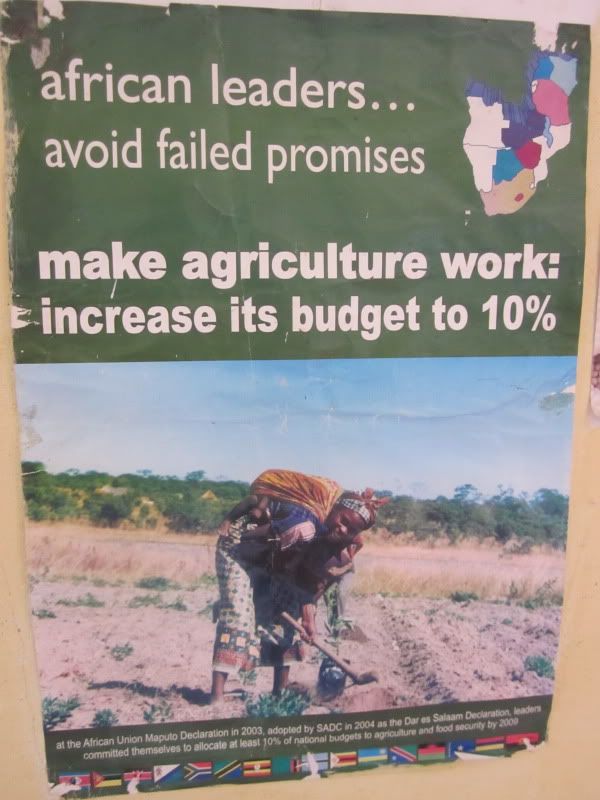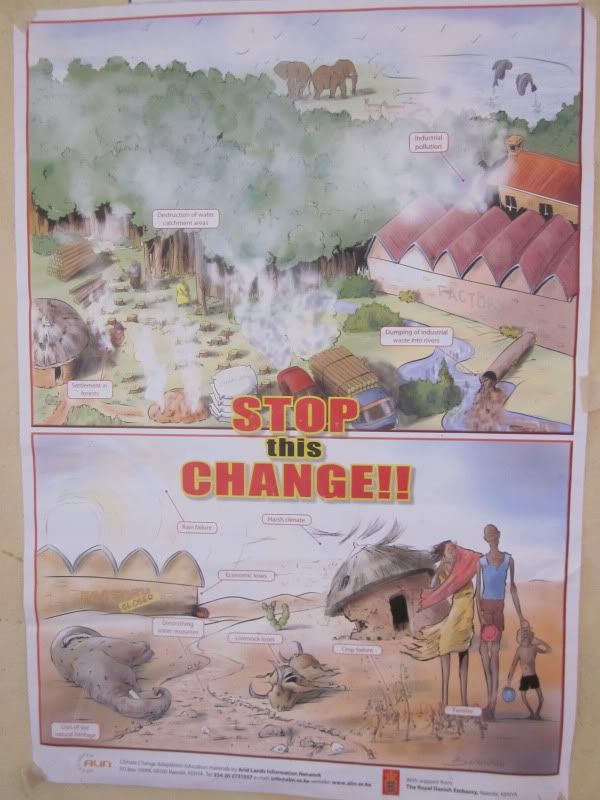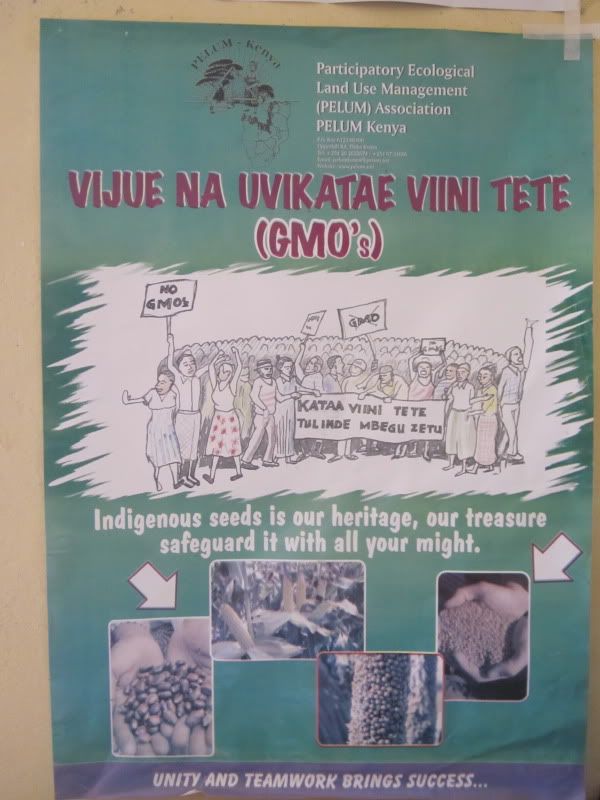 G-BIACK specializes in the Grow Biointensive method of farming. I typically refer to it as "biointensive" - a combination of biodynamic and French intensive farming that was created in Northern California and has spread around the U.S. and to South America and - as you will see - Kenya. Those who created and who train this method have dubbed it Grow Biointensive to keep it from being confused with other forms of agriculture that claim to be biointensive.
The bible of Grow Biointensive farming is John Jeavons' book
How to Grow More Vegetables...
and it centers around organic farming with beds that are about four to five feet wide separated by aisles so that you can always reach into the center to plant, weed, or water without stepping on the bed. Preparation of the beds begins with a "double dig" - digging one foot down, then loosening and adding compost to the next twelve inches down, and then replacing the original foot of soil (now aerated) and mixing compost in. The method uses intercropping heavily. However, it relies on very good soil and ample water in order to get a harvest. When practiced with nitrogen-hungry crops and poor soil or not enough water, the crops will not thrive as they will be spaced too closely together.
In Kenya, Grow Biointensive is trained at
Manor House Agricultural Centre
in the city of Kitale. Samuel Nderitu and his wife Peris both graduated from Manor House. Samuel grew up in a very poor, landless family with a mother who worked for low wages on a large farm. He remembers walking to school barefoot with no breakfast, only to spend the whole day with no lunch, hoping that there would be something at home for dinner when he was a child. When he was a young adult, his mother saved enough money to buy a small piece of land. Samuel then scrapped together some money for school fees and also received some scholarship money in order to attend Manor House.
Prior to founding G-BIACK, Samuel was living elsewhere in Kenya during the 2007 elections. Unfortunately, when a Kikuyu won the elections, violence sprang up with other ethnic groups attacking Kikuyus. Samuel brought his family to Thika, escaping with nothing but the clothes on his back. Here, in Thika, they are surrounded by other Kikuyus and they feel more secure about their future. Starting from nothing, Samuel founded G-BIACK on one acre of land just outside of Thika. He hired and trained graduates of Manor House as his field staff, built a demonstration garden, and began surveying local communities. He feels that this is an important area to work in because farmers here have very little land, making it vital to produce a lot of food from it.
To my surprise, Samuel began by showing me the women's programs, which are headed by his wife Peris. They aim to help women - often orphans or those who are "dispossessed" (those who did not complete high school or come from extremely poor backgrounds, like a community near a river where the crops are destroyed by hippos, which come out of the water at night to graze) - earn a livelihood by teaching them crafts and other life skills. Peris teaches the women basic hygiene and also teaches them to make soap. The women can then sell soap in order to save money to buy a sewing machine.
At G-BIACK, women learn sewing and beadwork. They attend a six month program and during that time, they use a sewing machine that was donated to G-BIACK. Each month, they are encouraged to give G-BIACK a small payment toward their own sewing machine so that at the end of six months, they can buy their own sewing machine at cost (about $100). G-BIACK markets and sells the handicrafts for the women if they wish, but Peris says that the hardest part for them is marketing. They have plenty of talented women making lots of beautiful bracelets, necklaces, earrings, baskets, purses, belts, and shoes - but no good outlet to sell the items aside from at G-BIACK itself. G-BIACK does attract its share of international visitors due to the recognition its gained, but it's still not enough.
Many of the women who come to G-BIACK's women's program were engaged in prostitution prior to learning sewing and beadwork. In fact, when a woman brings in money for a sewing machine, G-BIACK follows to money to make sure the woman did not earn it via prostitution. If a woman has, they tell her she can either quit prostitution, or quit G-BIACK. So far, the woman prefer to quit prostitution.
Women learning to sew
Women learning to sew
Beadwork for sale.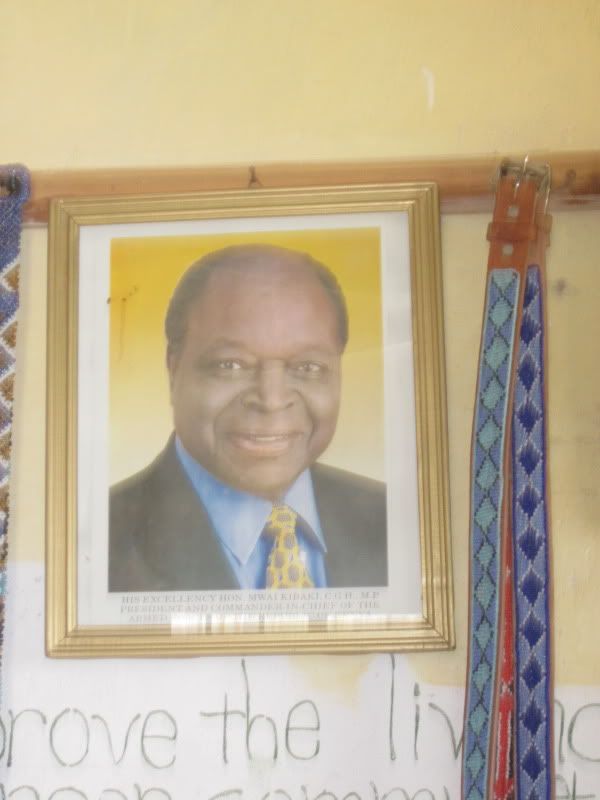 A photo of Kenya's current president next to some beaded belts for sale.
They are now in the process of building a kitchen so that Peris can teach the women some simple healthy cooking using the foods grown in this area.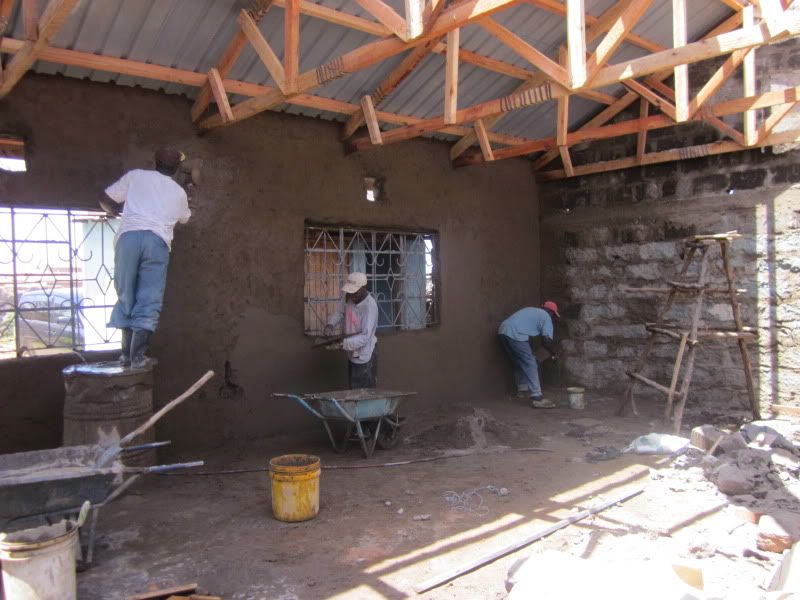 Building the kitchen