This will be the final diary describing my 2011 trip to Bolivia. Our last day together as a group was somewhat of a bust. That is, we were supposed to go to a touristy town called
Porongo
to get a taste of what this area looked like during colonial times. We got to Porongo and nothing went as planned. The next day, I flew back to La Paz for one final day there, because I couldn't bear to leave Bolivia without one last visit to my favorite city. I spent that day stuffing myself with street food. It was great.
As I noted above, our last day was intended as a trip to Porongo. We met a guide, a Costa Rican woman who I think was named Leslie. She had been living in Santa Cruz for a while now, married to a Bolivian with a cattle ranch.
One conversation from that day stands out as notable. Somewhere along the way to Porongo, someone in our group mentioned that the breakfasts in our current hotel were terrible. I agreed. Tanya, the American who was leading our group, asked what was wrong with them. I replied bluntly, "The food is bad." Tanya, who has spent an awful lot of time in Bolivia, was shocked. So we started complaining: white bread, cake, Nescafe instead of real coffee...
That's when Leslie cut in. "That's posh bread!" she said. We're talking about, like, Wonder Bread - or its Bolivian equivalent. And the Nescafe too. This nasty processed stuff that we didn't want to eat is seen as superior, as more modern and expensive, than more nutritious homemade stuff like rolls or filter coffee.
When we got to Porongo, we learned that it was famous for producing a fruit called achachairú. According to a book I bought in Bolivia:
In Bolivia, the name achachairú is given to at least 10 species of the genus Rheedia, including: Rheedia brasiliensis, R. achachairu, R. arubayensis, R. laterifolia, R. macrophylla, R. acuminata, R. floribunda, R. gardneriana, R. madruno, and R. rogaguensis. All of these species are characterized by medium sized trees, up to 10 meters, which present with grayish bark grayish and more or less smooth, yellow resin. Its leaves are simple, elliptical or oval shaped and its flowers are in small clusters. There are hermaphrodites and unisexual flowers on the same tree. Its fruits are round, cylindrical yellow berries with two seeds and white edible flresh that is sweet and slightly acidic. The peel is harder in some species, but generally looks similar to leather. Fruit size varies from 2 cm in R. achachairú to the size of an orange in R. macrophylla. They bloom from August to September, with the fruit maturing between November and February.
As we were there in August, the trees were in bloom. So were the mango trees, for that matter. I noticed mango trees everywhere that day. Another notable species was the
gallito
(little rooster) tree, named for the appearance of its beautiful red flowers.
When we arrived in Porongo, the place was dead. There was absolutely nothing going on, and a guide who was to meet us and give us a tour did not show up. Plus, it was freezing. We arrived in Santa Cruz during a "suraso" - blast of freezing Antarctic air that results in temperatures in the 50s and 60s. None of us were dressed well enough to be in the cold.
We ended up gathering in a restaurant that had a sign outside announcing they had patasca, a soup made from boiling an entire pig's head overnight. At some point, the head is removed and the flesh is cut off and put back in the soup, and the rest of the head is not. But we didn't order that. Instead, we had coffee, hot chocolate, and empanadas to warm us up. Ultimately we just decided to go back to our hotel because of the cold. I used the opportunity to head next door to a
pastry shop
that came highly recommended.
I spent my last day stuffing my face with salteñas, a Bolivian street food I love.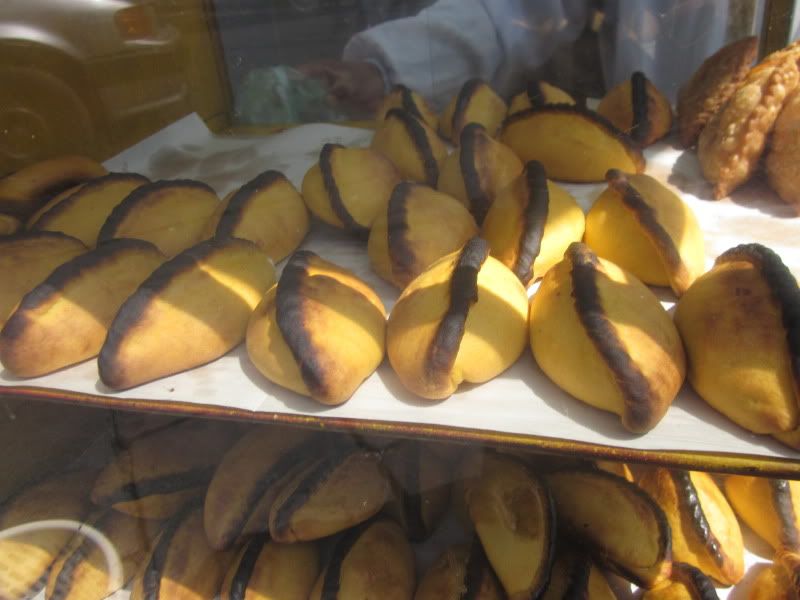 Salteñas
Inside my salteña
I stocked up on a few other types of street food to bring on the plane too.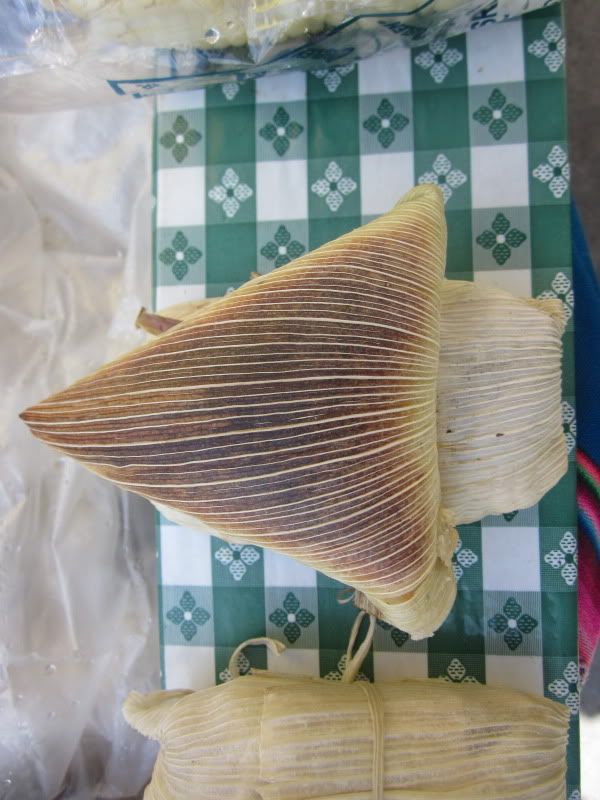 I know nothing about this other than that it tastes good. I ate several of them.
And I finally gave in to my huge desire to taste mocochinchi, a drink made from a dried peach boiled with cinnamon, sugar, and water: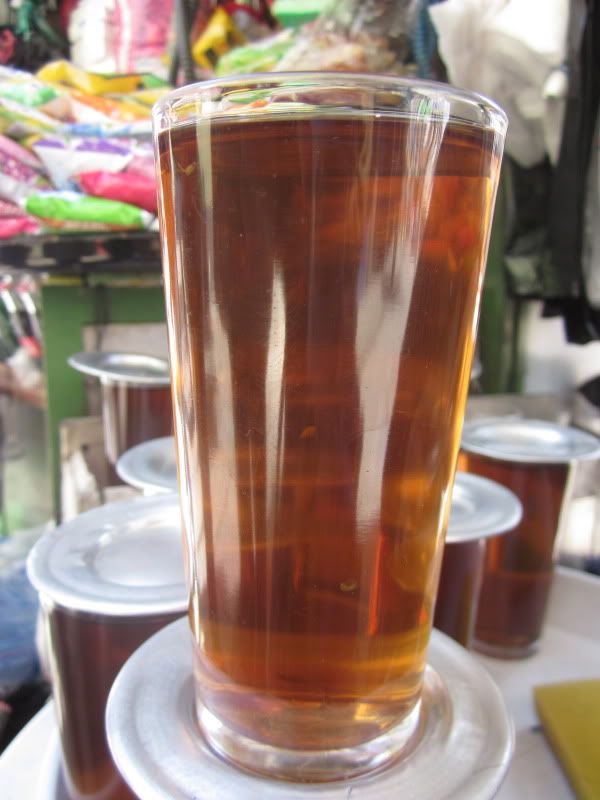 Mocochinchi
The only other notable bit from my last day was a chart I found in one of the stores showing all of the plants used for dyes for traditional Bolivian textiles:
So that's it - that's my whole trip. As usual, the flight home was a nightmare. In this particular case, I flew from La Paz to Miami as planned and then it went to hell. I nearly missed my connecting flight to Chicago and wasn't able to get anything to eat. Since I won't eat the plane food, I ate chocolate and cookies from Bolivia. The only catch is that the cookies were made with maca, an Andean root that makes you horny. I got the cookies because I wanted to
try
maca, not eat the whole thing in one sitting!!! And then the Miami to Chicago flight got in late and I was stuck spending the night in Chicago. I swear, I hate air travel.