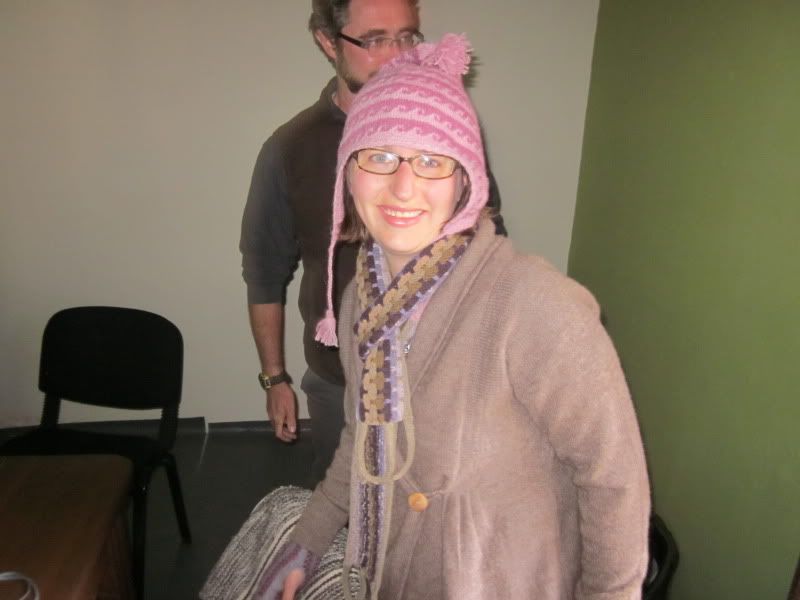 Me, covered in wonderful Andean handicrafts I've bought - handmade alpaca sweater, scarf, hat, and gloves. The hat is called a lluchu.
On the first day of our trip, we went to El Alto, the big, mostly indigenous city next door to La Paz, to visit their market. It was quite a spectacle. We made it through with only one pickpocketing incident, and the pickpocket only got a few dollars that had been placed in the victim's pocket for that very purpose. We were warned to leave our valuables in the hotel, be alert, and stay together.
Our van dropped us off outside the market, and we began our trek up to it among an untold number of indigenous people who were on their way to do their shopping. A few people sat along our way, some obviously begging, and others perhaps just resting with their children. FYI, the indigenous women here are referred to as "cholas" or "cholitas."
The trickle of people walking to the market, which turns to a sea just above these stairs
Cholita woman with her child, who is drinking a bottle of Coke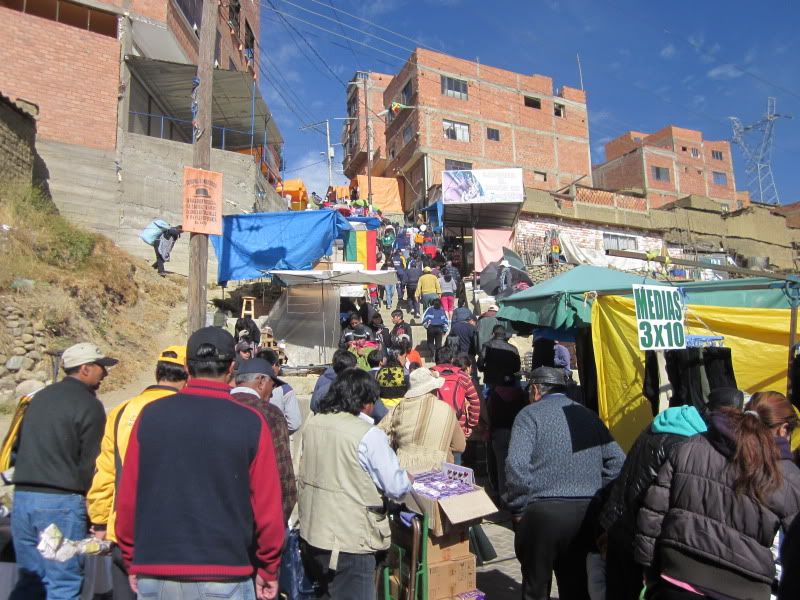 More people, heading to the market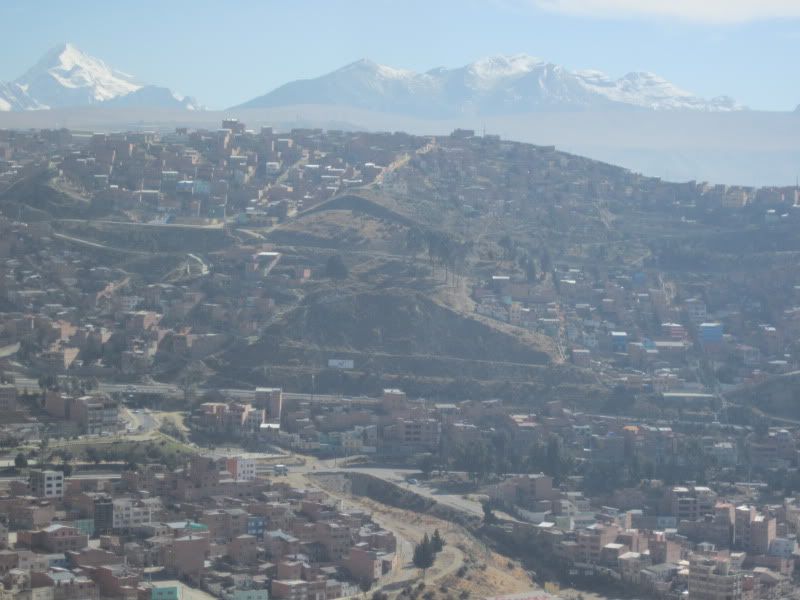 A view of La Paz and the Andes from here
Cholita woman with her child
The market sold EVERYTHING. And I mean EVERYTHING. I took pictures of what I could, and did not take pictures of much more, which I will try to list at the end of this diary.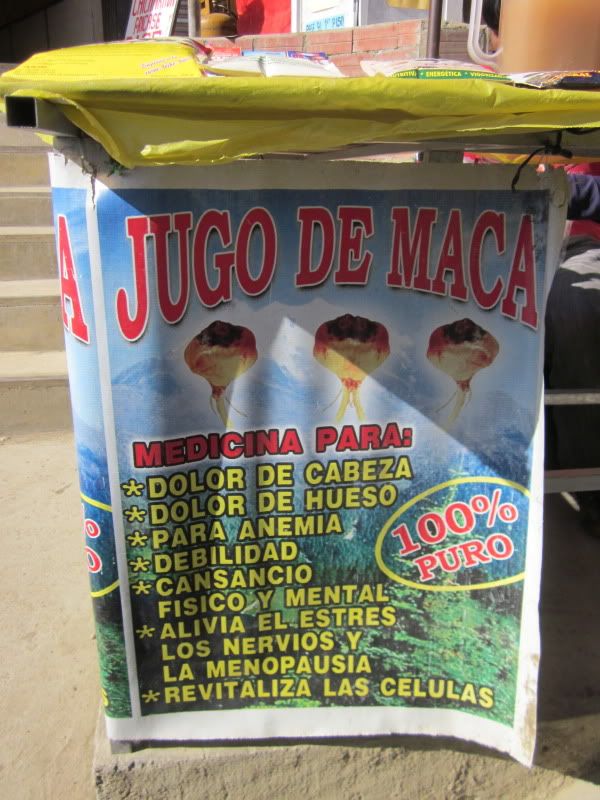 Herbal medicine
Boxing gloves
Local beverages. The cinnamon colored one is mocochinchi, made with a dried peach boiled with cinnamon and sugar.
Antiques, a wheelchair, and a walker for sale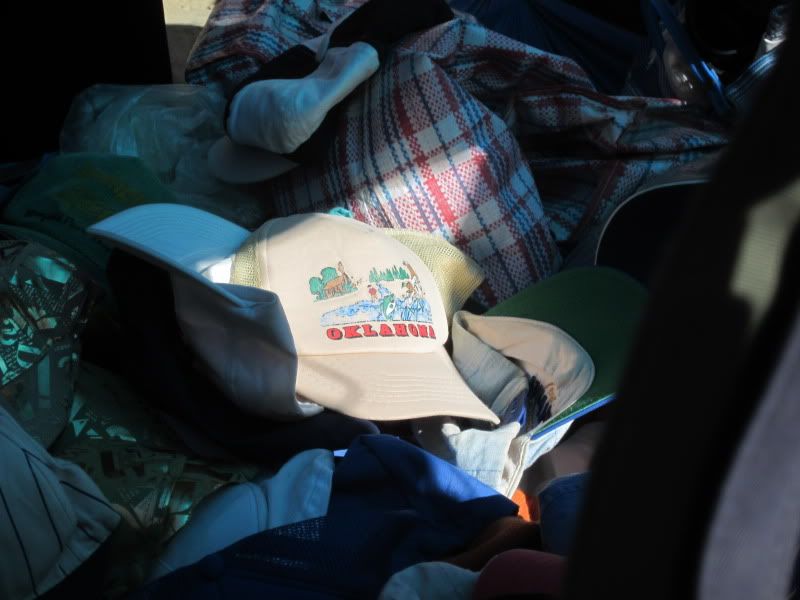 A display of hats, many of which are labeled with American cities, universities, and sports teams. This one is from Oklahoma.
Two cholitas with a child. One is carrying a huge stuffed panda. I wish I got a close-up of them!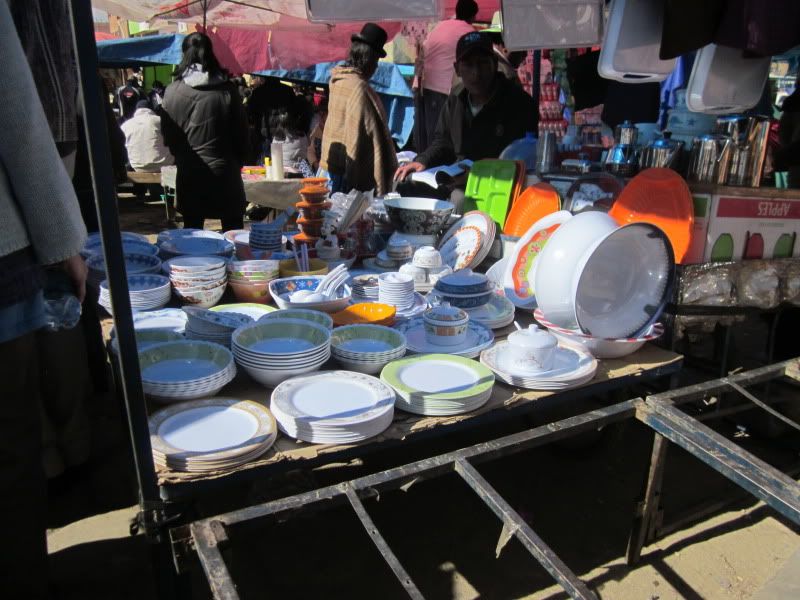 Dishes
Booze, I think.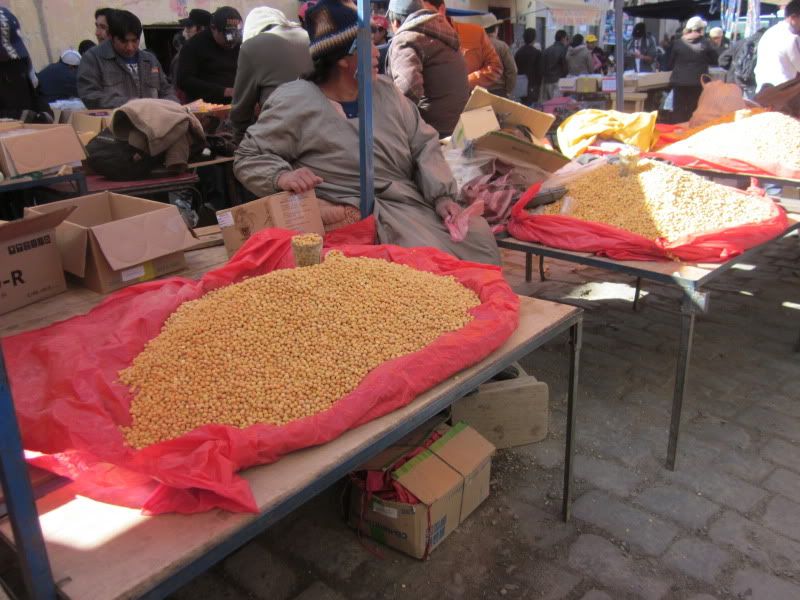 Crunchy roasted peas.
El Ceibo chocolate. This is the good stuff.
Adorable Bolivian child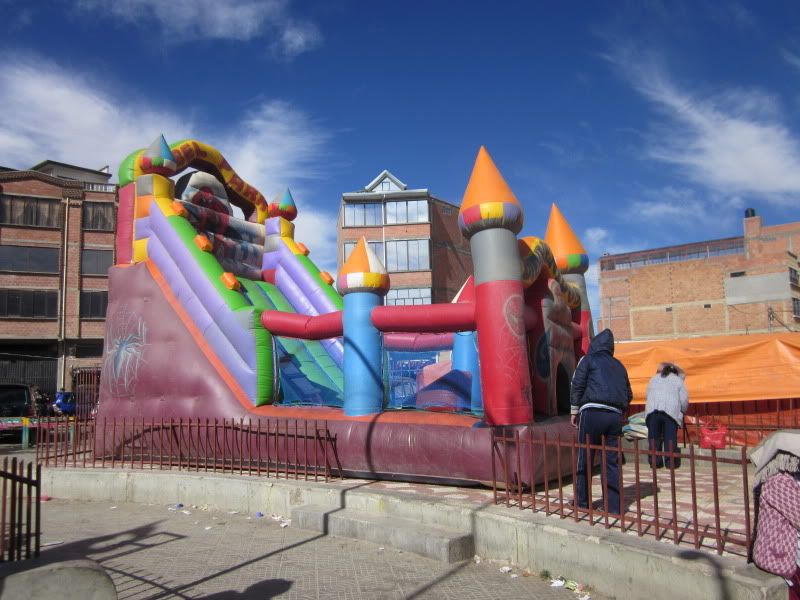 A Spiderman themed blow-up slide.
A mother with a child.
Some kind of fruity treat.
Our guide, Gabriel, told us that you can buy an entire car in parts at the El Alto market. He was right. I took a few pictures and left it at that.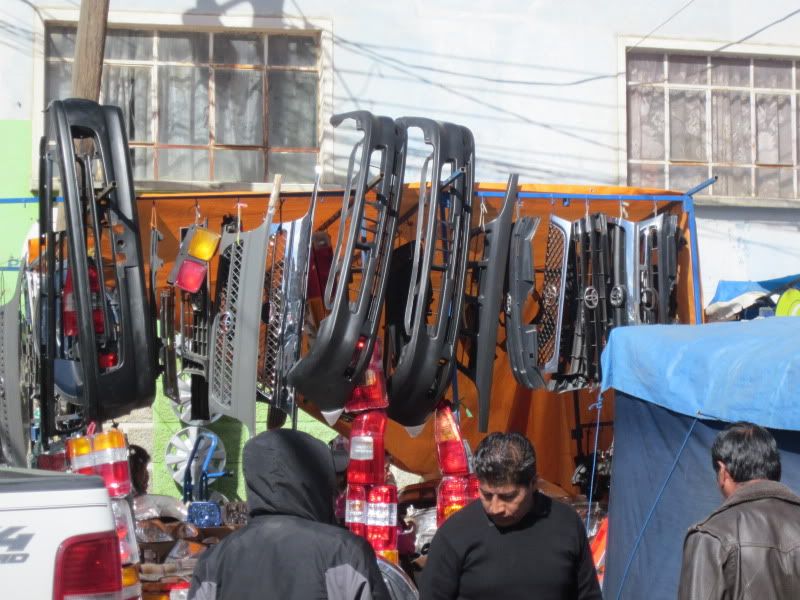 Car parts.
Car parts.
A restaurant.
Curtains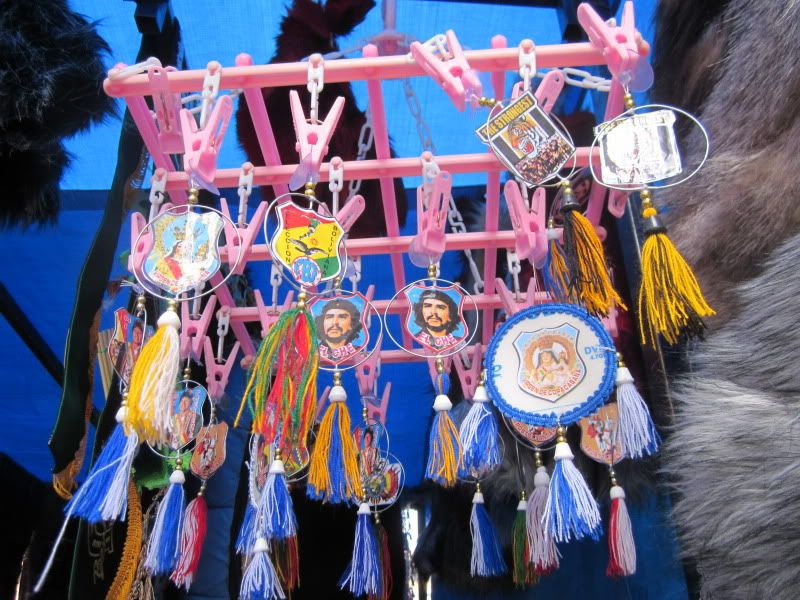 Car ornaments - The Bolivian flag, Jesus, and Che.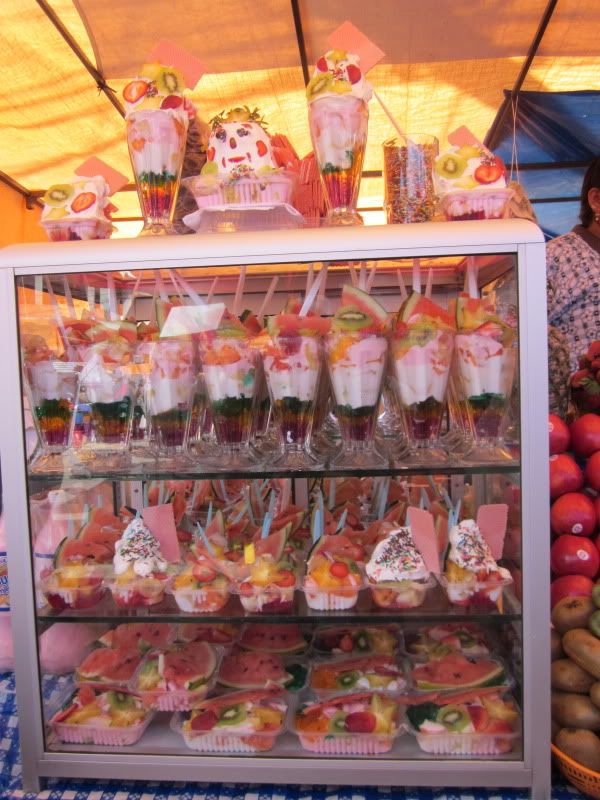 Some kind of parfait.
Disney princess hats.
Coca-Cola
Car floor mats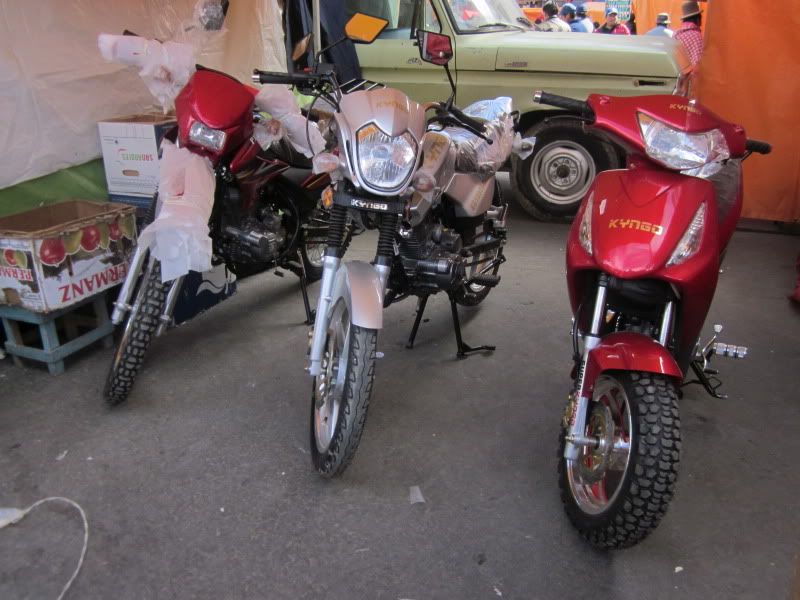 Motorcycles for sale.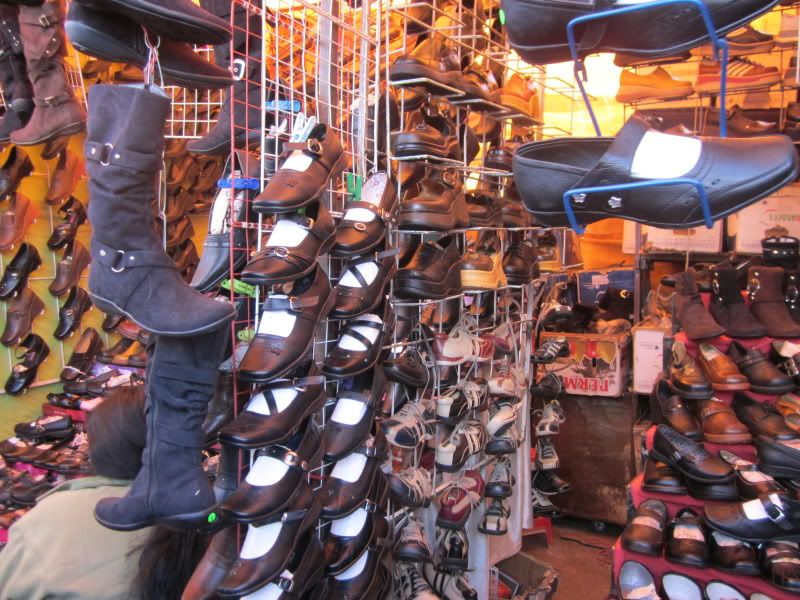 Shoes
A dad with a kid.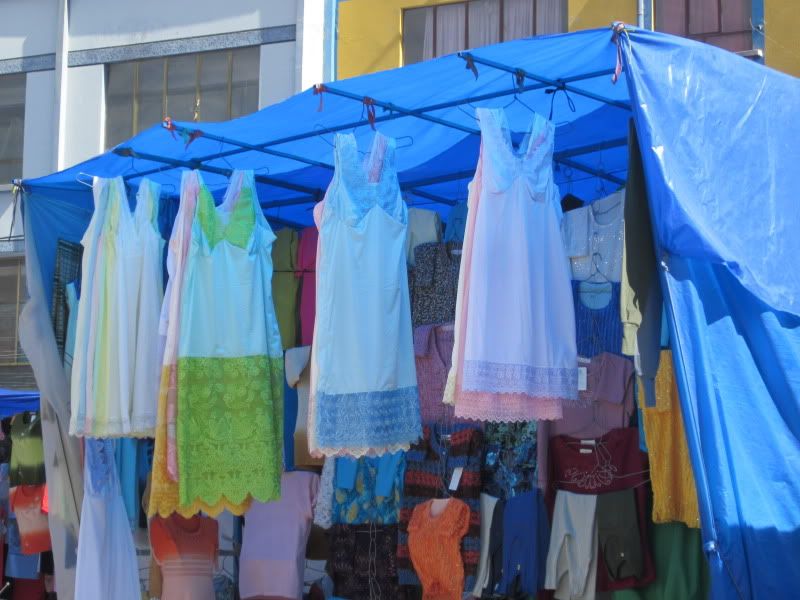 Cholita nightgowns?
Cholita with child.
Cholita shoes.
A Pututu - a cow's horn used to call indigenous towns to meetings.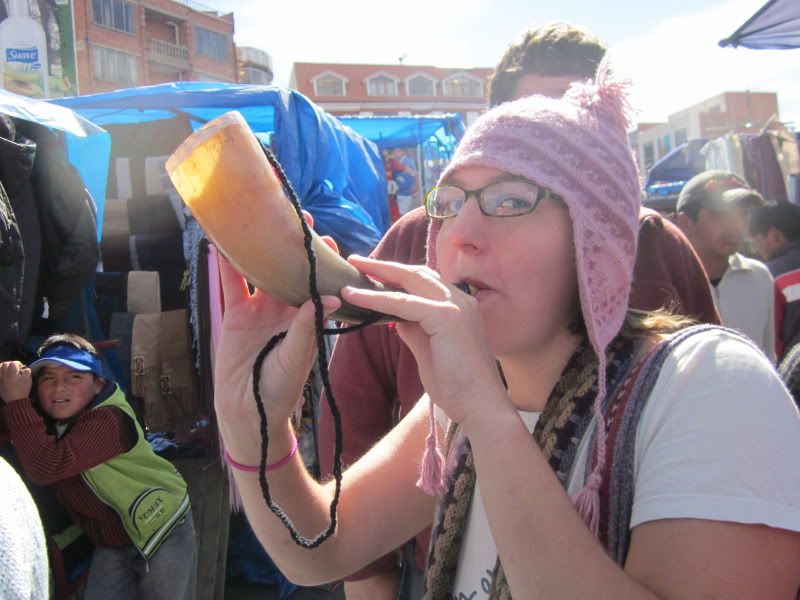 Me blowing the pututu. This thing is loud.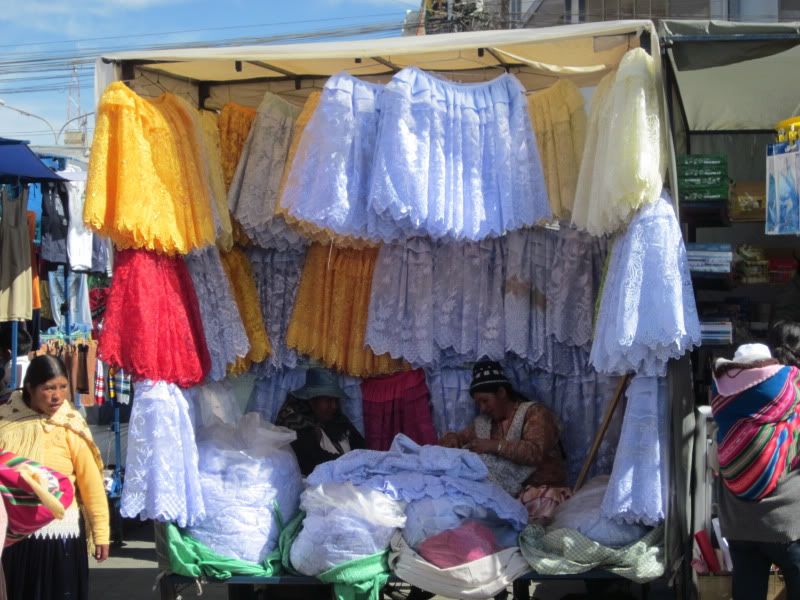 Cholita skirts, called polleras.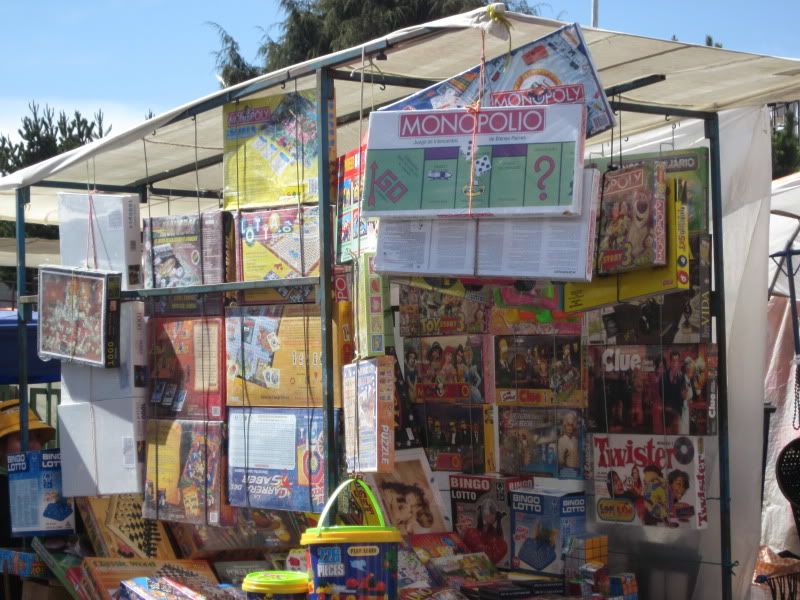 Board games like Monopoly.
The cloths used for just about everything here. These are called awayos and you see them on the backs of every single cholita.
A stand selling local grains, beans, and snacks.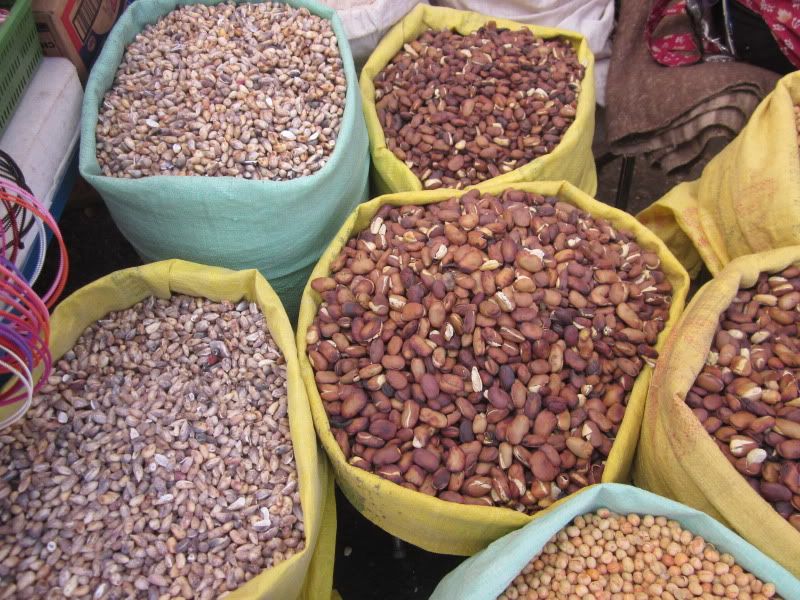 The brown bean in the front center is a fava bean.
In the front left are crunchy peas, in the back are favas again.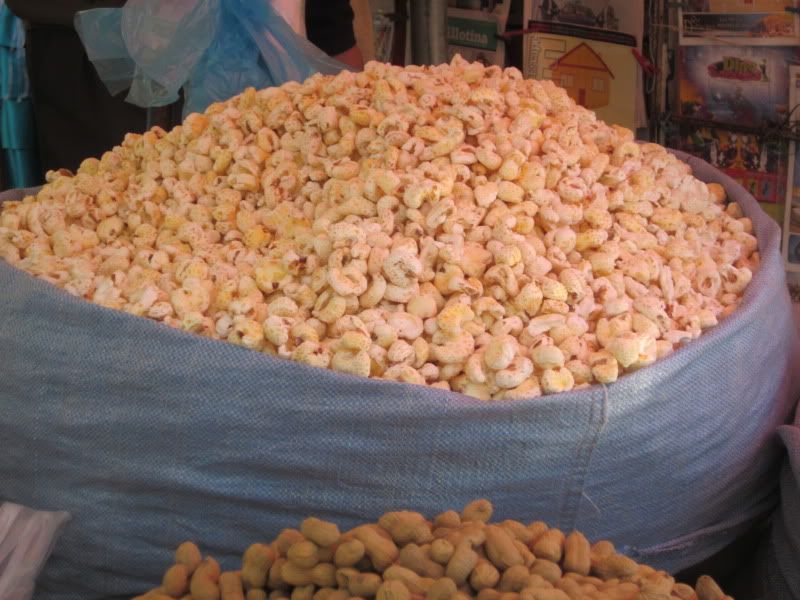 Andean sweet popcorn
Guinea pig meat.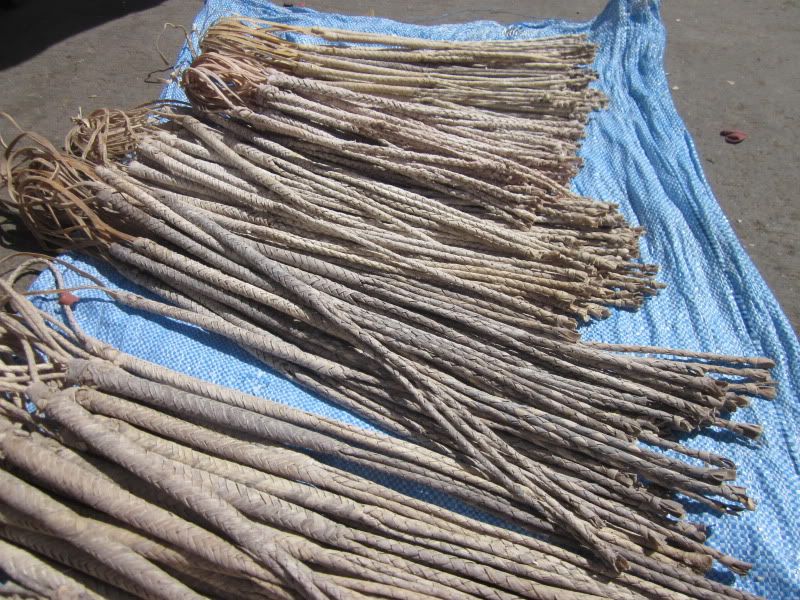 Kimsa charani - A small whip with three tails made of pigskin. Used to punish bad Andean children.
Anti-GMO graffiti.
Statue of Che Guevara.
So what was at the market that does not appear in these pictures? Just about everything on earth. Fruits, vegetables, every single part of any kind of car, batteries, tape, CDs, movies, children's toys and stuffed animals, American-style clothing, Andean clothing, furniture, and electronics. In one case, a member of our group stopped to buy a flash drive. I noticed they had all of the same brands we have at home, and they had sizes up to 64 gigs, which I believe is the top size being sold in the U.S. right now too. This market was a convergence of tradition and modernity, Andean culture and international mass marketing.
Perhaps the most notable category of items not in the pictures is animals. We were warned to take NO PICTURES because the animal vendors are wary of animal rights activists. That surprised me. Then I was more surprised when we got to the animals because most of the animals for sale were puppies and kittens, being sold as pets. They also had lots of bunnies, guinea pigs, chickens, turkeys, ducks, and parakeets. I assume many of those (not the parakeets) were for food.
The chicken breeds they had were strange. Araucanas and Ameraucanas are South American breeds but I did not see any of those, at least not that I recognized. I saw a lot of a breed I could not recognize that may not be a standard breed. It was crested, with brown feathers with a partridge pattern, and had feathered feet. I'm pretty sure I saw some Polish chickens too. I think the majority were another breed I didn't recognize with brown and white plumage, a single comb, no crest and no feathers on their feet.