I was recently part of an International Fact Finding Mission to the Philippines. Our group investigated the impact of a biethanol project on the local environment, food security, land grabbing, and human rights. Here's our story...
Getting to the Philippines was hell (thank you Delta!). After a canceled flight, a night at a hotel in Los Angeles, and a second canceled flight, Delta rebooked me on an American Airlines flight to Tokyo and - unlike my two Delta flights - the plane actually took me to Tokyo. It was a long 11 hours to spend sitting in between two Japanese men who speak no English. I broke my usual rule of "no movies" (because they give me migraines) and watched THREE. Then I had a migraine. I had short layover in Tokyo followed by a flight to Manila. I slept the whole way to Manila but arrived with a migraine anyway.
So that's how I ended up in Manila the night of May 29. I walked out into the baggage claim area looking for a sign that said "Richardson" but there was none. Other than the fact that I was told a car would meet me and none did, pretty much everything that happened that night was typical for what you would experience and see in any poor, tropical country. It was miserably hot and humid out, even though it was after 10pm. I changed some money into Philippine pesos ($1 = 43 pesos). A cab driver tried to rip me off by charging me $50 to go to the hotel. I was smart enough not to fall for it, but stupid enough to fall for another cab driver who charged me $30 (it should have cost $7).
In the dark, the city I saw could have easily been in Mexico. The cab driver got lost once or twice but ultimately he delivered me at the hotel. I asked at the front desk about food and the woman said, "Do you like McDonalds?" No. She said there was one nearby that delivers and they could bring me rice. I went up to my room, determined that I wasn't even going to eat rice from McDonalds if I could help it.
Tanya, our group's team leader, met me in my room. She's a Canadian now living in the Philippines and she's been an activist practically since she was in diapers. She's also tiny, with very light skin and naturally blond hair, details that were not lost on our Filipino hosts. We were an "international" delegation, and boy oh boy did we make good on our promise of internationality. Tanya, I, and another woman all looked VERY foreign.
Tanya told me the group would leave the hotel for the airport at 5:30am the next day (yikes!). I found my stash of Luna bars in my suitcase and ate a few of those, then took a shower, and went to bed. God bless water heaters and air conditioning.
The next morning, our group assembled in the hotel's breakfast area, which opened early to accommodate our early departure. From the list of not very appetizing choices, I selected the "Cuban" breakfast of "garlic rice topped with an egg, and a fried banana." Garlic rice, it turned out, was white rice with some chicken and veg stir fry on top. I ate around the chicken.
The group, which I met while I ate, included:
Simone: Our other foreign-looking team member, a nearly 6 foot tall blond Dutch woman whose looks remind me of Claudia Schiffer. Simone lives in Paraguay and she runs the Global Forests Coalition. Don't mess with her.

Edna: A Filipino lawyer who works at SEARICE (South East Asia Regional Initiatives for Community Empowerment) on traditional seed conservation and biodiversity. And an amazing friend.

Roda: A Filipino who works at the Asian Peasant Coalition. If you need to get something done, Roda's always a good one to ask. I don't even what to think about the deadlines, meetings, and buses we might have missed if it were not for her capability and diligence.

Feny: A tiny, adorable Filipino agriculturalist who works at AGHAM - Advocates of Science and Technology for the People. She's got a smile that could make the sun shine on a cloudy day.

Yasuo: A Japanese man who works at Japan's Action Center for Development and Rights. He's done a lot of work in Latin America, and his Spanish is better than his English. I'm afraid that I discovered that far too late in the trip, and I wish I got to know him better.

Hozue: Our other Japanese group member. She's living in the Philippines and working with Friends of the Earth Japan. Impressively, she speaks Japanese, English, Tagalog, AND the local dialect in Isabela, Ilocano.

Danilo: One last Filipino, who I think works with Kilusang Magbubukid ng Pilipinas (KMP). He disappeared once we reached Isabela and rejoined the group later at the end of the trip, I think.
More people would join our group later, but that's the crowd that assembled that morning to go to the airport. With food in our tummies, we got in 3 cabs and headed for the airport.
Once at the airport, we waited in a LONG line to check in, and then in a second long line to be weighed together with our luggage. On tiny planes, it's not unheard of for them to limit the weight of your luggage, but this was the first time that I've had my body weighed too! Then we went through security - men and women go through separate lines - and to the gate. And... our flight to Cauayan City was canceled.
The airline announced that we would fly instead to Tuguegarao in the province immediately north of Isabela at 1pm and they would provide us with lunch in the airport while we waited and a shuttle from Tuguegarao to Cauayan City. This meant we would miss our courtesy call visits with the Isabela Governor and the San Mariano Mayor that day. We rescheduled our visit to the Mayor for the next day. The governor, we skipped.
Simone and me, sleeping. Photo credit: Edna Maguidad
Danilo and Roda in the airport. Photo credit: Edna Maguidad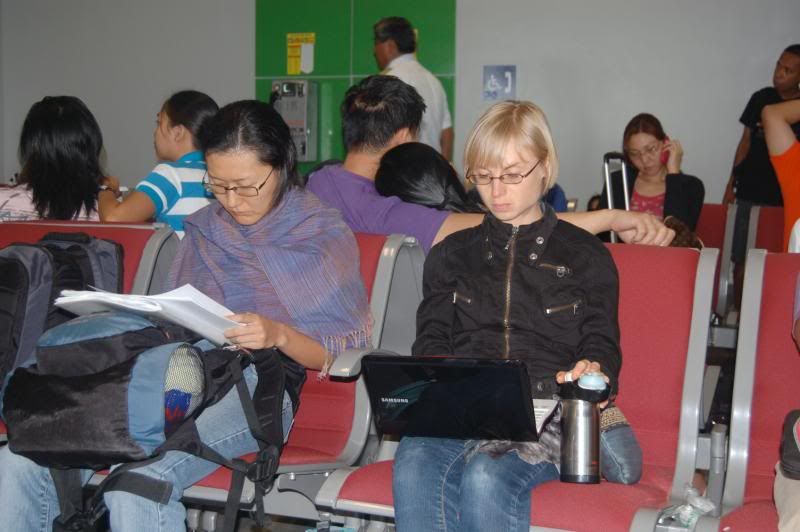 Tanya and Hozue, hard at work. Photo credit: Edna Maguidad.
Feny, our cutest team member. Photo credit: Edna Maguidad.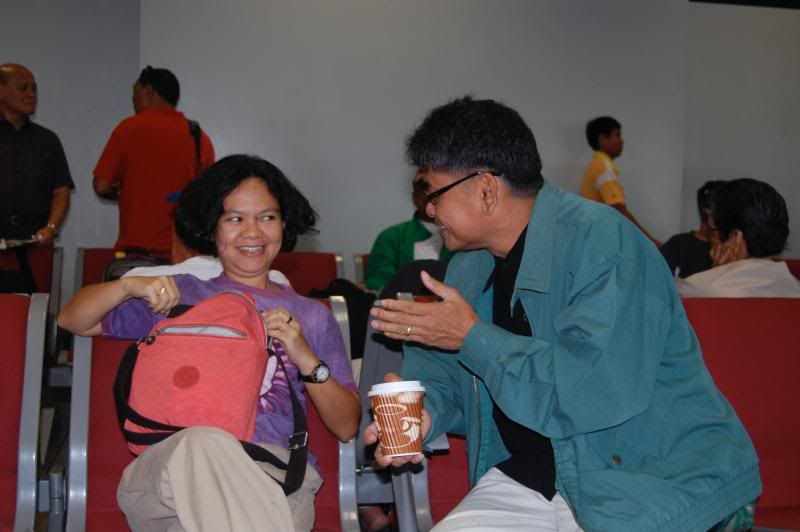 Danilo makes Feny smile. Photo credit: Edna Maguidad.
Lunch was fried chicken and white rice from 7-Eleven. I ate the bread I brought with me from California plus some pina colada jam I purchased in the airport instead. My new friends took funny pictures of me sleeping in the airport (thanks guys).
The flight, which was (mercifully) very short, was rather interesting, as Cebu Pacific airline used pretty much the entire thing as an advertising opportunity with a captive audience. They also played a short game in which they named a country and asked passengers to raise their hand if they could name that country's currency. The winners received Cebu Pacific gear as prizes. Sitting next to me, Simone rolled her eyes.
On the bus from Tuguegarao. Photo credit: Edna Maguidad. She was trying to get a pic of me sleeping, but I heard the camera and pulled up my mask to see what she was doing.
Once in Tuguegarao, we boarded a non-air conditioned bus for Cauayan City. However, our group got off early, at a junction where we would board a different bus to go to the municipality of San Mariano, the site of the bioethanol project we were there to research. I took a few photos at the junction while we waited:
Shops at the junction.
One of the many "Jeepneys" you see all over the country.
Coca Cola: Causing diabetes worldwide.
There is nowhere in the world that is too rural or too remote for Coca-Cola, it seems.
Artificial insemination in the middle of the Philippine countryside? That surprised me.
Want a chicken?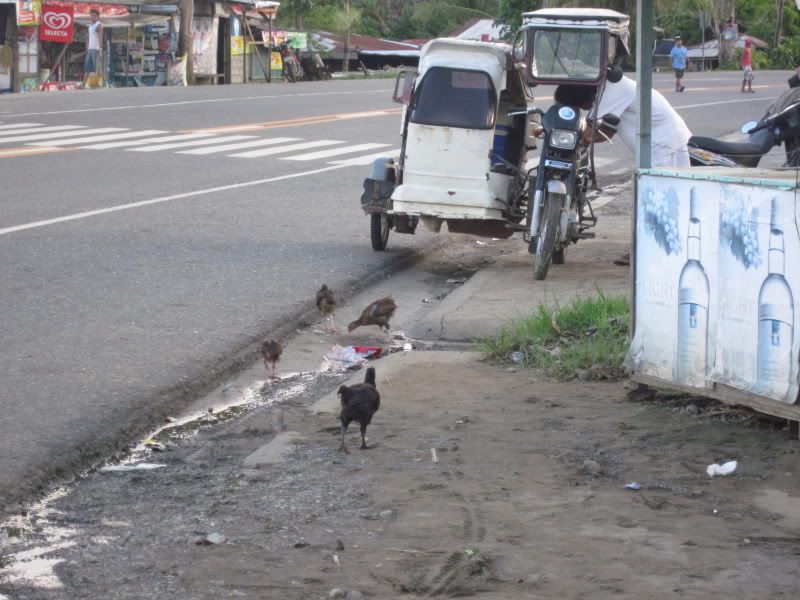 Juvenile chickens. I think these are the "Cobbs" breed, which seems quite popular in the Philippines. The vehicle in front of the chickens is a "tricycle" - another popular mode of transportation in the Philippines.
The junction. Photo credit: Edna Maguidad.
The junction. Photo credit: Edna Maguidad.
Our ride showed up, and we headed to San Mariano. With a few exceptions - such as the water buffalo, the rice paddies - and the complete lack of intercropped corn - the countryside could have been Mexico. Check out these pesticide ads posted on trees:
Compared to Mexico, they were different brand names but many of the same products. The Philippines is home to MANY different brands of glyphosate (Roundup). I did not notice any ads for paraquat, and that's a good thing, I suppose.
We also passed part of the sugarcane plantation that we were there to investigate:
ECOFUEL is the company running the sugarcane plantation.
ECOFUEL Land Development, Inc. currently has some 300 hectares (741 acres) planted as a sugarcane nursery and a few thousand hectares contracted and in various stages of development. They ultimately want 11,000 hectares of sugarcane, mostly within San Mariano (the large municipality we were visiting).
Me, as we arrived at San Mariano's church.
At last, we arrived in San Mariano, and the bus came to a stop at the local church. There, we were met by the locals who would be hosting us and joining our fact finding mission. Each organization had a banner displayed, and I took a picture of two that had interesting logos: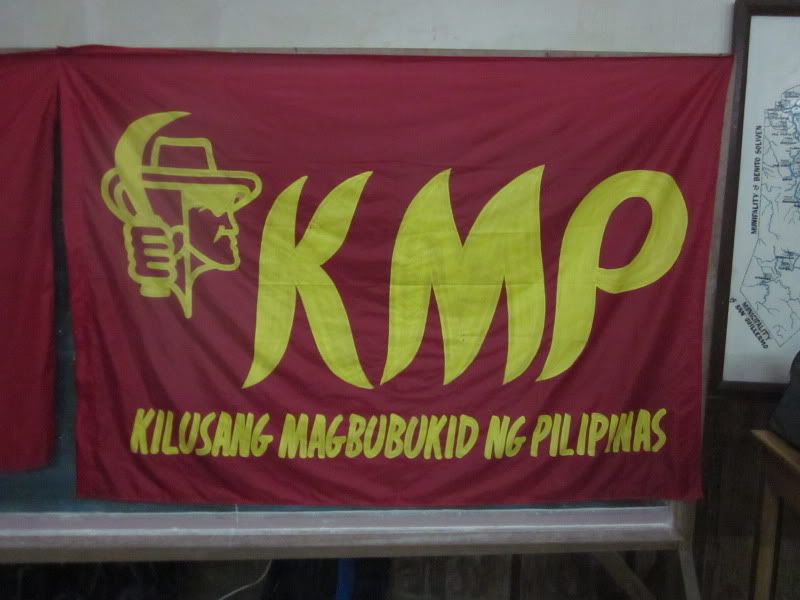 Other groups represented were IBON International (Tanya's employer),
KADUAMI
, and
DAGAMI
(an organization of peasants in Isabela). The local priest was there too. As I greeted him and remarked on the town's beauty, he said: "Oh yes, you can see all of it now that they cut all of the trees down." This area was once covered in rainforest, but illegal logging has destroyed much of it.
After a short meeting of introductions, we set out for the home we were staying at that night, the large home of a San Mariano municipal council member, located in the center of town a few blocks from the church.
They fed us a dinner of meat, fish, vegetables with meat, and white rice. And they had a shower. I washed the thick layer of sweat off myself, wrapped myself up in my mosquito net (which doubled as a sheet), and went to bed.
Team members up late, working, at the home where we stayed in San Mariano. I'm not sure how much you can see it from this photo, but they had AMAZING furniture, likely from locally harvested hard woods that are now rare due to logging.
Map of San Mariano