I was recently part of an International Fact Finding Mission to the Philippines. Our group investigated the impact of a biethanol project that uses sugarcane as its feedstock on the local environment, food security, land grabbing, and human rights. This diary covers the morning of June 1, when I helped interview a family that was really struggling to hang on.
June 1 began with a long discussion by our group about the events of the night before. What would we do about the local official/landgrabber Pedro? He was on his way over, accompanied by the radio broadcaster, asking for us to hear his side of the story. Meanwhile, we wanted to interview other farmers to get their stories - without Pedro or his family around. We decided that a few members of our group would interview Pedro and the rest of us would proceed with the schedule as planned.
Sure enough, as soon as I popped my head outside the house that morning, there was the woman from Radyo Bombo, eager to introduce me to Pedro and his son. Pedro, looking very honest and sincere with his crystal blue eyes, politely asked me in English to interview him. I tried to interject a few times, but he kept on talking, like a freight train that wouldn't stop. Finally, I was able to tell him that YES, we thought it was a GREAT idea to hear his side of the story - but I wasn't going to be the person who would do it. Somehow, we got Pedro talking to Simone - who
would
interview him - and I hopped on the truck with the rest of the group to go to Panninan, one of the poorest barangays (villages) in the area we were told.
We arrived in Panninan at the town's basketball court, right near a small store. I took stock of what was available in the store. If folks here are purchasing their food instead of growing it, whatever the store sells is probably what they will buy, unless they find a way to go into town in San Mariano (more than an hour away, I think).
Basketball court
The store
Eggs and toothbrushes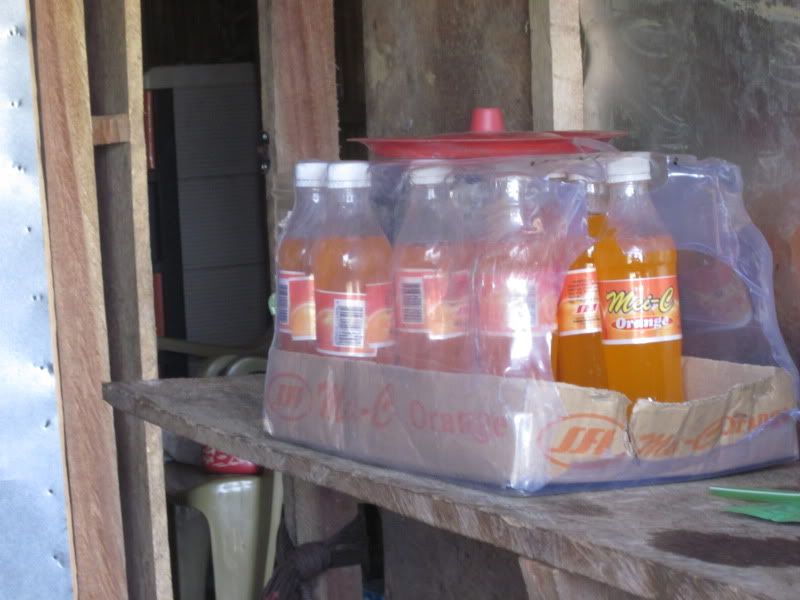 Soda
Ramen
Fish
Cigarettes - EVERYONE in the Philippines smokes, it seems!
Bagoong, the popular Filipino fish sauce
Nearby, I saw a squash on a vine. In the distance, I saw many banana trees. I also noticed a plant I didn't recognize and found out later that it is called malunggai and it is edible.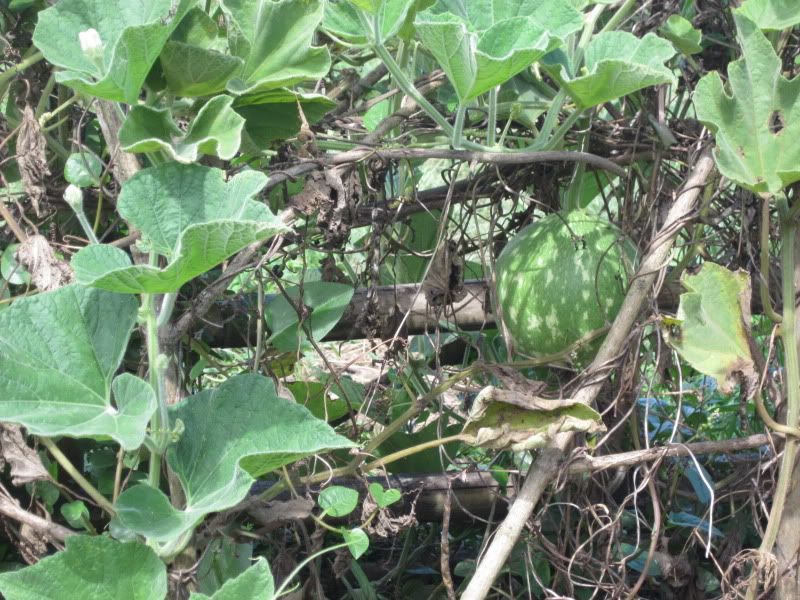 Squash
Banana trees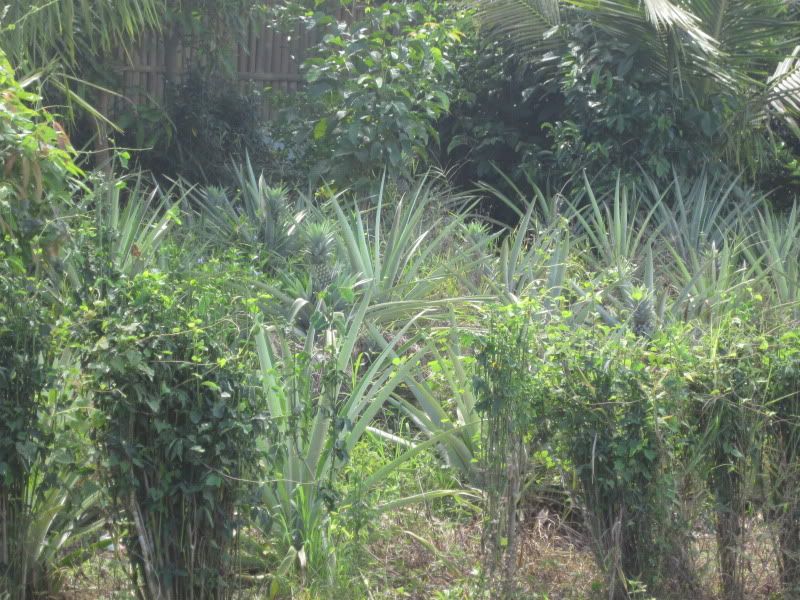 Pineapple and malunggai
Then it was time for interviews. I tagged along with Roxanne, a Filipino woman who spoke fluent English (who I really liked a lot!), and a woman named Eva as we went looking for someone to interview. It still strikes me as strange to visit villages where the main "roads" are actually trails. There was a road into Panninan, but within the village, people travel on foot. No roads are needed.
On the way, we passed several crops growing, including some intercropped bananas, corn, and rice.
Bananas, corn, and upland rice. It seems there was one row of corn for every 3 rows or so of rice.
Beans and eggplant
An outdoor kitchen
Malunggai, a vegetable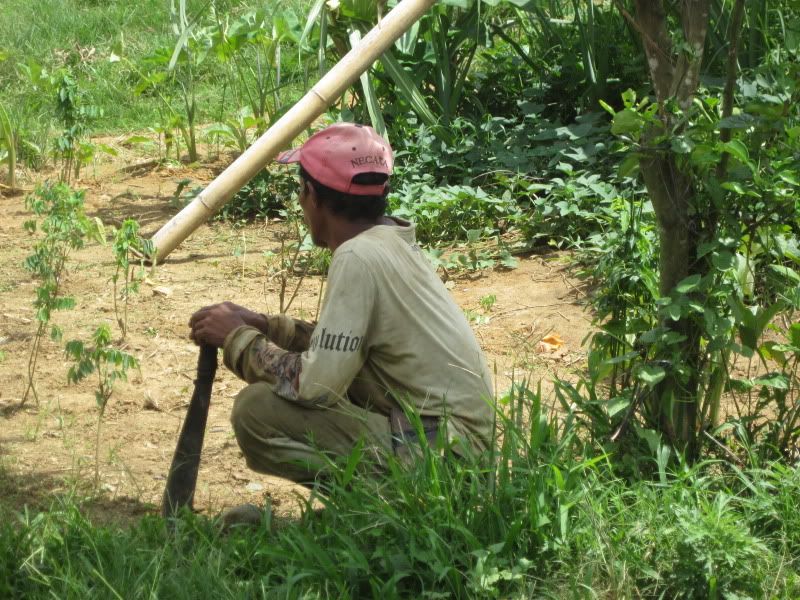 Man with a machete
Mama pig and piglets
We came upon a group of people sitting outside near a hammock and began talking to them. Here is their story:
Gerry's family
Gerry and his wife Cely are a couple in their mid-40s who live in the barangay (village) Panninan. They have 8 children. They are of the Kalinga ethnicity, and neither has any education. Gerry's left arm has been amputated below the elbow. The family owns 5 hectares of land that has been in their family for decades, but they do not have a title to it. They supplement their income by working as day laborers on other nearby farms.

Currently, they grow about 1 hectare of yellow corn with two croppings per year, and they report earning a net income of 20,000 pesos (US$454.54) per cropping, or 40,000 pesos (US$909.09) per year. They take out a loan with an interest rate of 15% per 4 month cropping period in order to buy their crop inputs:


2 bags of Roundup Ready yellow corn seed per hectare at 4000 pesos apiece

3 sacks of fertilizer per hectare at 1000 pesos/sack

3 liters of Roundup (glyphosate) per hectare at 500 pesos/liter


They also pay 20 pesos per cavan (a Filipino unit of measure equal to about 50 kilos) for shelling their corn and 40 pesos per cavan for transporting it to San Mariano. They report a yield of 100 cavans (about 5000 kilos) per cropping, which they sell for 10-12 pesos per kilo.

Additionally, the family plants less than a hectare of upland rice using traditional varieties of seeds. The seeds cost them 300 pesos. They grow five cavans (250 kg) of rice this way, but unfortunately, with 10 people in the family to feed, the rice does not even last them five months. Once their rice runs out, they try to earn money any way they can so they can buy rice. Sometimes, they sell a chicken.

"When we have no rice and no money to buy rice," said Gerry, "We eat bananas. Lately, we've even had to eat yellow corn." (Yellow corn is used for animal feed, compared to white corn which is eaten by people.) They try to conserve their rice so it will last for as long as possible by eating only two meals a day. They also grow a number of fruits and vegetables around their home and on their farmland, including mung beans, taro, sweet potato leaves, string beans, and bananas. All of these foods are used for family consumption.

While we visited, a neighbor brought over four documents, all written in English. Two were Certificates of Land Ownership (CLOAs), one for a property of 9890 square meters and one for 6337 square meters, both issued in 2004. The second two were foreclosure notices on the same two properties. These were issued in 2009 due to the CLOA owner's failure to pay a total of 23,532.89 pesos (US$534.84).

The families we spoke to (Gerry's family and two neighboring families) have heard little about the sugarcane plantation or the bioethanol plant thus far. Mostly, they are struggling to hang on and feed their families. They told us that there was an informational meeting about the sugarcane plantation in their area but they figured they'd be forced to participate in growing sugarcane if that's what the powers that be wanted, so they didn't bother going to the meeting, as they felt it wouldn't make a difference.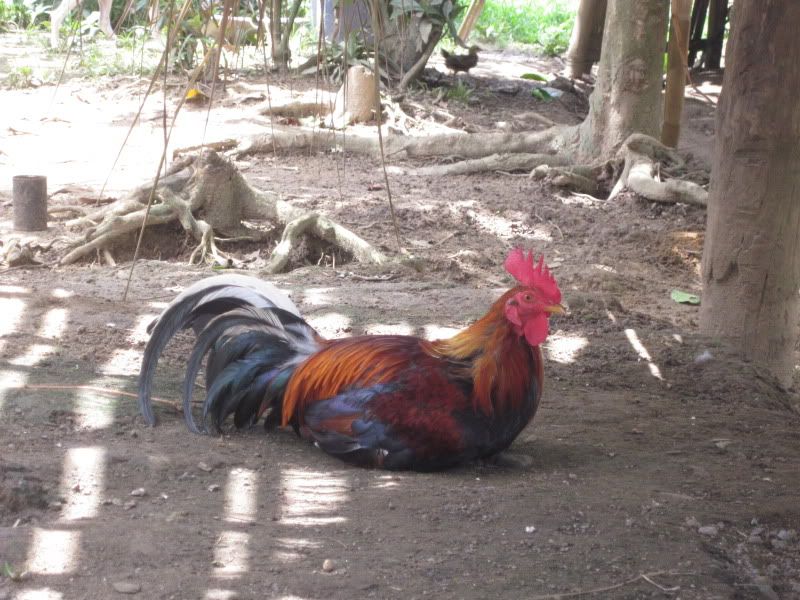 Gerry's rooster
Taro in back, sweet potatoes in the front. This is what Gerry's family eats with their rice.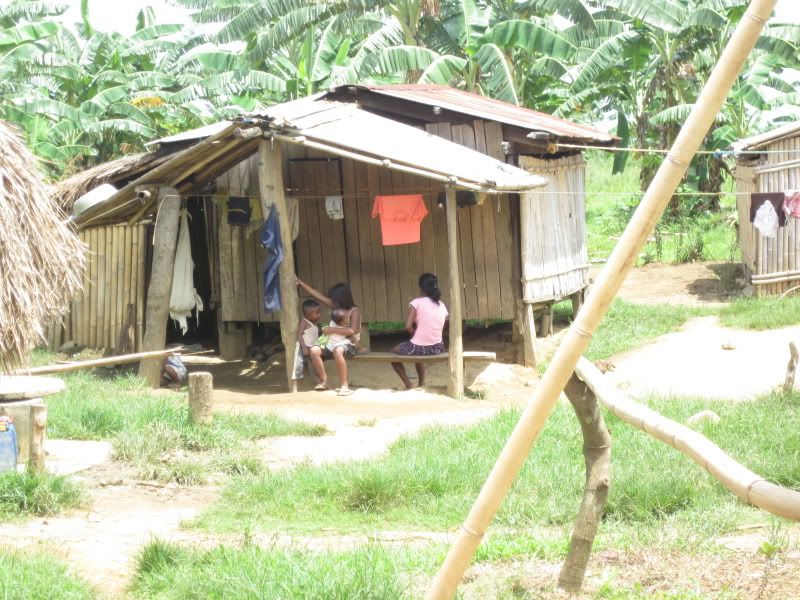 A home near Gerry's house. I am pretty sure I remember seeing her feed the baby infant formula. I was told that companies like Nestle advertise infant formula very aggressively here, a horrible crime given that formula is expensive for poor families, less healthy than breastmilk, and can pose a danger to infants if their parents don't have access to clean water.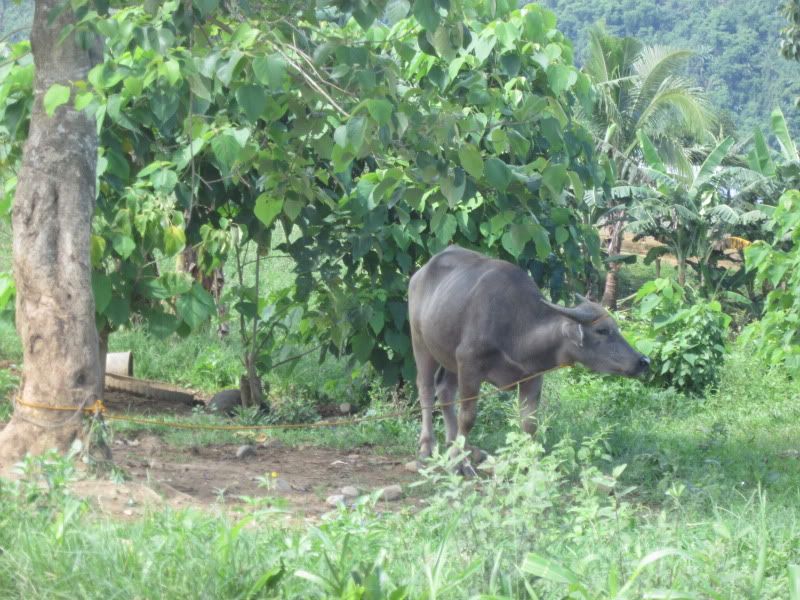 A carabao (water buffalo) near Gerry's home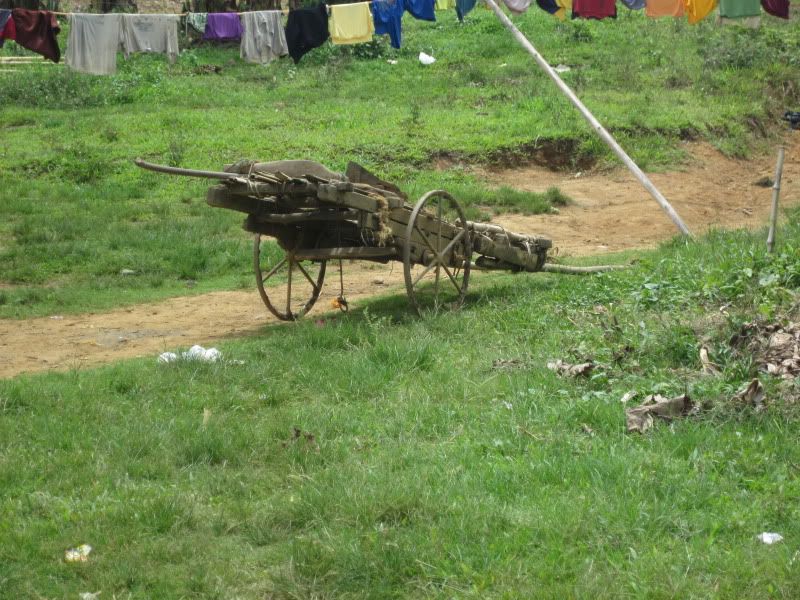 A cart that is pulled by carabao. This one belongs to Gerry's neighbor, as does the carabo pictured above.
For comparison, I'd like to share some numbers we were given in an entirely separate interview in a different village. A woman named Beth gave us a full accounting of her costs and revenues for growing yellow corn with Monsanto's Roundup Ready Bt seed. It seems as if her land is slightly less productive than Gerry's, producing only about 80 cavans per hectare instead of 100 cavans. (Perhaps because Gerry rotates his crops, leaving each part of his land fallow in between growing corn or rice there?) She also uses more fertilizer than Gerry and she pays quite a bit for labor. I did not personally interview Beth, but I suspect she needs to pay for labor because she grows more than one hectare of corn. Let's hope so anyway, because she doesn't make very much per hectare, as you will see below.
Beth's Expenses for Growing 1 Hectare of Corn
Roundup Ready corn seed: 8,000.00 pesos, $181.82

Fertilizer: 8,640.00 pesos, $196.36

Pesticide: 1,310.00 pesos, $29.77

Plowing (100 pesos/person/day, 2 people, 2 days): 400.00 pesos, $9.09

Applying fertilizer (1 person): 100.00 pesos, $2.27

Planting (5 people): 500.00 pesos, $11.36

Food and Snacks for workers: 500.00 pesos, $11.36

Harvest (10 people):1,000.00 pesos, $22.73

Threshing: 2,500.00 pesos, $56.82

Carrying corn from field to drying area: 1,000.00 pesos, $22.73

Drying (4 people, 3 days, 100 pesos/day): 1,200.00 pesos, $27.27

Transport to San Mariano: 1,300.00 pesos, $29.55

Empty sacks: 1,000.00 pesos, $22.73

Total Costs: 27,450.00, $623.86
Nearly $625 in costs to grow 80 cavans of corn, worth 39,325 pesos or $893.75. If Beth did not have to take out a loan to buy her inputs, then she made $269.89 per hectare per crop. With two crops per year, that would give her 23,750 pesos or $539.77 per year, or 65 pesos or $1.48 per day.
If she did take out a loan, she would then have to pay 15% interest, and that would bring her net income down to 6385 pesos ($145.11) per hectare per cropping; 12,770 pesos ($290.23) per year; or 35 pesos ($.80) per day. Ouch. I hope that she has more than one hectare, and I hope she didn't need a loan.
Compared to Beth, it appears that Gerry used unpaid family labor to save on expenses, and with the higher yield, he would have about 50,000 pesos $1,136.36 in revenues per crop. He reported 22,800 pesos ($518.18) in expenses (including 15% interest) but only 20,000 pesos in net income per cropping, so he probably forgot to tell us about a few of his expenses. What we do know for sure from the interview is that his family is barely hanging on. They don't have any extra money lying around, because if they did, they'd use it to buy rice. An annual income of 40,000 pesos is $909.09/year or 110 pesos ($2.50) per day. That's not a lot of money if you've got 10 people to feed.