I was recently part of an International Fact Finding Mission to the Philippines. Our group investigated the impact of a biethanol project that uses sugarcane as its feedstock on the local environment, food security, land grabbing, and human rights. This diary covers the morning of our third day, when we interviewed sugarcane plantation farmworkers and their families.
Following our courtesy call to San Mariano's mayor, our group split up: half went to the bioethanol plant, and half went to a barangay (village) called Alibadabad to interview the families there. I was in the second group.
Our ride. Beware of sunburns.
Once at Alibadabad, we split up into small groups and walked around looking for people to interview. I followed a few of my Filipino colleagues to a woman named Rebecca's home. I am using real names of the people we interviewed and identifying the real places. Normally, I do not do that but in this case, the people wanted their stories told and were willing to go on the record. By doing this, they are risking their own safety. As a foreigner, I am not sure how great the risk is, but I'm told it's not at all unheard of for the Philippines to toss an activist in jail without a trial. While in the Philippines, we were very conscious that, as foreigners, we were likely safe, but our actions could put the Filipinos we befriended in danger if we were not careful.
Rebecca was doing her laundry when we arrived, but she stopped to speak to us. There were several pigs in the village, and Rebecca had a pig too. I found out in the course of the interview that it wasn't hers - she was raising it for money, to split the profits with the pig's owner.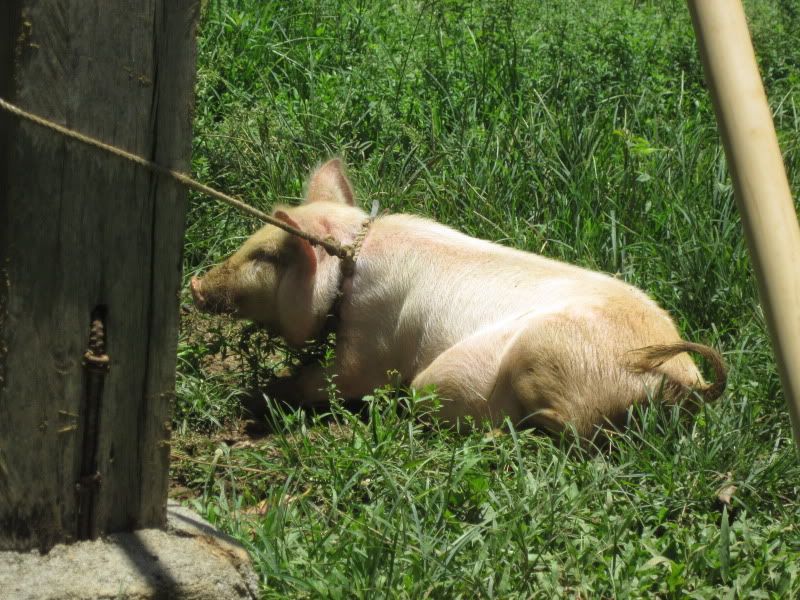 Pig
One of the buildings in the village, with laundry hanging outside. And the same pig as above.
Rebecca's pig
Rebecca's home & laundry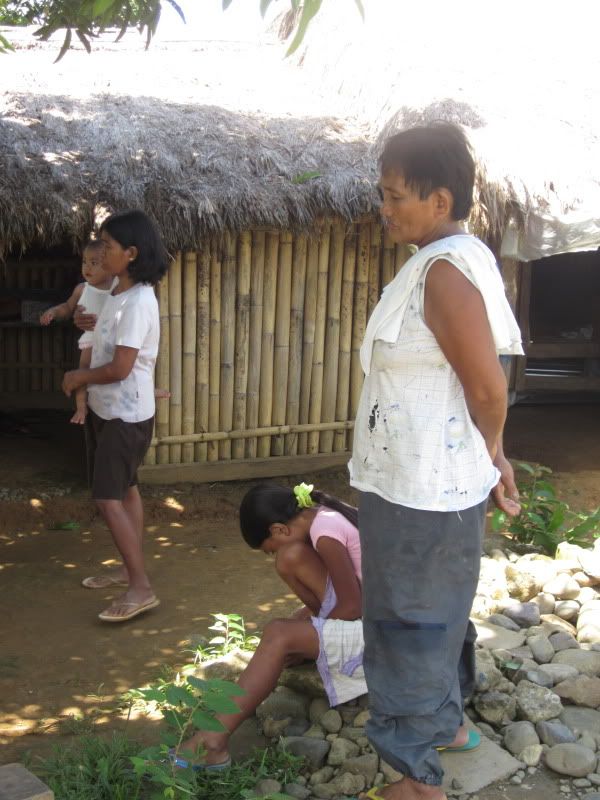 One of the families in the village. I think this is Rebecca, holding the baby, but I can't remember. The older lady might be her mother in law.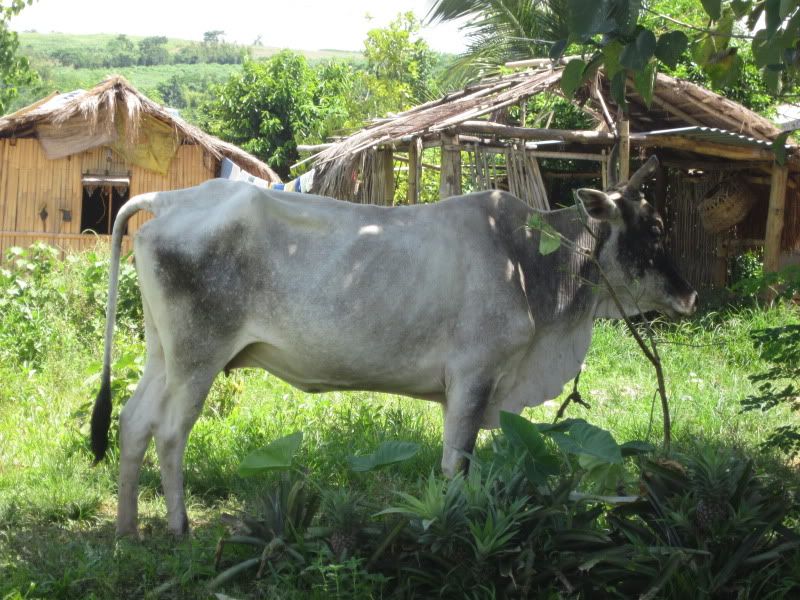 A rather skinny cow in Alibadabad.
Here is what Rebecca told us about her life:
Rebecca and Pedro are a couple with 5 children living in Alibadabad, San Mariano. Both are of the Kalinga ethnicity and are in their forties. Rebecca completed school through fourth grade; Pedro completed fifth. They own no land. Prior to 2007, they practiced slash and burn farming for 20 years by renting land. They shared their crop with their lender, keeping 70% of profits and giving 30% of profits to the lender. Typically, they grew mostly yellow corn to sell, which would provide them with a net income of 2400 pesos (US$56) per cropping, although they still had to pay labor costs out of that amount. After they paid for labor, they had little money left. They grew two corn crops per year. They also grew a small rice paddy and some white corn for family consumption.
(Note: Yellow corn is for animal feed in the Philippines; white corn is for human consumption.)
After two successive droughts, they gave up farming. In the past, they had always had enough to eat, but during the droughts they did not. Now they purchase all of their food instead of growing it, as they live on a 10m by 10m plot of land they purchased for 5000 pesos in 2000 that does not have enough space for them to grow food. They do raise a few pigs on the land, but the pigs belong to someone else, and they split the profit with the pigs' owner 50/50 when the pigs are sold.
In 2008, they first heard about the incoming sugarcane plantation, when the company brought sugarcane to their barrio and taught them how to plant it. They promised to pay 2200 pesos per hectare. She recalls no hearings about the incoming plantation, and feels that people in her area were not well informed about it. Rebecca reports that barangay officials did not intervene in the sugarcane plantation's activities, and in fact, municipal officials are the most active in promoting the bioethanol project. She's noticed the increased military presence in San Mariano, and told us that the military provides security to the plantation. Thus far, there are no local paramilitary forces, but Rebecca reports noticing that they are now recruiting locals to serve as paramilitary.
Last year, Pedro and his 2 eldest sons (now ages 18 and 23) began working on the sugarcane plantation as farmworkers. Typically, they work in groups of five, which are paid 400 to 700 pesos per day to be split among the group (80 to 140 pesos per person). Together, the most the three family members have earned in a week is 1700 pesos (US$38.63), but a more typical weekly income is 900 pesos (US$20.45). Wages are tied to the amount of work the group is able to complete. However, even in their best weeks, the three men earn less than minimum wage of 233 pesos per day. For three men working six days a week, a minimum wage income for the family should total 4194 pesos (US$95.32).
For the three family members who work in the sugarcane fields, their day begins at 5am. They walk to work for two hours, arriving and beginning work at 7am. They break from 11am to 1pm for lunch, then work until 4pm. At that time, they make the 2 hour walk home, arriving home at 6pm. Rebecca stays home with the younger children during the day.
In March, the 18-year-old son was wounded while working in the sugarcane plantation when he cut his foot on some sugarcane. He went to the hospital, where he incurred expenses of 1540 pesos, plus an additional 700 pesos to pay for medicine. The total medical debt of 2240 pesos (US$50.91) has not yet been reimbursed by the employer. Rebecca says the injury has been reported, but the company requested a birth certificate from her son. Meanwhile, the 18-year-old son is unable to work (let alone walk), so the family's income is diminished by one third.
Rebecca recalls that the company promised employees Social Security and PhilHealth, but she has received neither thus far. She is not sure if the company has registered her family for these benefits or not. She says that some people have gotten cards for PhilHealth but she is not sure if they've actually gotten medical services yet. She says the company said that her son's medical costs will be reimbursed through social security.
The only bright spot for Rebecca is that her oldest daughter is now attending college. She got a scholarship to pay for her costs, but with the money earned at the sugarcane plantation, Rebecca is also able to provide her with a small allowance. Otherwise, Rebecca says, "The biggest change in my life since the sugarcane plantation came here is no change." Life was difficult before, and it is difficult now.
Rebecca reports that her family has grown sicker since they began working at the sugarcane plantation, but that might be a coincidence and unrelated to the sugarcane work. She says her family - particularly her father in law - has had problems with cough, diarrhea, and malaria. She'd like her husband to stay home instead of working at the sugarcane plantation.