I was recently part of an International Fact Finding Mission to the Philippines. Our group investigated the impact of a biethanol project that uses sugarcane as its feedstock on the local environment, food security, land grabbing, and human rights. This diary covers the morning of our third day, when we woke up in San Mariano and I stumbled into a seed & pesticide store.
We spent our second night at the home of a councilman in San Mariano. He had a large home with exquisite hard wood furniture, gas for cooking, running water, a shower (no hot water, but it was hotter than hell outside, so that was fine), a toilet that you flush by pouring water down it, electricity, plenty of electric fans (but alas, no A/C), and a very affectionate, very pregnant orange tabby cat. He and his family were incredibly generous to our group, allowing us to sleep in the family's bedrooms and on extra mattresses on the floor as well. In the morning, I noticed family members (whose beds we took) sleeping on chairs, which made me incredibly grateful for their generosity.
I woke up with the roosters and by 6am, I was out of the house, exploring San Mariano. San Mariano is a municipality, which includes the town of San Mariano itself and the outlying rural areas. The villages in the Philippines are called "barangays." San Mariano municipality, the largest municipality in the Philippines, has some 37 barangays. But for now, we were in the center of the town itself, where there were paved roads and even some internet access. I took a few pictures of our street, none of which are very exciting: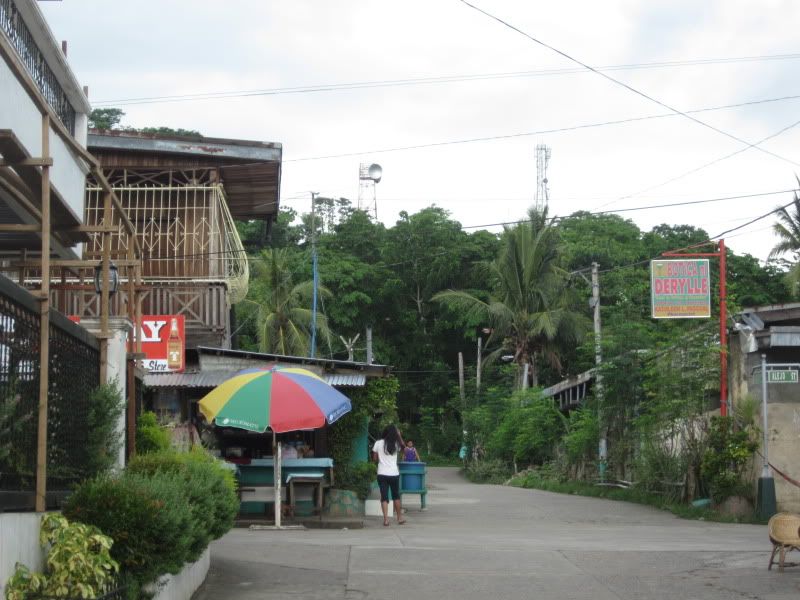 My first goal for the morning was to buy a wide-brimmed straw hat. I was also on the lookout for any agrochemical stores. As it turns out, I found both in one place.
Sharp Shooter, a Roundup knockoff
The store clerk noticed me taking a picture of her sign and asked what my purpose was. I told her I was here to learn about Filipino agriculture. She assured me that the product in the advertisement was imported, as was nearly everything in her store. Imported products are good, she explained. Filipino products are bad. And Monsanto? "Very good company," she told me. She also told me that many farmers took out loans to buy seeds and chemicals and then they went into debt as a result.
I played along because I wanted information and photos. She had bags upon bags of GE corn, both Bt and Roundup Ready. I noticed a skull and crossbones on the label of one GE corn product and asked to take a few photos: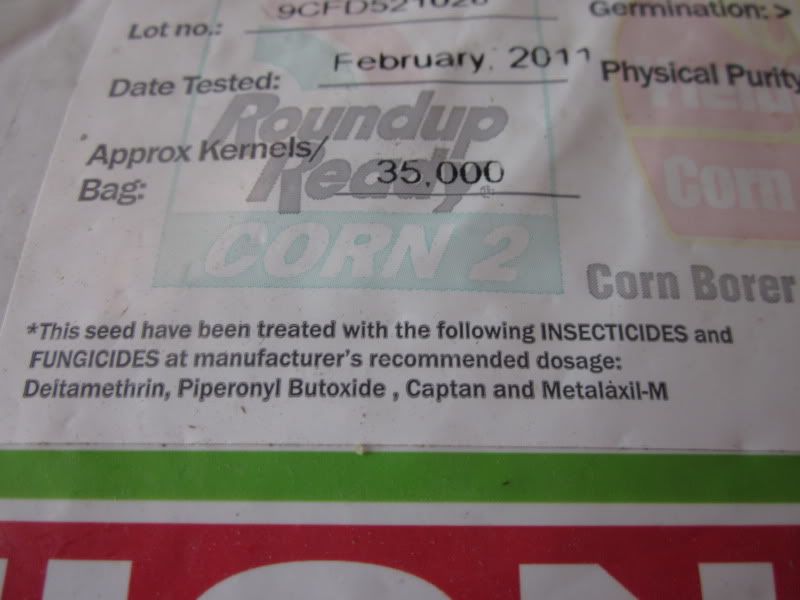 GE corn, which sells for 4000 pesos ($93) per bag. You need 2 bags per hectare. Notice the list of pesticides the seeds are treated with?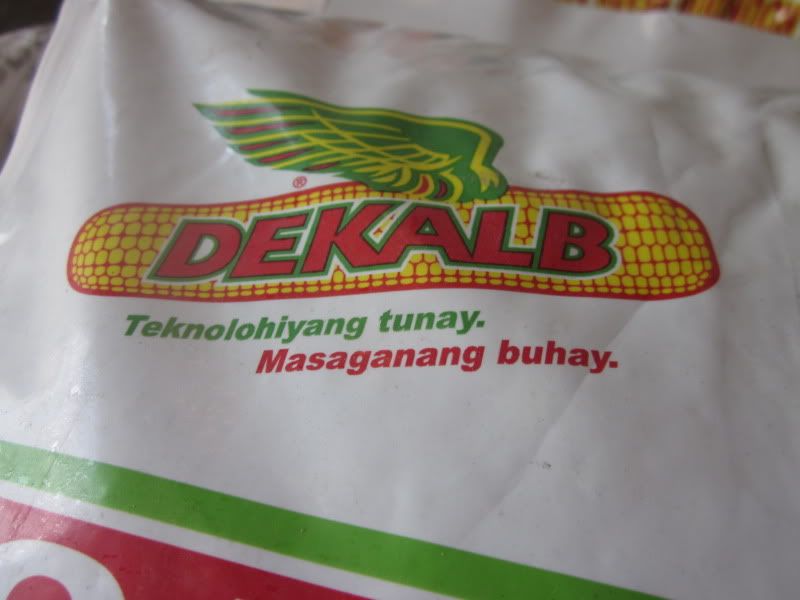 The DeKalb logo and slogan in Tagalog. It translates roughly to "Really technology. Abundant life." This is a different slogan than the one I saw in Mexico for DeKalb: "An angel in your earth."
A sign hanging in the store
Fertilizer and Coke
As you can see above, the glyphosate product is called Sharp Shooter. Other glyphosate brand names there are Clear Out, Clear Cut, Razor Cut, Broncho, Round Up, Power, Weed Ban, Standout, Klear Weed, Prowess, Demolition, Grass Fire, Dry Up, Pounce, Pounder, Tekweed, Grassout, Burner, Enforce, Devast, Long Score, Glykil, Kross Out, and Triple 8 (
Source
). I also saw a Bayer brand rice seed for sale, and some 2,4-D herbicide on the shelf. I did not notice any DDT or even any Paraquat, but it's possible they (and other highly toxic products) were there and I overlooked them (both products are
legal but restricted
). I bought a straw hat and a fan for a little over $1 and walked home, passing some very miserable looking chickens for sale ($3 each), and a mother and baby bunny on the way.
It hurt me just to look at these guys.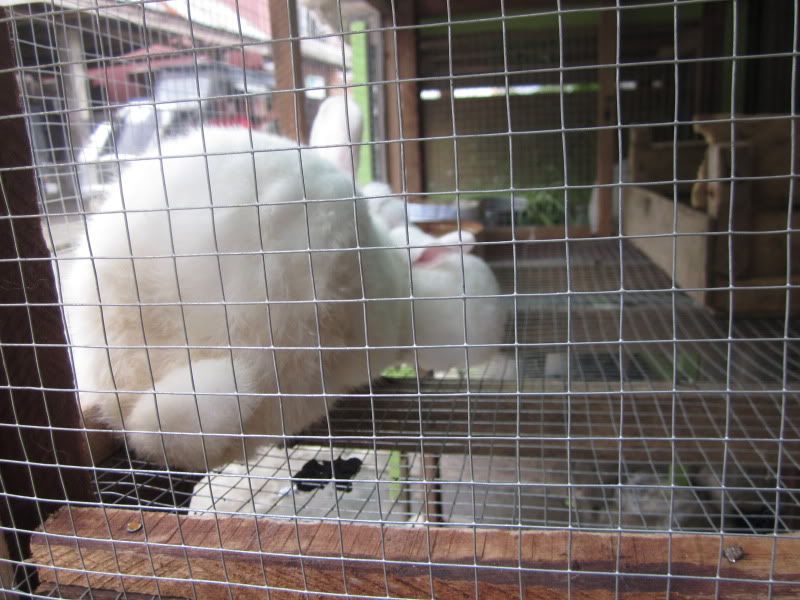 Momma and baby bunny.
When I got home, the entire house was awake and getting ready to start the day. I asked if I could watch our hosts make breakfast. It turned out to be a lot less exciting than I hoped, just eggs, tomatoes, very stinky fish cooked in some brown, liquid pork product, and a can of corn beef hash. (One day I am pretty sure I saw Spam served at the breakfast table, and another day they gave us a can of cocktail weenies.)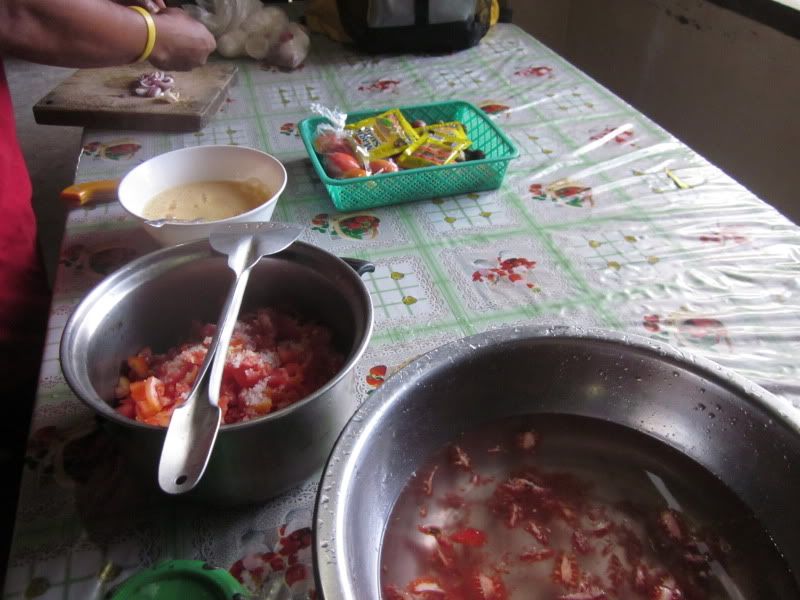 Prepping the ingredients for the tomato & egg dish
Cooking the fish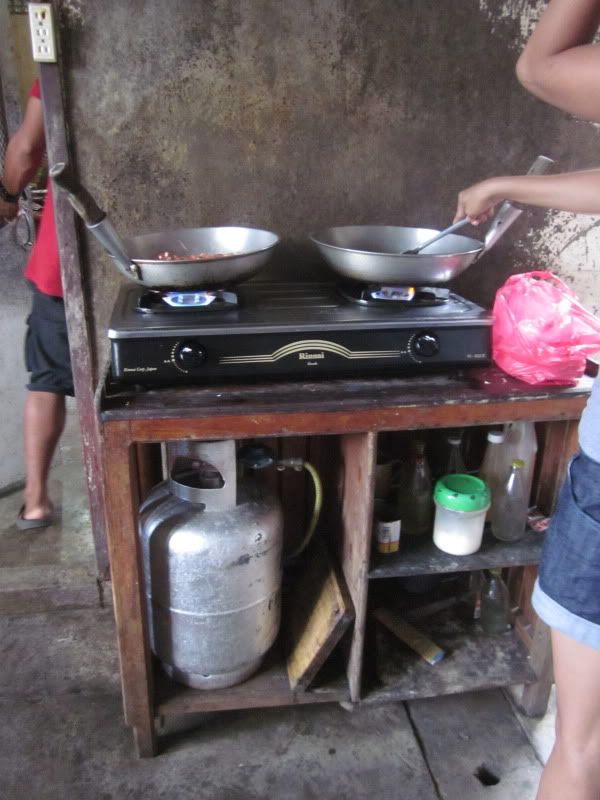 The fish are on the right, the tomatoes and eggs on the left
Tomatoes, onions, and garlic, cooking
Stinky fish. Filipinos love these. I don't even like being in the same room as them.
My breakfast
Breakfast was OK, and the malaria meds I brought this time (Malarone) didn't upset my stomach, so I was ready to start the day. (I brought Doxycycline to Bolivia and it made me throw up.) We began with a briefing from Cita, one of the local Filipino activists who was hosting us in San Mariano. She told us that the bioethanol project had initially told farmers they would pay 20,000 pesos per hectare per year to lease their land for sugarcane production, but when the farmers signed contracts (written in English, so they couldn't read them), the contracts were only for 5000 pesos per hectare per year. That's $116 instead of $465.
Then, a journalist from Radyo Bombo who I met the day before asked if she could interview me. I did NOT feel ready to be interviewed about the situation in the Philippines, since I figured I was probably the least informed in our group about what was going on there. But I consented anyway. (The Radyo Bombo story becomes important later...)
I stepped out of the room where Cita was briefing everyone to wait with the Radyo Bombo person for my interview. After an awful lot of waiting, it was time for our entire group to meet the mayor at City Hall. I hopped on the "Jeepney" that was transporting us and went with the group, completely losing sight of the Radyo Bombo woman. She caught back up with me at City Hall, and interviewed me while the rest of the group was in the Mayor's office. With luck I didn't say anything too stupid (or too damaging).
After interviewing me, she interviewed Tanya, our team's leader and a Canadian. This was the start of a fascination with the group's foreigners that continued all week. Some of the government officials and media folks we met were not affected by this, but many were. They seemed to think that because we were from another country, we therefore had something more valuable to say than the Filipinos in our group. I would argue that it was actually the opposite, as the Filipinos in the group were much more familiar with the Philippines than any of us foreigners!
A "Jeepney" - our ride to City Hall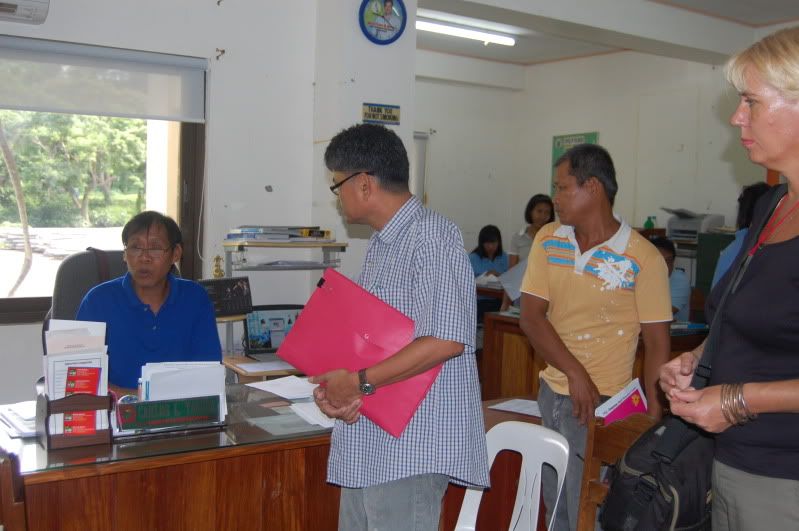 Our team pays a courtesy call to the Mayor. Photo credit: Edna Maguidad
Radyo Bombo interviews our team leader, Tanya, after they finish interviewing me. Photo credit: Edna Maguidad.
From here, our group was to split up. Half went to the bioethanol plant, which is currently under construction. I joined the other half in a rural village (or "barangay," as they are called there) to interview the locals about their experiences with farming, land grabbing, and the incoming bioethanol operation and its associated sugarcane plantation.