This is the fourteenth diary in a series about my recent trip to Chiapas, Mexico's southernmost state, to meet with and learn about the Zapatistas, an indigenous insurgent movement made up of several ethnic groups, and their food and agriculture. On our sixth day, we went to stay with the Zapatistas at Roberto Barrios, near Palenque.
(I went with the group
Schools for Chiapas
, an organization that works with and provides aid to the Zapatistas. Check out their website if you are interested in either traveling with them to Chiapas yourself, or simply buying some artisanal goods or coffee produced by Zapatistas. Aside from the obvious politics involved in supporting Zapatistas, you are supporting human beings who live in extreme poverty and work their asses off to educate themselves and their children and provide for basic needs like water and health care.)
Going to visit a Zapatista caracol (the name they give their government administrative centers in each of their five zones) is a bit of a crapshoot. You don't know if they will let you in, or how long it will take them to let you in. We were going to Roberto Barrios to do a beekeeping workshop for a native, stingless bee, and we were not sure if they'd let us in or, if they did, if we'd even have people to attend the workshop. Everything had been planned in advance, but would the Zapatistas still be game for it?
We sent Peter (who has spent the most time working with the Zapatistas) and Raquel (who was leading the workshop) ahead of our group to see if they could get into the Roberto Barrios caracol while the rest of us shopped for groceries. Hopefully, they would be able to get in and then help facilitate everyone else getting in as well.
... And it worked. We got in relatively quickly. Masked guards took our passports, and then we waited a bit outside a locked gate. After a fairly short wait, they let us in the gate and led us to a room with a few more masked guards who asked us our names, occupations, nationalities, and which group we were with (Schools for Chiapas, in our case). Then they returned our passports and we were good to go.
The last step was going before the Good Governance Board ("the junta") to ask permission for what we wished to do during our time in the Caracol. And... they said yes to everything. We were granted permission to do our beekeeping workshop at 4pm that day. They also agreed to let us eat the communally cooked food at the Caracol during our time there. They planned to put us up for the two nights we were staying, but they still didn't know where. We'd find out sometime before bedtime that night. And, they said it was okay to take pictures of anything except for people.
Now, during all of the time it took to get into the caracol and go before the junta, we were being stared at. All of the zone's teachers ("education promoters" in Zapatista-speak) were at the caracol for a training seminar, and they were FASCINATED to see a bunch of gringos walk in. We were so interesting to watch, that our presence was becoming downright disruptive of their training, actually. So Peter suggested that we make ourselves disappear. Those who were teaching the workshop would get together and prepare for it. The rest of us, if we wanted, would get a tour of the Caracol.
So off I went for the tour. The Roberto Barrios caracol itself is quite small compared to the other caracoles. It's also small considering how many people are living there. Currently, it is housing the secondary school, and it is absolutely packed to the gills with people (which is why they had no idea where to put us when we arrived). Soon, the secondary school will move to a new location (it's being built), near a new hospital that is also under construction.
Entering the Caracol, you see administrative buildings on either side of you. One of the buildings houses a small store. If you walk ahead, you'll find a large pile of firewood that needs to be chopped. From here, you can go forward, left, or right.
A mural in the front area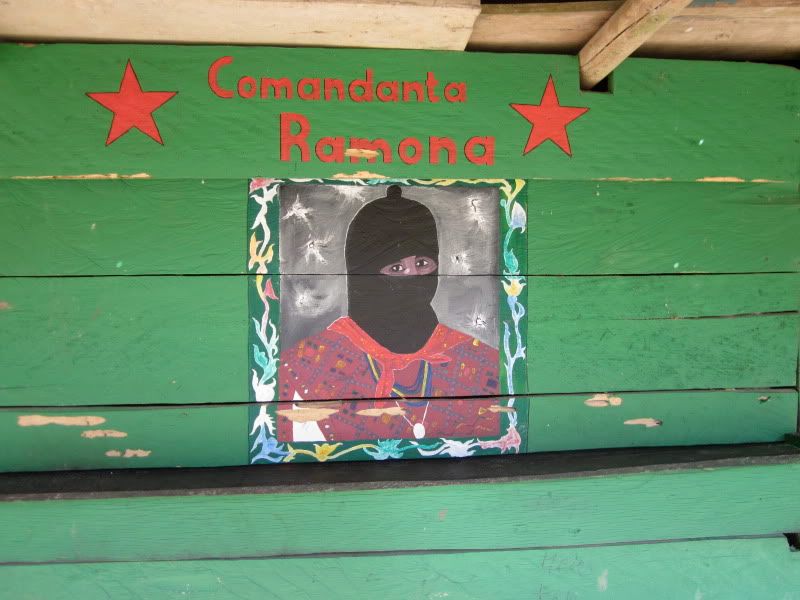 A mural of Comandanta Ramona, a much beloved Zapatista commander who died a few years ago.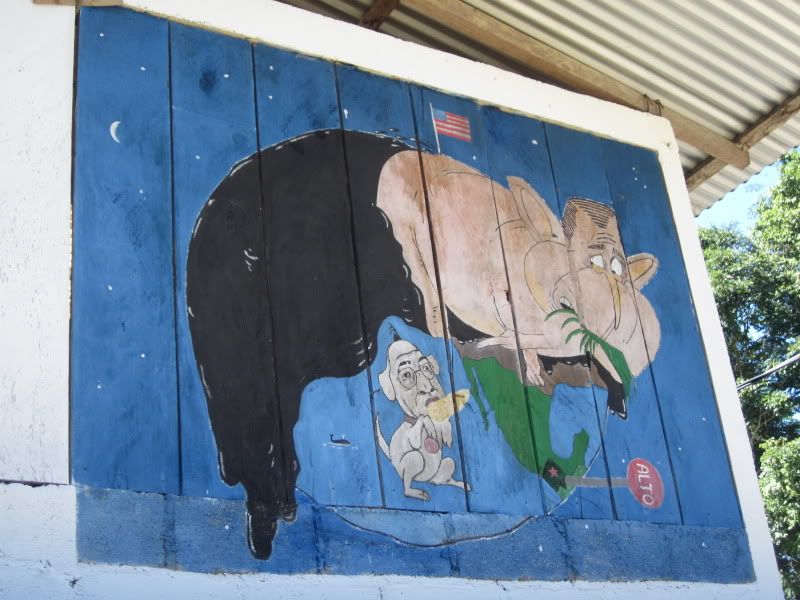 The world was so traumatized by Bush that they STILL have their anti-Bush stuff displayed. I can't say I blame them.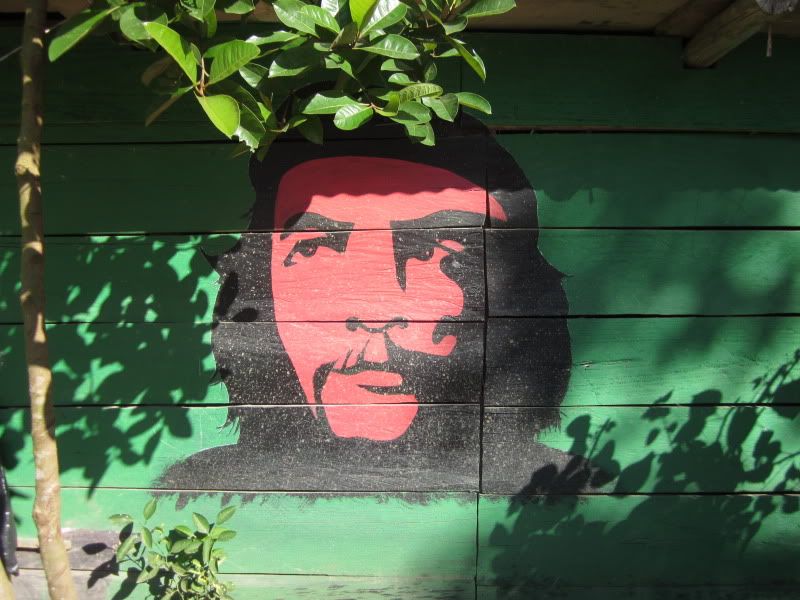 A mural of Che
To the right, in the front (closer to the road), there is a basketball court and, beyond it, an enormous Ceiba tree (the sacred tree of the Mayans). There are a few buildings beyond the basketball court, including an open air classroom.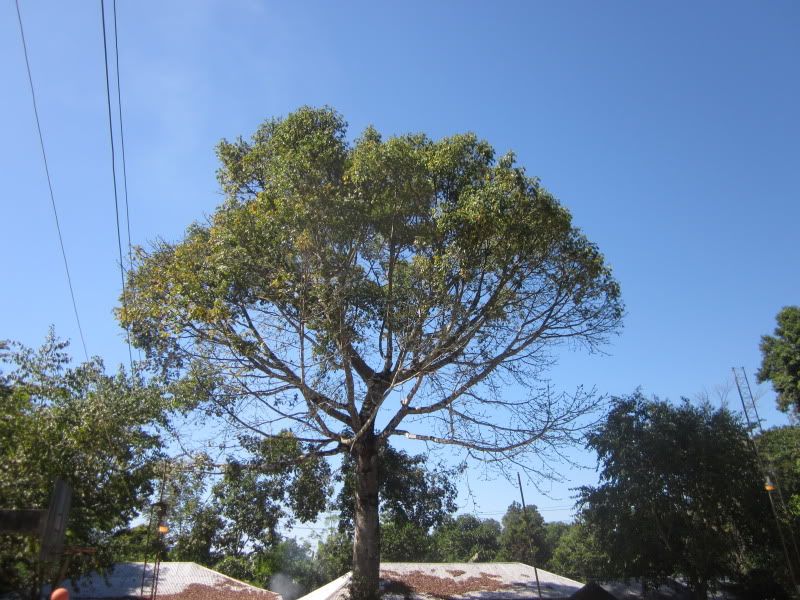 Ceiba tree
This guy was wandering around.
On another side of the basketball court, there is a large room that is used as a woodshop. The education promoters from the region's schools have been trained in woodworking, and they are responsible for making their schools' furniture here. Beyond the woodshop, you'll find the kitchen. Here, they do not have gas stoves, only wood-fired stoves. Just behind the kitchen, there is a dish-washing station with running water in a large outdoor sink.
Very, very, very heavy wooden beams in the woodshop. They were using some VERY nice tropical hardwoods.
More wood in the woodshop.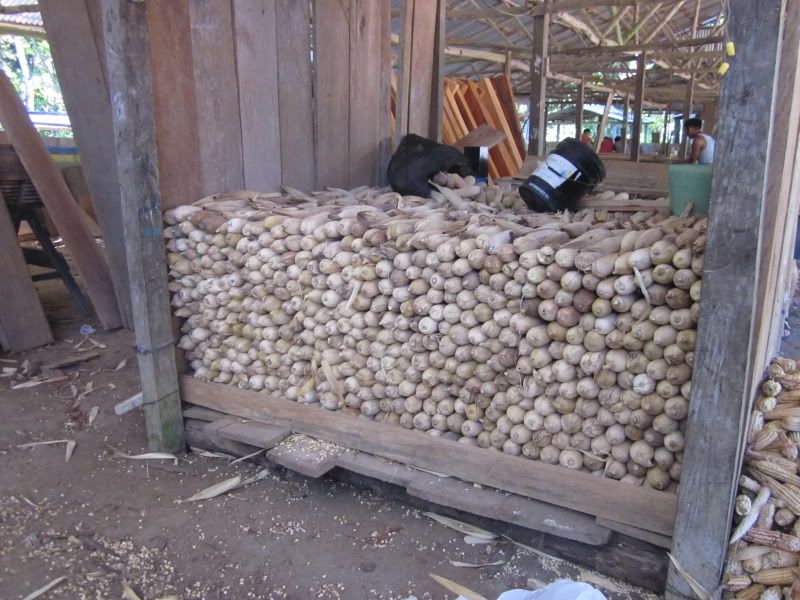 Corn stored in the woodshop
Back, near the entry and the pile of firewood, if you go forward, you'll enter the jungle. Our drive from Palenque to Roberto Barrios was nothing but deforested cattle pastures, but here, the forest canopy remains. If you walk into the canopy on the path, you'll see another outdoor classroom and another building or two (dorms?) ahead and on your left, and these are actually historic for the Zapatistas. Long before the revolution, this was one of the first meeting places for the Zapatistas.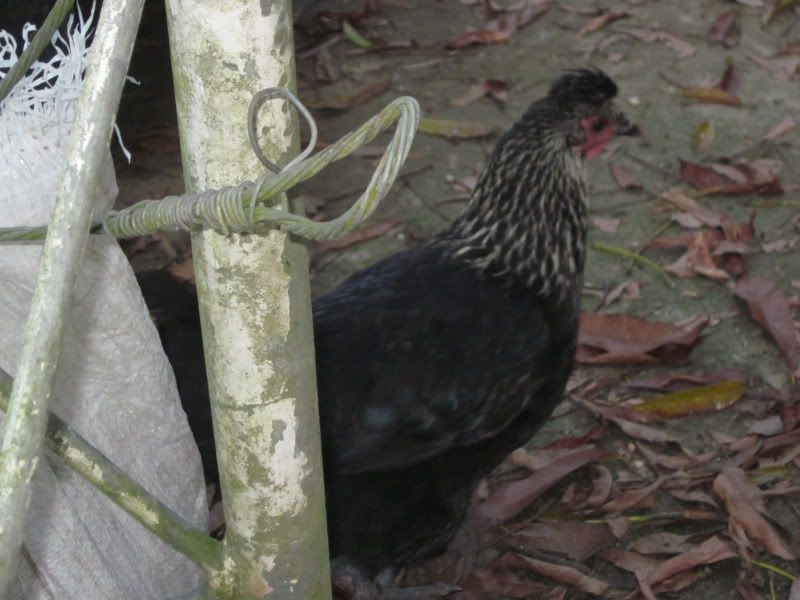 Chicken. They had chickens walking around everywhere.
Going back into the jungle, if you look to the right, you'll see some cacao trees, a water tap that gives filtered water, and a pig pen and chicken/turkey coop. Further back, there is a picnic table, some showers, and latrines. But mostly, there's just jungle. In one of the large trees, there was a hive of meliponas, one of the native stingless bees we were here to talk about.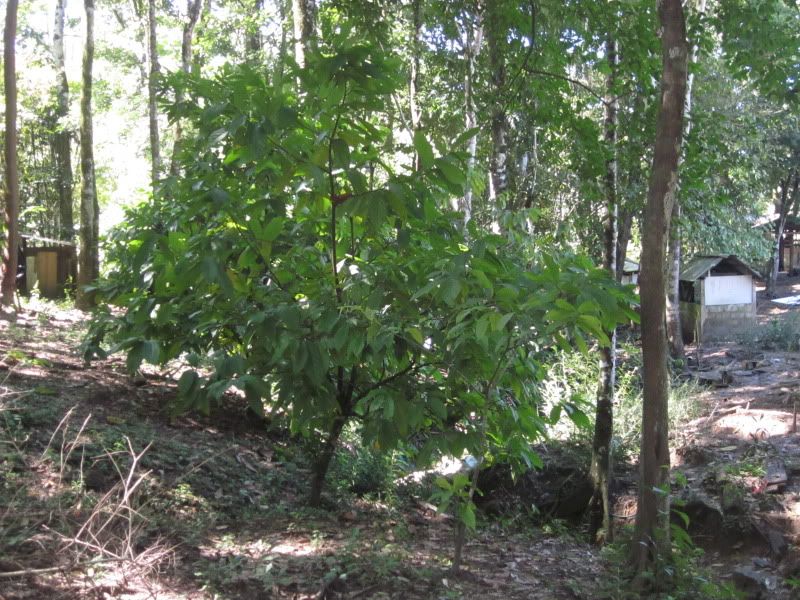 Cacao! Yum!
Melipona hive
Now, starting back near the entry, at the firewood, if you go to the left, you will pass between a few buildings. One, on the side toward the forest, appeared to be a dorm that was absolutely packed full of people. Laundry and hammocks hung everywhere. The other, closer to the road, is the building that houses the store. Walk between these buildings and continue past them and you will find the school. There is also a multimedia room where the Zapatistas produce videos. Apparently, the film crew was off filming corn planting while we were there, so we didn't meet them.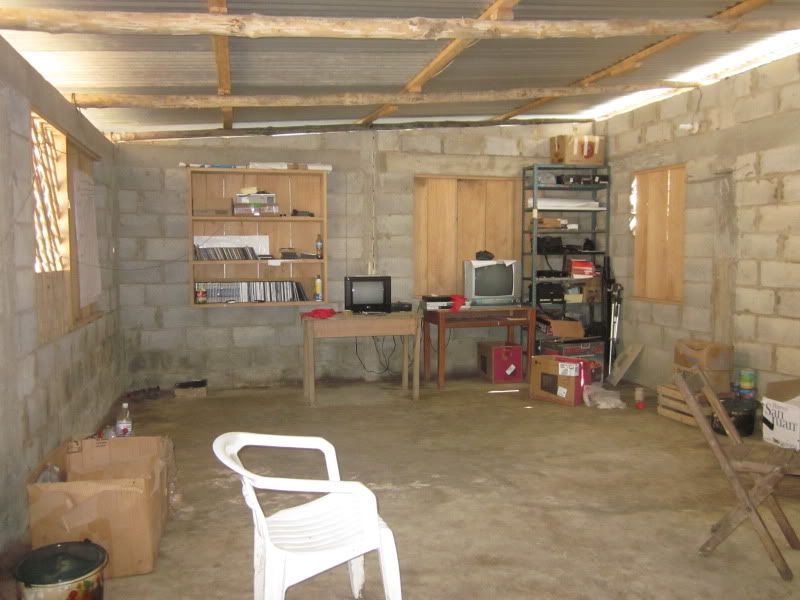 Multimedia room.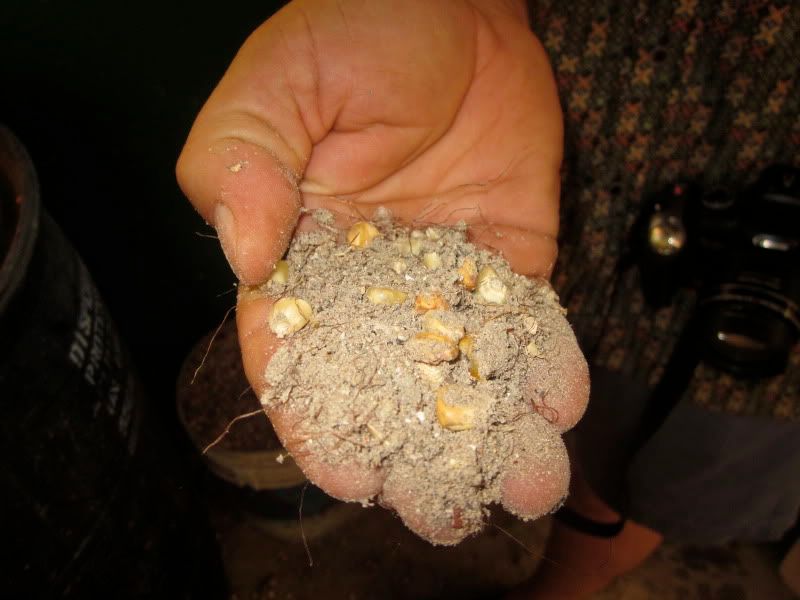 Stored corn that had been eaten by bugs. It turns into this grey dust.
Irrigation equipment, being stored in the same room as the bug-eaten corn. Zapatistas have irrigation? Really? Sweet! I hadn't seen irrigation yet and didn't expect to find it.
A mural of Emiliano Zapata and Che
Chaya, a very nutritious plant that was growing near the school.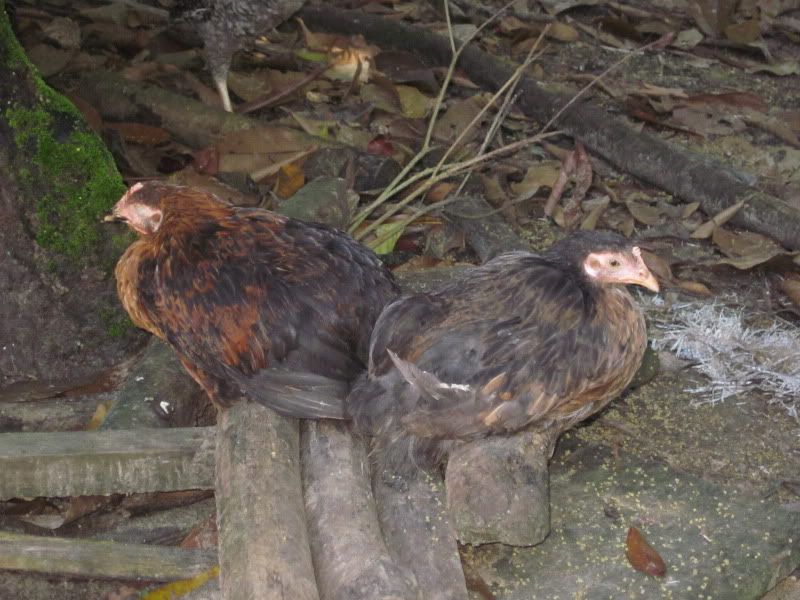 Some more chickens
With the tour concluded, we decided to go for a swim in the river, around 1pm. That was probably when the weather was about at it's hottest. Even though we were in the tropics, the weather really wasn't that bad, especially under the shade provided by the forest canopy. I completely agree with what someone in our group said: Who in their right mind would cut down all the trees, when the trees are what keeps the area cool??
Below are several pictures I took of the river and near the river.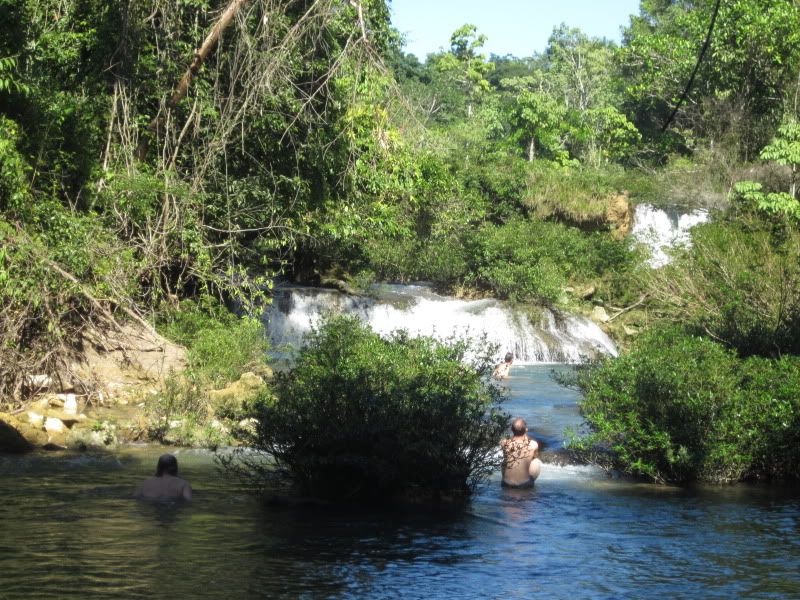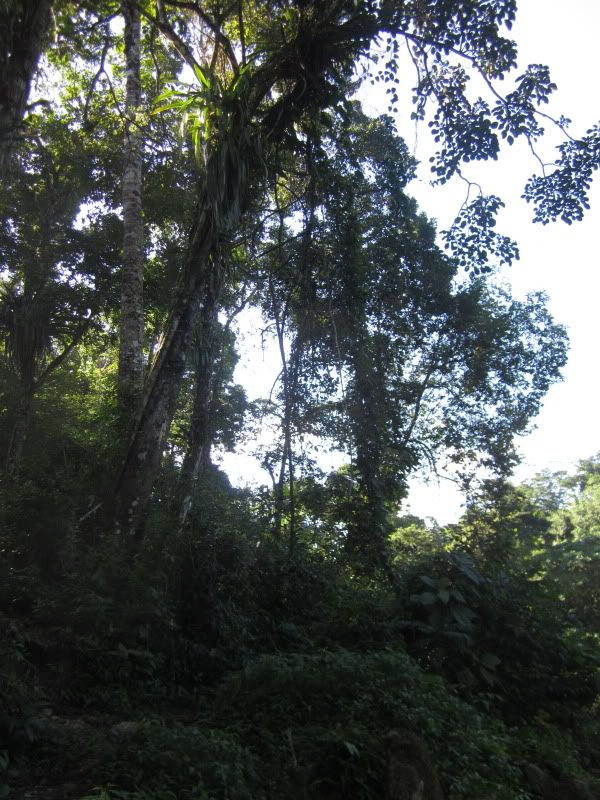 We spent much of the rest of our day in the beekeeping workshop, which I will describe in a future diary. Ultimately, the Zapatistas gave us a room to sleep in, a room we had to share with a bunch of stored supplies for the new hospital, and a nesting Muscovy duck. We each hung up our hammocks, and then I had the lovely experience of trying to sleep in a hammock. I'm not sure I recommend it.