This is the thirteenth diary in a series about my recent trip to Chiapas, Mexico's southernmost state, to meet with and learn about the Zapatistas, an indigenous insurgent movement made up of several ethnic groups, and their food and agriculture. On our sixth day, we went shopping for all of the food we would need for the next several days at the local market. Then we continued on to Roberto Barrios, the Zapatista caracol where we would be staying.
(I went with the group
Schools for Chiapas
, an organization that works with and provides aid to the Zapatistas. Check out their website if you are interested in either traveling with them to Chiapas yourself, or simply buying some artisanal goods or coffee produced by Zapatistas. Aside from the obvious politics involved in supporting Zapatistas, you are supporting human beings who live in extreme poverty and work their asses off to educate themselves and their children and provide for basic needs like water and health care.)
Day 6 was the beginning of the "home stretch." I was feeling good about it. We'd all had showers at our hotel in Palenque the night before, and we'd be able to bathe in a river once we arrived at Roberto Barrios. Roberto Barrios, a Zapatista caracol, was our last stop before wrapping up our trip. For me, between the heat and the mosquitoes, the jungle is something to "get through." Day 6 started my mental countdown of "days left that the mosquitoes will bite me" and "days until my mosquito bites are healed." Fortunately, the heat was not that bad at all.
We made a list of what we needed ahead of time, before walking to the market. I suggested a tropical fruit salad, and the group put me in charge of it. This is something I completely failed at in the end - the fruit was either eaten individually and not in the form of a salad, or not eaten at all. But it was a nice idea. While I went fruit shopping, the others bought everything else we needed - basically, all of the normal Mexican food ingredients that you can think of.
Taking pictures at markets is always risky, because it's a nice way to get your camera ripped out of your hands by angry people who did not want you to photograph them. The alternative is asking permission before taking a picture, of course, but in my experience the answer is "no" about 2/3 of the time, and "if you pay me" the other 1/3. So far, I've gotten away with taking pictures.
Beans! Look at the biodiversity!
Fresh chicken. I should mention that they also sold already dead, plucked chicken elsewhere at this market. There was also a meat counter I saw but did not check out, since it's not something I eat.
Cookies
Raw milk
Snails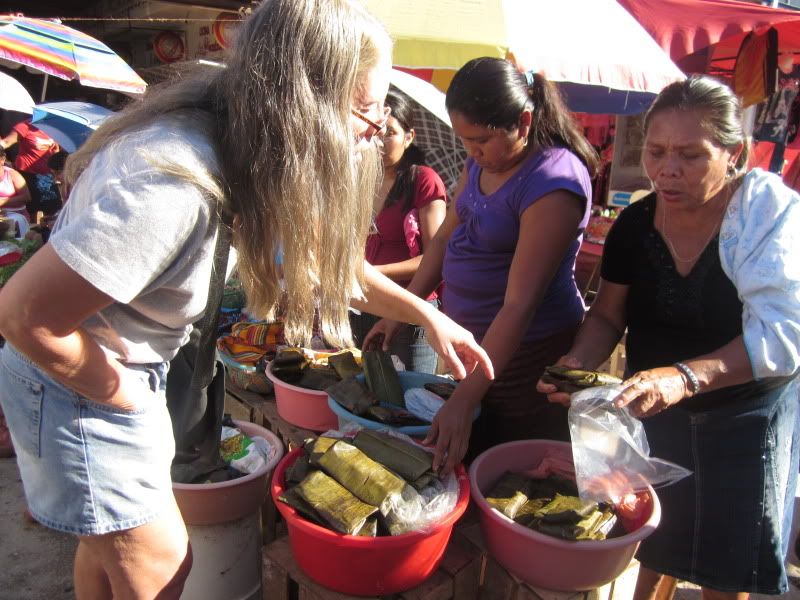 Susan buying us tamales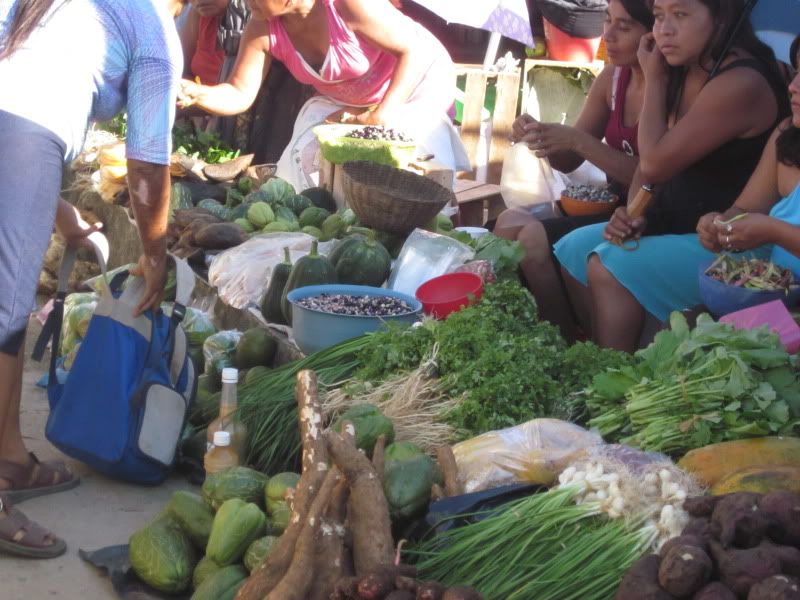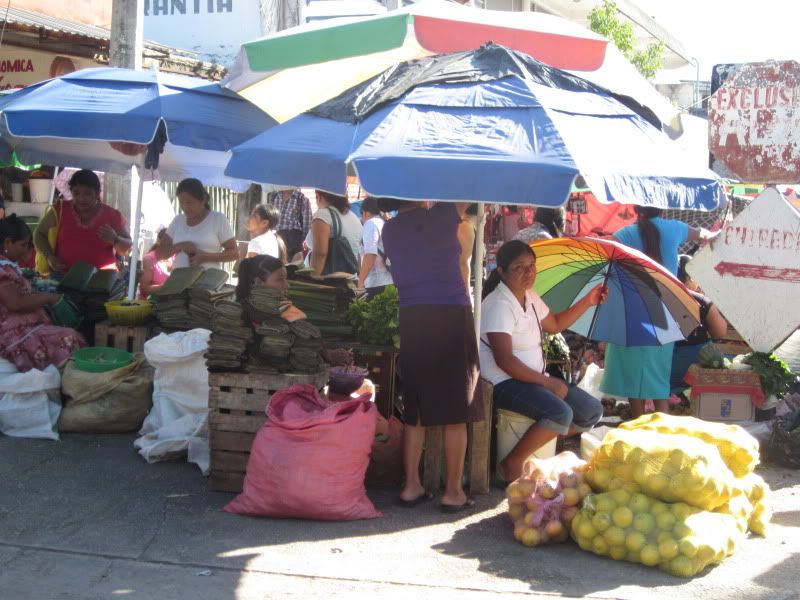 Susan gave me about $10 and set me loose to look for fruit. I bought a bag full of starfruit, a large papaya, a bag of mandarins, a bunch of tiny bananas, and a pineapple, with $1 to spare.
Everywhere I went, I kept seeing white or yellow balls of SOMETHING in plastic bags. The yellow ones looked like peeled pineapples, but then, what were the white ones? It turns out it was corn masa, the dough used to make tortillas. In the U.S. the masa I buy has been dried and it is like a flour. The wet version sold in the Mexican markets has been freshly made.
We had one last stop before going to Roberto Barrios. We needed ropes to hang our hammocks with. We went across the street from the market to - of all things - a store that sold pesticide and rope. Go figure. I took pictures of the pesticides while Susan bought the rope.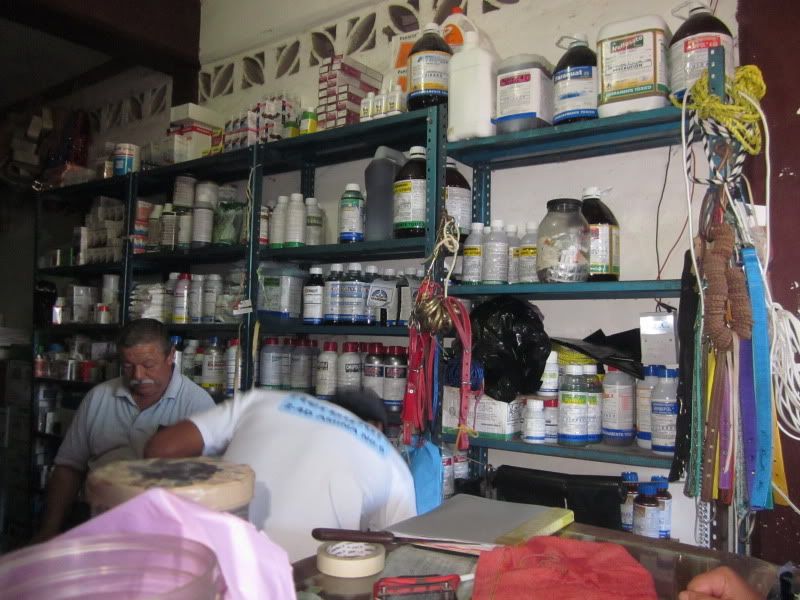 Pesticides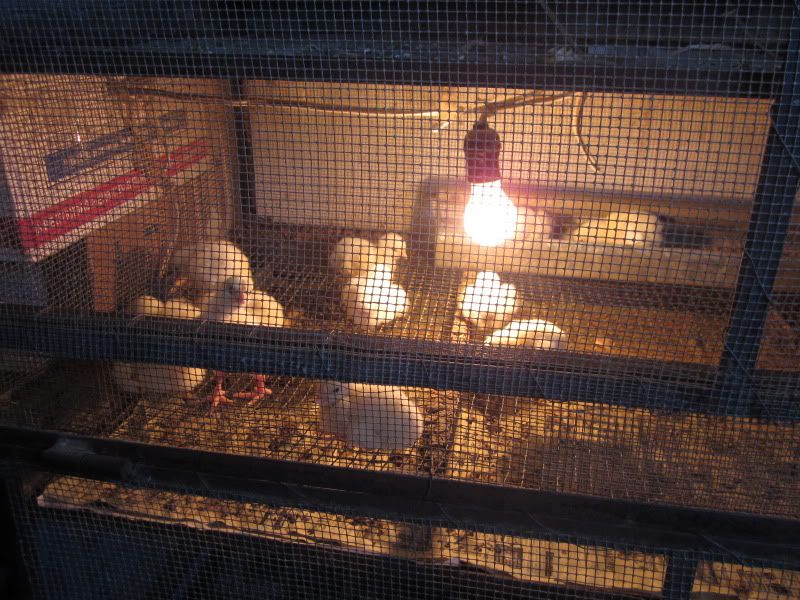 Baby chicks for sale in a store we passed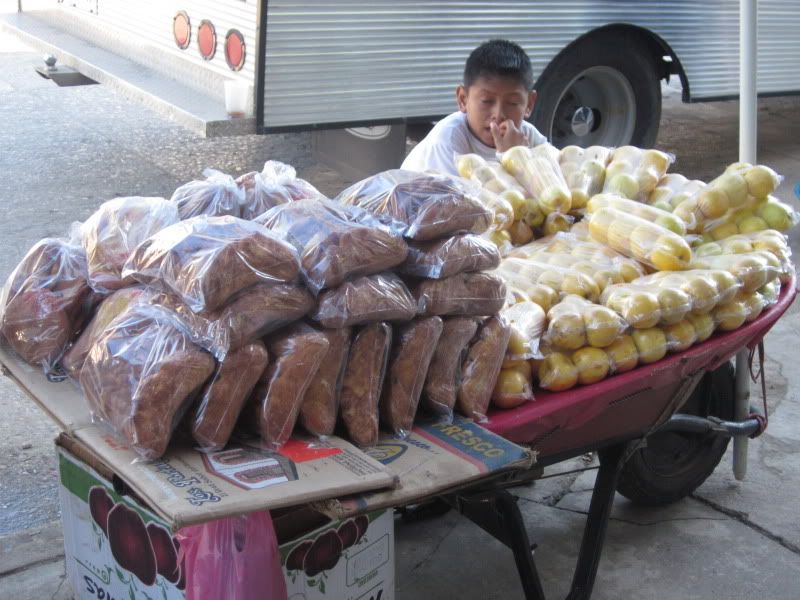 Boy selling food near the pesticide-and-rope store.