This is the eleventh diary in a series about my recent trip to Chiapas, Mexico's southernmost state, to meet with and learn about the Zapatistas, an indigenous insurgent movement made up of several ethnic groups, and their food and agriculture. On our fifth day, we were supposed to leave as early as possible for the long drive to Palenque. When we were invited to a ceremony put on by the students of a secondary school, we scrapped our plans and decided to stay and watch.
(I went with the group
Schools for Chiapas
, an organization that works with and provides aid to the Zapatistas. Check out their website if you are interested in either traveling with them to Chiapas yourself, or simply buying some artisanal goods or coffee produced by Zapatistas. Aside from the obvious politics involved in supporting Zapatistas, you are supporting human beings who live in extreme poverty and work their asses off to educate themselves and their children and provide for basic needs like water and health care.)
As I noted above, the school was putting on a ceremony for the students' parents and local leaders, and we were invited to stay and watch. For them, this was a big deal. It was the secondary school's moment to show its stuff in front of the most important critics around.
When we entered the room, there were 3 men playing guitar as everyone waited for the ceremony to begin. The audience was seated on benches made from flat boards set on top of cinder blocks, with the students sitting in the front row. The students were dressed nicely, and each one wore a red bandanna around his or her neck. Up front were the school's teachers ("education promoters") and several other people who I assumed were community leaders. They were also sitting on a bench and they had a table as well, both made from boards resting on cinder blocks. The cement floor was covered in pine needles, giving the place a wonderful smell.
The ceremony began with a prayer in Tzotzil, followed by three students who came forward and each led one song: the national anthem of Mexico, the Zapatista anthem, and a Zapatista song about education. These were all sung in Spanish. Even though the Zapatistas are indigenous, they consist of several linguistic groups (Tzotzil, Tzeltal, Ch'ol, and perhaps others) so they communicate with one another in Spanish.
The Zapatista anthem, or Himno Zapatista, is as follows:
Spanish:
Ya se mira el horizonte
Combatiente zapatista
El camino marcará
A los que vienen atrás

Coro:
Vamos, vamos, vamos, vamos adelante
Para que salgamos en la lucha avante
Porque nuestra Patria grita y necesita
De todo el esfuerzo de los zapatistas

Hombres, niños y mujeres
El esfuerzo siempre haremos
Campesinos y obreros
siempre unidos con el pueblo

Coro

Nuestro pueblo exige ya
acabar la explotación
nuestra historia dice ya
lucha de liberación

Coro

Ejemplares hay que ser
Y seguir nuestra consigna
Que vivamos por la patria
O morir por la libertad

Coro
English:
Now we can see the horizon
Zapatista combatant
The way will mark
Those that come after us

Chorus:
Let's go, let's go, let's go forward!
To take part in the struggle ahead
Because our Fatherland cries out for and needs
All of the effort of the Zapatistas

Men, children and women
We will always make the effort
Peasants and workers
All together with the people.

Chorus

Our people demand now
For exploitation to end
Our history says now
struggle for liberation

Chorus

A model we must be
And keep our slogan
That we shall live for the Fatherland
Or die for freedom

Chorus
During the songs, everyone stood with our left hands to our foreheads in a salute. Doing this for three songs was incredibly tiring, but the Mexicans seemed to have no problem with it - probably because, unlike me, they have do do things like chop firewood and carry 120 lb bags of corn on their back, so holding their arm up for a few minutes must be nothing to them.
After this, two of the three promoters spoke. I did not understand everything because they spoke in Tzotzil for part of it. One explained the school day to the parents, and the next gave an accounting of the school's finances. This second part was presented by Eugenia, the 18-year-old we had chatted with the day before, who told us she had graduated at age 12 and had been teaching ever since. The students ranged in age from 11 to 16 so there must have been a time when she was actually younger than many of her students.
Eugenia told us about three cooperatives the students run: one to grow the milpa (cornfield interplanted with beans and squash), one to grow the vegetable garden, and a third to bake and sell bread. All in all, they had invested some US$200 in these three projects, and they had not yet broken even. However, they had some US$40 worth of supplies on hand, and some of the original money was spent on tools. There was some worry in the community about the health effects of the bread, which was delicious but not terribly nutritious, as it was made from white flour and sweetened with sugar. It was a good point, I thought, but I would worry more about the school's store - which sells almost exclusively junk food - than the bread.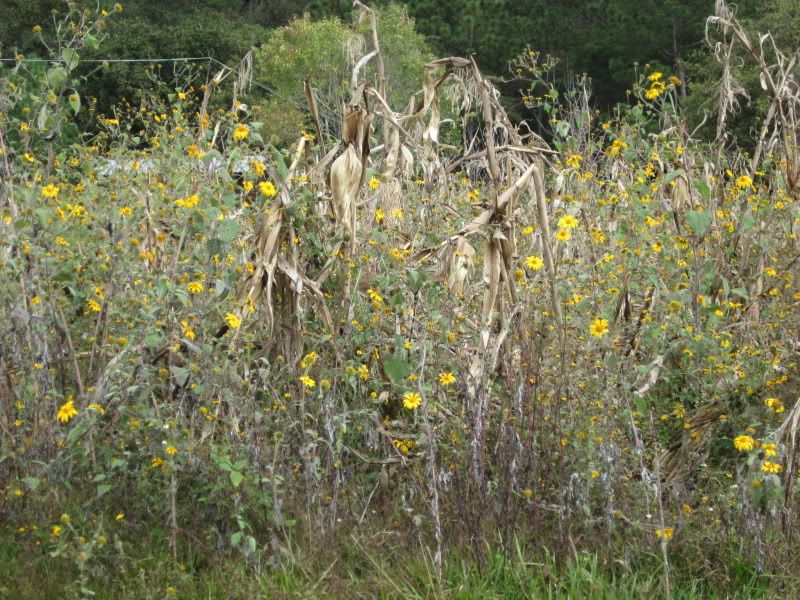 The students' milpa, full of sunflowers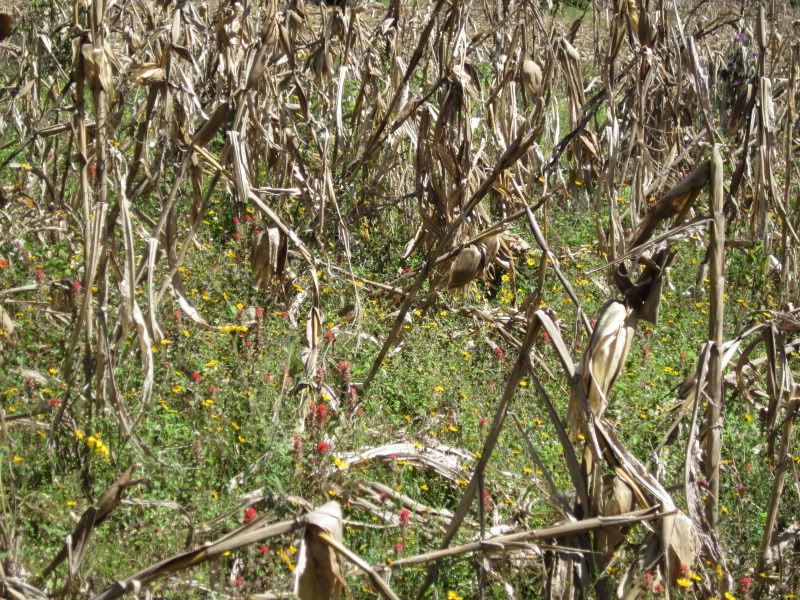 Red flowers in the students' milpa
Beans growing up a cornstalk in the students' milpa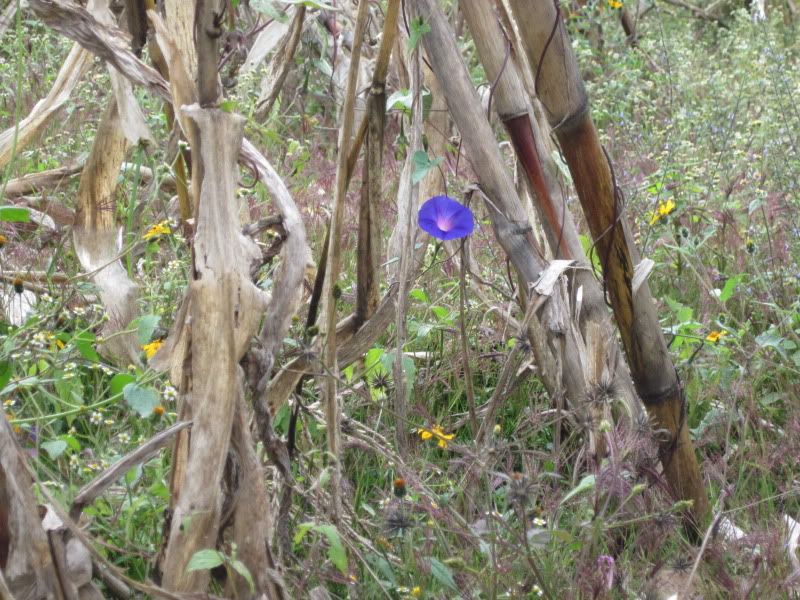 A purple flower among the corn
Yellow medicinal flowers growing among the corn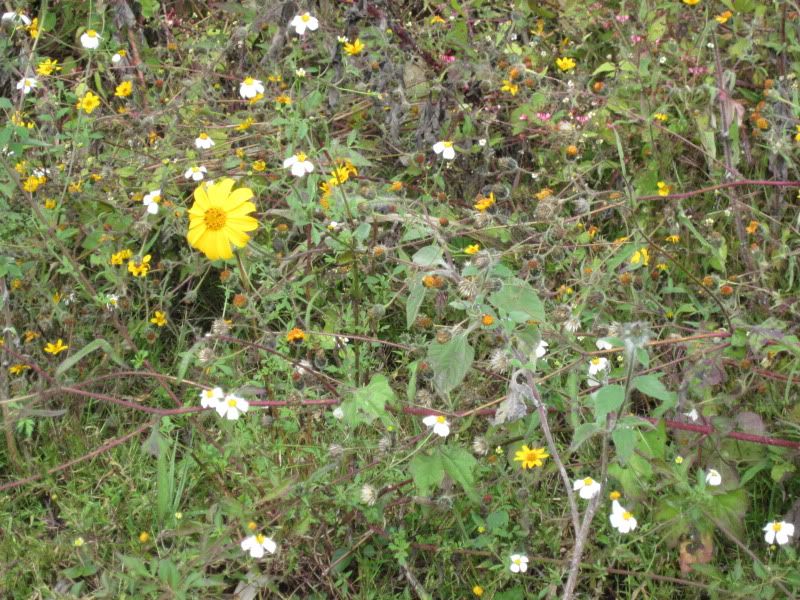 Yellow, white, and pink flowers growing in the milpa
Prior to the ceremony, we had spoken a little bit with members of the community about how the corn was grown. This was the only community we visited that used a tractor. I believe they rented it. After the harvest, which was taking place now (in late November), they would put cows on the fields to eat the crop residues and the flowers and other plants that had grown up around the corn and to fertilize the field with their manure. In February, they would do "20 days of hard work" weeding the field. Then they would till the earth with a tractor and plant next year's corn crop by hand.
With the promoters' part of the presentation completed, the students filed out of the room and began their presentations. First up was a group of students who sang a song called "Come Come Come." They said, "Everyone in the world knows about the struggle/ Viva la Zapatistas/ This is the struggle of the Mayan people." In each verse, they said "Come come come, we're fighting for [something]." I wrote down the various things they said they are fighting for: democracy, culture, justice, and liberty.
The second group of students told riddles, which the audience had to solve. I couldn't understand the questions, let alone figure out the answers, but the audience was sharp and they solved each one.
Third, the students put on a skit. It involved Zapatistas, a priest, and a deer, and I have no idea what the heck it was about. Even though the others in our group spoke Spanish fluently, none of us could figure out the skit's plot. The rest of the audience, on the other hand, loved it.
The fourth group led everyone in a Zapatista political cheer, and the fifth group recited a poem called "Why does the government have soldiers?"
With that, it was time for us to go. The event was not over, but we had a six hour drive ahead of us, and we hoped to complete it before dark. I must say, no amount of singing or poetry could have impressed me more than the fact that the students' grow and cook their own food. What incredibly maturity at such a young age.