This is the fourth diary in a series about my recent trip to Chiapas, Mexico's southernmost state, to meet with and learn about the Zapatistas, an indigenous insurgent movement made up of several ethnic groups, and their food and agriculture. On our second day, we went to an indigenous market in San Cristobal de las Casas for food and then went to stay with the Zapatistas. This diary tells about our first day working with their Agroecology team.
(I went with the group
Schools for Chiapas
, an organization that works with and provides aid to the Zapatistas. Check out their website if you are interested in either traveling with them to Chiapas yourself, or simply buying some artisanal goods or coffee produced by Zapatistas. Aside from the obvious politics involved in supporting Zapatistas, you are supporting human beings who live in extreme poverty and work their asses off to educate themselves and their children and provide for basic needs like water and health care.)
In the last diary, we had just gotten into the Caracol (the administrative center for one of the five Zapatista zones in Chiapas) and made requests before the Board of Good Government ("Junta" for short).
While waiting for our responses from the Junta, we carried our luggage to the "office." The small building – the only office for a non-Zapatista organization in a Caracol – consisted of two rooms filled with bunk beds, plus a few tables. The beds did not quite have mattresses. They had pads that was thicker than a yoga mat but thinner than a mattress. The pad on the bed I chose looked like it had mold. I made a comment about wanting a non-moldy pad for my bed, and realized that it might not be feasible and I was probably being a pain in the ass. So I followed up by saying, "I mean, I don't exactly expect the Marriott."
Susan replied, "Oh, this IS the Marriott." Later we had a discussion and she said that she really meant it that, around here, this IS the Marriott. We've got beds, running water, a gas stove, latrines, electricity, a crockpot… compared to your average peasant in Chiapas, we've got it made.
The office, which has a concrete floor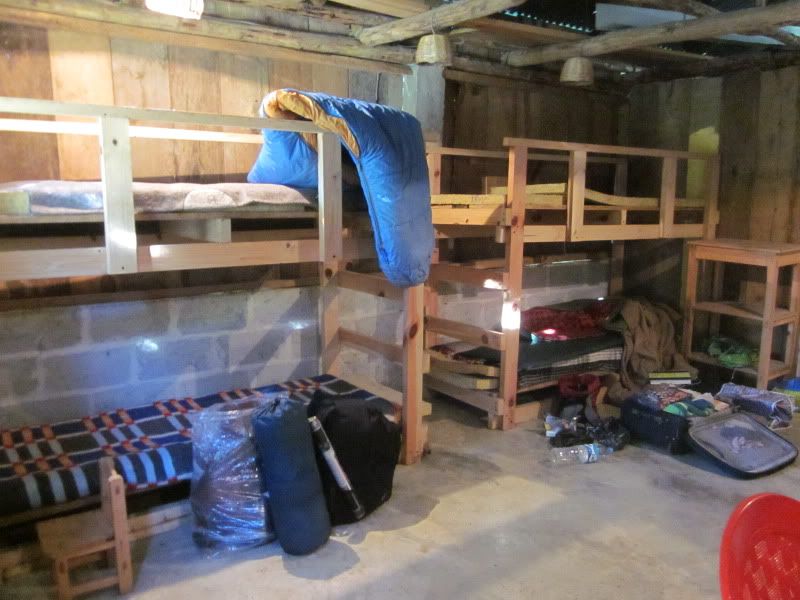 Inside the office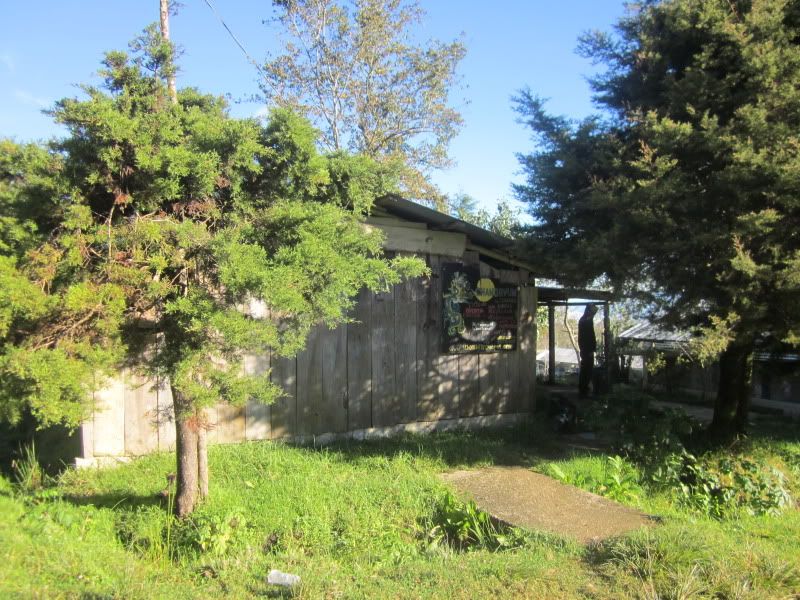 The kitchen, which has a dirt floor
The dishwashing station outside the kitchen. We couldn't get the water to come out of the tap, so we unkinked a nearby hose to get water, and then kinked it and put a rock on it to turn the water off.
Inside the kitchen
A mural on the kitchen: Unity, Victory, Liberty, Democracy, Justice, and Peace
Oso the dog, who invited himself into our office
A poster for Schools for Chiapas
The school that Schools for Chiapas helped build. It's a secondary school (more or less a junior high) that boards a few hundred kids
Squash growing in a guava tree
Another pic of the squash
Guavas
Susan and Peter got to work getting their answers from the Junta and putting the kitchen in order. I tried to sleep off my migraine. A little bit later, they called me to join them in a meeting with Agroecology. I wasn't about to miss that.
Zapatistas have a number of "promotores" (promoters) of various categories, such as health, education, and agroecology. Education promotores are basically teachers in Zapatista schools. Health promotores work in the Zapatista hospitals. Promotores are unpaid but they receive housing, food, clothing, and health care while they are doing their jobs. We were to meet with the Agroecology promotores of the region. They were a group of guys, each of whom lives in a community that might be as far as 11 hours by bus from the Caracol. Each man has his own milpa to tend, and also helps the others in the zone with agricultural problems. I found it strange but cool that agroecology – an unfamiliar word to most Americans – was the norm here.
Before the meeting, Peter offered to show me the Agroecology guys' garden. They were growing chard, plus an unidentified brassica crop that had been entirely eaten by pests. Nearby, I also saw the herbal pharmacy's garden, which was full of medicinal herbs. This Caracol has two pharmacies – one that is only herbal, and another in the hospital that has both "Western" and herbal medicine. Their use of herbal medicine is not a hippie alternative thing. When you are living as a subsistence farmer with little cash, herbs are often your only choice.
The meeting was about a problem the Zapatista farmers have had lately, and an experiment we were helping them with to try to fix the problem. Within Chiapas, farmers grow either one or two corn crops per year. Those in the colder areas grow one crop and need to store it for 10 months until the next crop is ready to start harvesting. In the warmer areas, they grow 2 crops and they need to store each one for about half the year. Lately, bugs ("bichos" in Spanish) have been eating a huge percent of the stored corn. The corn runs out after 7-8 months in cold areas and 2-3 months in warm areas. This is particularly problematic because corn prices drop at the time of harvest but rise as the year goes on, making it even more difficult for the Zapatista families to buy corn when they need it if they lose their own corn to pests.
Several years ago, and with Peter and Susan's help, the Zapatistas began growing a few thousand neem trees to try to tackle this problem. The neem trees are now old enough to begin harvesting leaves and seeds to use as pesticides in the corn. Peter and Susan picked up an enormous amount of neem in three forms during our afternoon in San Cristobal: ground leaves, ground seeds, and neem oil. The Zapatistas, for their part, had built four identical sets of two mini storage units for corn. The sets were placed in four locations within the zone. In each pair of storage units, they planned to store corn: one with neem, and one without. At the end of the experiment, we would weigh each set of corn to see how effective the neem was in preventing bug damage.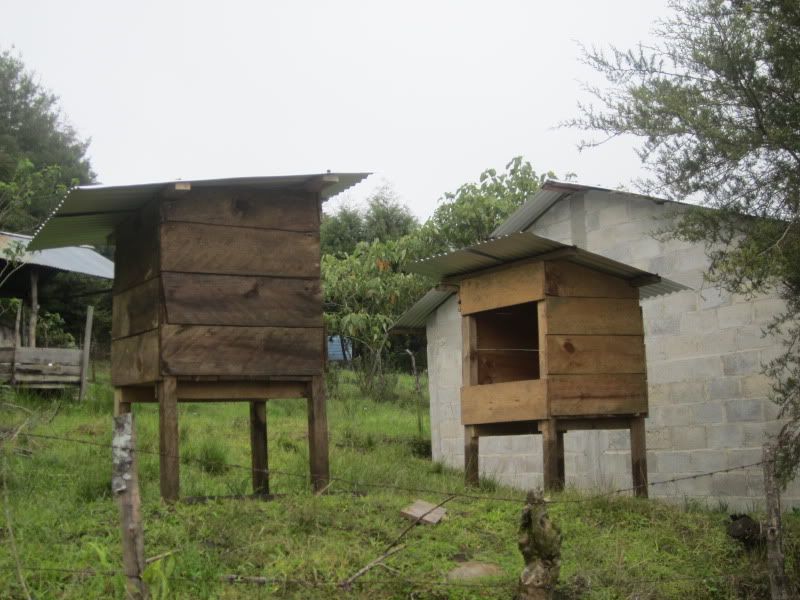 A pair of mini corn storage units, built for the experiment
The meeting felt long and tedious, but little was accomplished. In between exchanges in Spanish, we would speak in English while they spoke among themselves in Tzotzil. The Agroecology team was incredibly excited about doing an experiment, but it seemed like they wanted to throw in a large number of variables, and we worried that the experiment would not be well controlled. We left with plans to meet them again the next day.
After the meeting, cooking dinner did not happen. Peter and Susan have a kitchen next to their office, but we hadn't had the time to start cooking beans or even boiling water before it got late, and we were out of bleach and soap. I picked up bleach and soap at the store, and Susan bought ingredients. Then Peter suggested we skip cooking and eat at the Caracol's restaurant instead. So we did.
Empty soda bottles outside the Caracol's store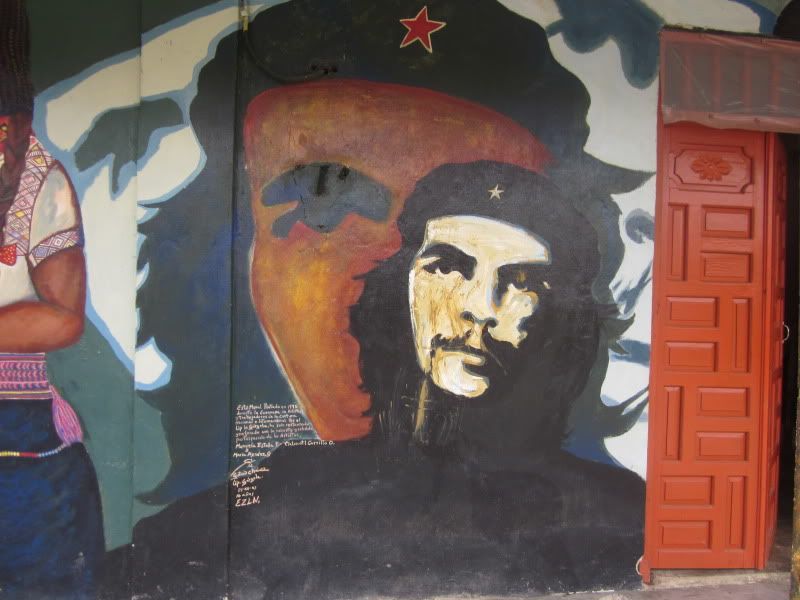 A mural of Che Guevara
We walked back up the hill (the entire Caracol is on a hill) to the store, which doubles as a restaurant, and ordered. Our choices were: chicken, eggs, or quesadillas. The store also sold all kinds of sodas, donuts, pastries, some candy, and sweet rolls made of refined white bread. (And the Zapatistas are suffering from a relatively new diabetes problem.) Long story short, we ordered, ate, and went to bed. And I was very glad I had brought a roll of toilet paper and a flashlight, because both were needed for middle of the night "bathroom" (i.e. the grass outside the office) trips.