This is the second diary in a series about my recent trip to Chiapas, Mexico's southernmost state, to meet with and learn about the Zapatistas, an indigenous insurgent movement made up of several ethnic groups, and their food and agriculture. On our first day, we left Tijuana for the capital of Chiapas, Tuxtla Gutierrez, and drove from there to the yuppie-friendly city of San Cristobal. That afternoon, I walked around the city a bit, and at dinner, I got the big orientation to the Zapatistas.
(I went with the group
Schools for Chiapas
, an organization that works with and provides aid to the Zapatistas. Check out their website if you are interested in either traveling with them to Chiapas yourself, or simply buying some artisanal goods or coffee produced by Zapatistas. Aside from the obvious politics involved in supporting Zapatistas, you are supporting human beings who live in extreme poverty and work their asses off to educate themselves and their children and provide for basic needs like water and health care.)
I began by exploring the shops in the Zapa mall once more, and then headed out to look for the two other artisan markets Peter had pointed out. I found one, but found it to be full of crap from China made to look like Mexican handicrafts. I might not have known they weren't legit, if it weren't for the abundance of alpaca sweaters (identical to the ones sold from Bolivia) in nearly every store. I left, disgusted, and was no more than a block away when I realized I was walking right past the chocolate store.
The chocolate store, whose menu I found confusing, had a display case full of truffles. The menu offered delicious sounding choices like chocolate with cardamom, chilis, vanilla, or mint. Finally I asked if they had hot chocolate. Oh yes. That's what the menu was for (it just didn't say the words "hot chocolate" or "to drink" anywhere on it). I ordered a small cup (which was truly a small cup, maybe the size of 2 espresso shots) of semi-sweet hot chocolate. And it was HEAVENLY. Then, sad that we wouldn't be in San Cristobal long enough for me to try everything on the menu, I left and walked back to the Zapa mall. I bought a purse, a change purse, a small embroidered picture, and another shirt, and walked back to the hotel (getting lost only once).
Oh heaven
Cacao pods and beans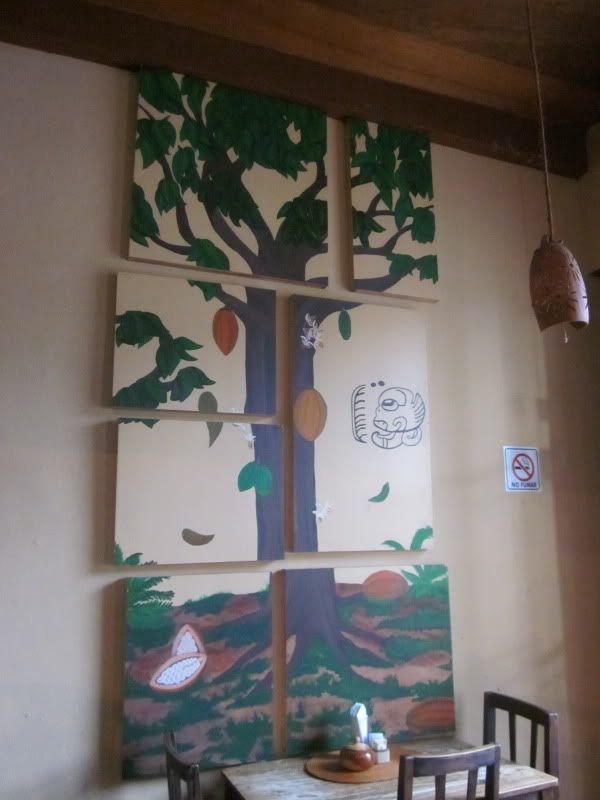 Mural in the chocolate store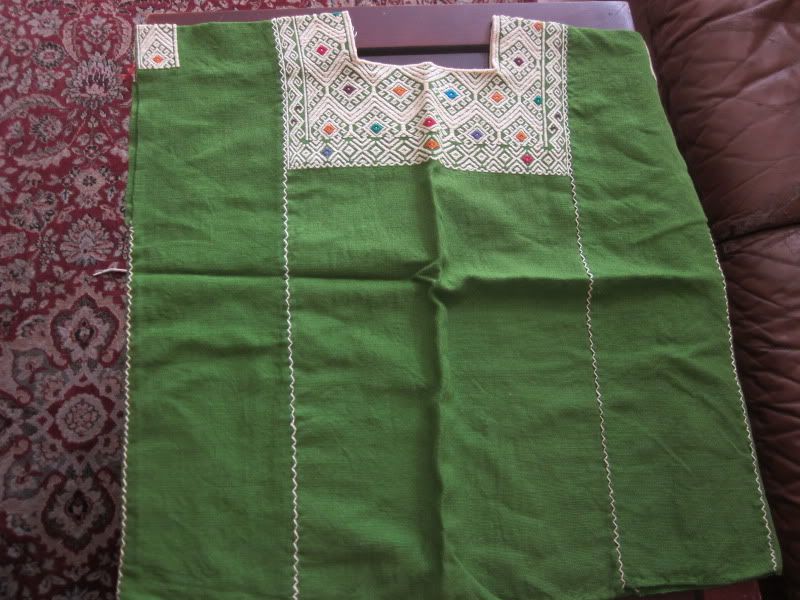 Green shirt I bought (It looks cuter when you try it on)
Detail of embroidery
Orange shirt I bought
Detail of embroidery. Notice the snails dressed as Zapatistas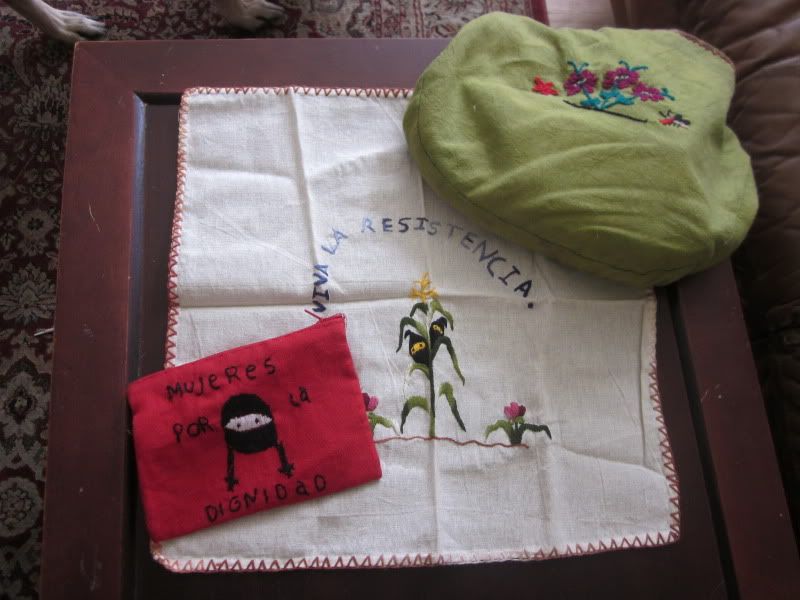 The rest of my purchases. The change purse says "Women for dignity."
A street in San Cristobal
A street in San Cristobal... with a Best Western. Better that than McDonald's I guess.
A major plaza in San Cristobal. The yellow building is the cathedral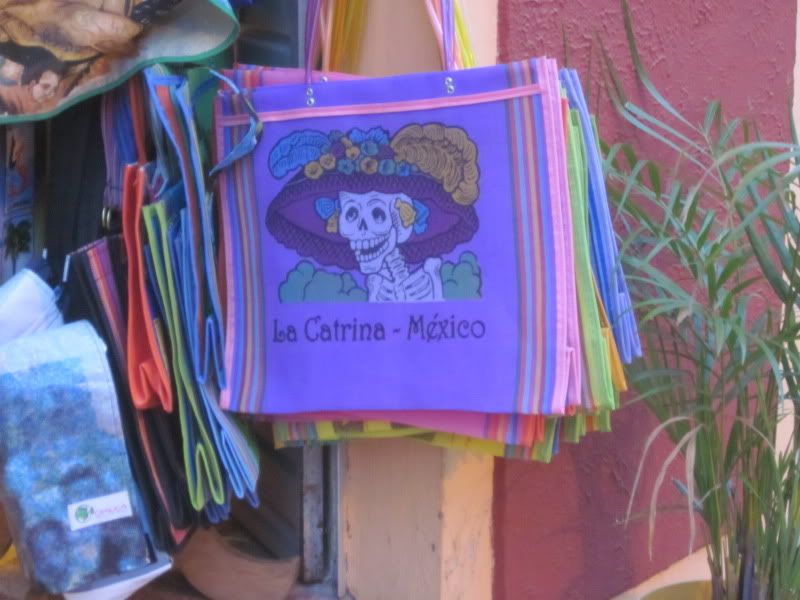 Anyone else have to watch La Catrina in high school Spanish class? Check out this picture!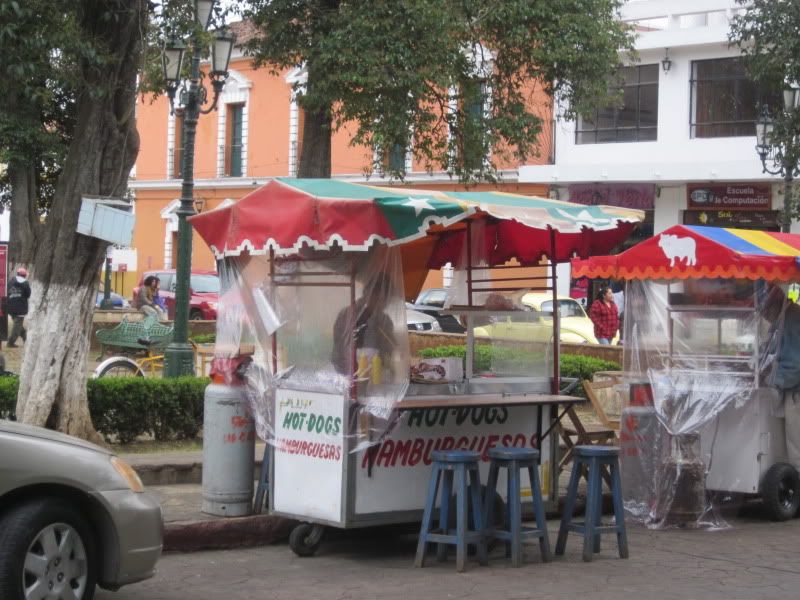 Get your hot dogs here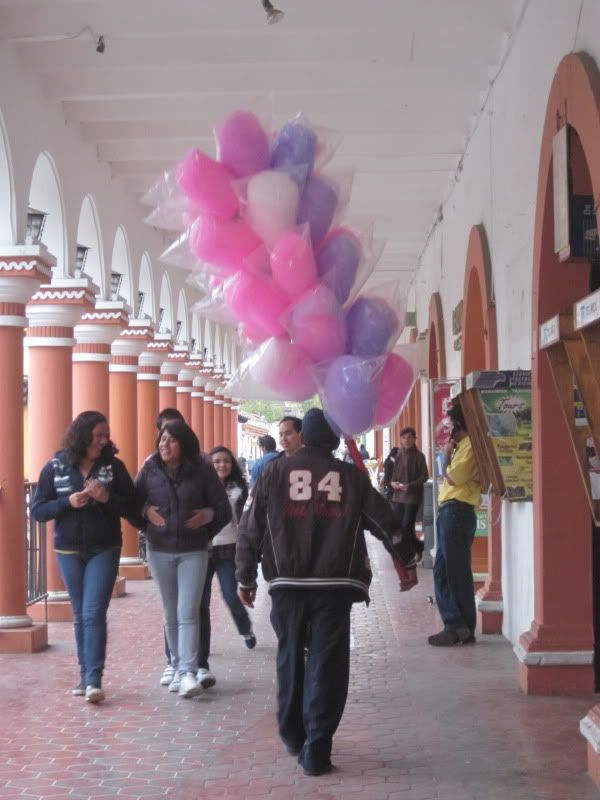 Cotton candy
When Peter and Susan came back, they dropped off the neem products they had picked up, and then we all headed out together for dinner. On the way there, Peter gave me the Zapa-tour. The Zapatista insurgency began here, in San Cristobal, at midnight on January 1, 1994, when NAFTA took effect. Few police wanted to work on New Years Eve, and the police on duty that night were all Zapatistas. In no time at all and with no casualties, the Zaptistas took over the town hall in San Cristobal and three other cities. There were casualties only in one city – Peter estimates a few hundred – where the fighting lasted a few days and the Zapatistas lost. (More on this later.) Peter's heard accounts of Mexican soldiers going into the hospital and shooting wounded Zapatistas (or indigenous people who looked like Zapatistas but weren't) point blank.
With our short tour completed, we continued on to dinner. They chose a restaurant called Emiliano's Moustache, which referred to Emiliano Zapata, a figure in the Mexican Revolution and the namesake of the Zapatistas. The menu wasn't terribly vegetarian-friendly, but the mini soft tacos we made from the cheese and cooked onions we ordered plus the salsa and cilantro already on the table were delicious.
As we ate, they gave me their orientation spiel. First, no giving gifts directly to children. The Zapatistas do not want to raise their children as beggars. Instead, all gifts should go to the governance board, and they will distribute them fairly. (This system also serves to prevent an unfair system in which families who live nearest to places where tourists or visitors come get lots of gifts and other families get none.)
Second, the water at the first place we are going is filthy. Don't drink it. All water must be boiled or have drops put in it. To wash dishes, we wash everything with soap first, rinse it, and then dip it into a bleach solution and allow it to air dry. Everything you eat should be cooked or peeled, and even then, make sure the knife you use to cut your food is clean.
Third, be aware of the safety situation. We, as foreigners and guests, are safe. The people around us are not necessarily safe. The Mexican government has used tactics like assassination, rape, and arson to fight the Zapatista insurgency. The communities where Zapatistas live are typically mixed between Zapatista and non-Zapatista families, and sometimes there is hostility between the two. Don't get paranoid, but keep an eye out for strange things within the Caracol. Tell someone where you are going if you go somewhere. And do not leave the Caracol without permission.
With that out of the way and dinner in our tummies, we left the restaurant to run three errands. First, we bought a pound of coffee to take with us to the Caracol the next morning. Second, we visited "the Posh lady," a woman who sells a locally brewed distilled alcohol called Posh, which is made from corn and sugarcane. She served it mixed with your choice of hot fruit punch or hot pineapple juice. Either way, it was delicious. And last, we made one last stop by the chocolate store, so I could get one more cup of that magnificent hot chocolate. When we got back to the hotel, I fell asleep instantly.