This is the first diary in a series about my recent trip to Chiapas, Mexico's southernmost state, to meet with and learn about the Zapatistas, an indigenous insurgent movement made up of several ethnic groups, and their food and agriculture. On our first day, we left Tijuana for the capital of Chiapas, Tuxtla Gutierrez, and drove from there to the yuppie-friendly city of San Cristobal.
(I went with the group
Schools for Chiapas
, an organization that works with and provides aid to the Zapatistas. Check out their website if you are interested in either traveling with them to Chiapas yourself, or simply buying some artisanal goods or coffee produced by Zapatistas. Aside from the obvious politics involved in supporting Zapatistas, you are supporting human beings who live in extreme poverty and work their asses off to educate themselves and their children and provide for basic needs like water and health care.)
As a rule, I don't take red eyes. But this time, I did. By the time I heard about this trip and agreed to go, the two coordinators, Peter and Susan, had already booked a red eye from Tijuana to Mexico City, with a long layover in Mexico City, and an 11am flight to Tuxtla Gutierrez the next day. And since I had no desire to arrive in Tuxtla Gutierrez, the capital of Chiapas, alone and then figure out how to get from there to our hotel in San Cristobal de Las Casas, I booked myself on the same flights.
Needless to say, I was exhausted when we arrived in Tuxtla. Exhausted, with a migraine, and cranky about it. There's a bus that goes from Tuxtla to San Cristobal, but with three of us, it was only slightly more expensive to take a cab, so we did. Peter narrated the drive up (and I do mean UP, since San Cristobal is located in a valley in the mountains at 2125 meters above sea level). The area around Tuxtla is tropical dry forest, and it has wet and dry seasons during the year. Lately, the weather has been so wacky that the trees get confused and bloom at all of the wrong times.
Once we got into the mountains, we looked down upon the flat plains around Tuxtla, filled with farms. The farmers there are not indigenous. The indigenous people, the descendants of the Mayans, were pushed up into the mountains, often onto steep slopes where agriculture is much more difficult. (Peter and Susan noted as we boarded our flight to Chiapas that the travelers going to Chiapas are always much whiter than those on flights to other Mexican cities, and that is because there has always been less integration between the whites and the indigenous people here. Susan said, "It's like Alabama.")
The drive to San Cristobal was not long at all. We drove through town to reach our hotel and Peter pointed out a local gourmet chocolate shop (oh yes, I would be going there!), a good coffee place, and a few markets for both local handicrafts and for food. It just killed me to be arriving, tired as a zombie, knowing I would have less than 24 hours to see the city. Maybe my plans for an immediate nap as soon as we reached the hotel would have to be canceled.
The hotel, Posada Carmelita, was a beautiful and lovely very Mexican hotel. We were warmly greeted by Carmelita herself when we arrived. Once I got into my room, I immediately took a shower. We had left on Friday and now it was mid-afternoon Saturday, so I had not showered for at least 24 hours. Of course, I thought with trepidation, once we get into the villages, a shower every 24 hours was not going to happen. We were only staying here, in the hotel, for one night. I can't remember a time in my life since high school when I didn't shower at least every other day, save for the three days I just spent in an indigenous village in Bolivia.
Not too long after I finished showering, Peter and Susan knocked on my door. Time to go see the town. San Cristobal de Las Casas is a tourist town that appeals to both yuppies and backpackers. Susan pointed out certain areas of town that are popular to the tourists. "Very yuppy," she said. "Yup yup yup." Still, I couldn't help but enjoy the city.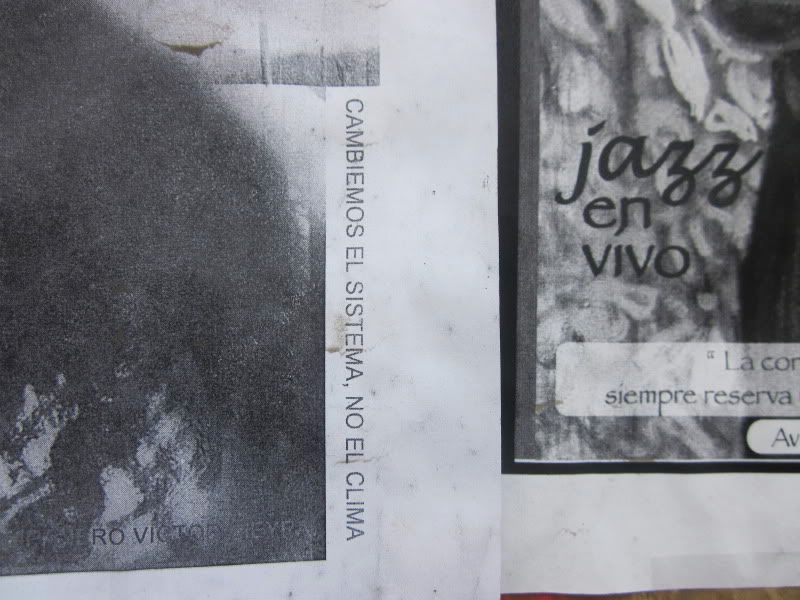 A sign on the street about climate change. It says "Change the system, not the climate"
We walked to a place that Peter calls "
The Zapa Mall
," a café in a building with stores selling Zapatista artisan goods around it. Susan did not recommend the food, but I was too hungry to care. The tamales I ordered tasted great. I looked around at the shops while Susan tried to connect to the internet to get in touch with someone they had to meet up with to buy neem products for the Zapatistas. (More on this later.)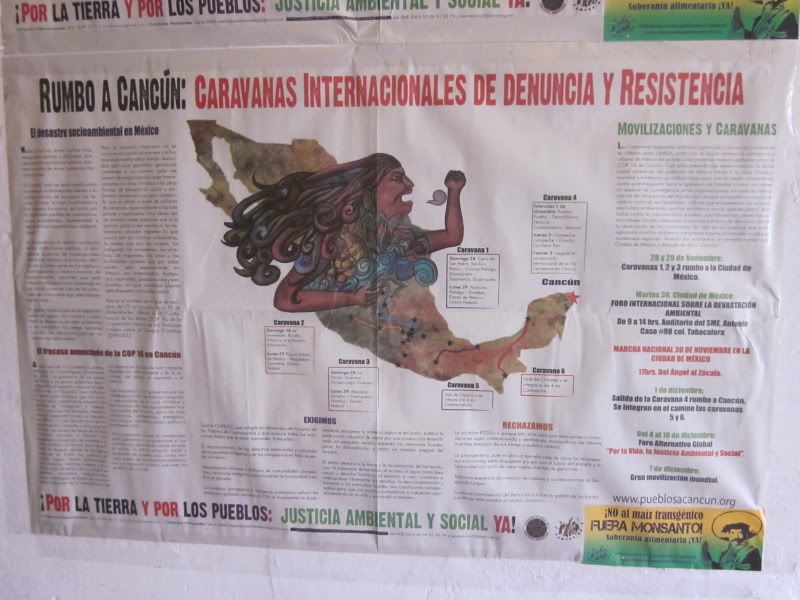 A poster in the entrance of the Zapa mall about the upcoming Cancun climate summit, and how climate change impacts Mexico. Notice that the bottom right says "No to transgenic corn! Go away Monsanto!"
A close-up of part of the poster, which calls climate change a socio-environmental disaster in Mexico
The stores mostly carried handmade embroidered products such as shirts, shawls, purses, coin purses, handkerchiefs, and more, as well as posters of local (spectacular) artwork. At first I was confused by the image of a woman with her face covered except for her eyes, embroidered on many items with slogans like "Women for dignity." I thought women's rights were very strong within the Zapatistas. And do they wear burkas here? What's dignified about that?
When I saw the little Zapatista dolls, I understood. The dolls were all armed, masked men. Both women and men cover their faces either with black hats that cover their entire heads save for their eyes, or with red bandanas. The Zapatista imagery was just incredible. They showed flowers with Zapatista (masked) bees buzzing around them, corn plants with ears of Zapatista corn growing, and Zapatista snails as well.
Peter had already explained to me that the snail is a Zapatista symbol of communication. He had been saying for a while that we would visit and even stay in the Zapatista Caracoles. Now, my Spanish ain't great, but I know what caracoles are because I like to eat them (or did in my pre-vegetarian days). I assumed that I must be wrong about the word in this context. Surely we weren't going to Chiapas to visit snails. And yet, that's exactly what caracoles means. It's the name given to the Zapatista administrative centers in each zone because they are places for communication.
Peter explained that Mayan pictures often show people with a spiral like a snail's shell coming from their mouth to symbolize speech. Plus there's the idea of calling people to meet by blowing on a conch shell. And the shape of the snail's shell symbolizes that the inside meets the outside as the outside meets the inside. The Zapatistas' Caracoles hold their government for each zone, plus offices for each municipality within the zone, and women's cooperatives that sell handicrafts. There are no weapons, drugs, or alcohol allowed inside the Caracoles.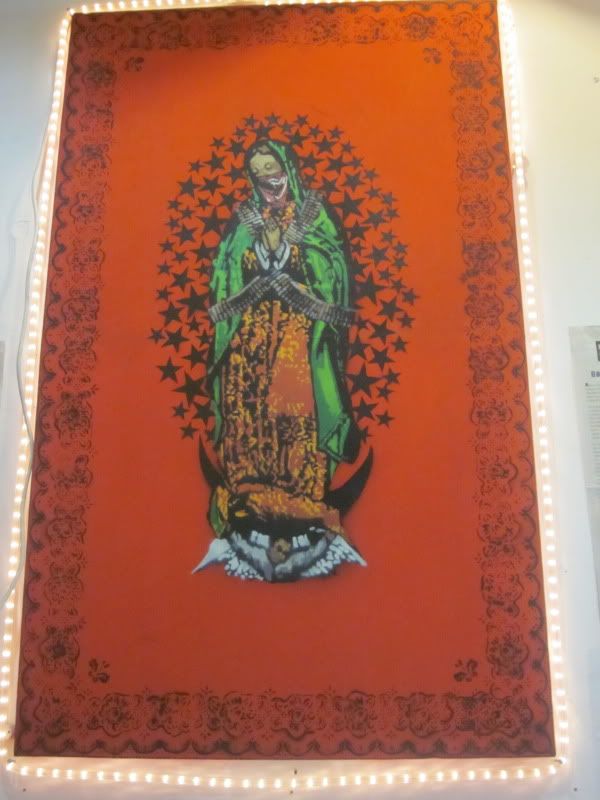 The Virgin Mary was a Zapatista
A Zapatista mural. You can see here that they value their environment, biodiversity, and their communities.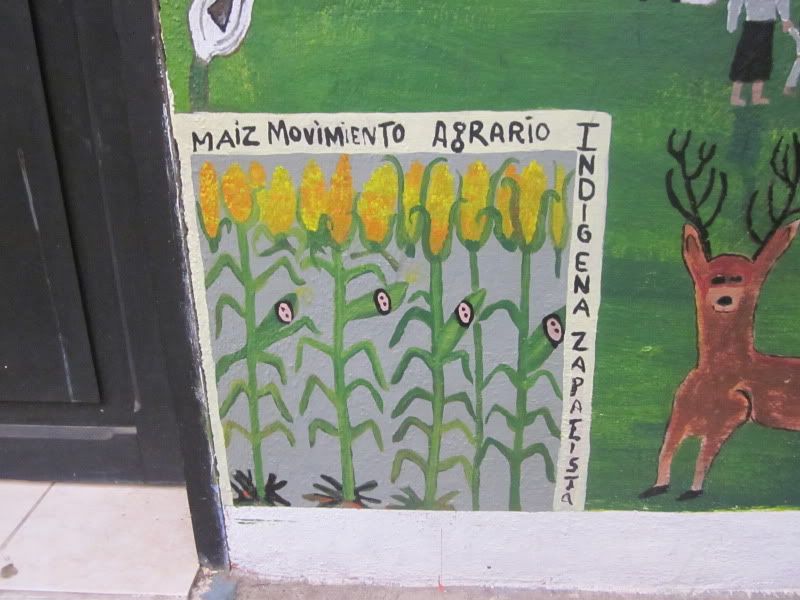 A close-up of part of the mural. It says Indigenous Zapatista Agrarian Corn Movement. Corn is a BIG DEAL here in Chiapas.
Another mural
A display of hammocks for sale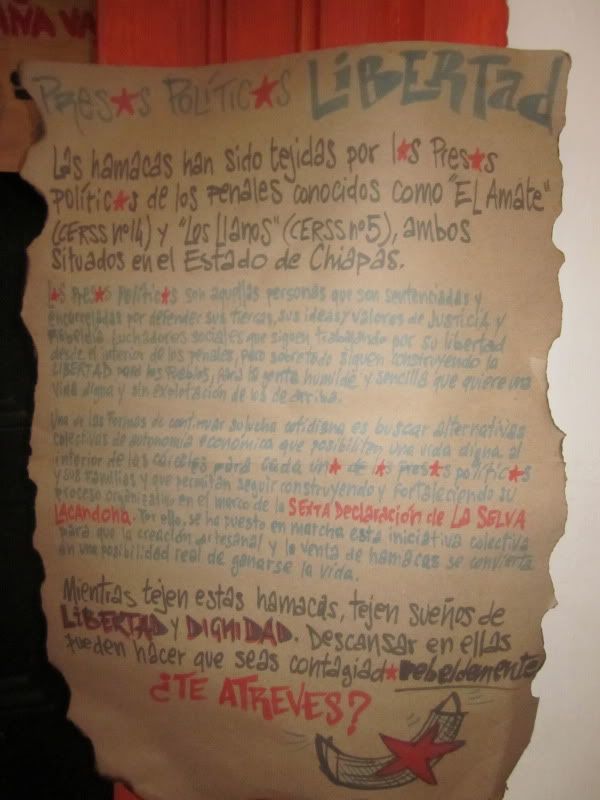 The sign near the hammocks. It says that the hammocks were woven by political prisoners of the criminals known as "El Amate" and "Los Llanos," both located in the state of Chiapas. While they were weaving the hammocks, they were also weaving dreams of liberty and dignity. Resting in them may cause you to be infected with rebellion. Do you dare?
A Zapatista doll, a woman soldier. Usually the dolls are carrying guns but this one is not.
Zapatista embroidery. The ears of corn are Zapatistas.
I bought a green embroidered shirt, and then joined Peter and Susan, who had given up on the internet and simply used the phone to arrange their meeting. We sat in the café at the center of the Zapa Mall, having drinks. Then Peter Rosset walked into the building. I'm a huge fan of his work, but he was about the last person I expected to see in a small town in Chiapas. As it turns out, his office is located IN the Zapa Mall. I hurried over to introduce myself in person, beginning by telling him that I swear, I'm not stalking him (I friended him on Facebook and then got in touch over email a few weeks ago).
Peter Rosset is a leader within La Via Campesina, an organization I strongly support, and he's written some brilliant stuff on agroecology and food sovereignty. And, he's incredibly nice. A few minutes after I introduced myself, Peter (who I was traveling with) joined us. The two Peters (who already knew each other) decided to sit down and chat for a bit, and Peter Rosset joined us at our table. He told us about some of the plans for activism at the climate summit in Cancun, and we told him what we were here for. He told us he knew a Brazilian professor, named Lia, who wanted to meet with the Zapatistas to learn about their education system, and we offered to bring her along with us to meet with them.
Peter Rosset called her on his phone, and she came over and arranged to meet us at the hotel the next morning. With that arranged, Peter and Susan realized they had to hurry to get their neem, and told me to meet them at the hotel in a few hours. Everyone said their goodbyes and split up.