In October 2010, I spent 2 weeks in Bolivia learning about their food and agriculture. I ended up getting a lot more than I bargained for out of the trip, including learning why the rainforest is being destroyed, how eco-tourism might save it, how Bolivia fits into the drug trade (and what the US does to try to stop cocaine production), and how global warming has already impacted Bolivia.
Our ninth day is difficult to sum up succinctly because we did many small, completely separate and different activities as we traveled from Rurrenabaque to La Paz to Oruro. To start, I'd like to just share this mini-diary about USAID's presence in Bolivia.
My trip was organized by Global Exchange and Food First. You can find out about future
Food Sovereignty tours
at the link.
All over Bolivia, you can see signs touting various USAID projects. Some of these signs are clearly old and faded so much you can no longer read them. Others are clear as day. After passing them with no opportunity to get a picture since literally the second day of my trip, I finally got one - actually two - on the way out of Sapecho:
The first sign says that USAID built the government building for this community. The second, newer one says that USAID improved the potable water system here. Sounds pretty good, right?
There's been some tension over USAID in Bolivia lately. In the department north of La Paz, Pando, there was an accusation that USAID was working against the government of Bolivia, and
the mayors of Pando kicked USAID out of their department
. Then the President and Vice President of Bolivia threatened to kick USAID out of the country altogether. Not too long after that,
USAID changed its director in Bolivia
.
Here
is a great summary of the causes of tension in the USAID-Bolivia relationship. (And there's
more here
.)
If you read the sites at the above links, you'll see references to a previous Bolivian president, Goni. I will write about Bolivia's history with Goni in an upcoming diary, but for now it's relevant to say that Americans played a role in getting him elected:
Our Brand Is Crisis
I have a hunch it is that, and not the clean water projects, that led some Bolivians to send the following messages to USAID:
Graffiti in El Alto, Bolivia
Graffiti in El Alto, Bolivia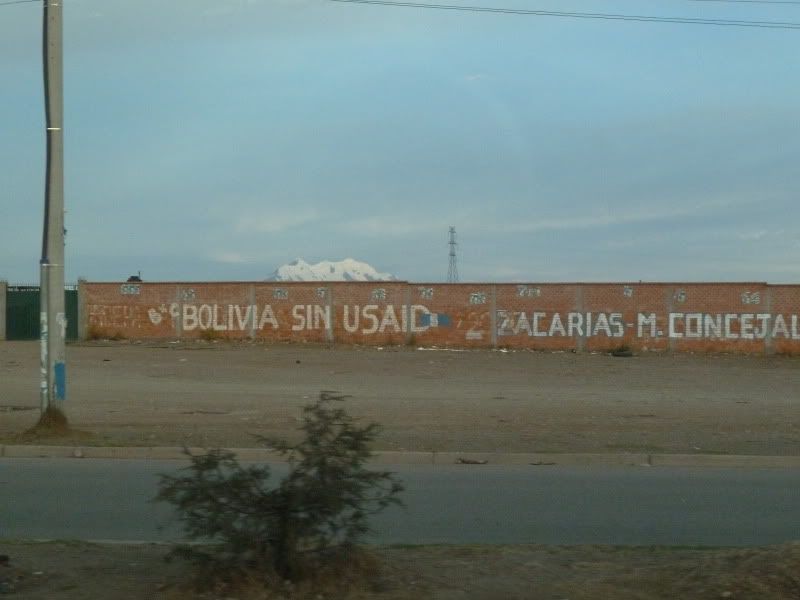 Graffiti in El Alto, Bolivia
Graffiti in El Alto, Bolivia
Graffiti in El Alto, Bolivia
During my time in Bolivia, I met one guy who was working on a USAID project. He wasn't eager to advertise his affiliation with USAID, and he was actually employed by a sub-contractor and not USAID itself. It appeared that he was doing very good work, working on eco-tourism as a means to rainforest preservation.