In October 2010, I spent 2 weeks in Bolivia learning about their food and agriculture. I ended up getting a lot more than I bargained for out of the trip, including learning why the rainforest is being destroyed, how eco-tourism might save it, how Bolivia fits into the drug trade (and what the US does to try to stop cocaine production), and how global warming has already impacted Bolivia.
On our eleventh day was one of the best. We visited a La Paz suburb and checked out the (amazing) agriculture there. Then we had a delicious and very Bolivian lunch, and hit the town. Now that I wasn't suffering from jet lag and altitude sickness, La Paz was a kind of nice place! This diary is all about lunch.
My trip was organized by Global Exchange and Food First. You can find out about future
Food Sovereignty tours
at the link.
After our fabulous tour of the La Paz suburb of Chicani, we finished at the home of a man who was very influential to our tour, even though he wasn't physically present. Stephen Taranto is the founder and director of
La Paz on Foot
, the ecotourism company that handled the Bolivia end of our tour (as noted above, Global Exchange and Food First were involved on the American side). And I must say, I HIGHLY recommend La Paz on Foot. I loved the scientific and cultural knowledge of each of our guides, and I was most appreciative at the company's ability to save our trip after the cocaleros' blockade made our original itinerary impossible.
While Stephen himself was not there, the majority of our other Bolivian guides were - Gabriel, Martha, and Tomas. Everyone was happy to be together on a day with beautiful weather (not too hot or too cold... the Altiplano is incredibly pleasant when the sun is shining), in a beautiful place, and with wonderful food. (Of course, I found out later that I was busy getting sun-burned while I was out there enjoying it... even the part in my hair got burnt... the Andean sun is not something you mess with.)
Calendula
Artichokes
Here's one way to say "Don't F*ck with me!"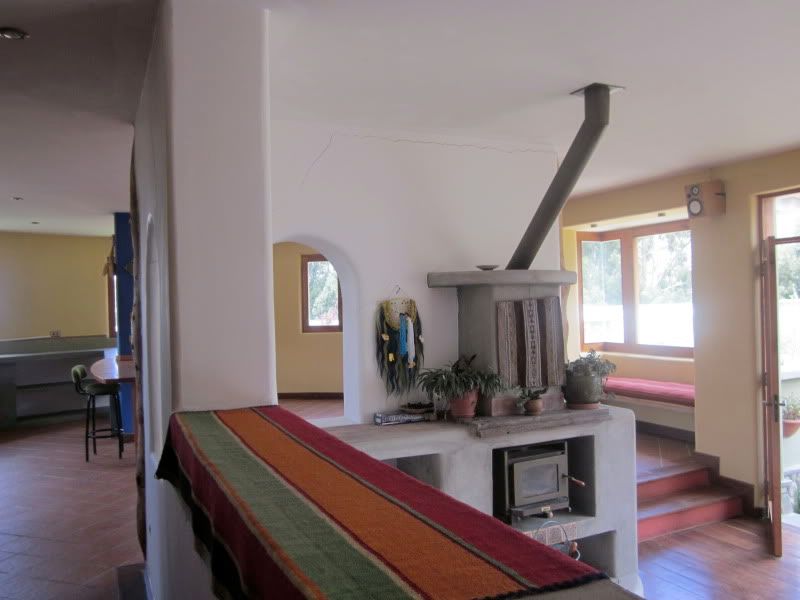 The indoor heating system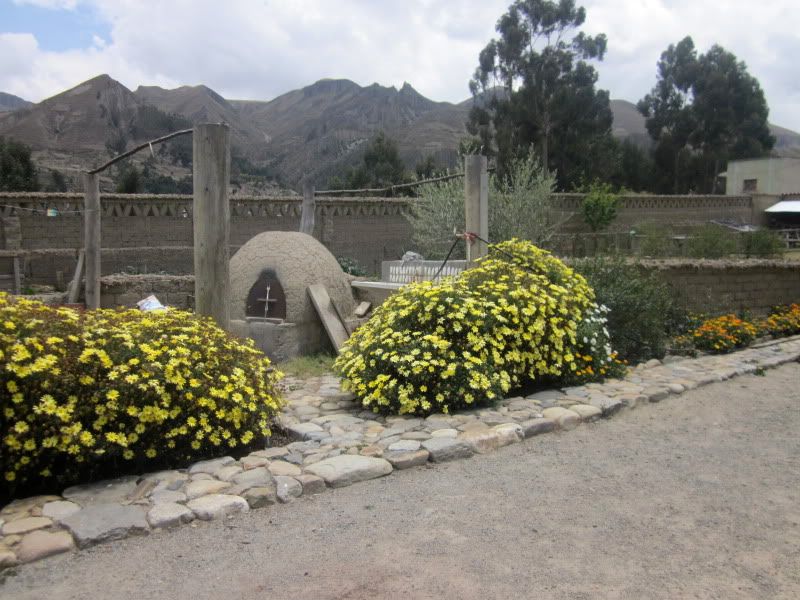 The outdoor oven
Once a table was set outside and everyone had used the bathroom, we all sat down to lunch. The first course was a soup called
Chairo Paceño
and a sauce called
llajua
. Paceño refers to La Paz. And white bread, of course. I've said it before, but the soups I had all over Bolivia were all delicious. This one was no exception. It seems pretty common to serve a soup course first, and even on the last day of the trip, I was pretty full after the soup and shocked to see another plate full of food put in front of me.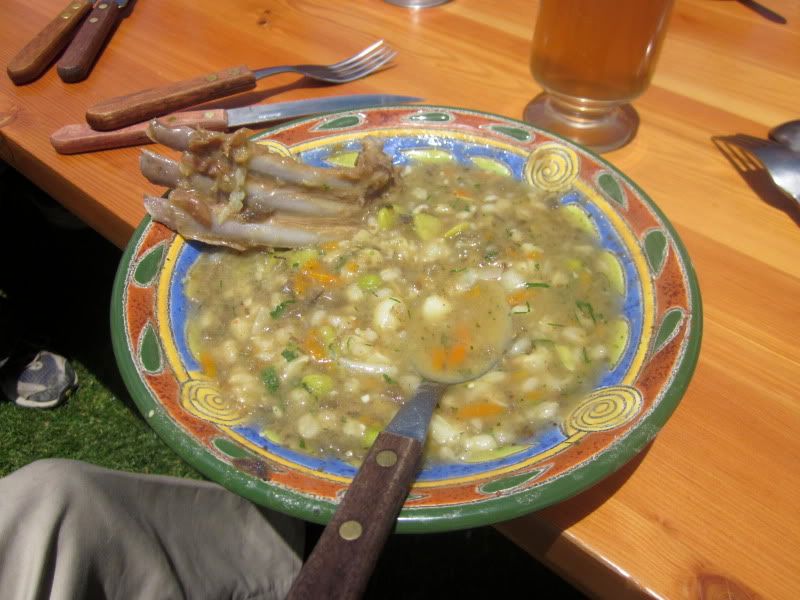 Chairo Paceño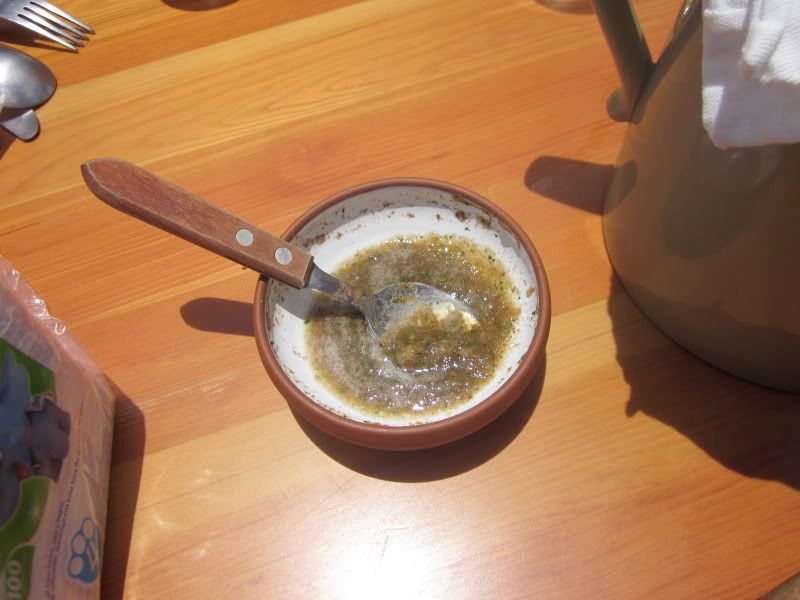 Llajua
The main course was a plate covered in lettuce with slices of tomato, cheese, olives, a hard boiled egg, and... come on, we're in Bolivia, what do you think?... potatoes. This was served with a delicious peanut curry sauce that made me wish I had a bigger appetite. While we Americans tended to eat the various items on our plates one by one, I noticed Tomas, seated next to me, as he roughly cut his food into bite sized pieces and mixed it all up.
The main course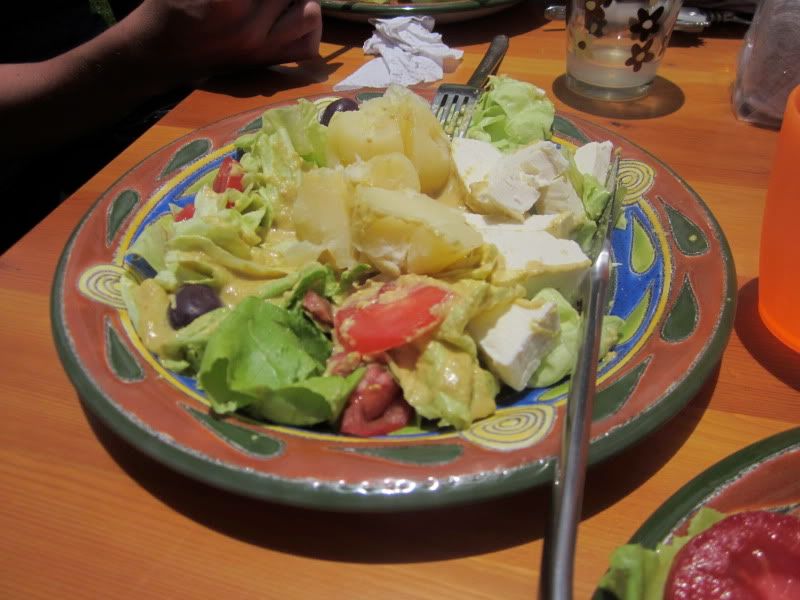 Here's how the pro's do it
Here is one
recipe for chairo
. The version we had used goat meat instead of beef. Chuño refers to the dehydrated (and reconstituted?) potatoes eaten in Bolivia and while I did not like them when I tasted them, they were fine - when I couldn't taste them - in the chairo.
Chairo Paceño
(Vegetable and meat stew)

(Serves 8)
Ingredients



8 cups of water

1/4 kilo of cow meat (with bone) cut into 8 pieces

1/4 kilo chalona (dry and salty lamb meat) cut into 8 pieces

1 tablespoon salt

1/2 cup of peeled Lima beans

1/2 cup of peeled green peas

1/2 cup of peeled carrots, cut into thin strips

4 cups of peeled potato, cut into thin strips

1 soaked, peeled cup of chuño (frozen potato), washed

1 cup peeled and cooked white corn

1 cup peeled and cooked wheat grains

2 spoonfuls oil

1 cup white onion, cut into thin strips (without washing)

2 spoonfuls ground cayenne pepper

1/2 teaspoon ground cumin

1/2 teaspoon crumbled oregano

1/4 teaspoon ground black pepper

1/4 cup green onion, cut into strips

1 teaspoon minced parsley (to serve)

1/2 teaspoon crumbled oregano (to serve)

1 teaspoon of minced mint (to serve)


Note: So that chairo is not bitter, chuño must soak in water one night before, then it should be peeled, crushed and washed.
Preparation



Pour the water in the pot in which chairo is to be prepared. Place the pot over medium heat. As soon it is warm, add the meat and chalona. Before it begins to boil, stir and add salt. Let it cook for at least one hour. To this broth, add green beans, peas, carrots and potato. Let it boil for fifteen minutes. Then add chuño and let it boil for another five minutes. Add white corn and wheat. Let it boil until potato is cooked.

In a small pan put oil and heat it at a medium temperature. Sauté the onion. Then add the cayenne pepper, cumin, oregano and black pepper; let it cook for ten minutes. Finally, add these spices to the chairo stew so that all the mixture cooks for ten more minutes.

Remove the pot from the heat and add the green onion, parsley, oregano and mint.


Serve one piece of meat and one piece of chalona in each serving plate. Try to maintain the initial amount of broth. if necessary, add boiling water so that the stew does not get very thick.
And here's a recipe for
Llajua

Llajua
(Spicy Sauce)

Ingredients:



8 ripe medium tomatoes

4 red locotos or chili peppers, without seeds

3 green chili peppers, without seeds

1 spoon white onion, finely chopped

1 teaspoon salt


Preparation:



Cut the tomatoes in half and pour the juice in a container. In a blender or food processor grind the green and red chili peppers, the onion and tomatoes until getting a fine paste.

Add salt and continue grinding a little more. Remove from blender and mix with the tomato juice you poured in the container.
Now, to be truly Bolivian, make yourself some
chicha
to go with it.
A few notes on Bolivian Spanish:
In most cases, Bolivians use the same Spanish that is found in the rest of Latin America. However, they do use a few strange words, particularly for foods. Here are the ones I took note of (to help you if you attempt Bolivian cooking):
Avocado: Palta

Peanut: Mani (with an accent on the i)

Pepper (as in chilis): Aji

Strawberry: Frutilla