In October 2010, I spent 2 weeks in Bolivia learning about their food and agriculture. I ended up getting a lot more than I bargained for out of the trip, including learning why the rainforest is being destroyed, how eco-tourism might save it, how Bolivia fits into the drug trade (and what the US does to try to stop cocaine production), and how global warming has already impacted Bolivia.
On our fifth day in Bolivia, we left
Santiago de Okola
, on the shores of Lake Titicaca, early in the morning, to drive to the La Paz airport. There, we flew to Rurrenabaque, a tropical tourist town that serves as a departure point for tours of the Amazon and the Pampas (savannas). We were headed for the Amazon. This diary is a photo diary of our trip, and Part 2 will be an introduction to slash and burn agriculture in the Amazon.
I began my fifth day in Bolivia by throwing up right next to a pen of 14 freaked out sheep, or, as I prefer to call it, "making an offering to Pachamama." I didn't know it then, but the cause was my malaria medication, Doxycycline. Turns out you're supposed to take it on a full stomach. Oops.
I took a few bites of the roll that Don Pasqual served me for breakfast, but mostly just sipped on some coca tea that also included another Andean herb that is used to settle upset stomachs. I felt bad because I didn't want my wonderful hosts to think they made me sick, but fortunately, Tanya (our guide from Food First, who has lived in Bolivia before) politely explained that all of us Americans were taking turns getting a little sick and it was no big deal. (Tanya also told me that the mugs we were drinking tea from were almost certainly glazed in lead paint. Oy!)
Breakfast that I didn't eat. What I find interesting in this picture is that some of the dishes are clearly manufactured and store-bought whereas others (the mugs) are handmade. Santiago de Okola is full of contradictions like this, as they are living in between their old ways and the so-called modern world.
Don Pasqual helped me carry my suitcase back to the home of Don Tomas (a rather far walk if you've got your hands full of a heavy suitcase... I was shocked he didn't drive us there in his minivan) and gave me a warm hug goodbye. After several minutes of thank yous and goodbyes, our group got in our minibus and started the trip back to La Paz. I took several pictures along the way.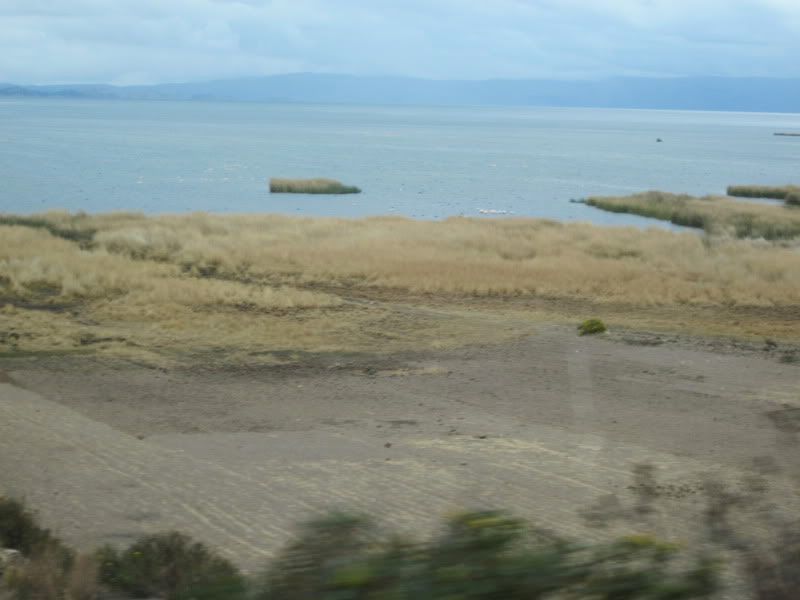 Flamingos again. You can't really see them in this picture (we were too far away) but I thought it would be interesting to get a picture of their habitat on Lake Titicaca
People outside in a town we passed.
Cholitas, walking through the town
More cholitas, with one carrying an awayo
The ubiquitous refined white bread rolls for sale, a legacy of U.S. food aid
More rolls. I wonder how many health problems these stupid things contribute to in Bolivia.
Yum. Drink Coca-Cola. Amazing how you can go anywhere on this planet - places with no Starbucks or McDonalds - and still find ads for Coke and Pepsi. Bolivia also has its own soda called Coca Quina, and Peru sells Inka Cola. Not that those are any healthier than "The Real Thing."
There were two interesting bits of commentary from our guide during this trip. One is that we passed a town full of butchers. People from all over the Altiplano bring their live pigs to market in this town. The butchers in the town buy the pigs, butcher them, and then sell the meat in La Paz. Second, we passed an awful lot of homes with red roofs. These houses are each part of a government effort to help Bolivia's poor live in dignified homes. The red roofs serve as clever advertisements, showing everyone who passes by the extent to which the government is helping improve the lives of Bolivians.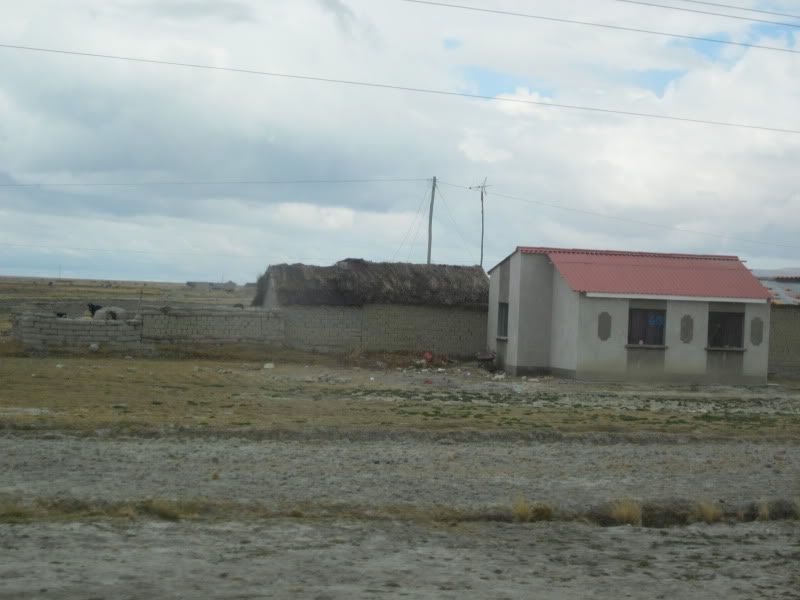 A home with a red roof, built by the government for a poor family.
As we continued driving, all of a sudden we got our first glimpse of the snow-covered Andes. We were in Bolivia during the height of the "burning season" in the rainforest, and one of our guides in the Andean highlands attributed our inability to see the mountains to the smoke coming all the way from the Amazon. But now, with most of the burning finished, we were treated to our first gorgeous view of the mountains.
The Andes
Once we got to the airport and checked in, we split up to grab lunch and then met up again at the gate. I went to a cafe in the airport for a yogurt and a REAL coffee (not Nescafe!). One of the menu items, which made me laugh, was a Frappuccino "Starbucks." So I took a picture. I also took a picture of the plane, which was so small it could even be described as cute. It seated 18 passengers.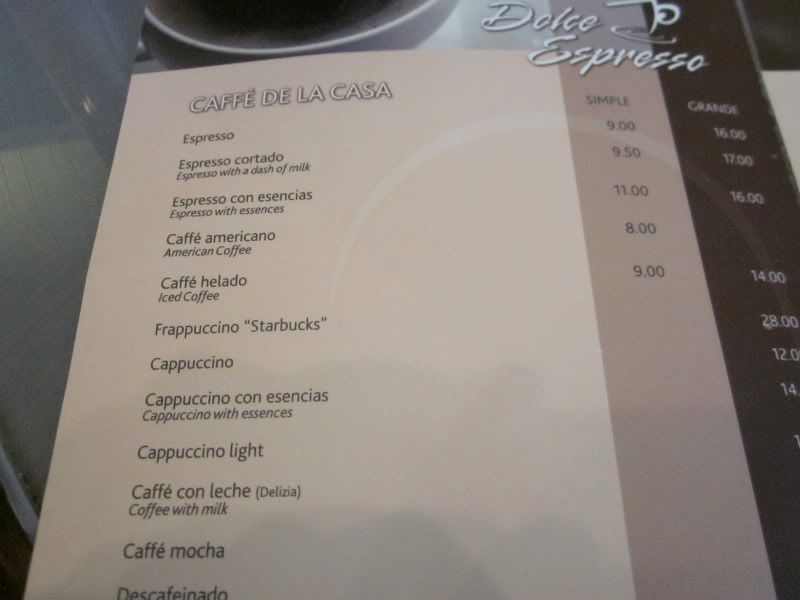 Want a Frappuccino "Starbucks"?
See the little plane? That's ours.
Toward the end of the flight, we could feel the air begin to get hot and muggy. I took off my alpaca sweater and stuffed it in my bag. Then, finally, (as a liberal tree hugging hippie I feel like I've been waiting for this moment my entire life), we landed and walked off the plane to get our first view of the Amazon rainforest.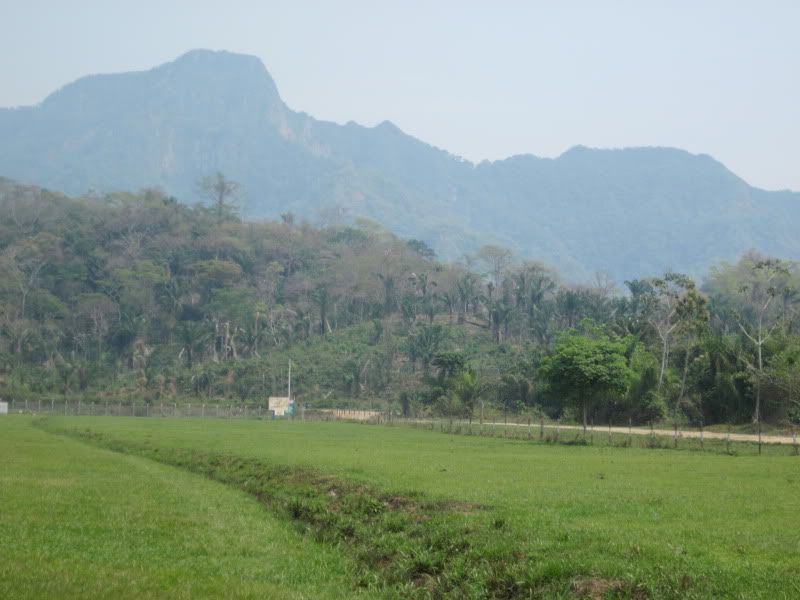 Our first view of the rainforest
The Rurrenabaque airport is officially the tiniest airport I've ever seen. And it's full of ads in misspelled English (and sometimes Hebrew) aimed at foreign tourists.
The Rurrenabaque airport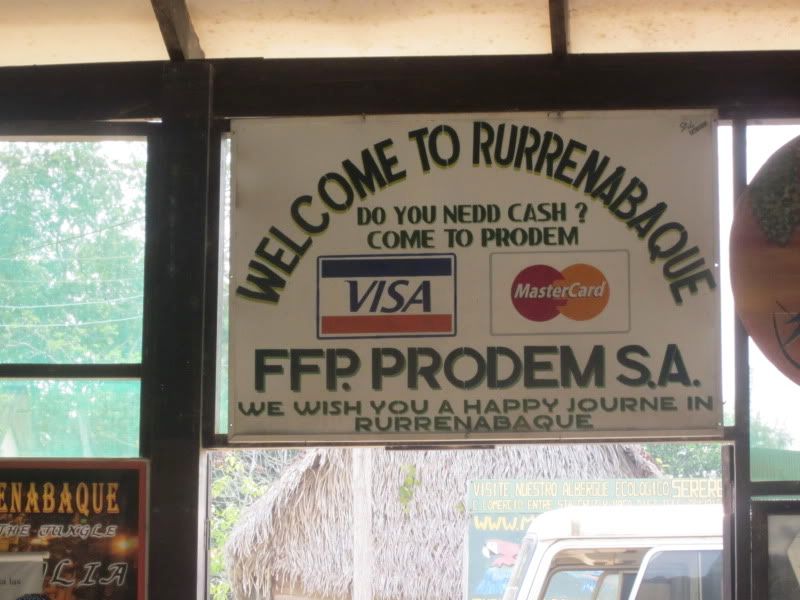 Nedd cash?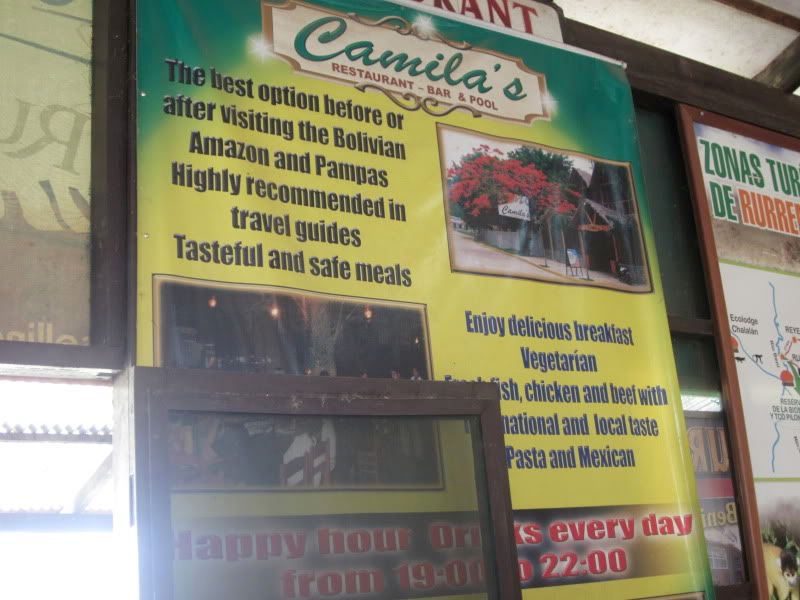 Ad for vegetarian food - a sign of how touristy this place really is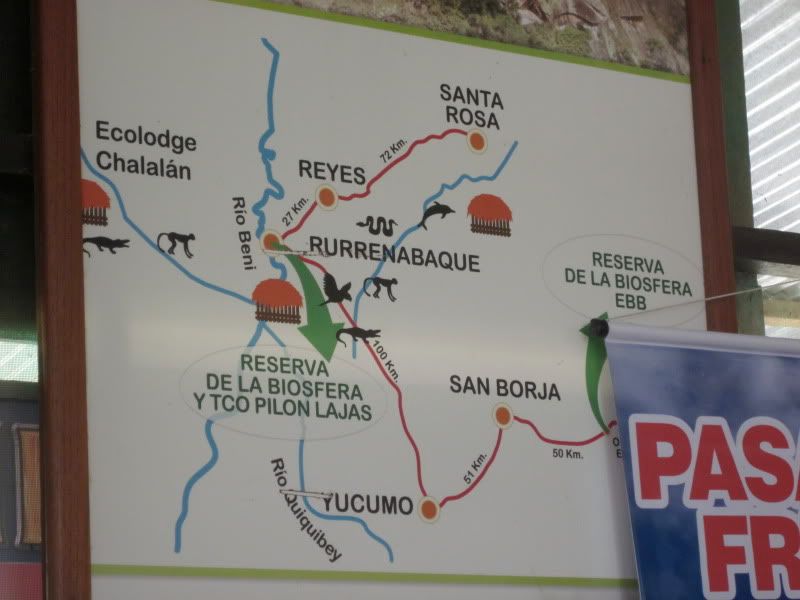 A map of the area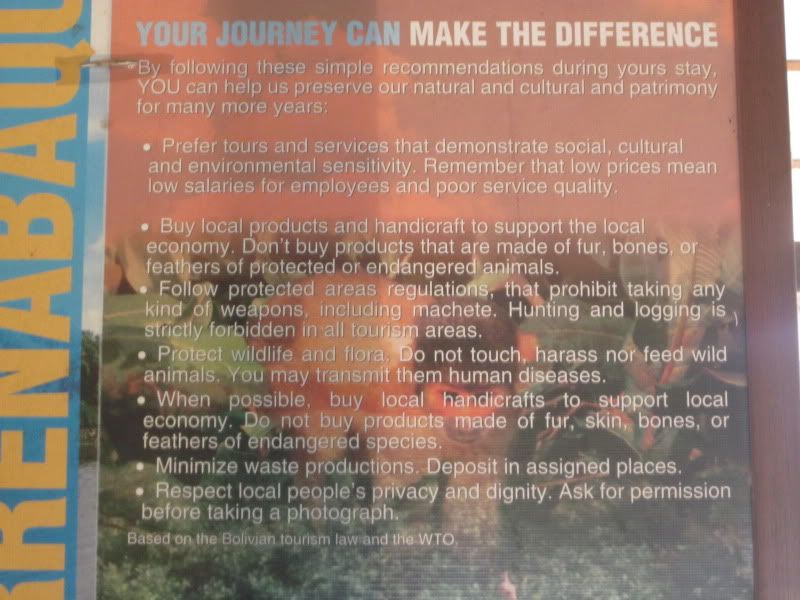 One of the more serious signs in the airport, asking tourists to be responsible and telling them how.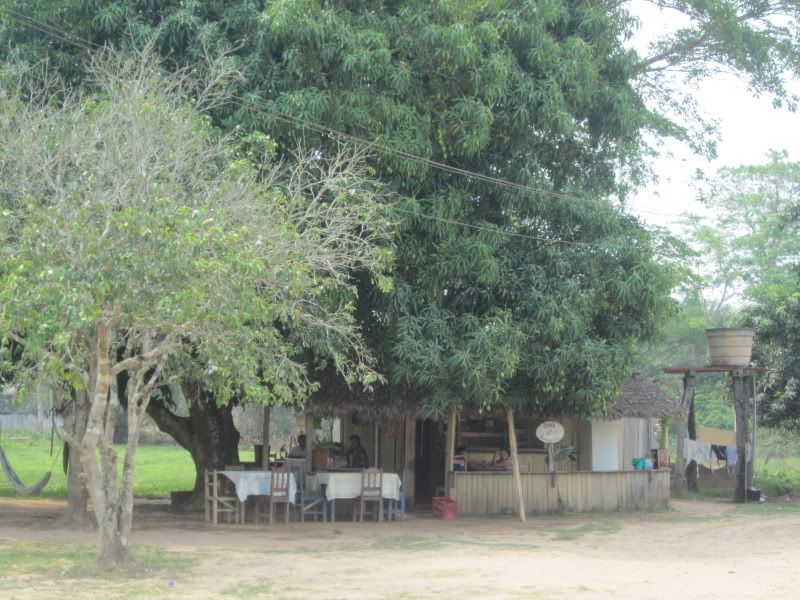 Refreshment stand at the airport. I would like a tropical drink, please, and can you serve it in a coconut shell?
We were met at the airport by Daniel Robison, an American living in Rurrenabaque. He was raised in Bolivia by his parents, who were there as missionaries. Daniel and his wife Sheila both have PhDs in soil science, and I will write a lot about their work in the near future. Daniel advised us to take the free bus from the airport to the hotel, which we did.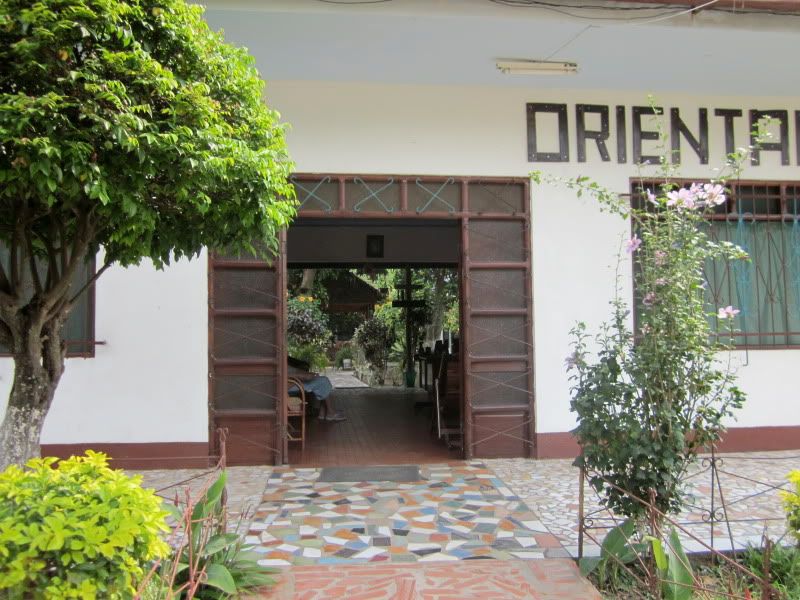 Our hotel
The view just outside of our hotel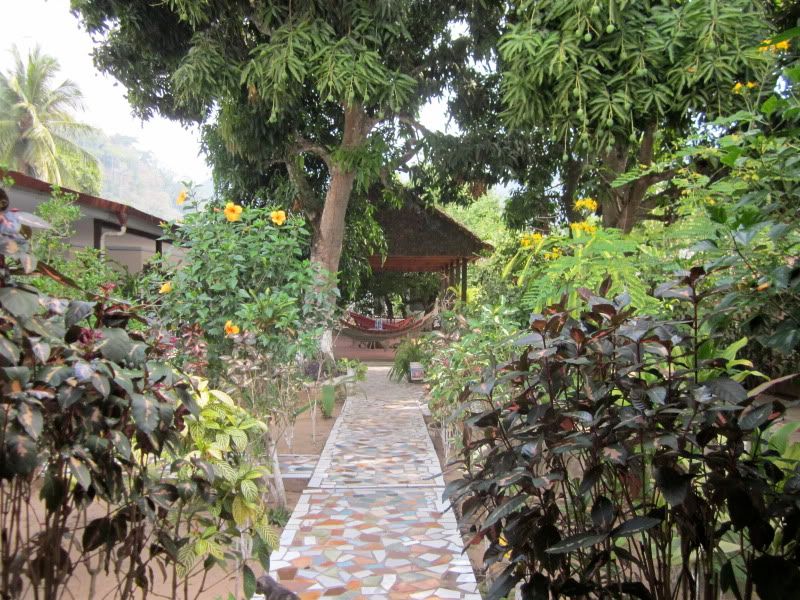 The hotel courtyard
OK, nevermind the itinerary - I'll be in one of these hammocks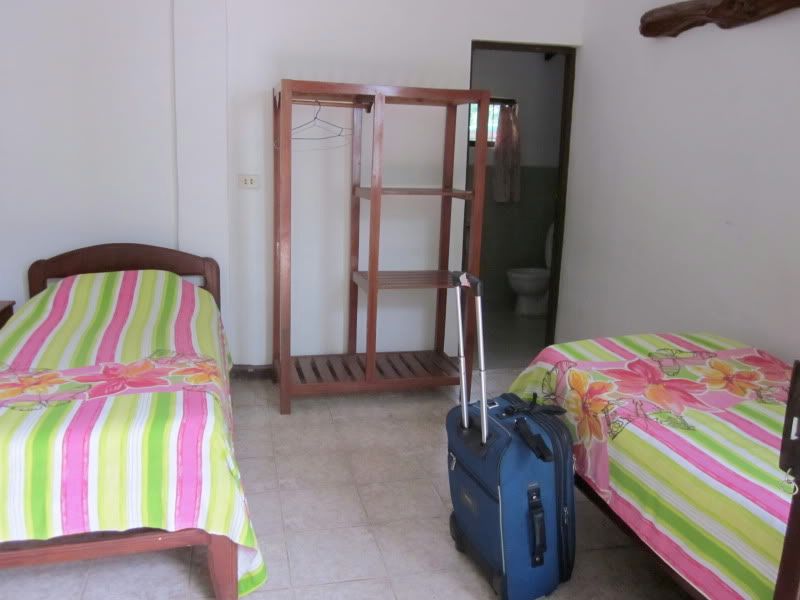 Our room
A very friendly cat in our hotel. This place just gets better and better.
"Welcome to the Jungle."
As we walked into our hotel in Rurre, we saw a huge pile of starfruit on one of the tables in the courtyard. I looked up and saw a starfruit tree. And several avocado trees, mango trees, a cacao tree, and more. I asked one of the employees about it and she said that the hotel courtyard was an orchard, and all of the falling ripe fruit was a lot of garbage for her to clean up.
A big pile of starfruit on a table in the hotel.
A starfruit tree
An avocado tree. In Bolivia, they call avocados "paltas."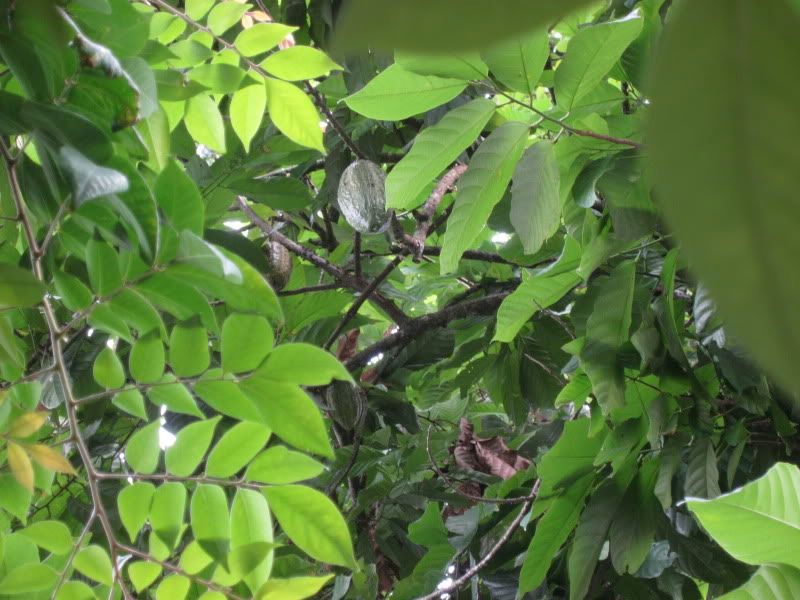 A cacao tree, just outside the window of our room. Too bad it's not chocolate season.
We spent the rest of the day wandering around the tiny downtown of Rurrenabaque, which kind of resembles an enormous dollar store, since it seems that every single store sells cheap crap. The responsible tourism sign at the airport said to buy locally made handicrafts, but I only found two stores that actually sold them.
The plaza in front of our hotel
Hey, now that you're in one of the most precious ecosystems on earth, how about some DEET? I went with an herbal bug repellent, a decision I am now reconsidering, should I happen to return to the Amazon. I am covered from head to toe in mosquito bites, either because the repellent didn't work or because I did not apply it frequently enough. And supposedly we weren't even there when the mosquitoes were "bad."
Another plea for responsible tourism...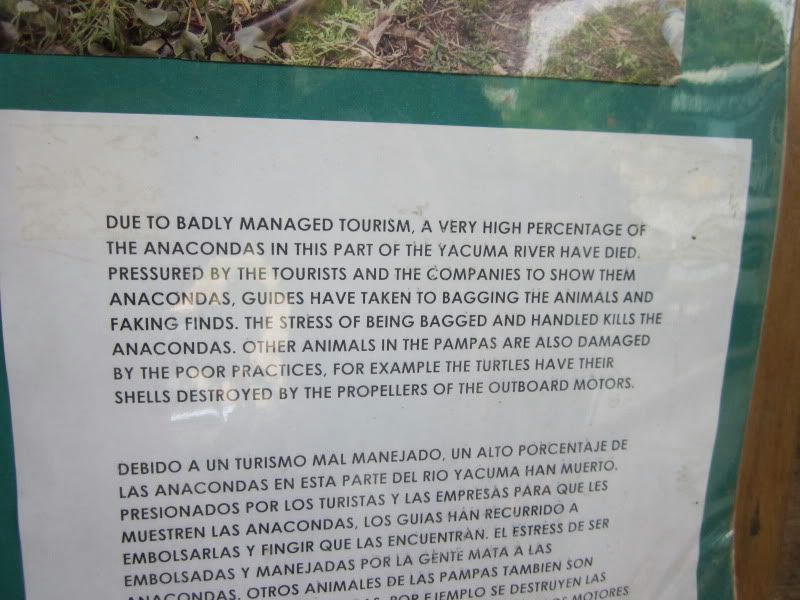 ... Continued...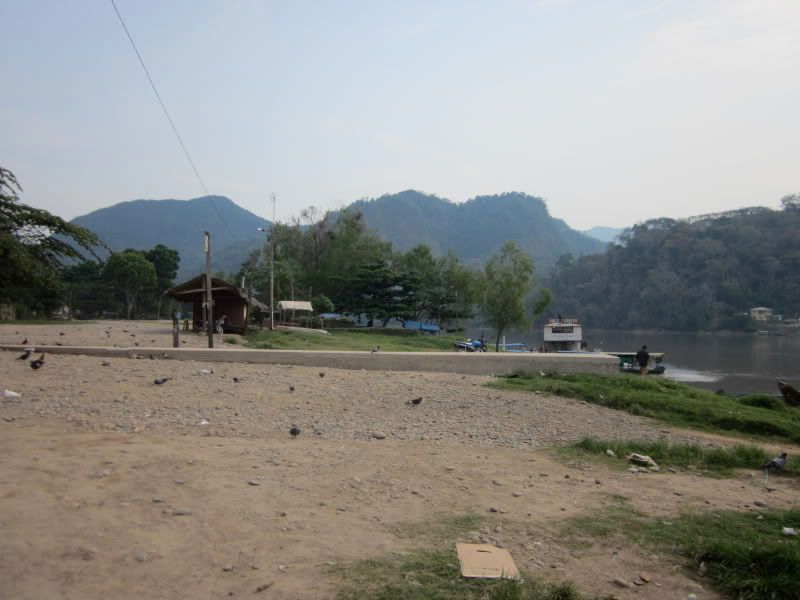 The Beni River
At the pier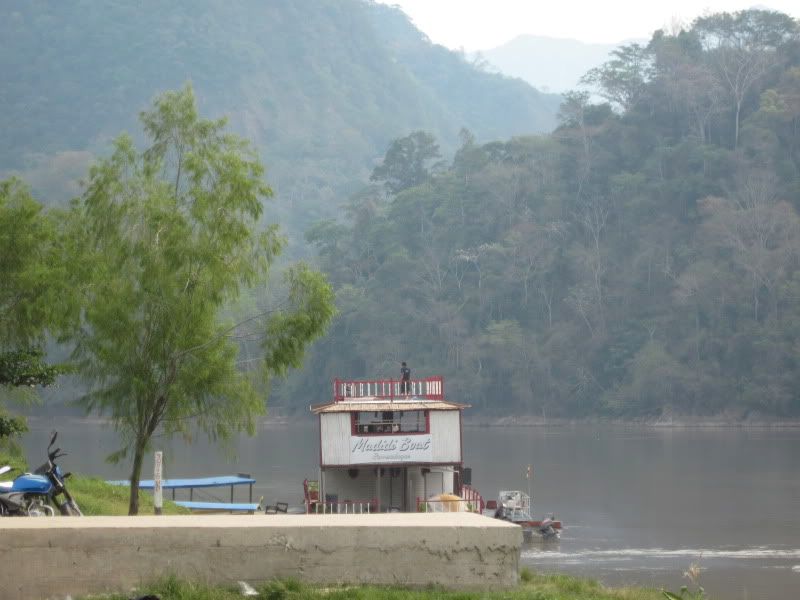 A closer view of the same
Boys selling ice cream. One is honking a little horn.
More ice cream sales. I think he's his own best customer.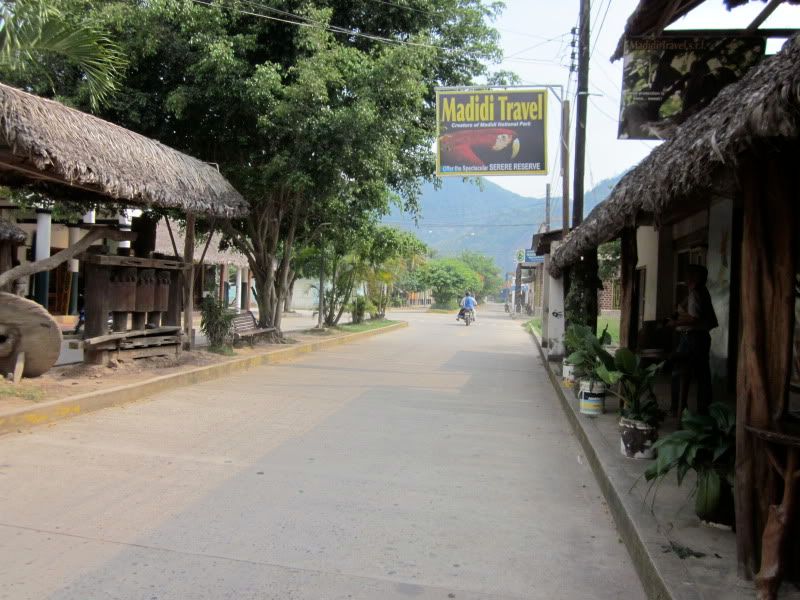 A street downtown Rurrenabaque
A food store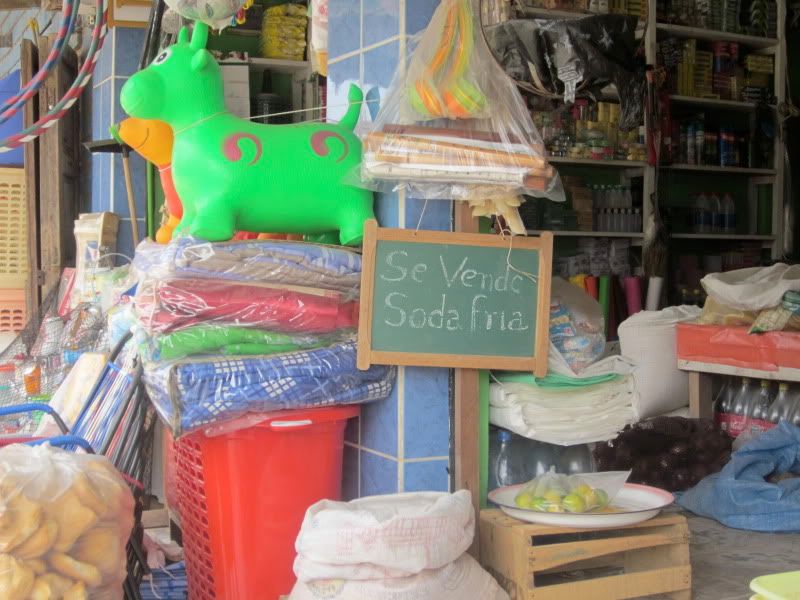 One of the gazillion stores selling junk in Rurrenabaque
A little boy selling shave ice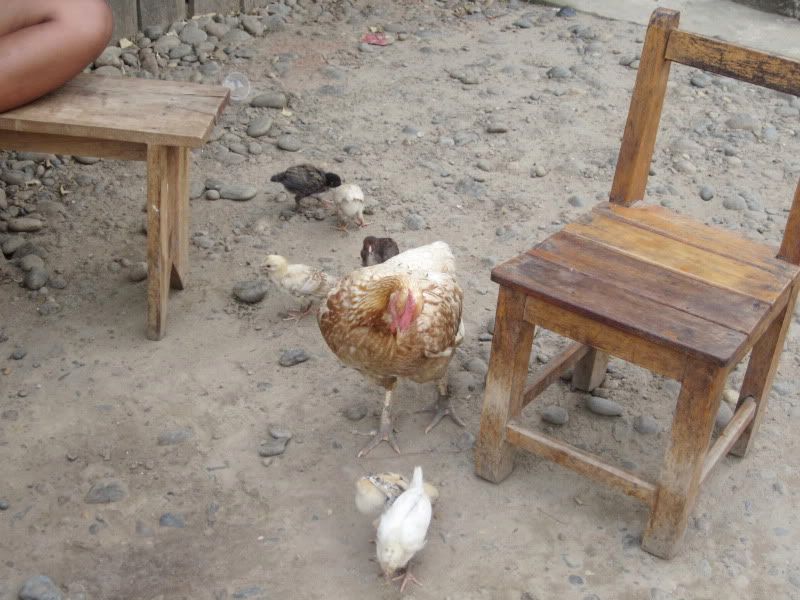 This might be a city, but that doesn't mean they don't have farm animals all over the place.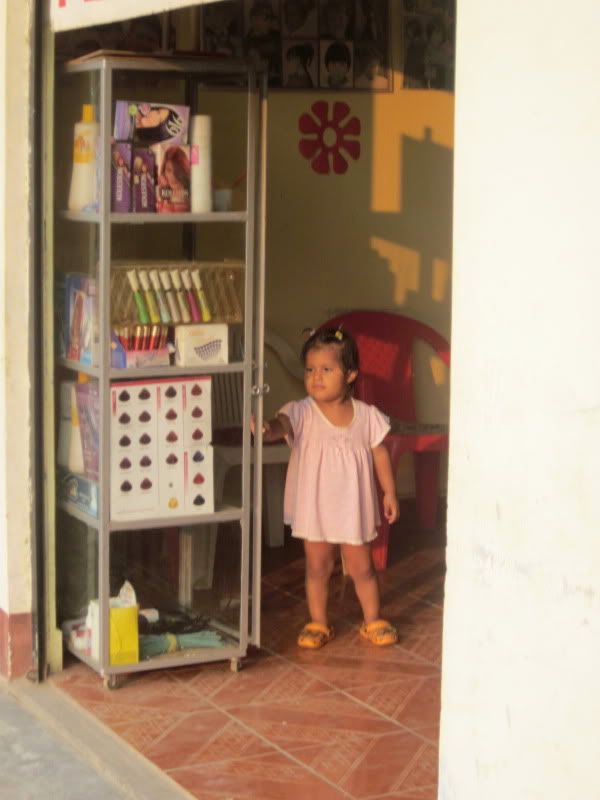 Cute kid
That night we went for dinner with Daniel Robison, his wife, and his mom (who now lives in the U.S. but was visiting while we were there). The menu was utterly and unintentionally comical, but the food was good. This restaurant was NOT one of the vegetarian-friendly tourist joints I saw advertised at the airport. I ended up getting some locally caught catfish, which was delicious.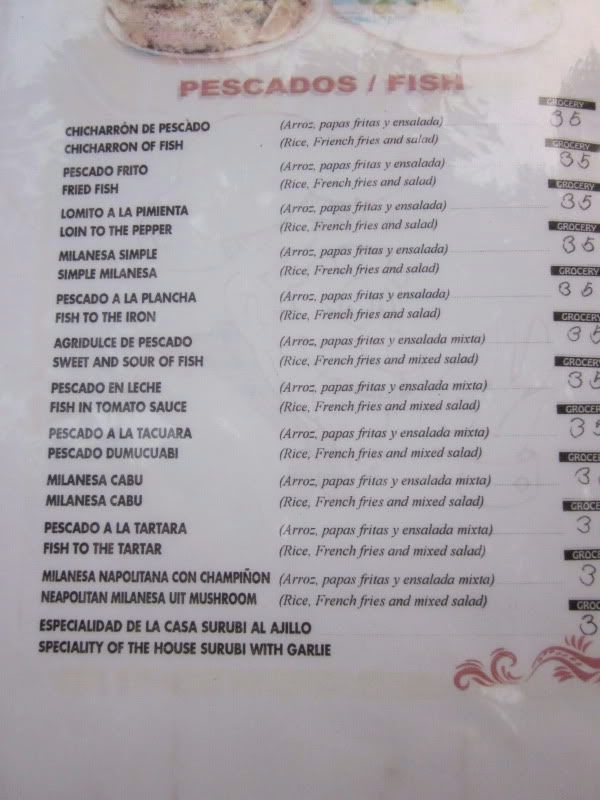 Want some "loin to the pepper," or would you prefer "fish to the iron"? I got the Specialty of the House Surubi with Garlie. (Surubi is a type of locally caught catfish)
Chicken of the Fantasy sounds good.
If you haven't found something to order yet, consider "Mounted Loin." Or maybe you would enjoy eating some "Bife." (I think "bife" is the official way to spell "beef" in Rurre... I saw it misspelled this way many times.)
So now that you've seen Rurrenabaque, it's time to talk about slash and burn agriculture, cattle ranching, illegal logging, and whether eco-tourism can save the rainforest. That's all coming over the course of the next few days.