This is primarily a photo diary of my first impressions of La Paz. I arrived in La Paz yesterday in the afternoon and went immediately to the hotel.
I spent several hours chatting with the hotel receptionist, with one short trip out to get some coca tea (as a preventative measure to combat altitude sickness). La Paz, unlike Cuba, does not have many compact fluorescent lightbulbs (which is a bad thing for the environment but a good thing for my migraines). However, they have plenty of CRT computer monitors and TVs if you walk around to visit restaurants and internet cafes. Long story short, I got a migraine. Then I tried to sleep it off.
When my group returned, I met them, and we went for dinner. We took cabs to an Italian restaurant, where I ate incredibly delicious llama ravioli with pesto sauce (my vegetarianism gets quite flexible when I travel to countries that aren't used to accommodating vegetarians, and I think I can be confident that llamas aren't factory farmed). Another member of the group ate pasta made with coca.
After dinner, the group walked home, stopping for ice cream, but I shared a cab with one other woman because I was in a rush to sleep off my migraine and (worried that my dinner wouldn't stay down). The nausea was likely due to altitude sickness. It got pretty bad leading up to dinner yesterday but it's been fine ever since the cab ride home.
La Paz is "fresco" (cool but nice) during the day time and can even get hot if it's sunny. At night, it's freezing. The hotel has no heat, but the beds have thick, warm blankets. You can get a small gas heater for the night if you'd like, but I don't think they are necessary.
So that was my first day here, and the pictures - along with a few more details - are below. If nothing else, scroll down to see the pictures of the cholitas. (I'm uploading pictures slowly and will add them as I am able)
My first views of Bolivia came from the plane. It was pretty easy to spot Lake Titicaca, because it's HUGE. Titicaca, I have discovered, means "Place where cats are" in an indigenous language. It is also a place where flamingos are, although I am unfortunately not here for peak flamingo season since they migrate to elsewhere in South America during Bolivia's winter. As you can see from the pictures, Lake Titicaca has some islands in it. The lake is in between Bolivia and Peru, with Bolivia to the east and Peru to the west.
In Bolivia, Lake Titicaca is more or less the northernmost part of the "altiplano," or high plain. This plain falls between two Andean mountain ranges, the westernmost of which (Cordillera Real) is visible from La Paz. Bolivia is divided into "departments," which are in turn divided into provinces. Lake Titicaca is in the department of La Paz.
As the altiplano goes south to the departments of Oruro and Potosi, the climate becomes drier. You can see from the photos I took from the plane that even though the area around Lake Titicaca is classified as "humid puna," it looks barren. Right now, Bolivia is in early spring, but this year they had a late winter and they expect that their rainy season will be late as well. In other words: the altiplano is at its driest right now.
Lake Titicaca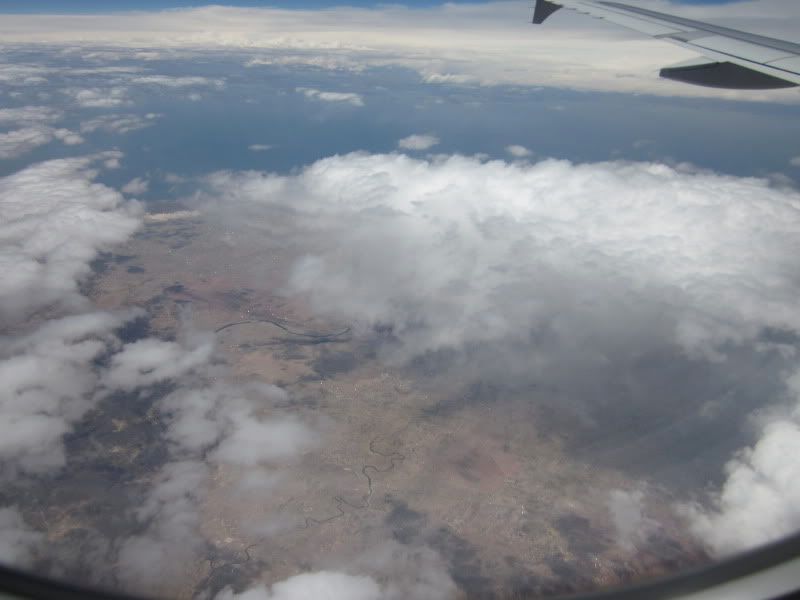 The Altiplano
After seeing "nothing" for a long time, suddenly La Paz comes into sight. It looks like a city that fell off a cliff. It turns out the older parts of the city are in the valley and the part of the city that is above is newer and smaller. I took a few pictures to capture what the buildings and the vegetation (where there is any) look like. As you can see, there ARE trees here. Just not many.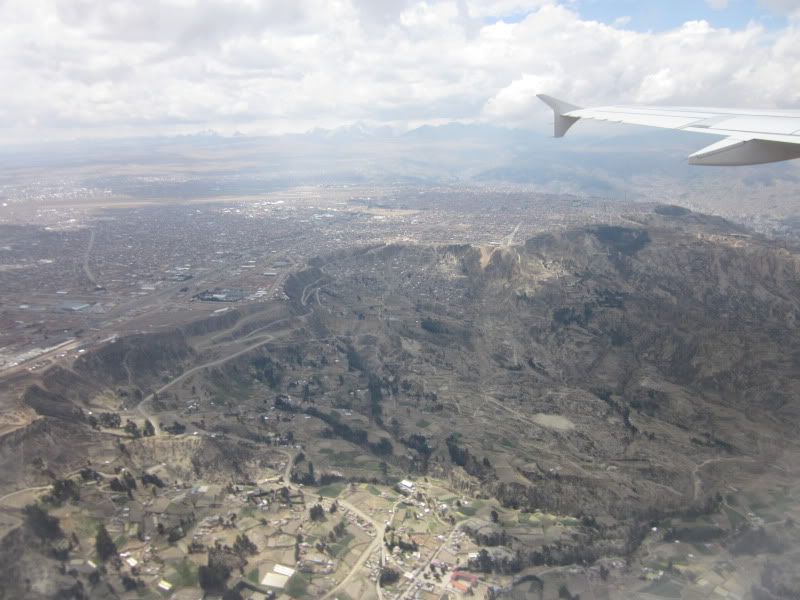 La Paz, a city falling off a cliff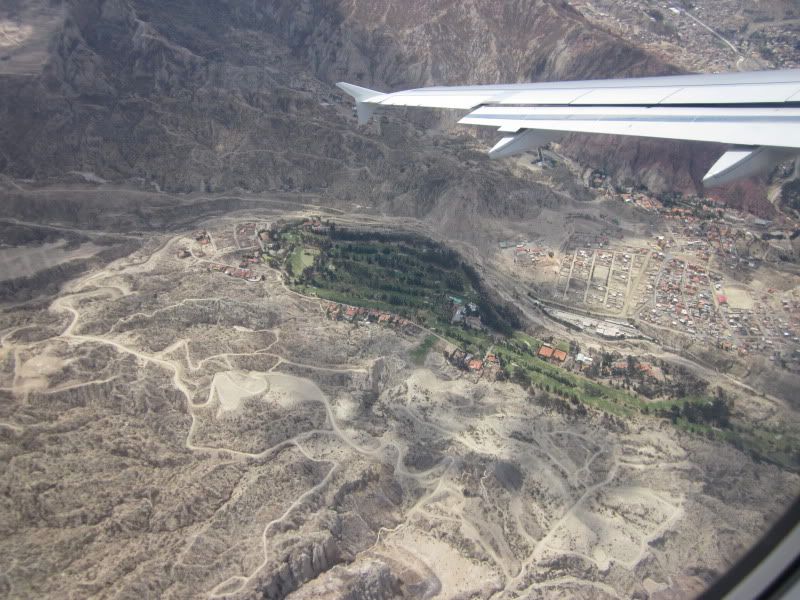 Check out the big green patch!
A soccer field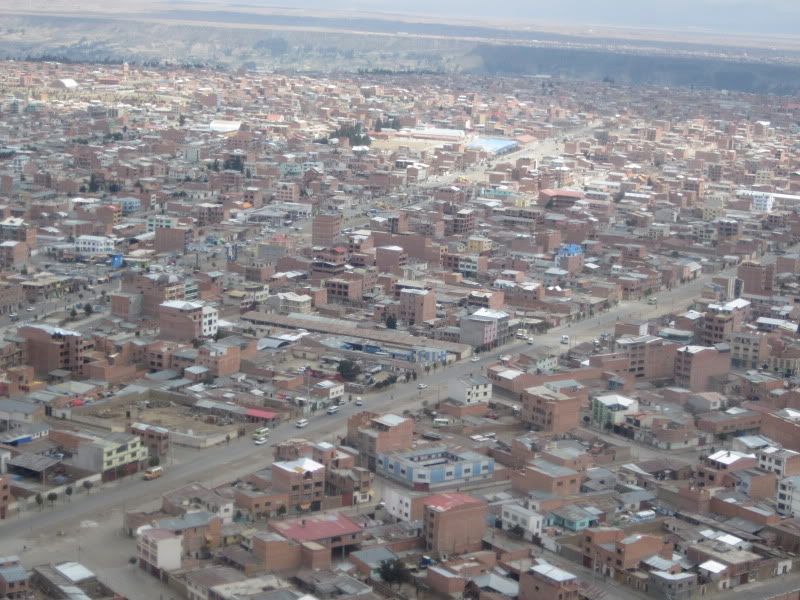 So many buildings look alike since they are all made of bricks
Once on the ground, I took a few more pictures while driving down into the city: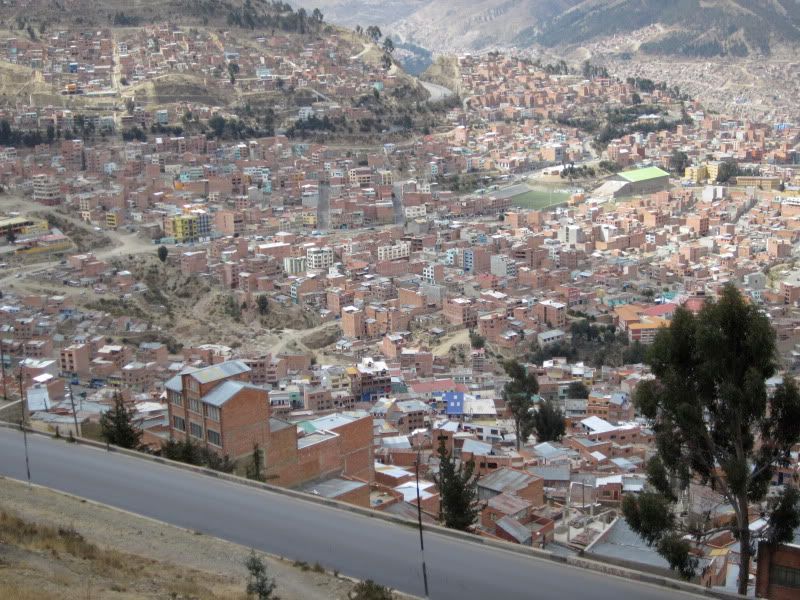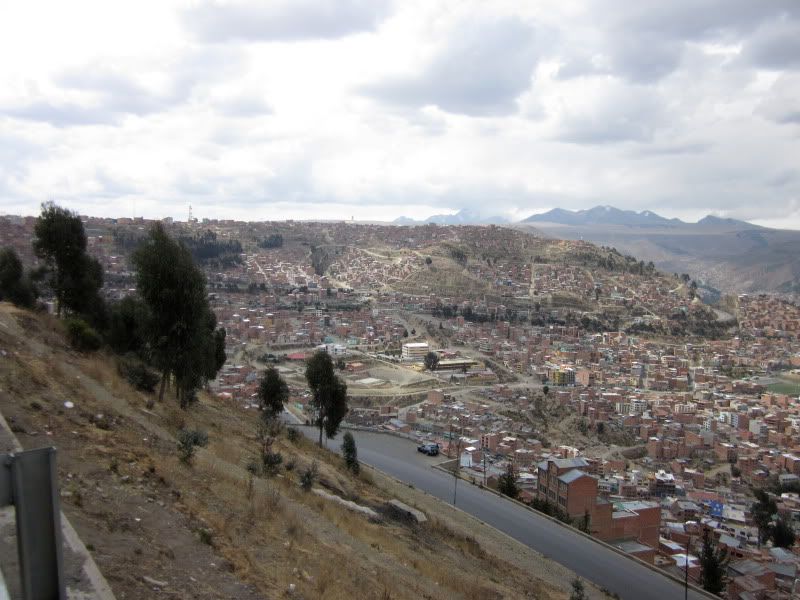 See, there ARE trees here. These pine trees are not native. There are some native trees though.
At the hotel, I drank my first cup of coca tea, which is supposed to help with altitude sickness. Often people buy it in teabags, but here it is made with whole leaves. "Chewing" coca is more complicated (you don't actually chew it), because you need to include a piece of ash with the coca in your mouth, but you also don't want the ash to directly touch your mouth. I believe you then lodge the wad of coca leaves into your cheek and keep them there, but I have not learned to chew coca yet.
My first coca tea
Just this week, Bolivia passed an anti-racism law. It seems to be an anti-discrimination law, which is a wonderful and very badly needed thing, since there is a lot of racism (particularly in the eastern province of Santa Cruz) against the indigenous people. However, there is some talk that it also limits the freedom of the press to say racist things, and the newspapers are going nuts over that. The people I've talked to generally support the law but also don't know what exactly it will do. Some say that it's a tool of Evo Morales, who is Aymara (one of the largest indigenous groups), to silence his political enemies.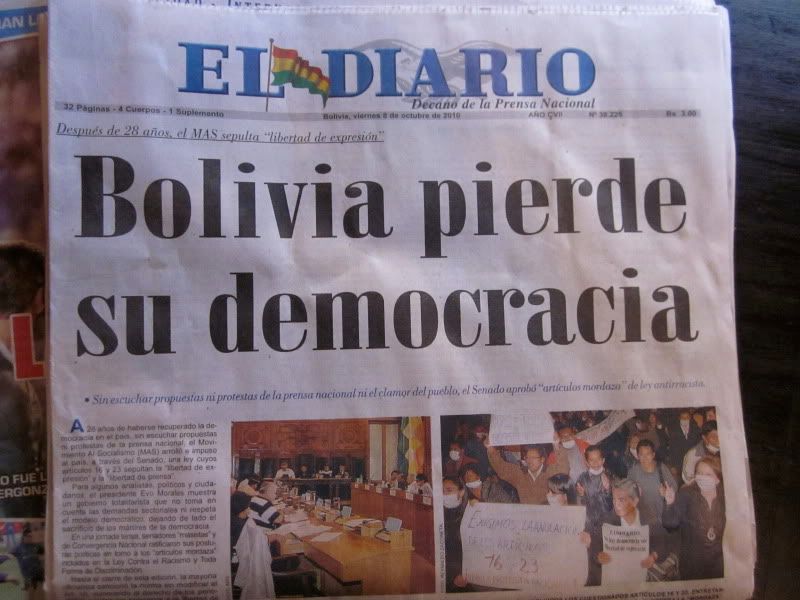 The newspaper headline: "Bolivia lost its democracy"
A second newspaper headline: "Senate approves antiracism law despite protests"
Cholas
Cholas, or cholitas, are the indigenous women here. The story I heard is that when the Europeans came, they all wore long, fancy skirts and they banned the indigenous women - who did not dress like them - from coming in many buildings. Then the indigenous women adopted the European dress, and the Europeans promptly stopped wearing those skirts. To this day, the cholas still wear long skirts, fancy shawls, and bowler hats. Cholas in different parts of Bolivia dress differently, as the climate varies greatly. You'll also notice that they use what appears to be blankets to be a sort of "backpack," on their back, tied around their neck and, I believe, fastened with some kind of pin. Some women carry their babies on their backs, and others carry whatever else they need to carry.
I saw one woman carrying a big sack of what appeared to be popcorn (although it was shaped differently and had no kernels) and I asked to take her picture. She insisted I pay her. I told her I would buy some popcorn and asked how much. "Five bolivianos," she said (just under $1). I only had a 20 so I gave it to her, expecting change. Then I found a 5 Bs coin and offered it. "No," she said, "Twenty is better." So I took the picture. Then I asked how much for the popcorn. One Boliviano. Well, if she's making about $.15 for each sale of popcorn, then I guess she needed my 20 Bs more than I did.