This diary series covers my trip to the Mexican state of Jalisco to study the effects of NAFTA and the Green Revolution on subsistence farmers in rural areas. The trip began with a few days in Guadalajara, the largest city in the state. Then we headed to the rural town of Cuquio, about an hour and a half away, for the remainder of the trip. On the 9th day, we had a painful reality check when we found out the family we were visiting was desperately poor and hungry.
If reading about the people I've visited inspires you to help, you can
donate to the Center for Farmworker Families
. Every penny given goes directly to these families for clothes, shoes, food, school supplies, and more.
Day 9 began as usual. An amazing breakfast courtesy of Dona Ines, our beloved cook, some pinata stuffing, and purchasing another cake and watermelon for the village we would visit in the afternoon. At 1p.m. the cops showed up with their truck, we piled into the back, and off we went.
All ready for our party
After a short drive, the truck came to a stop in front of a familiar house. I recognized Raquel, the oldest daughter of Lupe (host of our second rancho visit), as she came out to greet us. What good luck! Were the cops taking us by here for a quick visit? As everyone got out of the truck, bringing the fruit, pinata, and cakes with them, I slowly realized: THIS was our stop for today. It wasn't a coincidence that there was a big crowd of kids in the yard. Raquel lived in the next rancho over from her mother, and she was hosting the party.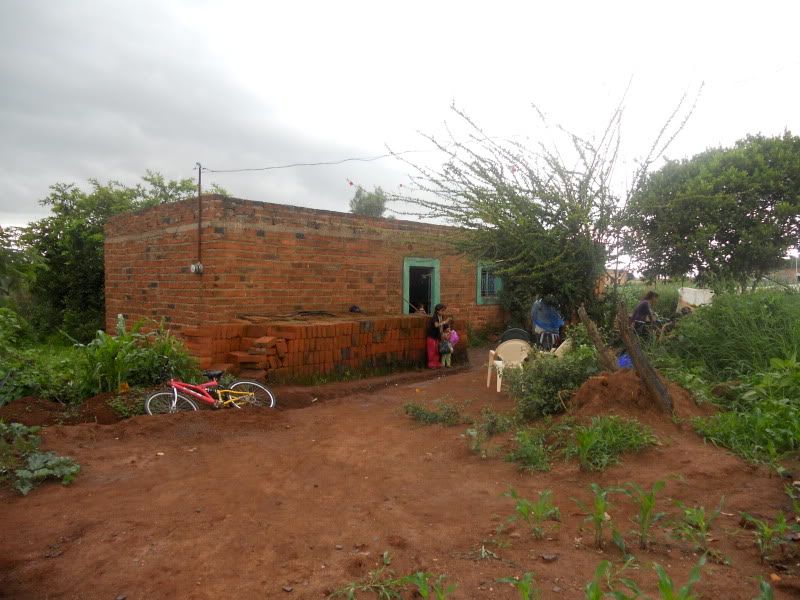 The tiny house where Raquel lives with her boyfriend and three kids
A view of the yard
Quickly, we got started with the usual round of "mucho gustos" and introductions. The kids did their pinata, which was from a different store in Cuquio than the previous three, and nearly indestructible. Then cake, watermelon, fruit, toys, clothes, shoes, etc, etc. One of the moms gratefully told us that her child never had any toys before now.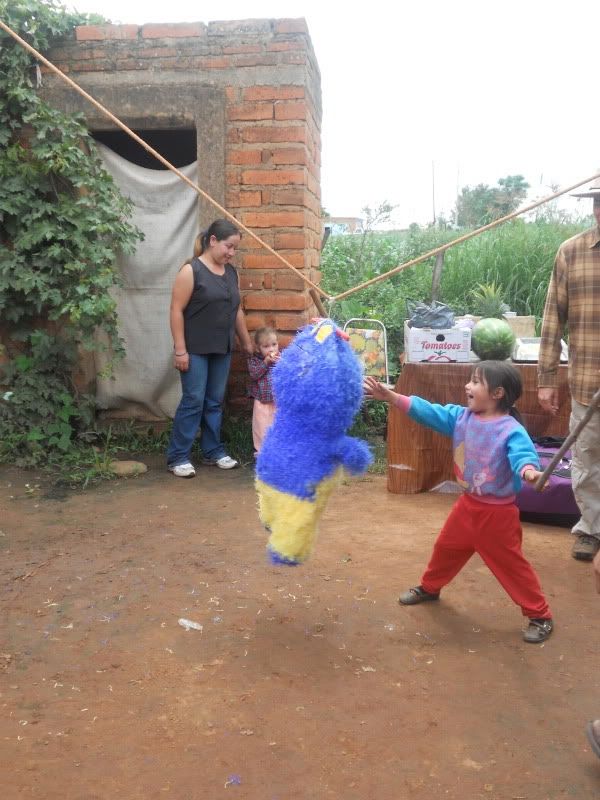 Our indestructible pinata
As we handed out the toys, I wondered about the cultural appropriateness of some of them. Kids often get toys that are pretend versions of grown-up things. For example, last year I was a little surprised to see my boyfriend's three year old sporting a toy cell phone. However, cell phones are a reality in the worlds of American kids growing up today. Would the Mexican kids relate at all to the pretend doll-sized hairdryers?
Toys for the kids
Toys for the kids
When it started drizzling, I ducked inside of Raquel's tiny house. She had electricity, and I noticed a small TV on the bed. Besides the bed and a small table with chairs, the home was nearly empty. I found out later the family had no bathroom facilities whatsoever.
As usual, I began scoping out the corn. I tried asking Raquel's boyfriend, who I will call Sergio, whether he had planted hybrid or transgenic corn or if he used
maiz criollo
. I'll be the first to admit that my Spanish isn't great, but what I got from that exchange was that Sergio planted hybrid, perhaps genetically engineered, corn with fertilizer and Roundup.
A little bit later, as the party was winding down, I heard Ann say that Sergio had planted
maiz criollo
. "He told me he planted hybrid!" I said. Ann checked with Sergio. All of a sudden, we got a totally different story. Sergio had no land at all. The land all around the house belonged to other landowners and it was their corn, not his. His house belonged to someone else, but they let him live in it rent-free (I think). He looked for work and worked whenever he could, but there was very little work to be had. He tried to go to the U.S. once but was unsuccessful at crossing the border. He and Raquel also checked the fields for any remaining food after the harvests each year. Other than that, they had no source of income and no way to produce food, save for a single orange tree in their yard.
For a day that began in a festive mood, it certainly didn't feel like a celebration now. Sergio wanted us to visit his mom's house, about a mile away. As we cleaned up after the party and gathered our group together, a Coca-Cola truck passed by. At last, we got everyone together and began our muddy walk in the rain.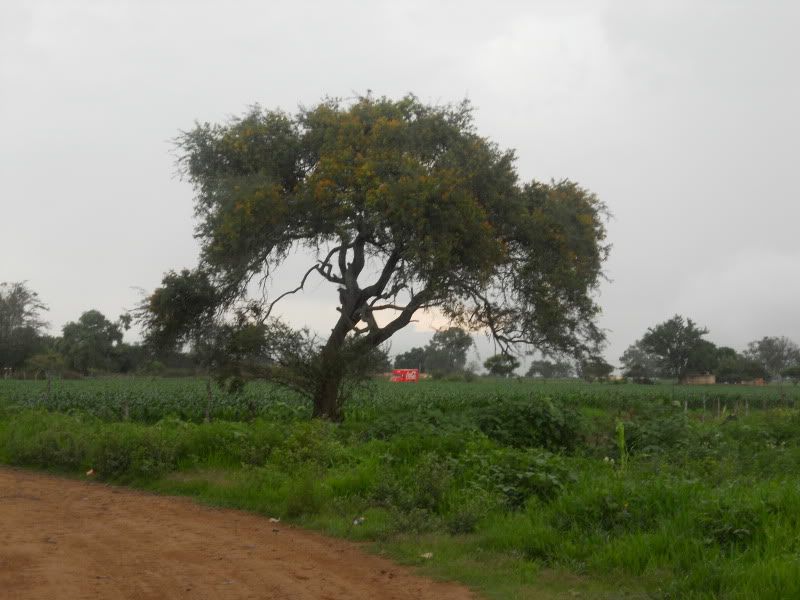 Beautiful scenery and a Coca-Cola truck
At last, we arrived to a rather nice house (relatively speaking) with an outdoor hearth and warm, glowing embers remaining from a recent fire. Somehow, they found enough chairs to accommodate most of us, and then Ann gave Sergio's mom, who I will call Eva, some clothes: a pair of slippers, a pair of shoes, a nightgown, a few tank tops, capri pants, sweat pants, a shirt, socks, and underwear.
After remaining rather quiet all afternoon, Eva came to life. She excitedly thanked Ann in Spanish, and I heard her use the verb "to dream." I asked Ann what she said. Ann told me she said that when she was little, she would dream of picking out her clothes, and then remembered that she didn't have any. She said this was a dream come true.
We began asking questions about the house, and it was soon established that the Eva moved there after marrying Sergio's dad, and it was Sergio's father who really knew the history of the house. We asked him to tell us more about it and about his life.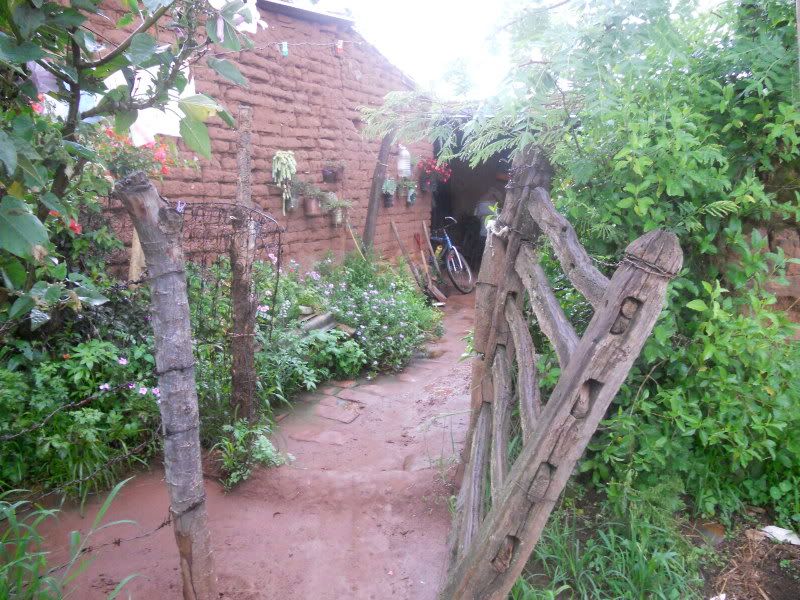 Sergio's parents' house
A view from inside the gate
Sergio's parents' yard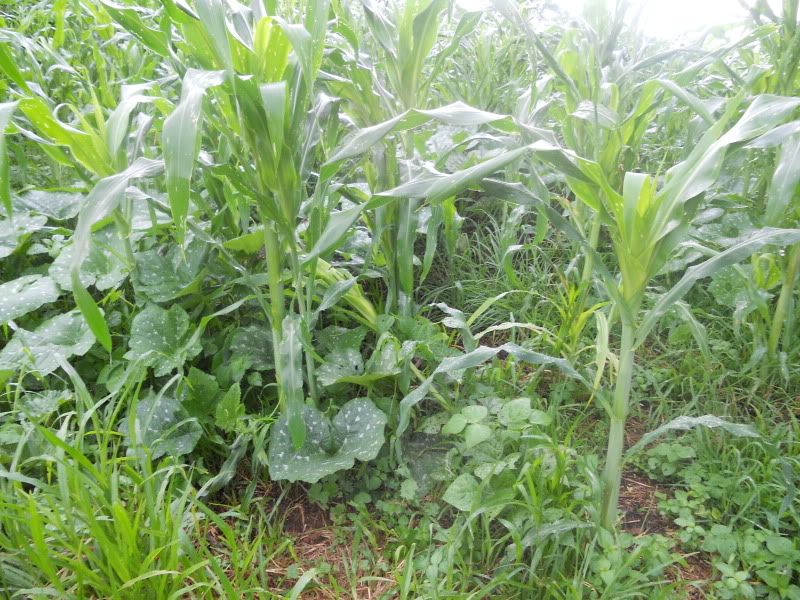 Sergio's parents corn growing together with beans and squash
Sergio's dad's parents (Sergio's grandparents) were born in the house, which is over 70 years old. One part was an addition added to the house about 50 years ago. They got electricity in the house about 20 years ago and that made life easier. Sergio's dad said he lives as a campesino planting
maiz criollo
with squash and beans. He doesn't grow enough corn to sell any, only enough to eat. Last year, they didn't even grow enough to eat.
He and his wife have 9 children, and the youngest is in junior high. Three of the children still live at home. Three of the other children (who are married/cohabitating but live in the area) were with us during our visit, including Sergio. One son has been in the U.S. for 12 years and he sends back money.
His wife, Eva, has a heart condition and she occasionally has to go into Guadalajara for treatment. Both he and his wife receive free health care from the government, and it seems that they can get most kinds of primary care in Cuquio. And, fortunately, Eva is enrolled in the Oportunidades program (a welfare program) which provides her with 770 pesos every other month.
His land, including the area occupied by the house, is a half a hectare (1.23 acres). He used to have more, but he sold one hectare (2.47 acres) about 10 years ago because he was in debt. When he had more land, things were a little better. (If you recall
the ejido system
I described in a previous diary, you'll note that it's a change in the last 20 years that allows Mexicans to sell ejido land. Had his father not sold the majority of his land, Sergio might not be in such rough shape.)
Sergio's dad told us he uses
maiz criollo
with urea fertilizer but no pesticides or herbicides. The hybrid seeds are too expensive and he said he has no money to buy them. He told us that the
maiz criollo
grows very tall and the wind blows down all of his plants. He said it about three times, actually, so it was clearly quite a sticking point for him. He and his wife have no livestock (they used to have chickens but they all died) and they have one mango tree that doesn't produce mangoes. They quite literally subsist on corn tortillas and beans only. Upon hearing that, Ann made arrangements to give them a box of vegetables the next day.
At this point, we began walking back to Raquel's house. I don't know how it happened, but I ended up holding hands with one of Raquel's young children (age 3, I think) and walking and talking with Raquel. She's 23 with three kids ages 2-6, two from a previous boyfriend and one from Sergio. I don't know how it came up, but while we walked she said to me, "Sometimes we eat, and sometimes we don't." Oh god. How awful. This family is in really bad shape.
"Does that scare you, for your children?" I asked. "Yes," she replied, "Especially for my oldest because she has asthma and respiratory problems and we cannot afford the medicine." I told her we should ask Ann for help and I gave her all of the money I had on me, which was unfortunately just 20 pesos.
Ann sprung into action when Raquel told her about her daughter's asthma. The next day, Ann arranged for Raquel to take the bus into Cuquio with her daughter to see the doctor. I found out later that several others gave some money, and Raquel ended up with about 600 pesos ($60) between us. Ann also followed up with the municipal government about Raquel's lack of bathroom facilities, and the government immediately offered to bring her a composting toilet.
As we said our goodbyes, Raquel gave me a big hug. I wish we could do more for her. We left her family with clothes, shoes, school supplies, toothbrushes, toys, a composting toilet, a bit of food, asthma medication, and enough money to last a little while. But Ann only visits Mexico twice a year and the money will run out long before Ann's next trip. I wouldn't be surprised if Sergio makes another attempt to immigrate to the U.S., leaving Raquel alone with three young children.
After we said our goodbyes, we began walking up the road to meet the police so they could drive us home. Almost immediately, we walked past a woman weeding her garden with a hoe. Ann recognized her and gleefully shouted her name. Afterwards, Ann told us her story. This woman has a disabled husband, and two daughters with a genetic disorder. The disorder begins to disable them at a certain age and unless they can get a certain medicine, they end up in a wheelchair. The oldest daughter is in a wheelchair already, and the younger daughter walks with a cane. This, of course, leaves only the mother to work in the garden, growing the family's food.
Ann talking to the woman who has disabled daughters
We continued walking, and passed a billboard for DuPont Pioneer seeds.
Billboard for Pioneer (DuPont) seeds