This diary series is about my trip to Jalisco, Mexico to research agriculture among subsistence farmers and the economic pressures here to immigrate to the United States (legally or otherwise). Today's installment is divided into two parts. The first is about our Mexican breakfast at the green hotel and a trip to a Mexican Ecotienda (Eco-Store). The second will be about a meeting with the Ecological Collective of Jalisco.
My second day in Mexico started early when I woke up itching. I woke up several times, and each time to several new mosquito bites. My idea to raise money for this trip by asking people to pledge $1 per mosquito bite was a good one. I'd be up to $10 per person already. Word got out among the mosquitoes that "sangre sabroso" (Tasty Blood, which should have been my Spanish name) has arrived in town. And either the lemon and eucalyptus essential oils mixed in with jojoba oil that I was advised to bring as an insect repellent doesn't work, or I made it wrong. At least I'll have very nice skin from all of the jojoba oil by the time I get home.
My room mate, a PhD student studying agriculture and development at Texas A & M, and I woke up an hour before breakfast and decided to go out looking for Sanborns, a Mexican chain store that sells everything. She wanted coffee, and I wanted to snoop around the store to see what they had. Interestingly enough, they had quite an array of tobacco pipes for sale, very nicely presented in a glass display counter. They also had a bakery with Disney and Barbie themed children's cakes, tons of Mexican pastries, prominently displayed Twilight books in both English and Spanish, and plenty of Toy Story 3 stuff. (Bill Maher recently said that with all of the advertising for Toy Story 3, it better give him a real Buzz and a real Woody.)
I purchased Bonafont brand bottled water (a Mexican brand). They also had Evian, and I've been told to look out for Ciel because it's really Coca-Cola. It's pretty tricky of Coca-Cola to pick a Mexican brand name that sounds so close to the Mexican word for "sky" or "heaven" (cielo). But it's no surprise, given that the name Coca-Cola picked for itself in China is Kekoukele, meaning "tasty and fun" in Mandarin.
Then we went back to the hotel, or at least tried to. I was lost. My room mate says she wasn't, but after several wrong turns I insisted we ask for directions to the McDonalds, the only landmark I knew of to locate our hotel. It disgusted me that our hotel was on the same street as a McDonalds, and it disgusted me more to be an American in Mexico asking directions to go there.
When we got back, we joined our group for a huge treat - breakfast. I ordered "avena" (oatmeal) and then listened as the waitress said what sounded to me like "bla bla bla leche bla bla bla fruta bla bla miel" and then nodded and said "Muy bien, gracias," having no idea what to expect but hoping it would involve oatmeal with milk, fruit, and honey. I hope my grip on the Spanish language improves some day soon!
We were also offered the choice of fresh-squeezed orange, grapefruit, or carrot juice, eggs any style, chilaquiles, refried beans, yogurt with granola and fruit, and toast with jam (including a mango jam made with the hotel's own mangoes). I had a hard time saying no to any of it. In the end, I ordered toast with jam, both red and green chilaquiles, refried beans, and oatmeal.
Mangoes that fell off the tree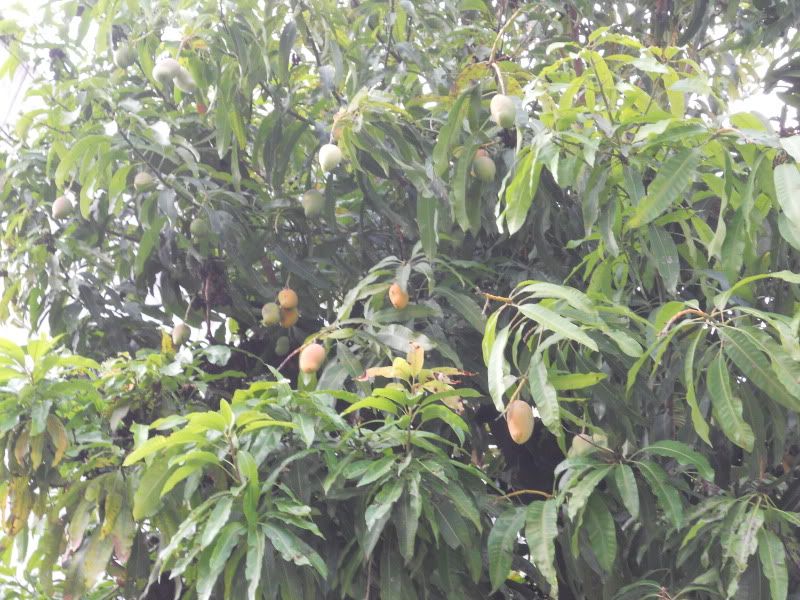 The mango tree we ate breakfast under
My chilaquiles and beans
When the choices of juice were offered, one woman asked for coffee. The waitress said they only had Nescafe. I find it incredibly ironic and sad that in Mexico - a country that produces some of the finest coffee in the world, coffee that is easily available all over the United States - they only had Nescafe, even in a hotel that serves exclusively organic food. And it's not because Mexicans don't drink coffee. There are any number of coffee places within a few blocks of our hotel, including a Starbucks.
As you can imagine, I ordered a ridiculous amount of food. The oatmeal came out first. It was rolled oats, served kind of soupy, with a heap of papaya on top. I hate papaya so I picked it off and gave it to the woman next to me. Then I mixed some of the strawberry and mango jam into the oatmeal to make it more palatable so I could get it down. I eat oatmeal every day at home and it's one of my favorite foods, but this oatmeal was flavorless.
The toast, on the other hand, was delicious. So were the jams. And the beans. And the chilaquiles (fried tortillas topped with salsa). The red was too spicy for me by far, so I took another piece of toast and spread it thickly with mango jam to cool the fire in my mouth as I ate. The green was perfect. I was almost too full to taste the slices of mango when they showed up at the table (someone ordered them and offered to share) but I forced myself to make room. It was worth it.
After breakfast, our group split in two. Half walked around looking for the best exchange rate, and the other half went to see some local art and ended up buying a few souvenirs along the way. Ann Lopez, author of the book
The Farmworkers' Journey
and one of the leaders of our group, bought a pair of earrings made from
maiz criollo
, the traditional landrace Mexican corn. I followed the first group to a nearby ATM, exchanged money, and went back to my room to read Ann's book. I figure I'll get much more out of the trip to the countryside if I've read her book (or as much of it as possible) before going.
At 3pm, we met in the hotel lobby to visit an Ecotienda (Eco-Store). I didn't eat lunch because I was still full from my huge breakfast. The Ecotienda was tiny but worth seeing. It's wonderful that Guadalajara has a burgeoning green movement but it's also sad how small that movement is.
The Ecotienda features weekly farmers' markets in their small space with several vendors (about half selling food they grew and the other half selling food they bought and processed). The market wasn't today so the store was not very busy. Outside, we were greeted with several organic garden products like worm humus. One was a spray that - from my limited ability to read Spanish - looked like a worm compost tea of some sort. It was called Piss Plus, and were it not for the TSA liquids ban, I would have bought it.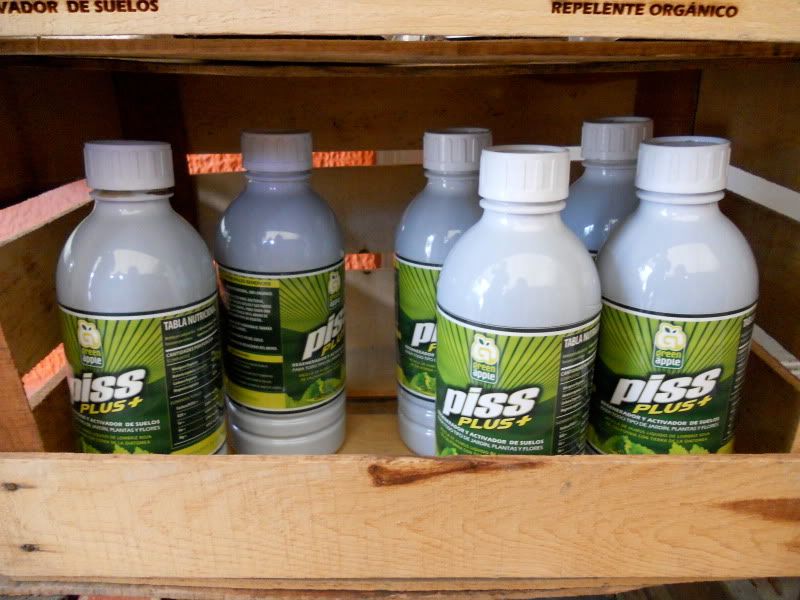 Piss Plus
Inside the store, we saw what you might find in a very small natural foods co-op at home. Some of the products were American brands available at home (Silk soymilk, Sweet Leaf tea, and Organic Valley cheese). Others were clearly Mexican, like organic chocolate from Chiapas and milk from Oaxaca. The store had some beauty products, toiletries, herbal medicine, biodegradable plates and bags, fresh fruits and vegetables, staples like rice and beans, oils and vinegars, and some processed snacks. Also available was a device that hooks up in your bathroom so you can spray your naughty bits with water instead of using toilet paper. It had some slogan on it about not killing trees. They also had the most attractive looking fabric reusable sanitary pads, which struck me as odd once I realized that they'd be continually stained and gross looking if used.
They sell this at Whole Foods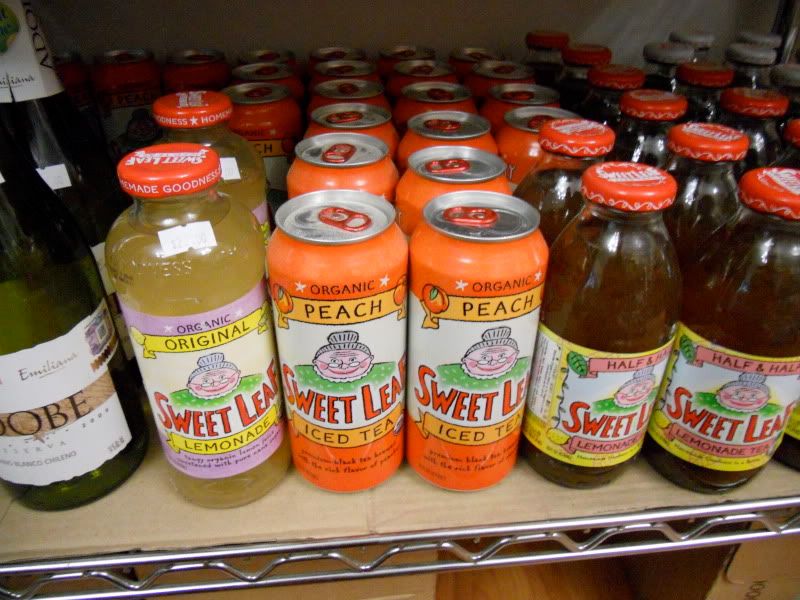 Product of Austin, TX
Organic Valley
Dairy from Oaxaca
Horchata, a Mexican rice drink, made with amaranth
Perhaps the most surprising aspect of the store (besides the American products) was the prominent availability of amaranth. Apparently, at one point, amaranth was the "fourth sister" in the traditional corn, beans, and squash polyculture in Mexico. From what I hear, it's also an important nutritional addition to a traditional Mexican diet. However, maybe the processed foods (like little cakes made with amaranth and chocolate) weren't so healthy. And I have to say, learning the Spanish word for lard ("manteca") has revolutionized my understanding of the food here in Mexico. I accidentally ate lard at breakfast in my beans, and several products at the Ecotienda contained "vegetable lard." I neither know what that is, nor do I want to eat it.
I bought a bag of whole cacao beans, another bag of sweetened chocolate, two soaps (one made with chili for my boyfriend and an exfoliating one for myself), a beeswax lip balm, and a container of mango yogurt. Because I didn't have a way to refrigerate it and I hadn't eaten since breakfast, I ate the yogurt on the spot. It had so much sugar, it should have been labeled as "probiotic candy."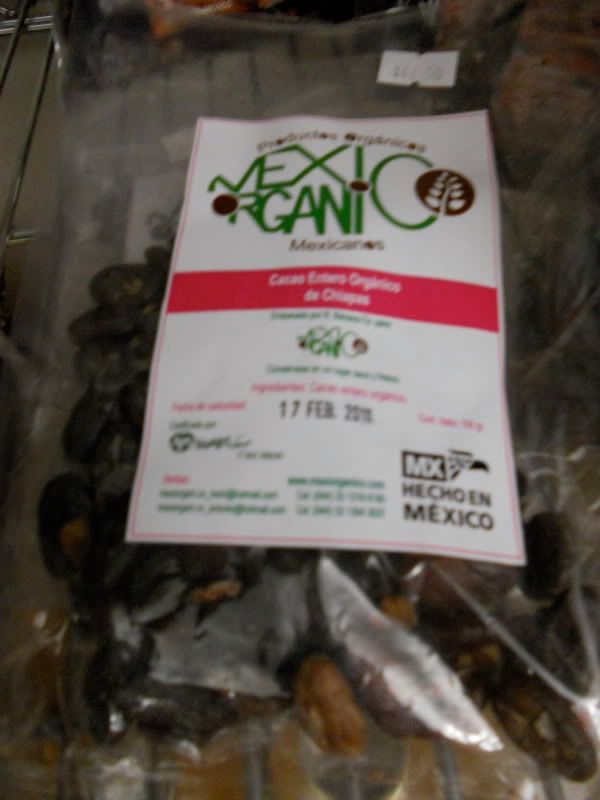 Whole cacao beans
On the way out of the store, I saw a sticker that was partially ripped but I knew it said the familiar slogan "Sin maiz no hay pais" - without corn, there is no country. It was appended with "no al maiz transgenico," indicating that the struggle has now added GE corn to its list of problems to fight off.