Guadalajara was where my parents went on their honeymoon, so it's a city I've long been curious about. Of course, my mom spent much of that trip suffering from food poisoning, so I was a bit hesitant to visit too. As one of Mexico's largest cities, Guadalajara is a bustling metropolis. From the plane, all of a sudden lush greenery gave way to a cement jungle of densely packed, gray streets and buildings and no visible green space.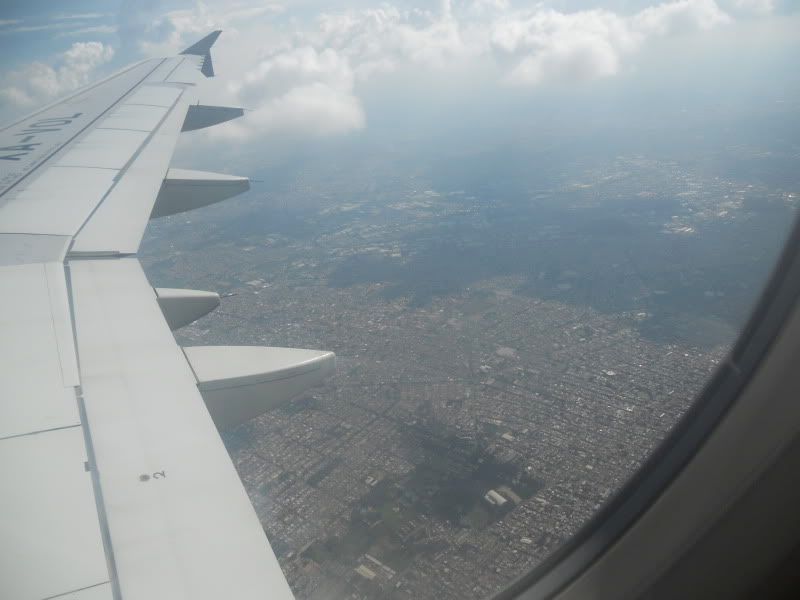 Fortunately, from the ground, Guadalajara looks much nicer than it did from the air. Our group of 11, which ranges from an immigration lawyer and a professor who runs a non-profit for farmworker families to an idealistic community college student, a nurse, a newly graduated psychology grad student, a fourth year PhD student working on agricultural development, and others, boarded a bus at the airport which took us to our hotel. On the way we passed barrios - slums - as well as numerous billboards and stores hawking both American and Mexican brands and products. Pepsi has quite an advertising presence here.
Finally we reached our hotel, which is a site to see as well as a place to stay. It's a green hotel, created from a century-old adobe building. The sheets on the beds are organic, as is the food served in the restaurant. Some of the food - particularly herbs, mangoes, and even eggplant - are grown on site at the hotel. The soaps provided are all made locally by an artisan.
A view of the hotel's courtyard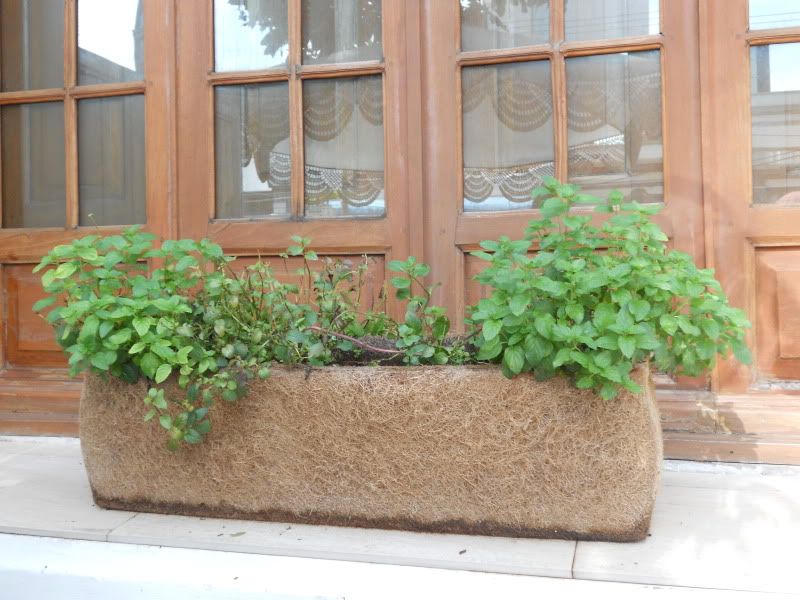 A planter with herbs
Swallowtail caterpillar in the hotel garden
Eggplant blossom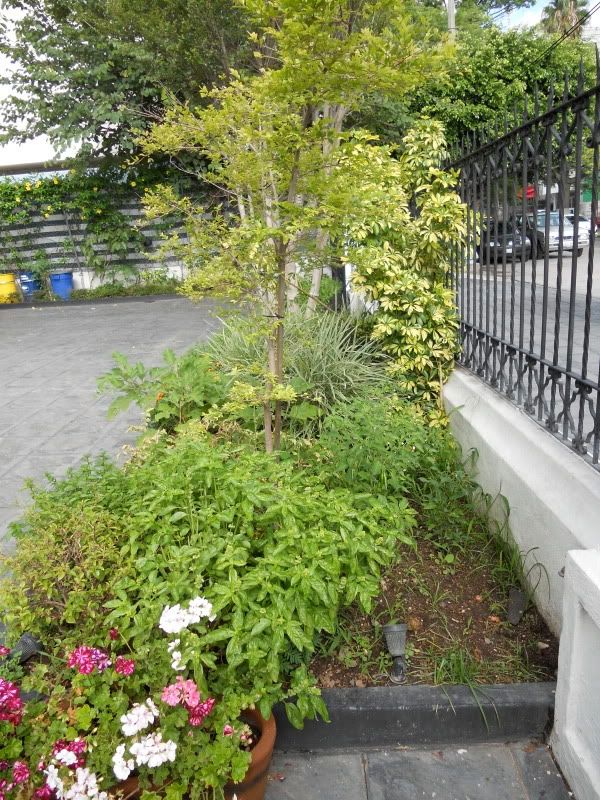 The garden
An internal courtyard in the hotel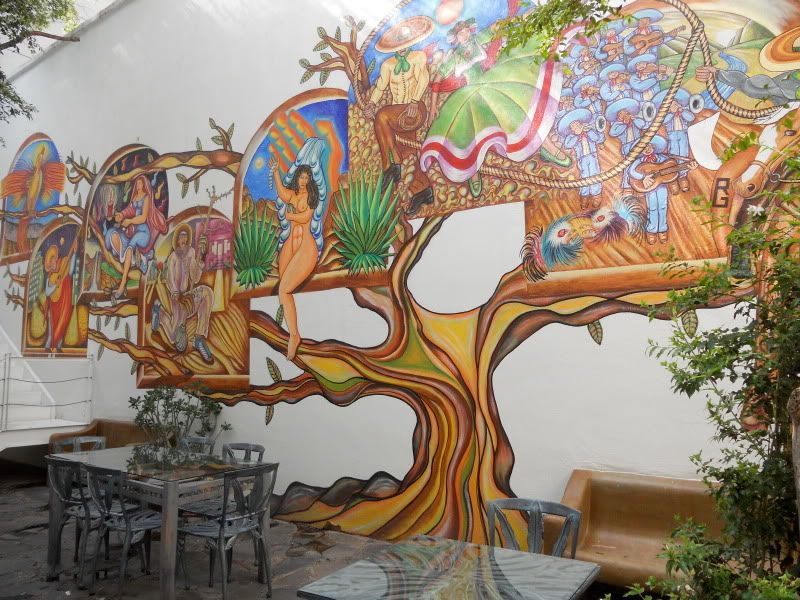 Better view of the mural
My room
The bathroom... and OMG the soap smells good!
The hotel owner told us about future projects he'd like to take on to make his hotel even greener: composting toilets and grey-water, for example. Then he told us about his CSA that he runs. He held up a pint of cherry tomatoes. "These organic tomatoes," he said, "Are grown in the Mexican state of Sinaloa. The farmer sells them for $1. Then they are exported to the U.S. and sold for $3-$4. Mexicans grow this good food but get to eat none of it. Mexicans are getting fucked."
He showed us several other products - organic limes grown in Colima, Mexico, that go to Holland, and an organic mango that goes to the U.S. But he's managed to divert some of these organic products from the export market. He buys them for his CSA and then sells them at cost, charging only a small amount to cover the cost of transporting the goods. His CSA started small with only about 20 subscribers, but it's quickly growing and he expects to soon reach 200 subscribers, and perhaps eventually 1000. He says at the prices he sells the CSA boxes for, he's competing with Wal-Mart. Actually, he's cheaper than Wal-Mart.
Dinner at the hotel was heavenly. We began with fresh squeezed pineapple juice, followed by a salad featuring heirloom tomatoes (shown here by our host, the owner of the hotel):
Pineapple juice in the U.S. tastes nothing like this, I swear!
The eggs in the salad were easily the best eggs I've ever had.
After our salads, we were served soup. At this point, we had to negotiate with our host about being "vegetariano" (as about half the group doesn't eat meat). We settled on eating the soup made with chicken broth, but with no pieces of chicken in the bowls given to the vegetarianos among us. The soup also contained rice, carrots, and chayote. While we were eating our soup, our host brought out freshly made, warm corn tortillas. These tasted like nothing I've had in the U.S. and they were quite delicious.