As I'm headed to Mexico in a few weeks, I decided it's a good idea to start researching Mexican ag. I began with some
FAO data
, to see which crops are grown in Mexico and how those numbers have changed over time - particularly before and after the implementation of NAFTA. I'll post more in the future, going more into depth about imports and exports pre- and post-NAFTA, and hopefully I'll be able to find some good information about other important factors like farm sizes, production methods, and agriculture in the state I'll be visiting, Jalisco.
In 2007, the top 20 commodities produced in Mexico were as follows:
1. Sugar Cane
2. Maize
3. Cow milk, whole, fresh
4. Sorghum
5. Oranges
6. Wheat
7. Tomatoes
8. Hen eggs, in shell
9. Bananas
10. Lemons and Limes
11. Mangoes, mangosteens, guavas
12. Chilis and peppers, green
13. Potatoes
14. Onions, dry
15. Coconuts
16. Avocados
17. Watermelons
18. Beans, dry
19. Papayas
20. Pineapples
Some of these crops were also among Mexico's top exports. In 2007, they exported 16.2% of their wheat, 34% of their tomatoes, 23.9% of lemons and limes, 12.3% of mangos, mangosteens, and guavas, 28.1% of chilis and peppers, 27.1% of their avocados, and a whopping 45.8% of their watermelons. Check out these graphs of Mexican production over time and see what happens after NAFTA went into effect in 1994: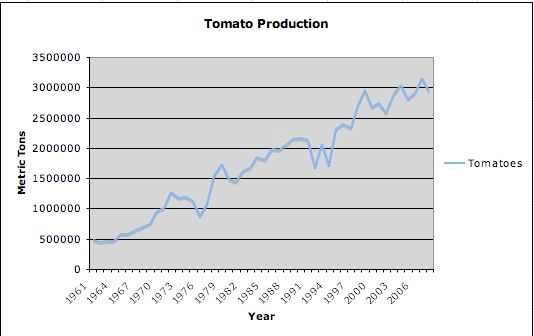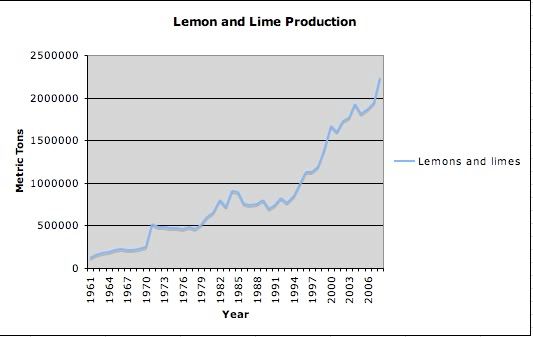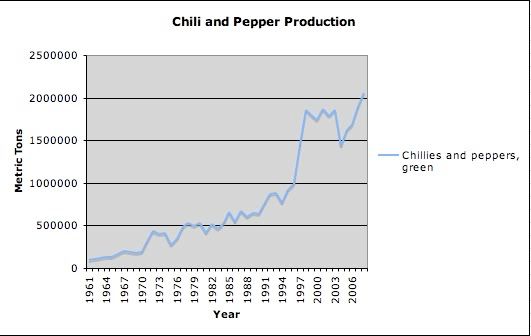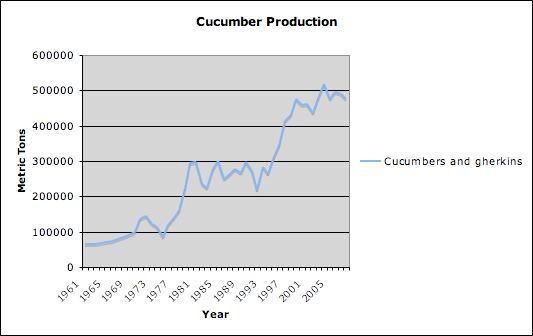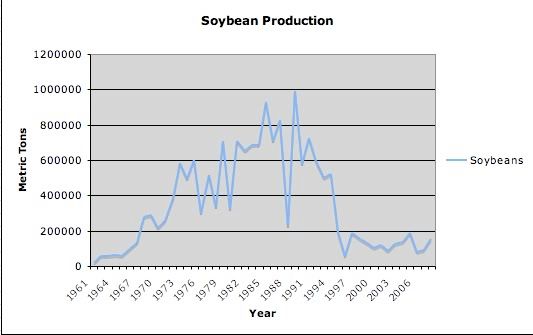 As you might guess from that last picture, soybean imports skyrocketed after the implementation of NAFTA.
Some of the other crops I looked at didn't show such sharp changes after 1994. You can see their graphs below.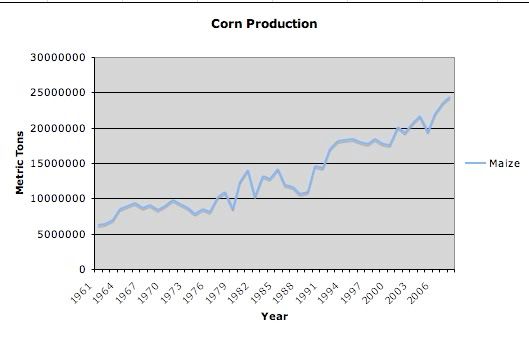 Note how corn production isn't dropping even as corn imports skyrocketed after the implementation of NAFTA. Here's a quote on that from "The Environmental & Social Impacts of Economic Liberalization on Corn Production in Mexico" by Alejandro Nadal:
In spite of a sharp drop in corn prices and the increase in imports, Mexico's production has remained stable. In fact, the cultivated surface devoted to corn has expanded, while yields have dropped. The increased overall consumption of maize (domestic production plus imports) is explained by increased use as cattle feed and in industrial processing.