On May 15, my group flew from Havana to Cancun. There, some of us said our goodbyes, and several of us spent one last wonderful night together on the beach. I am including this diary about Cancun in my Cuba series because there are realizations I had about Cuba while I was in Cancun.
First of all, here's a "what not to do" for anyone traveling to Mexico. Mexican customs has a machine that randomly selects travelers to have their baggage searched. The first time I visited Cancun (en route to Cuba), I was not selected. The second time, I was. And the first thing the customs agent found in my suitcase was a plastic, 1-gallon size ziplock bag full of pills containing white powder.
It didn't occur to me until that very moment that my lysine supplements might look like cocaine. I bought them at Whole Foods (without a prescription, obviously) to prevent cold sores and then emptied the large glass jar of capsules into a plastic bag to make them easier to fit into my luggage. OOPS. After answering some very awkward questions and after the Mexicans presumably tested my pills to see if the really were cocaine, they let me go.
My roommate in Cuba, Jennifer, was going to stay at one of Cancun's Marriotts. Because I've got a zillion Marriott points, I realized I could get a room there for free. I invited a few others to crash with me for the night, and off we all went. Here's the view from our room at sunrise: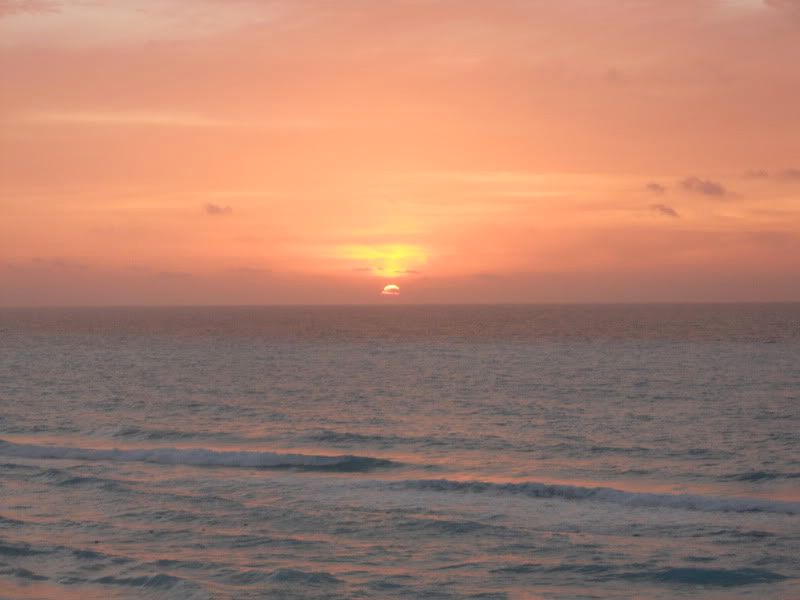 We were RIGHT on the beach. Nothing but soft, white sand and clear, aqua-blue water. Plus a huge pool with a swim-up bar. To take advantage of our one night together in Cancun, we asked the bell boy where to go. The Mexicans were all shocked we spoke Spanish and they ALL spoke perfect English. In Cuba, we all spoke Spanish because we had to, and no one acted like we deserved extra credit because we could speak the language of the country we were visiting. But it seemed to me that Americans in Cancun were not there to visit Mexico. They wanted a year-round beach and tropical climate close to home and it just so happened that that was in Mexico. To make sure that the American tourists wouldn't have to actually eat Mexican food in Mexico, our hotel had Japanese and Thai restaurants, an American sports bar, and an Argentine steak house that also served a full American-style breakfast buffet.
We ended up making friends with the bell boy, whose name was Alberto. According to Alberto, we could take a rather expensive cab ride downtown or grab a bus ($.75 per person but it would take 30 minutes). For a closer but cheaper option, we could get great Mexican food at a restaurant called La Destileria. So that's what we did.
After 10 days in Cuba, the restaurant experience was downright luxurious. The menu had a wide variety of options, each more delicious than the next. We started off with tequila cocktails, chips, salsa, and a cheese dip. Then a few people split a watermelon salad and various types of chiles rellenos. For me, the waiter worked with the chef to create a vegetarian dish to my specification: bean enchiladas topped with mole and served with fried banana and rice. Yum!
After dinner, we hurried back to the hotel to get to the beach before sundown. After it got too cold for the beach, we hit the hot tub. And then we went back up to the room. Unlike the hotel in Cuba, this hotel's keys and elevators all worked. So did the shower. The beds each had tons of pillows. And in the morning, a little shop sold pastries and coffee along with all kinds of souvenirs and other items travelers might need. Best of all, they accepted credit cards.
While back in the room, we each used the wireless internet. For me it was my first time online in a week. For some, it might have been the first time since they left for Cuba. I was also thrilled to finally have a room with functioning air conditioning, since my room in Cuba had two options for its air conditioning: FREEZING or OFF. I was now used to setting the air conditioning temperature in Celsius, so it was very disturbing to see the thermostat in Cancun set to 70. Then I realized that, even though we were in Mexico, the hotel set its thermostats in Fahrenheit to cater to its American clientele.
The next day, everyone left except for one other girl. She was headed to a hostel downtown which cost $16 per night, including breakfast, dinner, and internet. The Marriott was free but $20 for internet plus the cost of meals. The Marriott was also very isolated, so far away from anything that resembled Mexico. I decided to follow my friend downtown to see if I'd be able to experience Mexico any better there.
The short answer to that question is: No. I rode the bus downtown and then walked the few blocks to the hostel. On the way, I discovered the most amazing invention ever: coconut horchata. Horchata is a Mexican cinnamon rice drink that I love. Coconut horchata is even better. In the next 24 hours, I went back for more twice. Finally, I found the hostel.
The hostel was mostly empty except for its owners when I arrived. I put away my stuff and then sat on the couch to use the internet and play with the hostel owner's kitten. As the day wore on, more people showed up. Finally, at 7pm, we all had dinner. The other guests were Americans, Australians, Brits, and a few from non-English speaking countries (Turkey, Netherlands, Norway). They were in Cancun to party and to go to the beach. The dinner included a free cocktail and the hostel had a cooler of beer every night to sell to its guests during and after dinner. Many of the guests were on very extended vacations, traveling around Latin America or around the world. They were not very interesting to talk to. They talked to each other, comparing all of the nearby vacation destinations - Isla de Mujeres, Playa del Carmen, etc - all up and down Mexico. They were each coming from several and going to several others. To my mind, what the hell's the difference which one you go to if you're going to speak English, get drunk every night, and go to the beach?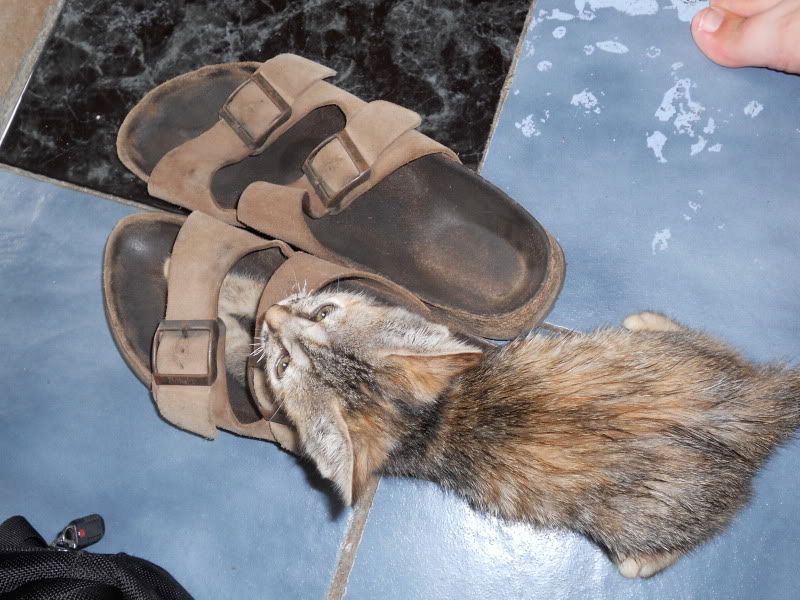 At one point, I wandered out to see if I could find anything Mexican to eat. Mostly there were shops catering to tourists, selling cheap crap at low prices, and restaurants or street vendors selling food that was not vegetarian. I found one place to have a vegetarian burrito and I chatted with the waiter in Spanish while I ate. Then I went back to the hostel to play with the kitten some more.
That night, I was miserable. Outside, there were mosquitoes. Inside, there were compact fluorescent light bulbs that gave me headaches. When I went upstairs to bed, I wanted to cover myself entirely to protect myself from mosquitoes, but it was so hot I couldn't stand having the sheets on me. At 3 or 4am, the partiers came back from their club, drunk and laughing for a long time. I repeatedly (still half asleep) asked them to either be quiet or go outside but they ignored me.
At breakfast, I overheard the girls from Boston talking about a bikini contest at the club they went to the night before. One girl considered entering, assuming she'd just put on a bikini and walk back and forth in it a few times. But then the girls in bikinis came out and started doing full-on strip teases. She thought that at least one of them was a professional and said that if she had entered the contest, she would have cried. You didn't win unless you took off your clothes. And the prize? You get to keep the bikini. I decided to go back to the Marriott for my last night in Cancun.
I packed my bags and headed out to the bus stop, getting one last coconut horchata as I did so. The bus was full of Mexicans, all going to work in the hotels. Were they resentful of the Americans who came to stay in Cancun, I wondered? That busride was an absolute nightmare. The hotels in Cancun are located along a narrow strip of land with water on both sides. We passed clubs, malls, and golf courses as we drove. One after the other. Then we started getting into the resorts, each like their own little city, separate from one another, all located along the beach. But, as we passed the malls and the golf courses, I saw something: a mangrove. I had never seen a mangrove before but I knew it when I saw it. Holy FUCK. Putting a tourist paradise like this in a mangrove is like putting golf courses and shopping malls in a rainforest.
Back at the Marriott, I did a bit of Googling and came up with this:
The importance of Mangroves
from Cancun Today.
Though the beaches of Cancun and the Mayan Riviera are world-famous for their beauty, what is not as known is that they owe this beauty to a delicate ecological balance between beaches, corals and mangrove wetlands...

Mangroves, trees unique for growing in seawater, grow approximately two feet in the first year, fast relative to other species of trees. Across the globe the location of mangroves usually runs parallel to coral reefs. The relationship between the two is clear: mangroves thrive in brackish, nutrient-rich waters, while coral reefs thrive in clear, nutrient-poor waters. Mangroves act to purify the water from human wastes and pollutants, and in doing so, coral reefs are less effected.

Mangroves protect shorelines from damaging storm and hurricane winds, waves, and floods. Mangroves also help prevent erosion by stabilizing sediments with their tangled root systems. They maintain water quality and clarity, filtering pollutants and trapping sediments originating from land.

Serving as valuable nursery areas for shrimp, crustaceans, mollusks, and fishes, Mangroves are a vital component of the region's ecosystem, including the Nichupte lagoon and the Sian Kaan biosphere reserve.

Despite the significant importance that mangroves have on the environment, they are currently experiencing a major threat: clearance. The large demand for tourism has often lead to the construction of hotels or golf courses in areas originally occupied by mangroves, especially in the Mayan Riviera. Environmental laws have done little to curb the increasing encroachment of human developments over these areas. Though they have fortunately been reinforced in the last few years.
This is what Cuba could become. No doubt American corporations are waiting for their opportunity to dig their claws into the market potential of Cuba. Just imagine the easy marketing campaign that would be, with all of the rum, cigars, salsa, and music the island is known for. Cubans are eager for the Americans to end their blockade, but can we end the blockade on terms that are fair to Cuba? It's only because of the blockade that they've become a global example of agroecology and urban ag. What would happen to all of the organiponicos if trade were to open up? And would food in Cuba begin to look like food in Cancun?
On my first trip to Cancun, I went to a small market looking for food. This time, I didn't bother. Other than a things like mangoes and bananas I could eat easily without cooking, there wasn't much in the way of health food. But there was quite a bit of ready to eat food, no cooking required.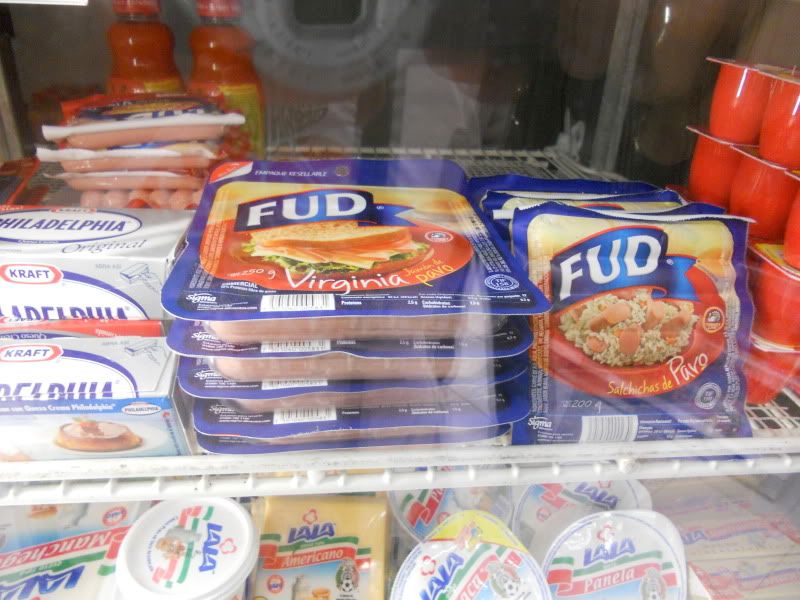 This picture best sums up the food in Cancun stores. It's FUD.
Fritos, named with the word sabroso ("flavorful")
Way to call it what it is! Frosted Flakes are Zucaritas (Azucar = Sugar)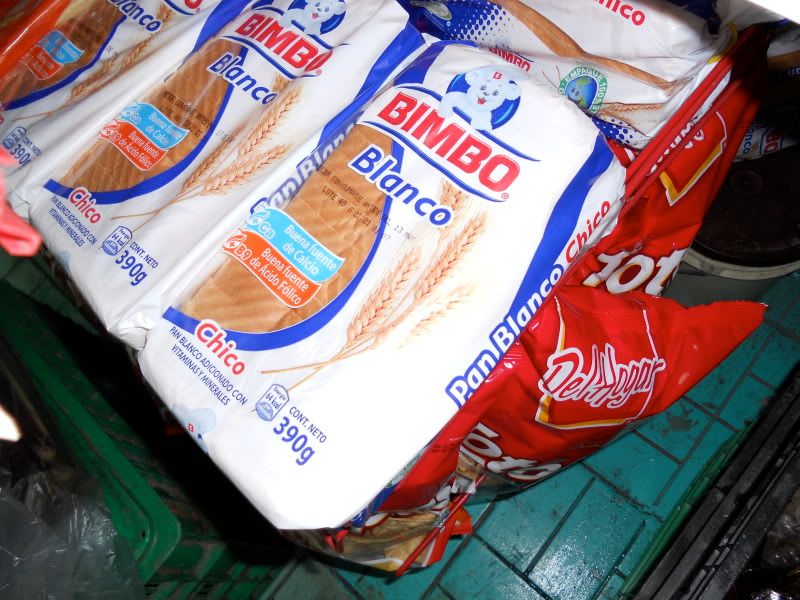 "Care for your family with Nestle water"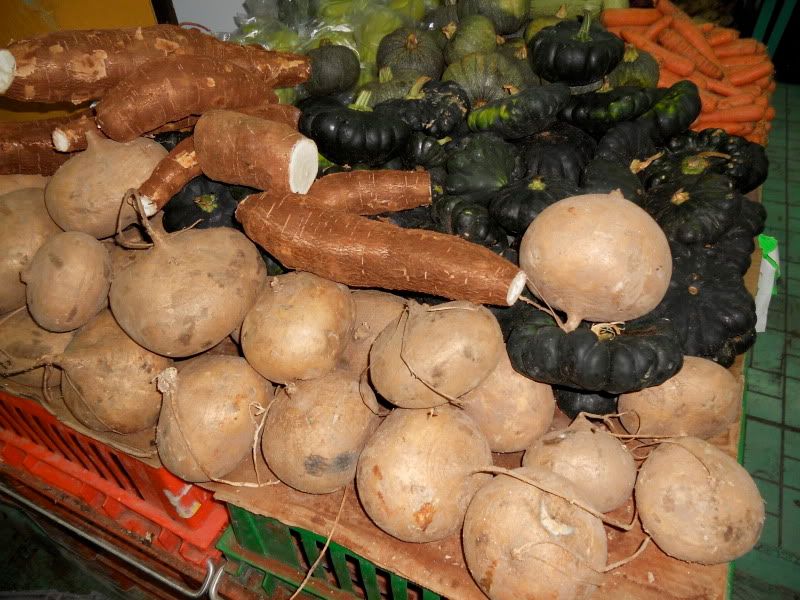 Oh, and if you want to make some real food, here...
I'm not saying I'm in favor of the blockade. It's outdated, silly, and downright cruel. It's not a victimless crime at all. The Cuban people are living in needless poverty and in the worst years of the Special Period, they experienced needless starvation. But surely there's a happy medium between a people so poor they can barely afford things like clothes or soap and a commercialized hellhole like Cancun. How can Cuba strike that balance? And, once the blockade ends, will it?