Here's the tenth installment on my trip to Cuba to study their urban & suburban agriculture and agroecology. I will be posting these daily for the next several days so please check in regularly to hear about the entire trip. Day 9 was perhaps the most awaited and exciting day of the conference. I'm going to write about it in two parts.
From the moment we set foot in Havana, we were told of an incredible organiponico in Havana. And we were given the bad news that our tour did not include a visit to it. The good news was that one day of the conference we were attending was set aside for field trips, and one of the field trip options was to Alamar, the organiponico we had heard so much about. So, at last, on Day 9 out of 10, I visited Alamar.
The field trip also went to two other places - a smaller organiponico that was a satellite of Alamar and a dairy farm. Because I took more than 50 pictures at Alamar alone, I will write about those two other sites in tomorrow's diary.
UPDATE:
Check out this wonderful article
about Cuban urban ag and Alamar specifically
.
As we entered Alamar, it looked similar to the many other organiponicos we'd visited. We walked past a table of ornamental plants into a small outdoor classroom. I became immediately distracted, first by a fish tank and then by a tiny black kitten I found under the fish tank. Fortunately, I had a digital recorder with me. I set it down near the translator to record everything and then proceeded to play with my kitten. During the introductory remarks made by the Vice President of Alamar to our group, another tiny kitten and a puppy wandered into the classroom. So I played with them too.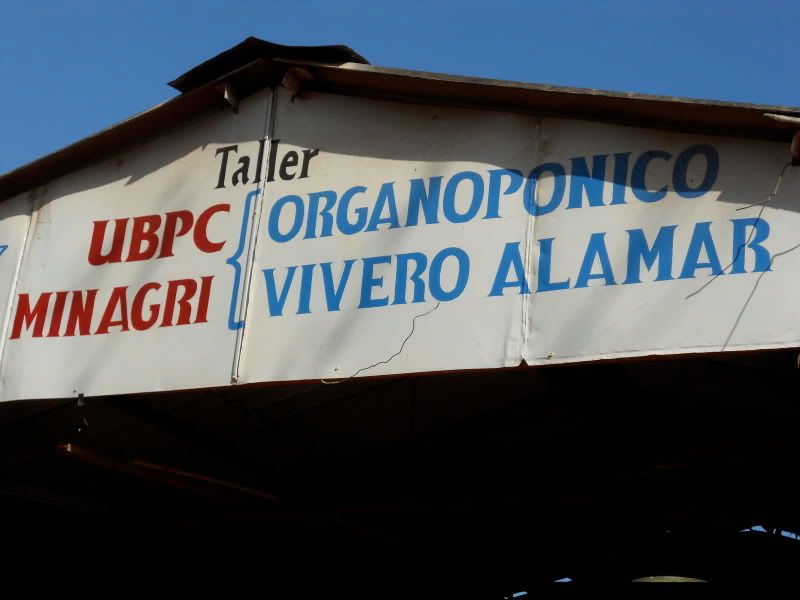 Alamar's sign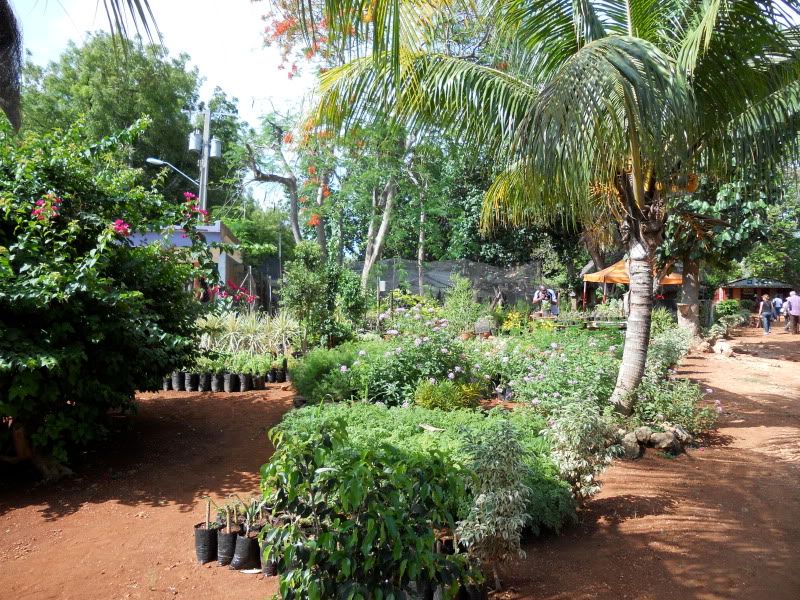 Our first view of Alamar
Some ornamental plants.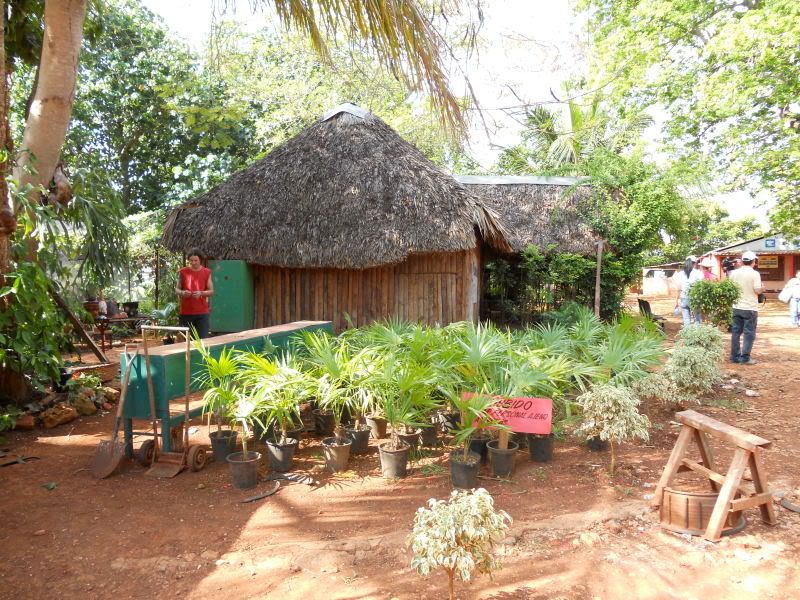 Alamar's classroom
Fish tank in the classroom
Me with a kitten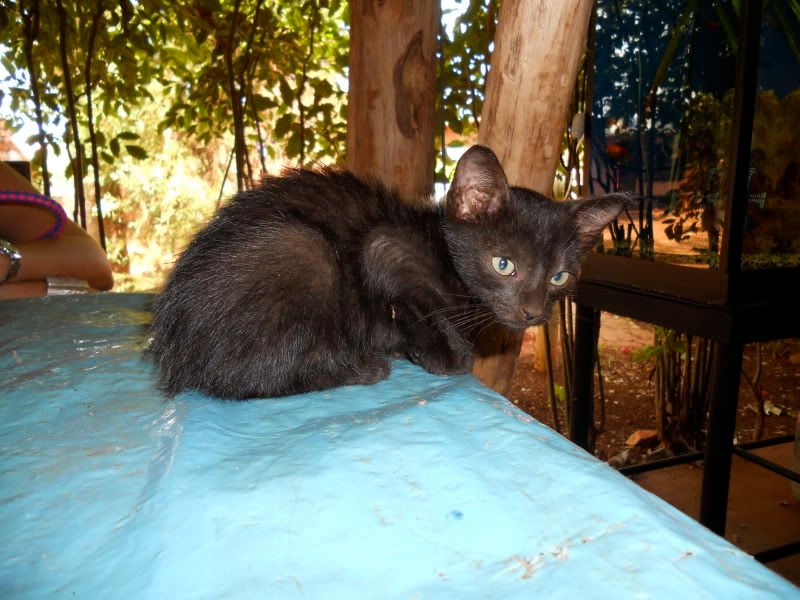 Kitten
Inside the classroom
Another kitten
And a puppy!
Everyone who was listening to the speaker instead of playing with cute baby animals learned that Alamar was founded on January 29, 1997 with 5 people and 800 square meters of land (about 1/5 of an acre). Today, they have 170 workers and nearly 40 acres. In their first year, they earned only $13,000 Cuban pesos (US$541). Now, they earn $5 million Cuban pesos (US$208,333) per year. And, out of that, 70 percent goes back to the workers in salaries and profit sharing.
Another change over time was the number of crops. Originally, they grew only five or six crops. Now, they have 20 main crops but they grow over 200 species total, including fruits, vegetables, spices, herbs, ornamentals, medicinal, and spiritual crops. In a greenhouse, they produce 3 million seedlings per year. Once the seedlings are big enough, they are transplanted to the fields. Alamar relies on all organic inputs like worm castings, manure, and some organic pesticides like Bt. However, they use integrated pest management, so spraying with organic pesticides is a last resort. To prevent pests, they use biodiversity to attract beneficial insects or repel pests. They are trying to create their own lab to produce ladybugs and other beneficial insects.
At Alamar, 95% of the workers come from the surrounding neighborhood. Thus, the farm provides income to its community as well as fresh food. When a worker begins at Alamar, he or she undergoes a 3 month trial period. During that time, he or she earns 300 pesos/month (minimum wage is 225 pesos). During that time, they work seven hours a day instead of eight. They eat breakfast at work at 9am, then they eat lunch and break from 12pm-1pm and continue working until 3pm. At the end of three months, the other workers get together and decide whether or not to approve the new worker. If they approve of the new worker, the new worker goes before Alamar's assembly for approval. If approved, the new worker becomes a part of the cooperative and joins what Alamar calls Group One.
Salaries are determined by your Group (one through five) as well as by the farm's productivity, since workers are given a percent of the profits as a component of their pay. Workers must remain at each salary level for at least one year and they go before the assembly for a vote in order to advance. The top group earns a salary of 1200 pesos per month (nearly three times the average income in Cuba). Also, at Alamar, workers actually elect their own management once every five years.
After all of that talking, it was time to go see the farm.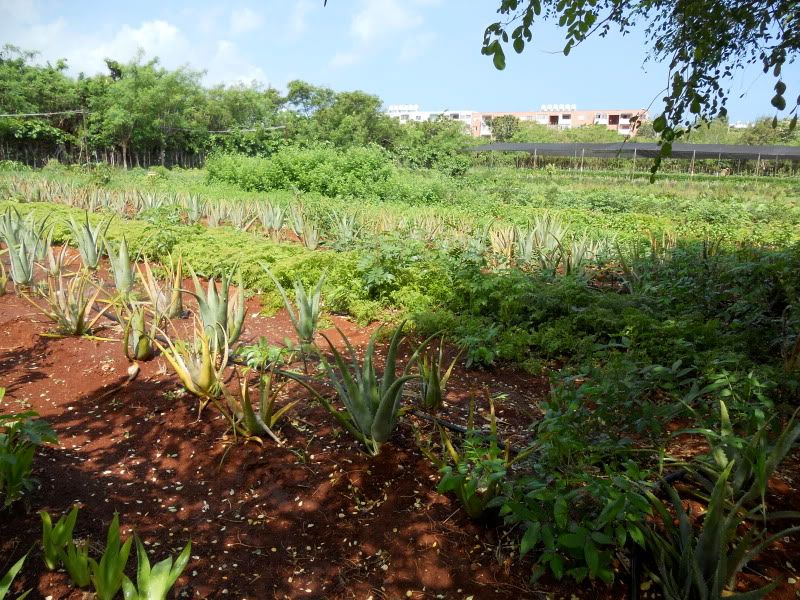 Notice the aloe... Alamar grows a variety of medicinal crops.
Lots of herbs.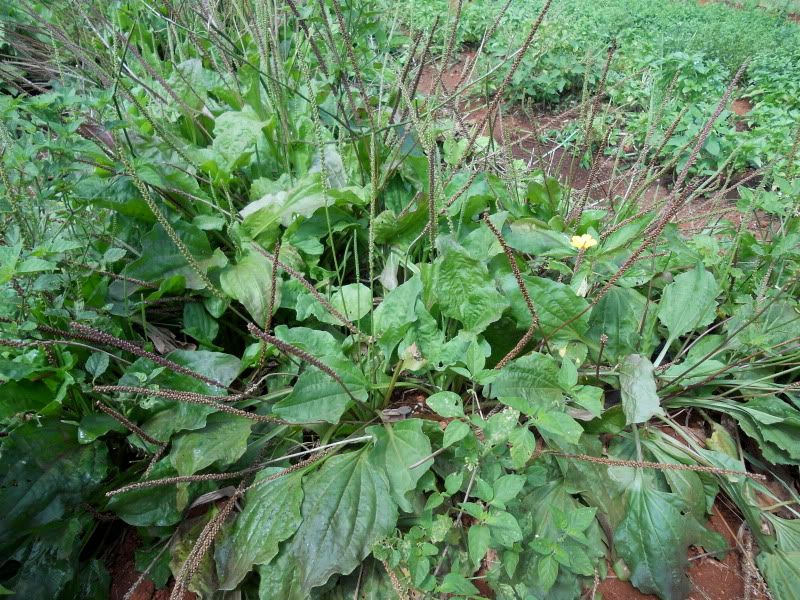 More herbs.
Don't forget the mint for all of those mojitos.
Lettuce growing with radishes along the borders.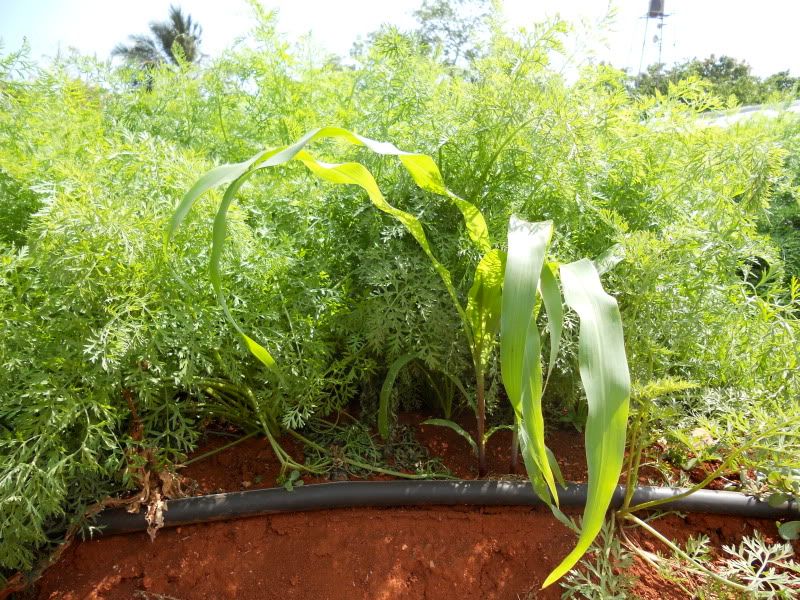 Check out the size of these carrots! (That's corn growing in front of them.)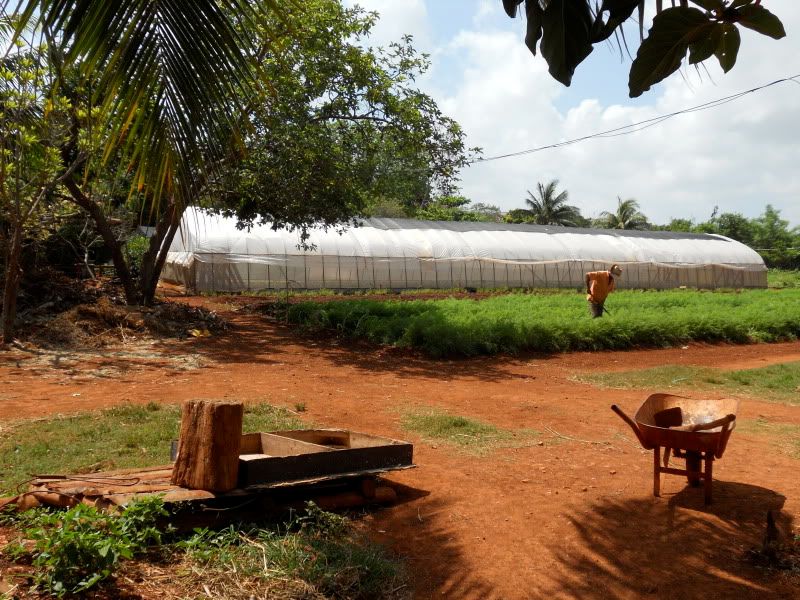 They grow some crops in partial shade to help the crops survive the hot Cuban summers.
Check out how they staked their pole beans
Trays with seedlings
Compost
As we walked around, I noticed many things that I saw on other farms we'd visited, but there were a few new surprises as well. One worker was walking down the length of a bed with a stick tied to an upside down soda bottle in her hand. Someone explained to me that the soda bottle was full of cilantro seeds and it had a small hole in its lid, allowing a seed or two to fall out at a time. Thus, the worker did not have to bend over to plant the cilantro seeds. I swear, Cubans can invent just about
anything
from old, empty soda bottles.
Another thing I noticed was a team of oxen plowing fields and hauling harvested crops. I had seen this many times from our bus window, but never on any of the farms we actually visited. And, while it wasn't the first time I encountered it in Cuba, Alamar had a living fence - a row of trees and cacti planted and pruned so they would act as a fence (and often food for livestock too).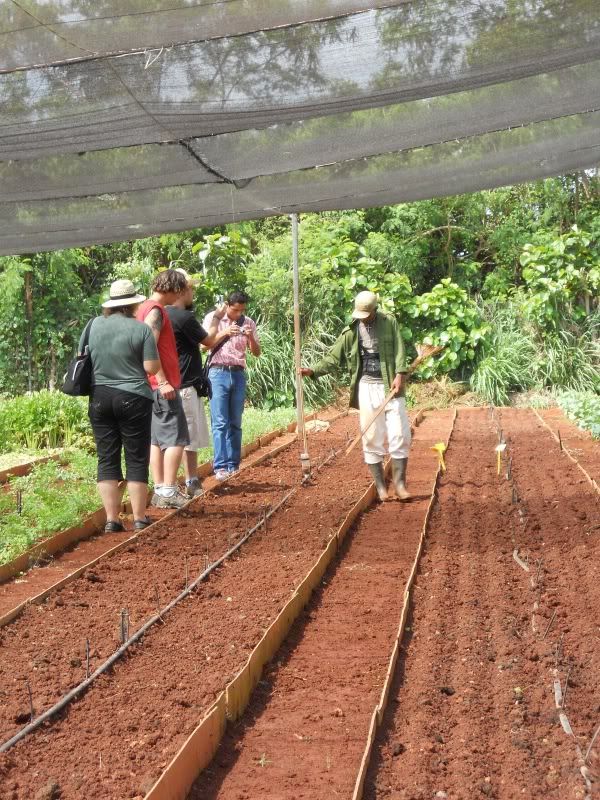 Planting cilantro with an upside down soda bottle on a stick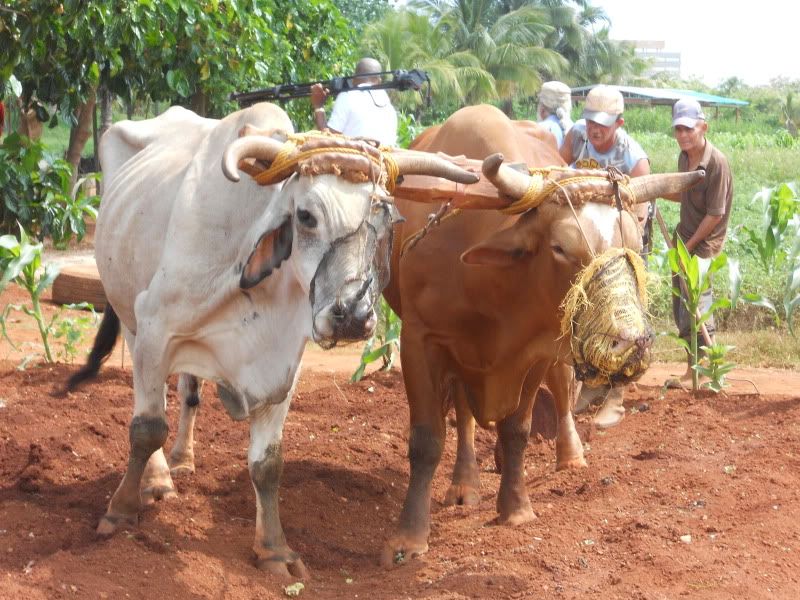 Plowing
Plowing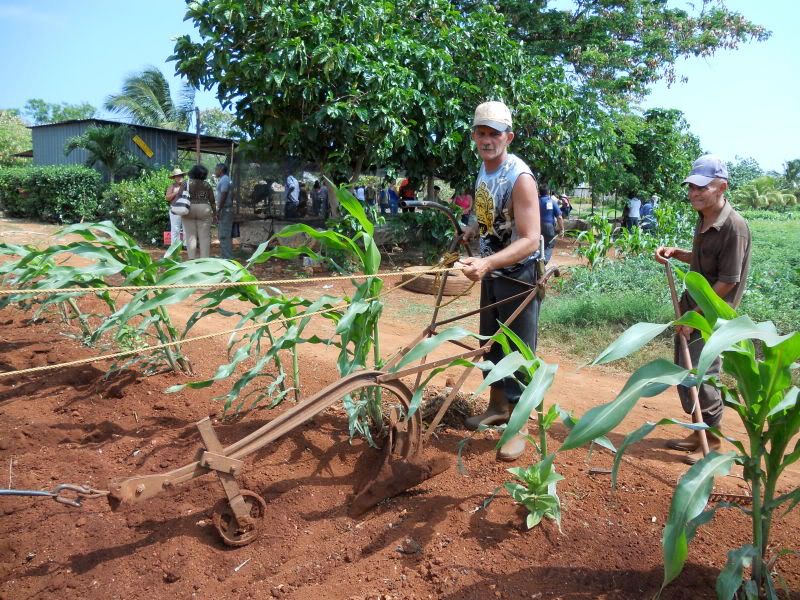 Plowing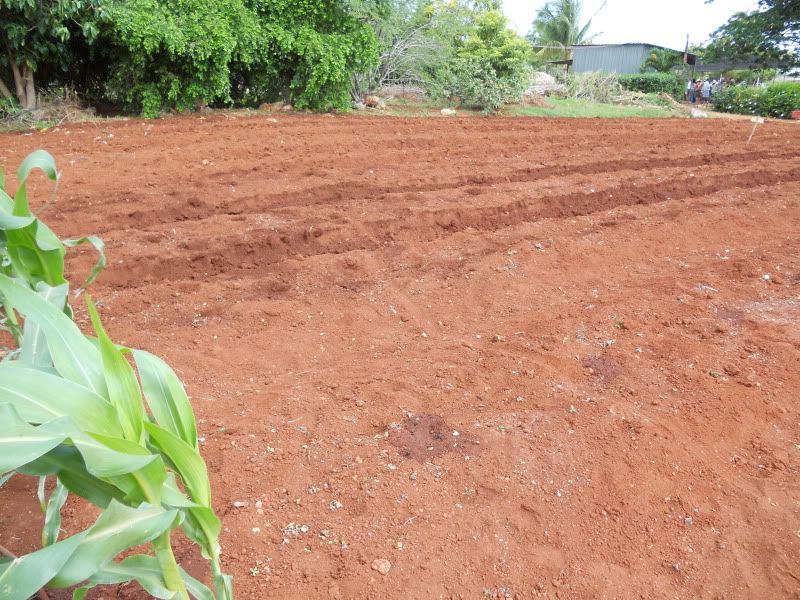 Newly plowed soil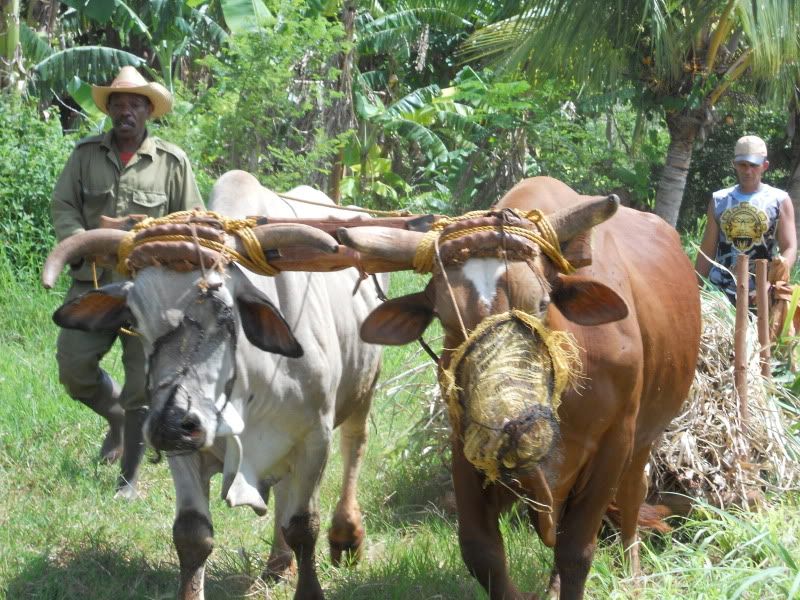 Hauling the harvest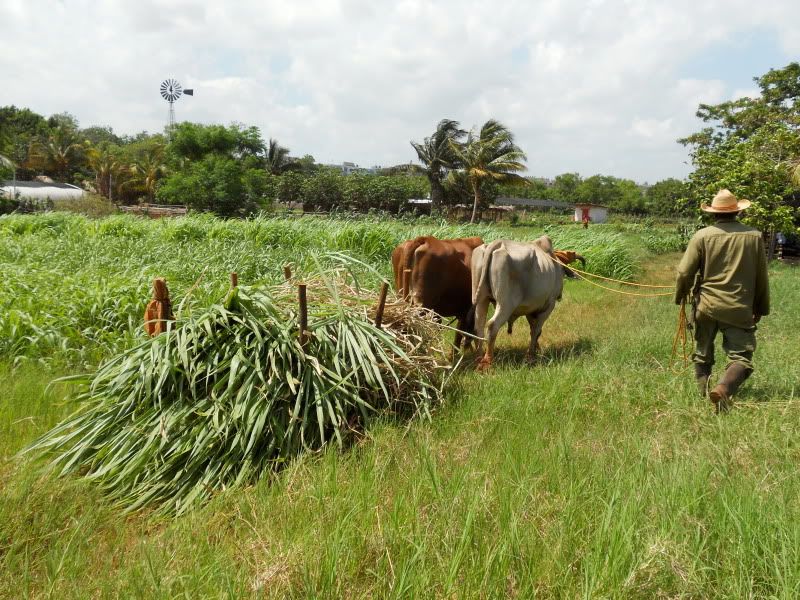 Hauling the harvest
A living fence
We didn't even see most of the farm. I mean, how can you see all of 40 acres in about an hour? I saw a few animals, though - some goats who shared a pen with turkeys, the oxen, and many, many rabbits. In Cuba's meat-loving culture, rabbit seemed to be a pretty common, easy to produce meat. After visiting a few farms that raised rabbits, I deemed them too cute to eat.
Goat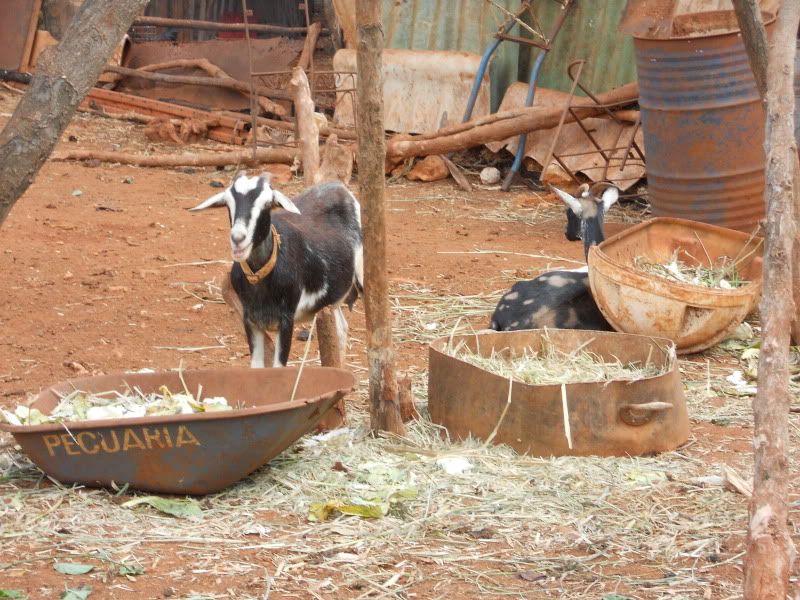 More goats
So cute! How could anybody eat this?
Sara Daisy feeding the bunnies
Next, we checked out the worm compost. Alamar has a very organized, well-thought out worm compost operation and they produce 3500 tons of worm castings per year. The beds for producing worm compost can vary in length but they are always the same depth (60cm) and width (2m) to make them easy for the workers to work with. The worms are fed manure, coffee beans, bananas, and other waste. They begin by adding 15cm of cow manure to the bed along with 15,000-20,000 worms per square meter. They use irrigation to keep 80% moisture in the beds. Every 10 days they add another layer of manure. After adding the final layer of manure, they wait 15 days and then begin to extract the worms.
To remove the worms, they add a plastic mesh cloth on top and more manure on top of that. The worms, who are hungry, go through the fabric to get to the manure. Then, they move the cloth with the worms to a new bed. By repeating this process three or four times, they can move most of the worms to a new bed. Then they use the finished worm compost in their fields - one kilogram of worm compost per square meter in the field. They also use it in the greenhouse where they sprout seedlings by creating a mix of 50% worm castings, 20% compost, and 30% rice hulls. Last, they use their worm compost to create actively aerated compost teas which they spray on foliage. They fill a tank 1/4 full of castings and 3/4 full of water and aerate it for 48 hours. Then they mix 1 liter of their worm compost tea with 3 liters of water and spray it on the plants. They recommend mixing this with something that will help it stick to the plant like aloe vera, soap, or lime.
Finished worm compost with a plastic mesh laid on top and manure on top of that.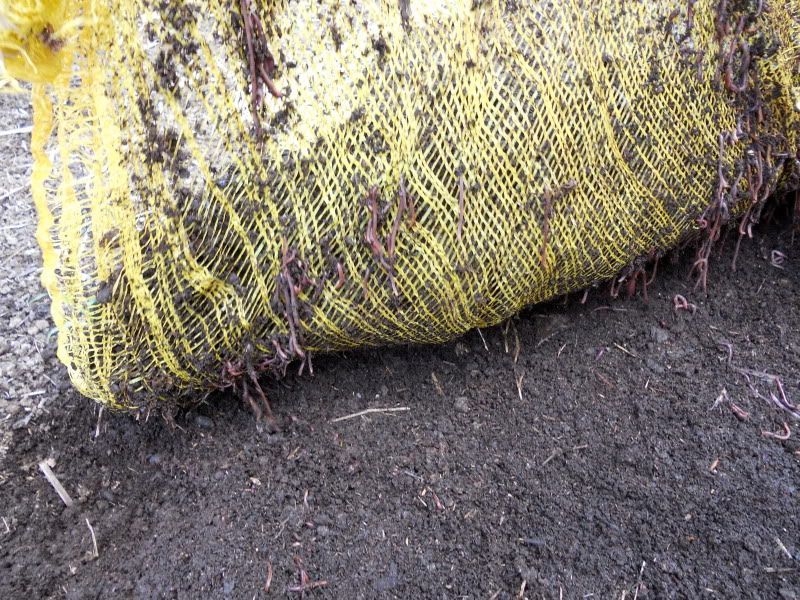 Worms go through the plastic go get to the manure
We had one last stop at Alamar, and that was to get a drink of guarapo - literally, sugar cane juice. One glass was 1 local peso, about 4.5 cents. We could see the workers feeding sugar cane into a juicing machine and a brown opaque liquid came out. The Cubans loved the guarapo, but I decided it might be an acquired taste. For my money, I preferred the incredible pineapple juice I drank on the Cuban farms we'd visited. My roommate thought guarapo was too sweet. It wasn't too sweet for me, but it had a bit of a funny flavor. It wasn't exactly the flavor I had expected of pure sugar water. Perhaps you'd be able to recreate guarapo by mixing sugar, water, and molasses.
Feeding the sugar cane into the juicer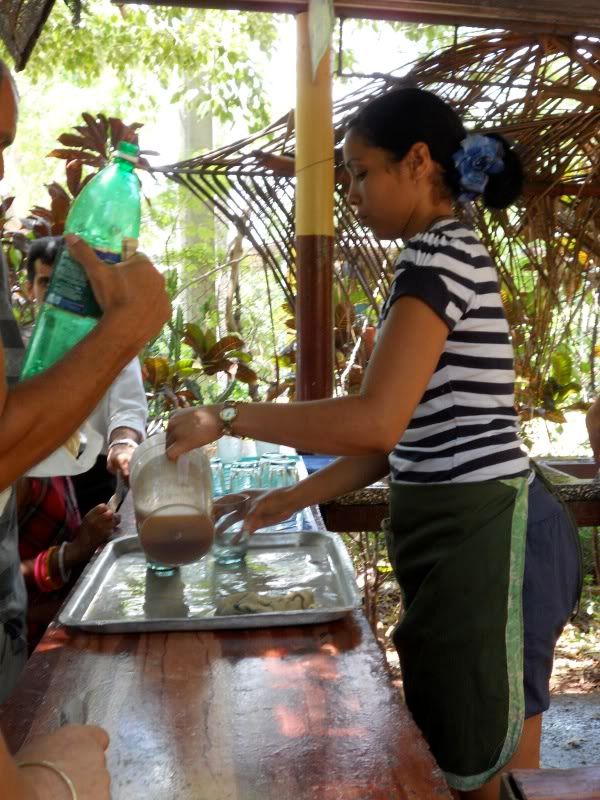 Pouring guarapo