Here's the ninth installment on my trip to Cuba to study their urban & suburban agriculture and agroecology. I will be posting these daily for the next several days so please check in regularly to hear about the entire trip. Day 8 was the second day of the conference, which I played hooky from. So join me in this diary, wandering around some historic sites at the hotel and in Old Havana.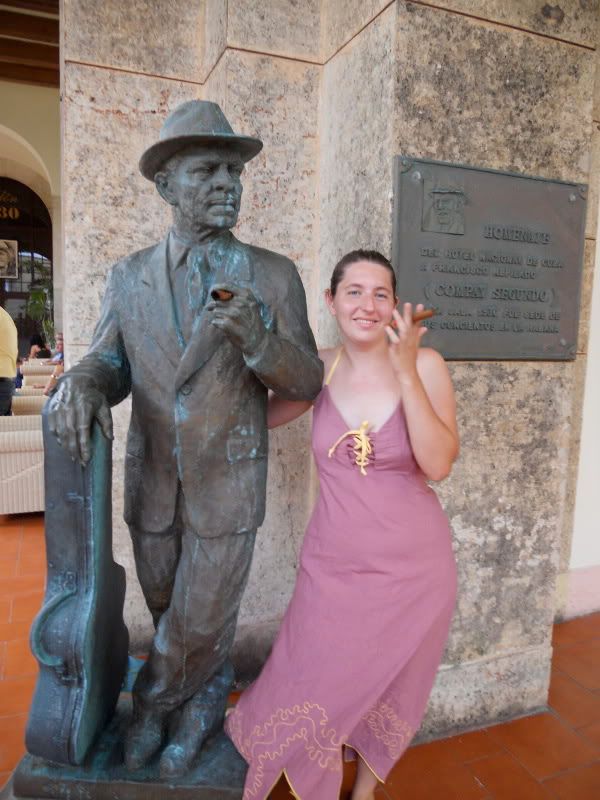 Me and the statue, smoking Cuban cigars. OK, we're just pretend smoking, but we both have real cigars. I bought the dress I'm wearing in a market in Old Havana. It was handmade by the woman who sold it to me, and it was only $18.50... cheap to me, but more than some Cubans earn in an entire month.
Vedado
Our hotel patio provided a breathtaking view of the ocean, but it also had a few historic sites on its grounds. When Havana was first founded, the city forbid any building in the area near the ocean to provide an unobstructed view of any approaching pirates. To this day, that area of the city is known as "Vedado" (Forbidden). Along the ocean, there's a 7 km wall and walkway called the Malecón. The wall is clearly needed because when the waves get high, sometimes the cars driving past get wet.
Waves crashing on the Malecón
Just across the street from the Malecón are a strange site for the grounds of a hotel: cannons. Believe it or not, they were used in the Spanish-American war at the end of the 19th century.
Nearby is another piece of history: a cave. I don't think it's a true cave, but it was built and armed during the Cuban Missile Crisis to defend Havana. All of this is fascinating, as it never occurred to me to consider what these events might have been like from the point of view of the Cubans. Fortunately, neither the Spanish-American War nor the Cuban Missile Crisis seemed to be lingering controversies between our two nations (which is more than I can say for my experiences in China attempting to discuss the Korean War!!!).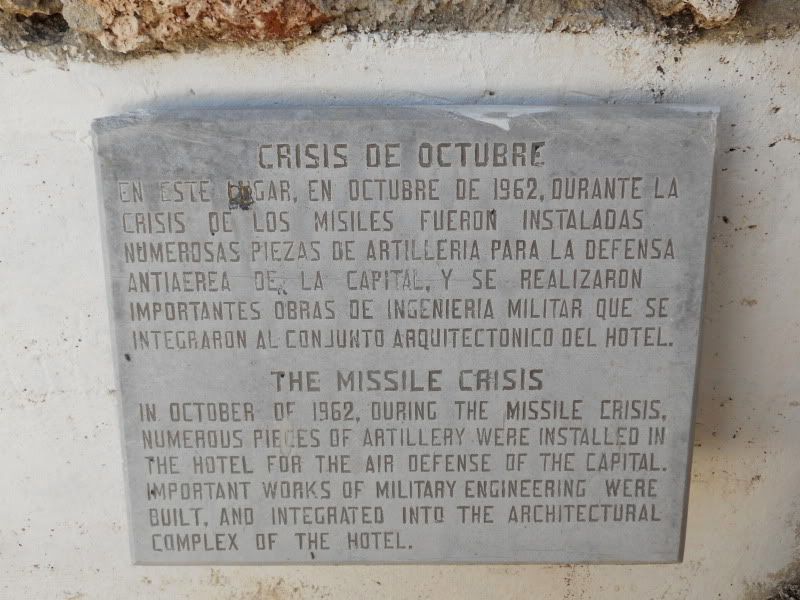 Old Havana
It's a $5 cab ride from the hotel to Plaza de las Armas in Old Havana. The square is full of vendors trying to sell things to tourists, but most of what they had to sell were books! This is either a reflection of Cuba's incredibly high literacy rate, or its lack of anything else to sell to tourists, or its hope (or expectation) that tourists all love reading about Fidel Castro, Jose Marti, and Che Guevara as much as they do. Also in Plaza de las Armas are a few women dressed up like Chiquita Banana, trying to get tourists to pay them if they pose for pictures. Way to make a quick buck off of the Global North's exploitation of so-called Banana Republics!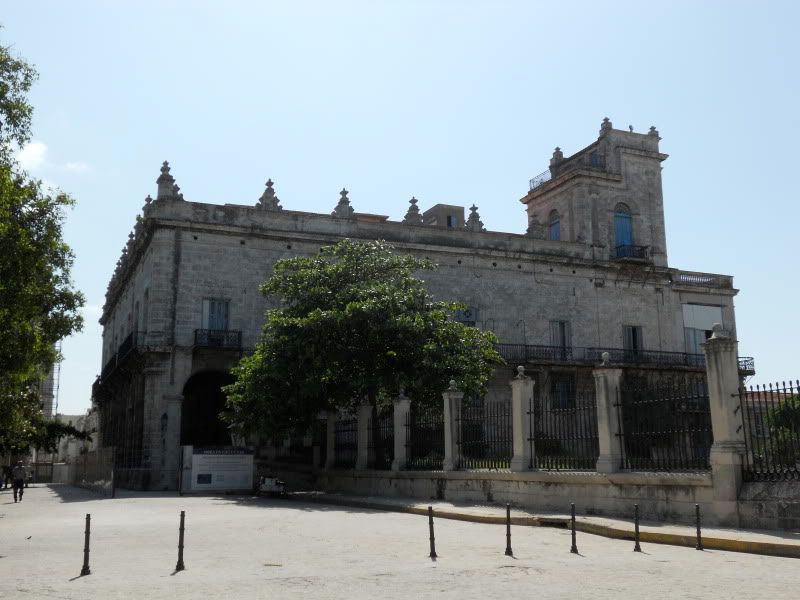 Interesting looking building next to Plaza de las Armas
Park in the center of Plaza de las Armas
Books for sale!
Also on the square is the Governor's House, leftover from Cuba's colonial period. I was unable to take a picture, but I got a picture of this sign outside the front entrance. The street in front of the Governor's House is made of hard wood instead of cobblestones so that the Governor would not have to hear the clop clop of horses walking past.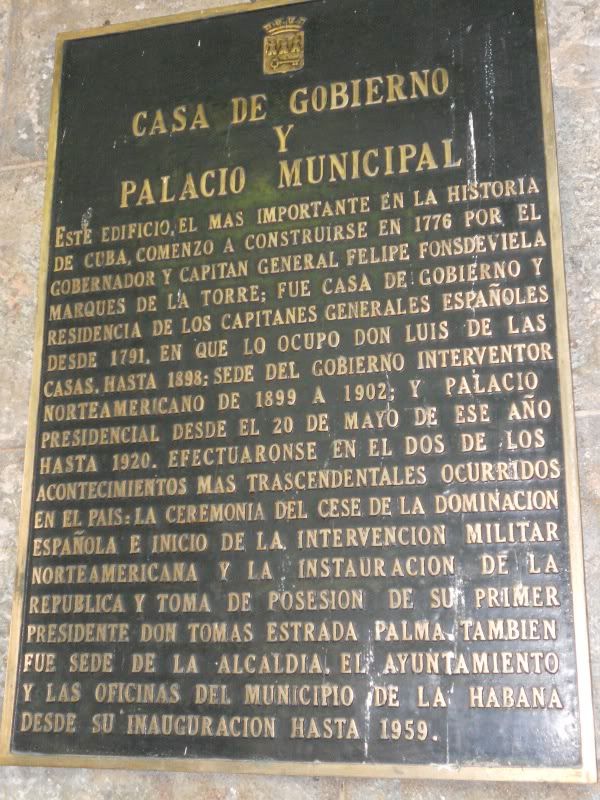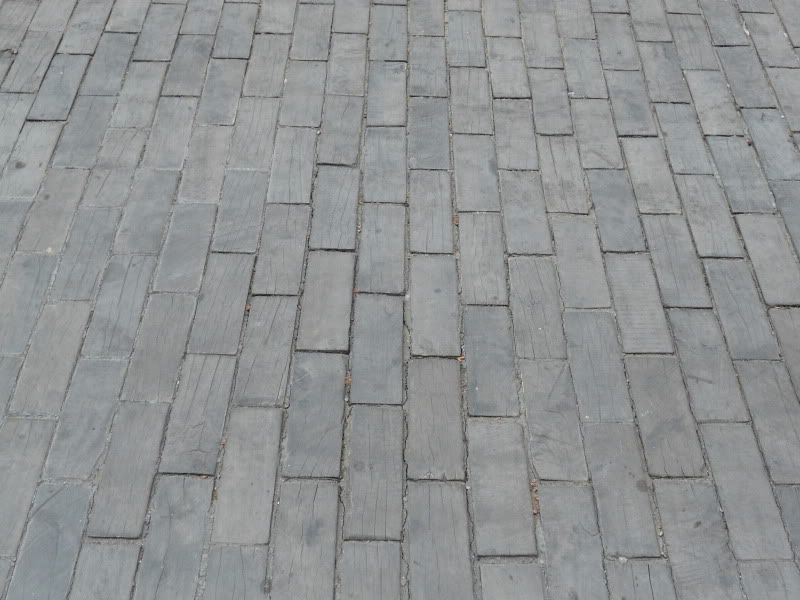 Street made of wood
Walking around Old Havana feels like walking around a European city. The architecture and the colors of the buildings are gorgeous and I doubt my camera captured them adequately. I think many of the buildings are currently being restored or were recently restored because every so often you'll turn down a street and the buildings are all crumbling.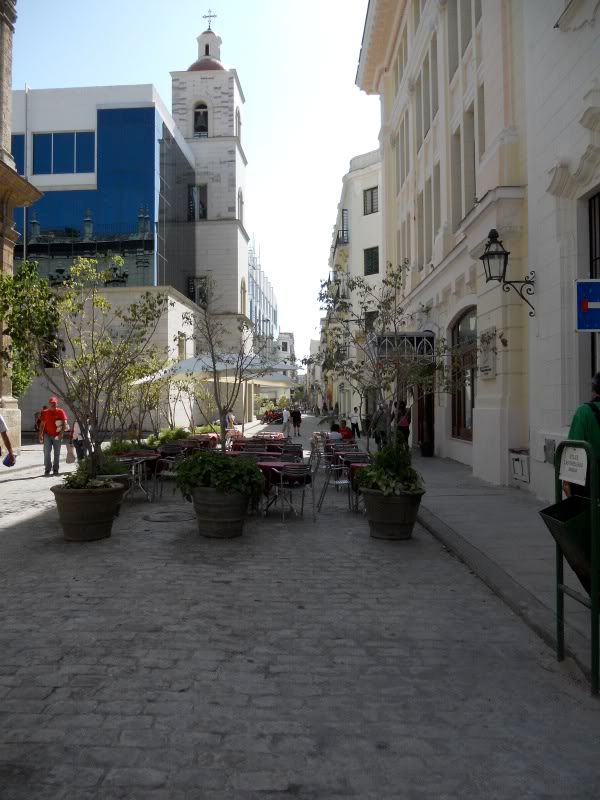 I took this photo from a park in Old Havana. The building on the left was a gorgeous light pink color but my camera absolutely refused to capture it. The yellow building in the middle and the blue one on the right are a little more visible in this picture, but they are still a bit faded.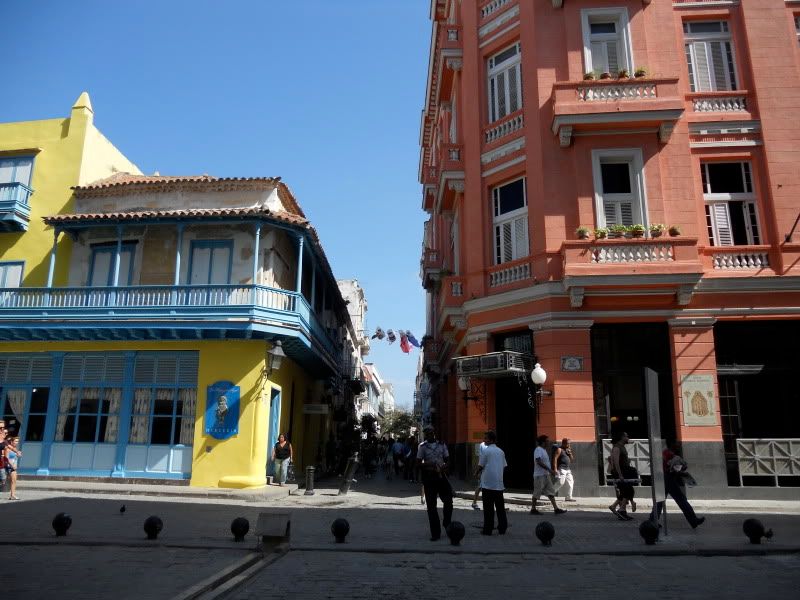 This is a zoomed in photo of the same two buildings seen above.
Another view of the same street as the photo above. I loved the building in the first photo but I also wanted to capture the effect of the trees lining the street.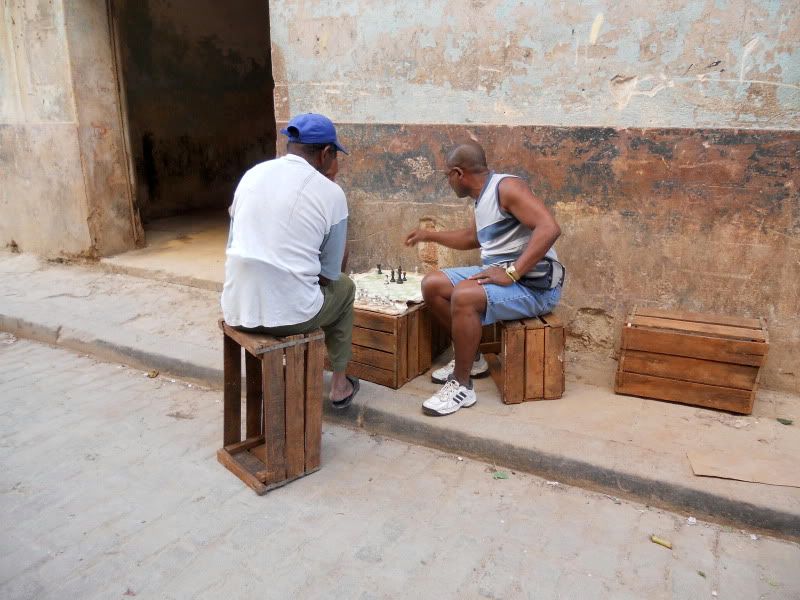 Men playing chess
Oops, this block hasn't been fixed up yet!
Much of Old Havana is for the tourists. You'll find hotels, restaurants, outdoor markets selling souvenirs, and more.
Hotel La Florida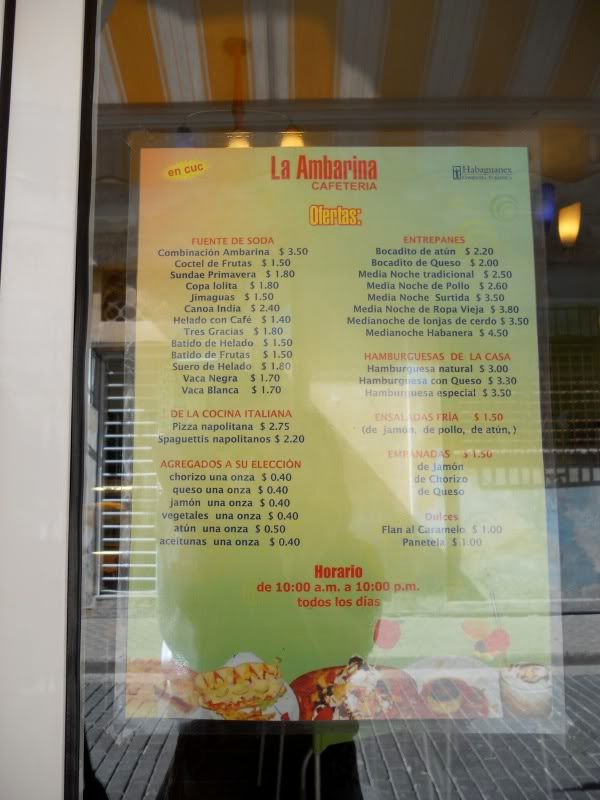 Cafe Menu... The prices are incredibly cheap to us but they are priced in CUCs, which makes them very expensive to Cubans earning local pesos (24 local pesos = 1 CUC)
Aztec Hot Chocolate from Havana's "Chocolate Museum" (It was more of a cafe and chocolate shop that happened to have some historical cacao-related paraphernalia around).
Expensive-looking art shop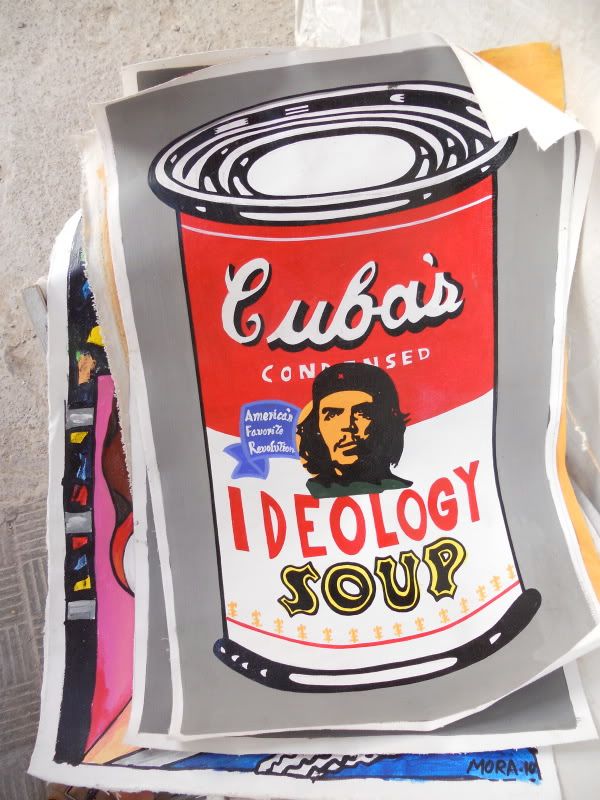 Andy Warhol spoof by a Cuban artist. In fine print it says "America's Favorite Revolution." This was at an outdoor market, being sold for $45 or so, as were the two pictures below.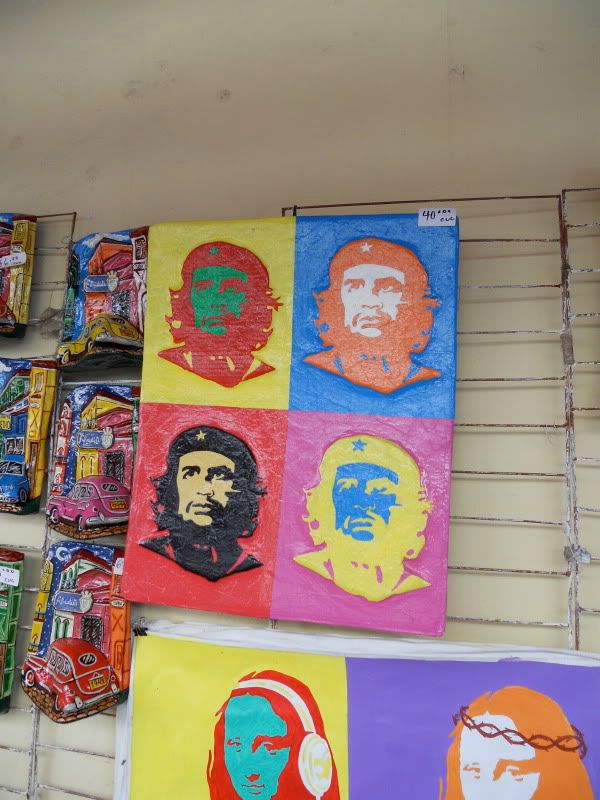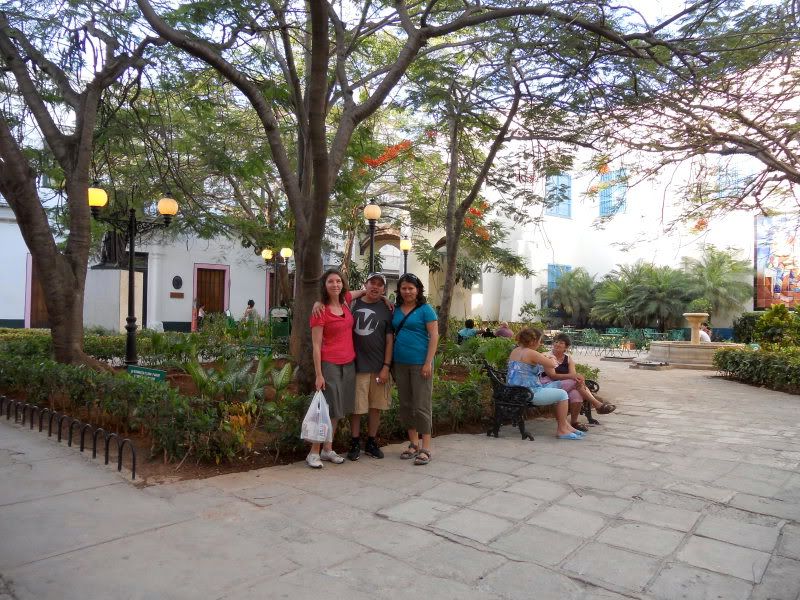 My friends Jen, Luz, and Andres at a park in Old Havana
Me, Jen, and Luz at the same park.
So what is in Old Havana for actual Cubans? We stopped off at a bakery and the prices were rock bottom for us ($.40 or so for a pastry) but they were still priced in CUCs, making it expensive for Cubans. At one point we stepped into a store that took local pesos. It was a large store but most of the counters didn't have much to sell compared to an American store. They sold a few hot foods like pizza as well as some groceries and a few random pieces of clothing. Old Havana also has some lovely parks. And, best of all, I saw Cubans buying locally grown produce at a market!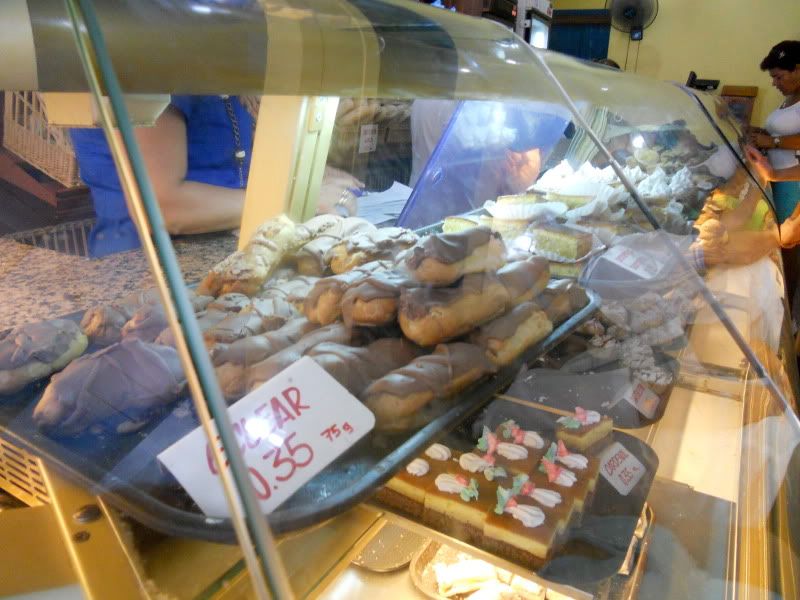 Baked goods in the counter at the bakery.
Baked goods in the counter at the bakery.
Baked goods in the counter at the bakery.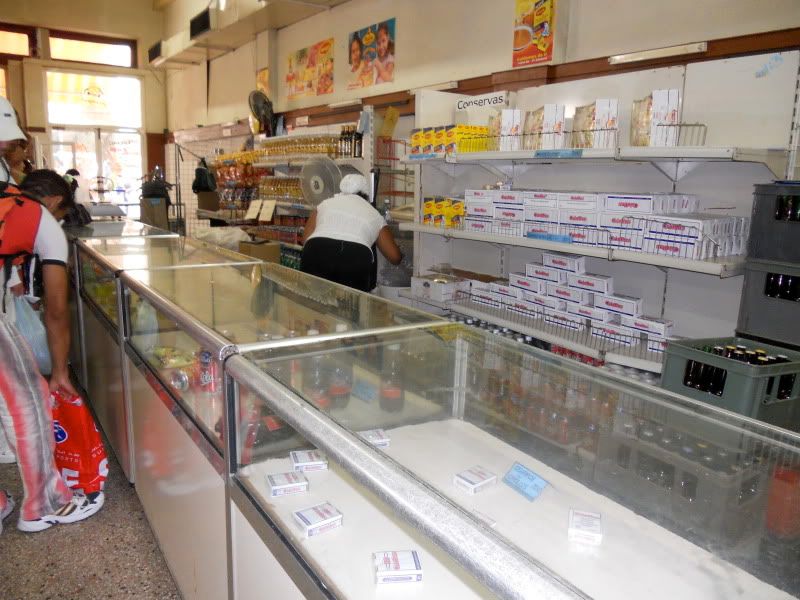 There's not much here to buy. This was a store that accepted local pesos.
Meat counter, 2/3 empty. This was in the same store and it might have been where Cubans come to redeem their rations, in which case it's a lot less disturbing that there's no food here to buy. Apparently the shipments come in on certain days of the month and Cubans know when to come shop and when not to.
This looked like a store that sold beautiful bedding and linens or perhaps even furniture from the window displays. A look inside shows only fabric. Apparently everything they sold was made to order (unless they sold you the fabric to sew it yourself?).
Yum! Fresh produce!