Here's the sixth installment on my trip to Cuba to study their urban & suburban agriculture and agroecology. I will be posting these daily for the next several days so please check in regularly to hear about the entire trip. In today's installment, my group visited farms in the province of Sancti Spiritus.
Day 5: Sancti Spiritus to Havana
We began our day at a 2 hectare (4.9 acre) farm in Cabaiguan, Sancti Spiritus province. The name was El Ingenito, which means "the small sugar mill." I noticed a field of sugarcane across the street, but I don't know if that land belonged to the farm or if they had a sugar mill of any sort. Perhaps this farm was no more associated with a sugar mill than Quaker Oats has anything to do with Quakers.
El Ingenito sign
The farmer's house
We joined the farmer under a beautiful outdoor room created entirely by bougainvillea trees as he told us about his farm. The farm grew many types of tropical fruits - including several rare ones (or rare varieties of common ones) - shade-grown coffee, and roses. The detail about the farm that stood out the most was the incredibly thick layer of tobacco mulch applied all over the farm. The mulch came from the leftover parts of the tobacco plant after the tobacco harvest. Because this wasn't a tobacco farm, the farmer had to buy the mulch. The mulch conserved moisture, suppressed weeds, provided nutrients to the soil, and since it was from tobacco, it also provided some degree of pest control.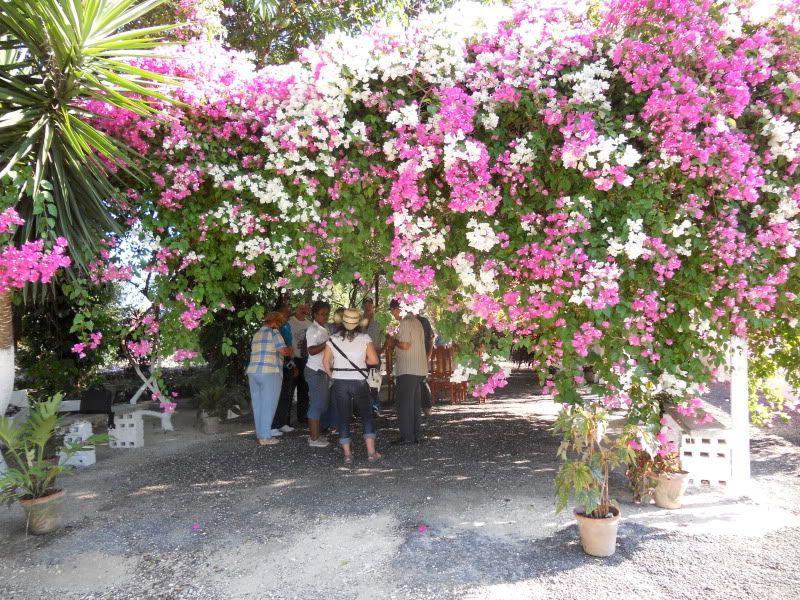 Outside the bougainvillea room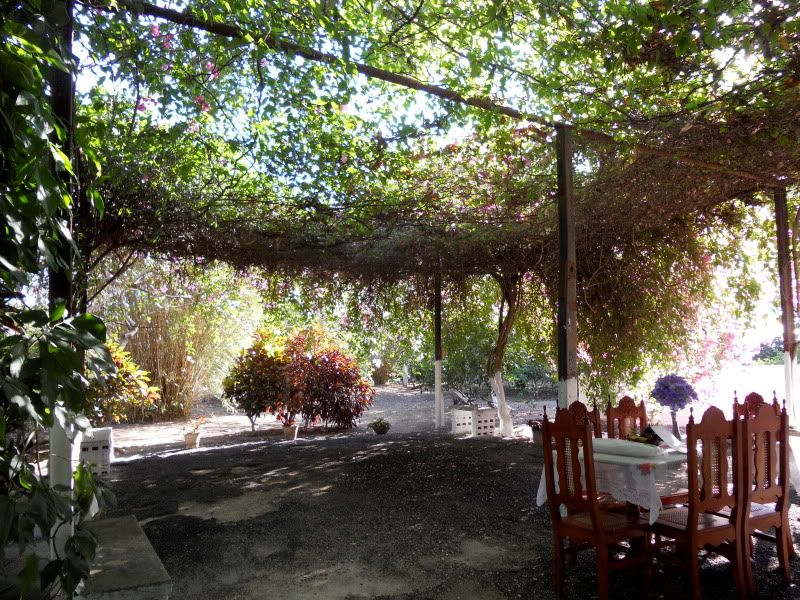 Inside the bougainvillea room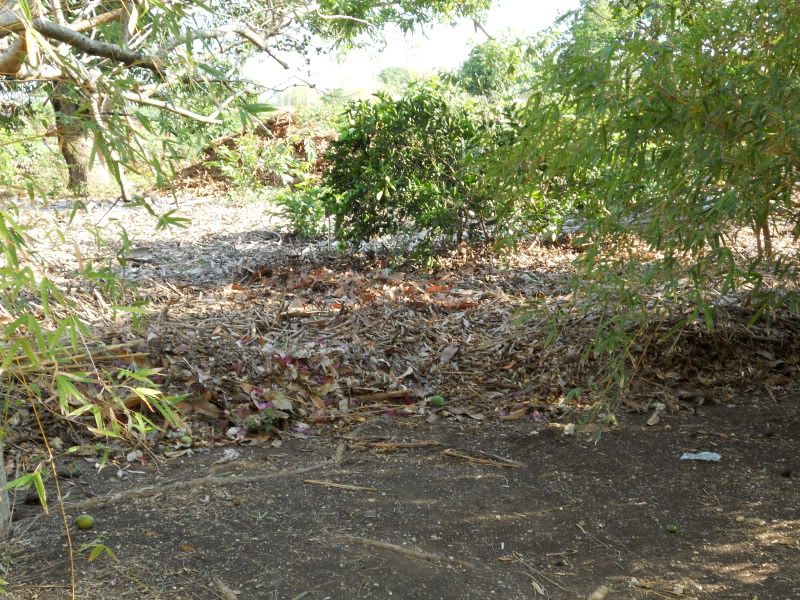 A view of the mulch
Walking over the thick layer of mulch (which was quite difficult to walk on), we saw the following fruits: lemon, tangerine, guava, chester, mamey, avocado, orange (including some unusual varieties), loquat (nispero in Spanish), cashew apple (marañón), guanabana, mango, cherimoya, several types of grapefruit, pineapple, and plums. All in all, the farm had 42 varieties of fruit. We also noticed leguminous trees that would fix nitrogen into the soil. These were planted among the coffee trees to provide the shade and soil fertility for the coffee.
Chester fruit
This tree provides food for the farm's hens
Guanabana
Marañón
Loquat
Bitter orange, used to marinate fish in Cuba. One orange yields a cup of juice.
Plums
Coffee trees beneath a shade canopy
Coffee
Then the farmer showed us his roses, and at that point my ability to pay attention petered out. This was the low point of the trip for me. Outside of Havana, I had a very hard time finding vegetarian food, and my stomach was not doing well from the diet of tropical fruit, refined grains, and meat that I was eating. I made the mistake of assuming that the meat in restaurants and hotels came from the types of farms we were visiting, and because the vegetarian options were so abysmal and also because I wanted to truly experience Cuban food, I ate it. Later I found out that the meat was probably from the U.S. Had I known, I wouldn't have eaten it. But between the food, the heat, and an infected ingrown hair on my thigh that was now a large, painful welt, I just couldn't pay attention any longer. I went to the air conditioned bus and took a nap.
Around the roses, the mulch was arranged in rows between the bushes.
Another look at mulch and rose bushes
This shows how high the layer of mulch was on the farm
One last word about the roses and ornamental crops in Cuba. While Cuba is working to establish food sovereignty by growing enough food to feed its people, it also has a new and growing tourism industry that only began in the mid-1990's. Often, the ornamental plants grown on the farms we visited went to the hotels for the tourism industry. Cuba had rejected tourism after its revolution in the late 1950's because they didn't want many of the things tourism brings (like prostitution) but in the 1990's, at the height of the Special Period, they decided that tourism was necessary. (One person told me that when the decision to promote tourism was made, Cubans compared it to chemotherapy - it might kill them but it was the only thing that could save them.) Only recently, for the first time in decades, tourism has overtaken sugar as Cuba's largest source of revenue.
Next, our group visited a cooperative (also in Cabaiguan) called Cuba Nueva that raised a variety of crops and livestock. I stayed in the bus and slept while the group sat in a shaded area and talked to the members of the cooperative about their farm and their organizational structure. After a short nap, I felt better and went outside to join the group.
If I am reading the information correctly (in Spanish!), this farm has 536.8 hectares (1326.5 acres). That includes 268.4 hectares (663.2 acres) for livestock: 600 head of cattle (mostly for beef with 37 for dairy). They also have 100 goats, 50 horses, 25 sheep, and 55 pigs. They cultivate 26.8 hectares (66.2 acres) of forage for the animals.
Beef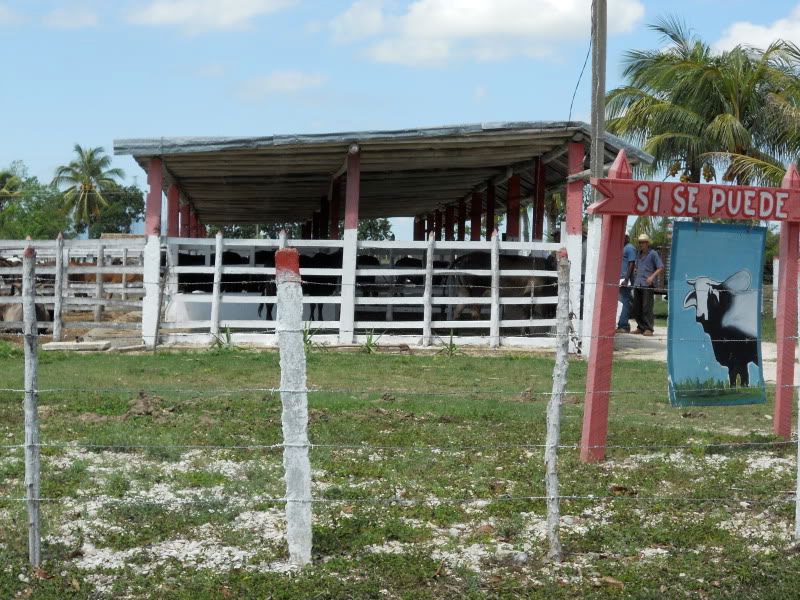 Feedlot where the beef cattle were kept. I'm not sure if they stay here year round or just during the dry season when there is no good pasture.
Dairy cows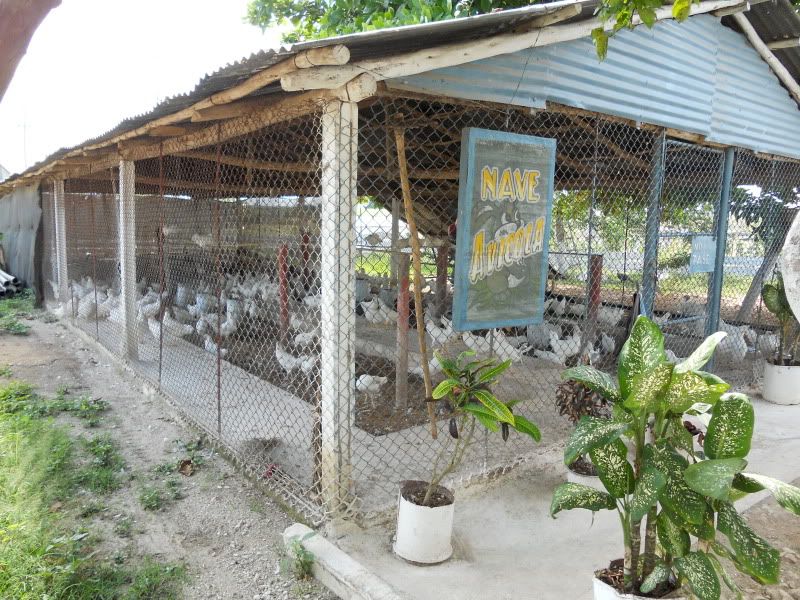 Laying hens. The 300 hens here are White Leghorns, the same industrial breed used in the U.S. Here, they are fed corn and soy.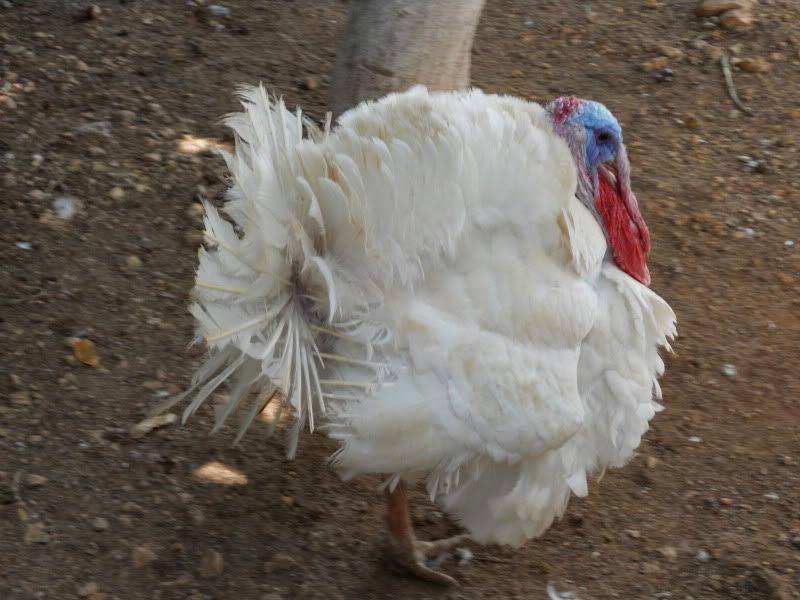 A turkey showing off.
More turkeys. They had a variety of breeds.
On another 234 hectares (578.2 acres) they grow potatoes, taro, cassava, tomatoes, sweet potatoes, cucumbers, and more, including 13 hectares (32 acres) of fruit trees. They also have an organiponico (.38 hectares or just under an acre) growing a wide variety of vegetables and herbs. They use 10 oxen to plow their land but they also have 2 tractors, a windmill, a sprayer, and 3 irrigation machines.
Small tree seedlings. All over Cuba, I saw seedlings growing in small bags like this.
Organiponico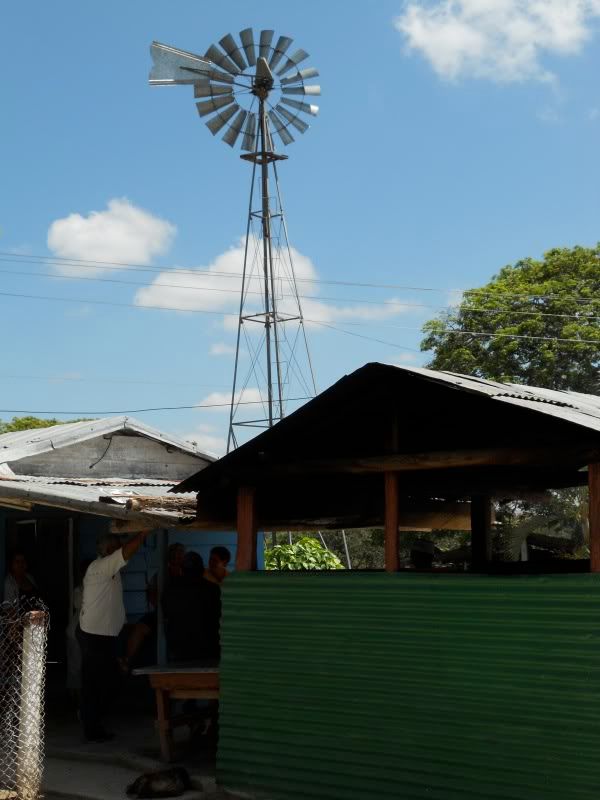 Wind turbine
Aside from all of the food they produce, probably the most interesting aspect of this farm was its cooperative structure. The farm had 50 members and if I recall correctly, they and their families were each taken care of by the farm, including after they retired. However, a member's husband or wife may have another job off the farm, so just because one member of a couple did farm work in the cooperative, their spouse was not required to do so as well.
Cooperative farming is something I've seen more of recently in the United States, and it's a model I think shows a lot of promise. Whereas I would never advocate that the U.S. follow the Cuban communist model of state farms or even small government-owned organiponicos, cooperatives are perfectly compatible with democracy and capitalism. It would be interesting to compare the Cuban model with existing cooperative farms in the U.S. as well as with other models like kibbutzim in Israel.
After visiting this farm, we got back in the bus and drove the 5 hours or so back to Havana. There, we said goodbye to our bus driver and checked back into the Hotel Nacional de Cuba. The next day we had free, although Global Exchange had arranged a few activities for us in Havana. The day after that would be the first day of an international agroecology conference held at our hotel.