Here's the third installment on my trip to Cuba to study their urban & suburban agriculture and agroecology. I will be posting these daily for the next several days so please check in regularly to hear about the entire trip. In today's installment, my group traveled to see one farm in the province of La Habana and then we went east to Cienfuegos and Villa Clara. (This was also the day my camera ran out of batteries, so quite a few of the pictures are courtesy of Canadian journalist
Jennifer Cockrall-King
).
Day 3: Havana, Cienfuegos, and Villa Clara
Day 3 began with breakfast and the rather traumatic process of checking out of the hotel. I hoped to escape by simply turning in my key as I do in the U.S. but when I attempted to exit the hotel with my luggage, a man told me I could not do so without a receipt from the hotel's cashier. The cashier had a long line, one that I wanted to avoid. Once it was my turn to check out, the cashier asked for my room number but then refused to give me a receipt. With a little help from others who spoke better Spanish than I, I was informed that somebody was checking my room (I think?) before officially checking me out. They told me to sit down and wait. When my roommate came downstairs I told her what happened. We waited for a long time until finally she and a Cuban friend of ours went back to the cashier and obtained our receipt. At last, we could exit.
We checked out of the hotel because we were taking a three-day excursion to other parts of the island. The day before we had gone west. Now we would go east. If you go all the way to the eastern tip of the island, you reach Guantánamo Bay. Prior to that, you reach Santiago de Cuba. We weren't going there. Maybe we were going about halfway there. Today we would zigzag east across the country from Havana to Cienfuegos, ending in Villa Clara. We would stay the night in Villa Clara before continuing east to Sancti Spiritus. After an overnight in Sancti Spiritus, we would make the five-hour drive back to Havana.
Before leaving the province of La Habana (Havana), we visited a farm in the city of San José de las Lajas called La Joya Ecológica, owned by a man named Franchi. Franchi was the inventor of the irrigation device made from soda bottles and hospital IV tubing that we had encountered the day before on Daniel's farm. Like Daniel, Franchi also propagated fruit trees from cuttings. On his patio, he greeted us with his granddaughter (Monica) and a rather new looking laptop computer, by far the nicest computer any of us had seen or would see in Cuba. He used the laptop to show us a video before giving us a tour of his farm.
The Sign for Franchi's Farm "The Ecological Jewel"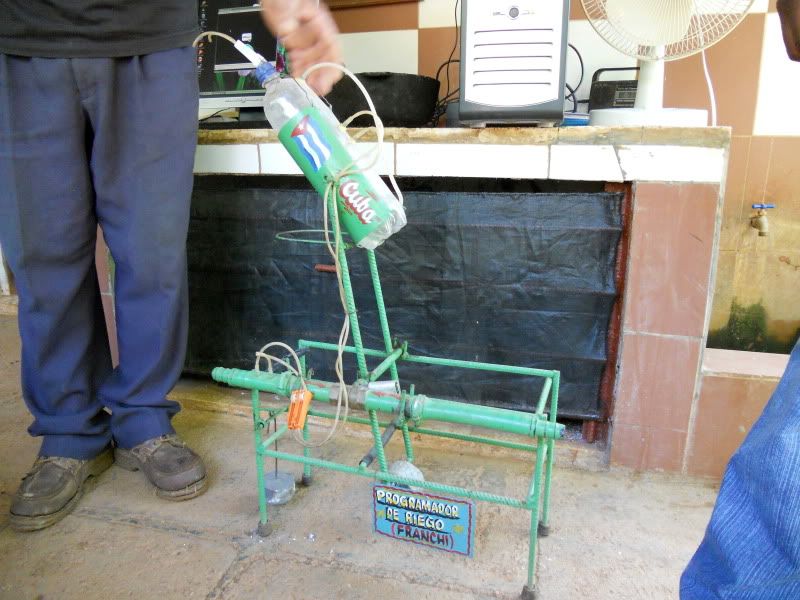 Franchi's Irrigation Device
Franchi with his granddaughter Monica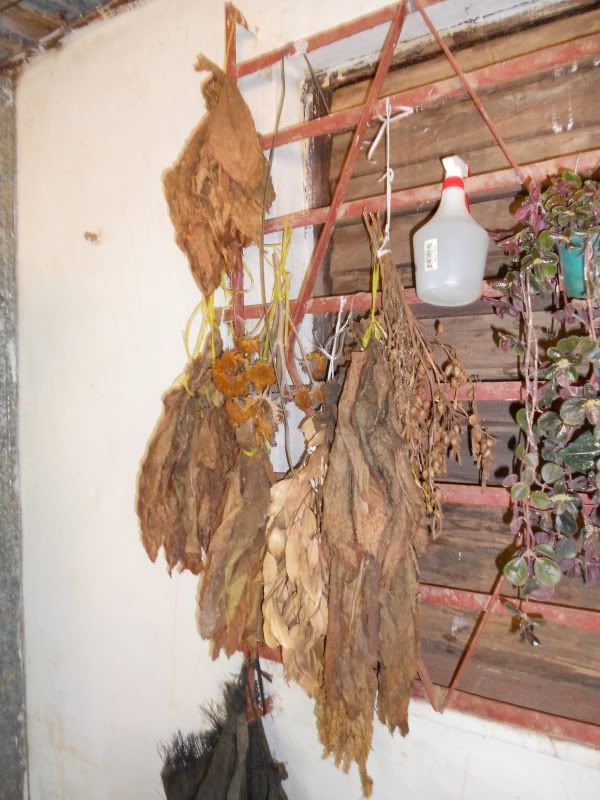 Tobacco drying on the patio
Veggies displayed on the patio
A cat who joined Jesse during the video and intro
In Cuba you can't go to Wal-Mart to buy a broom
A dog hanging out near the patio
A wheelbarrow of coconuts
Franchi's patio had a sign that said:
Para estos Productores Cubanos, el mecanismo hidroregulador del tiempo de riego es una innovacion porque partiendo de la inventiva y creativid personal se creo para programa el tiempo de riego exacto en cualquier superficie de terrano. La idea se concibio como repuesta a la necesidad de resolver un conflicto sobre el deficit en el volumen de agua total respecto a la media historica y el uso indiscriminado de este recurso natural por parte de los productores de so comunidad.

Las tecnologias utilizadas son una combinacio de hidraulica con balanza y contrapeso que hacen que una valvula hidraulica abra y cierre en el tiempo programado.

Hoy dia esta mecanismo esta declarado patrimonio de la humanidad, teniendo en cuenta que en Cuba cada dia hay menos agua y menos combustible para generar energias. Permite un ahorro del 60% del agua que se usa en el proceso de cultivo, ya que se programa y no gasta energia para realizar esta operacion, pues funciona solo con agua. Economicamente es muy rentable, ya que el equipo se construye con material desechable a excepcion de la valvula de tiro rapido. Aumento el rendimiento de la cosecha.

Segun los autores, este mecanismo es de facil reproduccion ya que puede ser construido en cualquier comunidad por una persona que tenga el minimo de conocimiento. Su peso es de 6.5 Kg, trabaja con la presion del agua ascendente a una atmosfera y puede regular el tiempo de riego desde 30 segundos hasta 24 horas. No obstante, se puede adaptar en tiempo y espacio para cualquier capacidad de agua.
Franchi's farm was teeming with life in every possible way. While checking out his tropical flowers, I noticed a snail and a bright green lizard. Later, while walking around, we saw lettuce, tomatoes, cucumbers, noni, cherimoya, celery, onions, papaya, eggplants, coconuts, goats, and more. Franchi's inventiveness was also apparent all over his farm. He started his plants in cement trays like all of the other Cuban farms we saw, but he balanced these trays on metal pipes. Under the pipes he grew lettuce and cucumbers, thus using the space for two crops at once. He also had a wind turbine and some solar panels. Elsewhere, we saw him letting lettuce go to seed so he could save his seeds.
Another cat who joined our tour
Lizard hanging out near the patio
Tropical flower
A goat under a tree
Franchi propagating fruit tree cuttings (using his irrigation device)
Plant starts growing above plants that do well with partial shade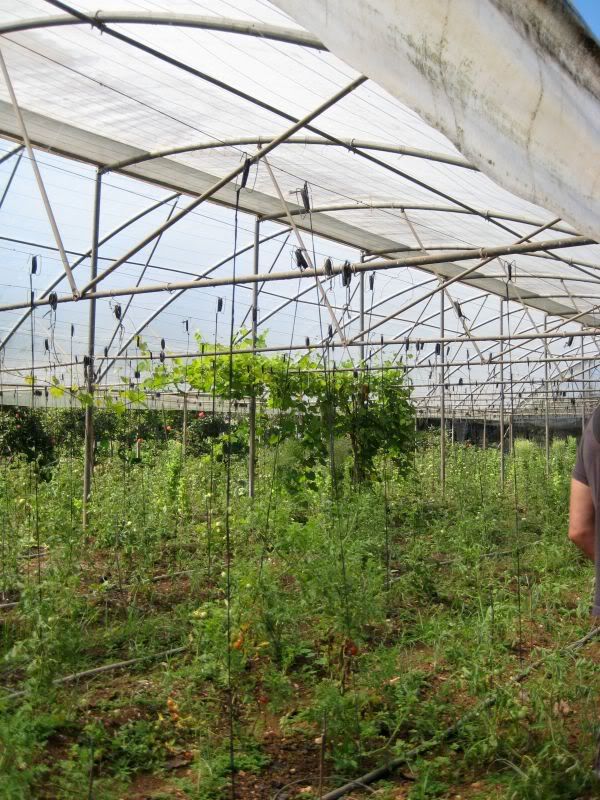 Check out how he staked his plants. Pretty cool!
Tomatoes growing together with onions
Lettuce growing next to tomatoes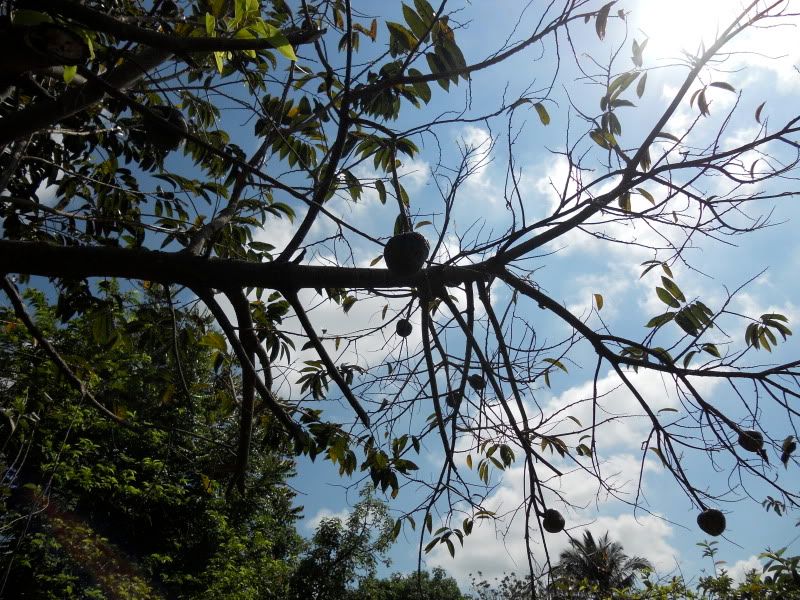 Cherimoyas growing on a tree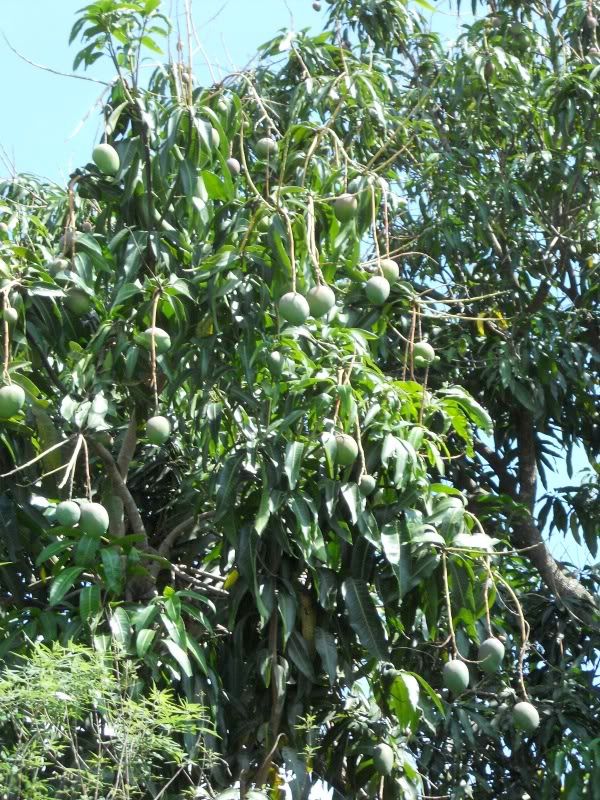 Guava tree
Noni tree
Lettuce going to seed
Solar panel
Wind turbine
Upon returning with us to his patio, Franchi invited us to try his coffee and his guava juice (spiked with rum if we wished) and a vegetable dip on some bread. Of course, it was delicious.
Franchi's coffee
Our snacks
Next up was the city of Rodas in Cienfuegos province, where we visited a diversified farm called Barrueta. The farm was 8.28 hectares, including 100 avocado trees, 70-80 papaya trees, 50 coconut palms, guavas, bananas, tomatoes, peppers, peanuts, coffee, taro, corn, rice, sugar, and plenty of livestock (from the usual ones like horses, dairy cows, pigs, sheep, chickens, and rabbits to some more unusual varieties like doves, tree rats, and a turtle). But for all of its diversity, I will always remember this farm for two things. First, the birds. The farmer apparently loved birds because his patio was full of lovebirds, cockatiels, and many more species I did not recognize. Second, the machines. He had invented and built a number of machines to process his crops. With his machines, he turned waste products into valuable livestock feed. Perhaps it was because of his ingenuity that the government declared his farm a "National Reference Farm" (a coveted title conveying excellence and encouraging other Cuban farmers to follow his examples).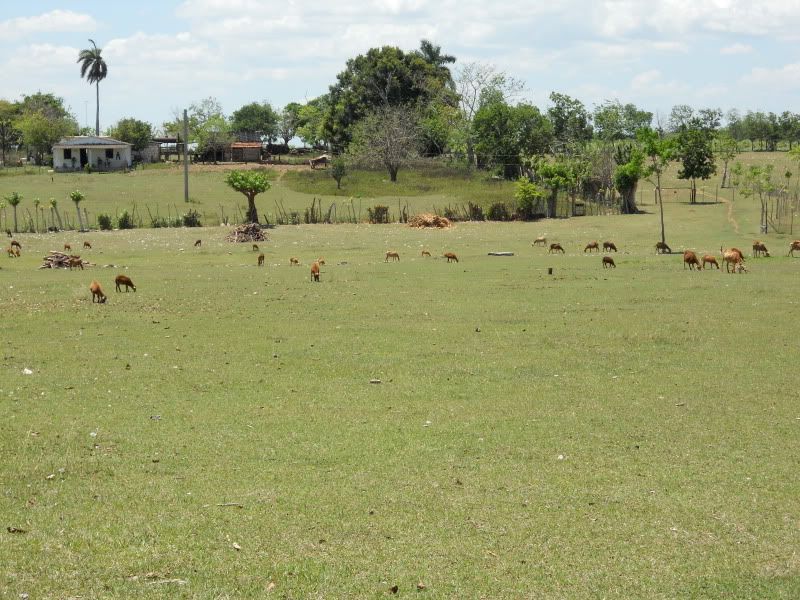 Sheep grazing in pasture
This farm actually had a tractor... some farms used teams of oxen instead
Lovebirds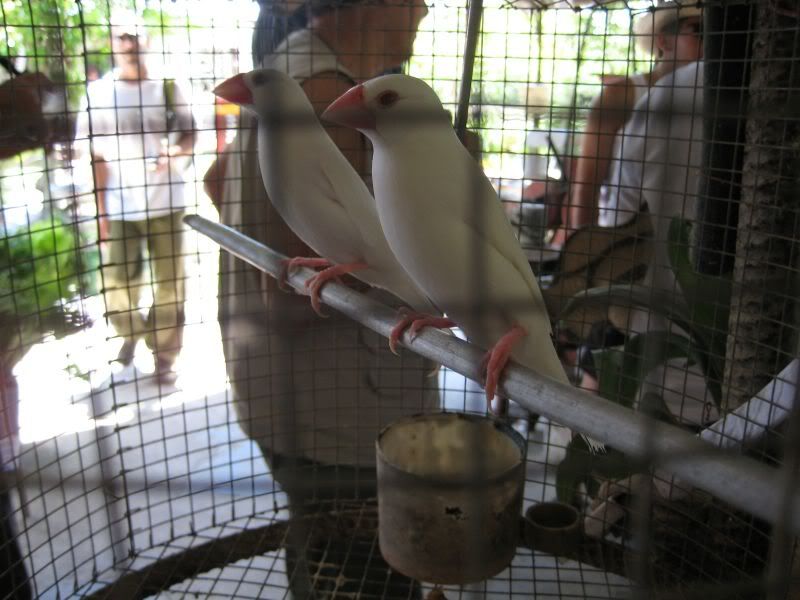 Tree rat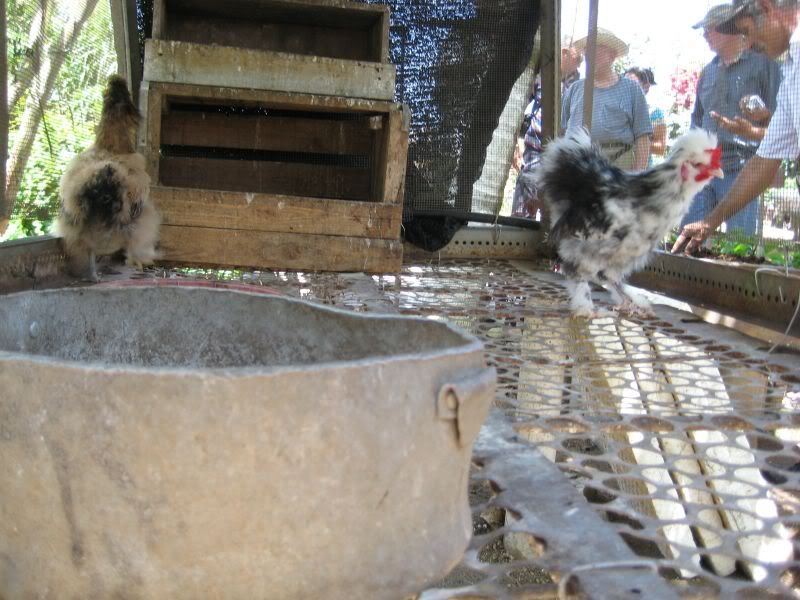 Crested chickens
The patio
Me with my favorite plant (coffee)
Pig in a cage (the farmer kept only his pigs in a cage to keep them from rooting in his pasture)
Taro
The farmer used one machine to extract cane juice from his sugar cane and another to peel peanuts. (The machine did not collect the shells of the peanuts, but the dark brown papery peels around the peanuts within their shells.) Then he mixed the two products together to form one type of animal feed. He also had a machine to remove the husks from rice and another to process corn. Crop debris he could not process into animal feed became mulch in his orchards. Similarly, animal manure was used for compost. He also showed us his worm compost – "lombricultura" in Spanish (lombriz means worm).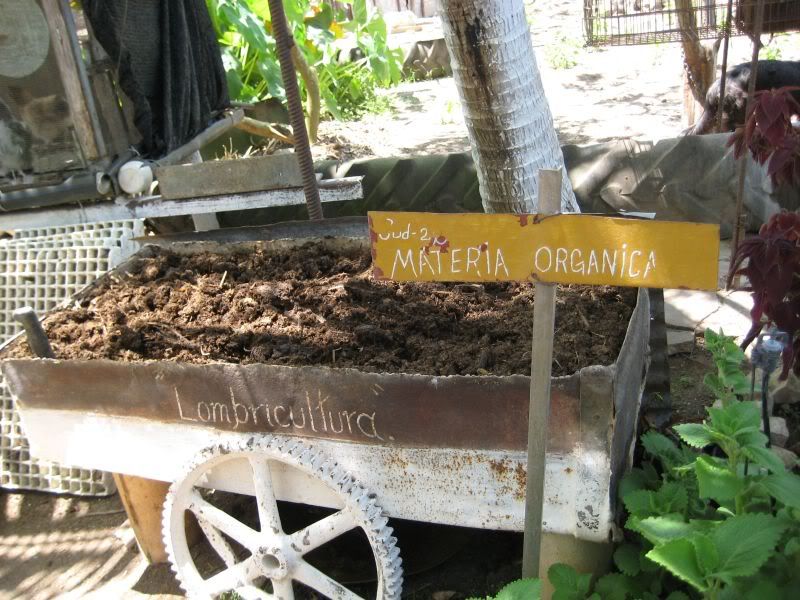 Worm compost
Like the previous farm, he offered us an enormous spread of tropical fruit, drinks, and sandwiches before we left. We took silly pictures of one another drinking out of coconuts through straws made from another type of plant. The pineapple juice was so delicious that I did not even recognize it as pineapple juice until I tasted the pineapple, which was equally heavenly (and far superior to any pineapple I've tasted in the U.S.). We were having a late lunch that day, but the snacks from the farms were so far superior to anything we were served in a restaurant that I doubt anyone cared.
Coconut palm
Pineapples, guavas, coconuts, pineapple juice, and oranges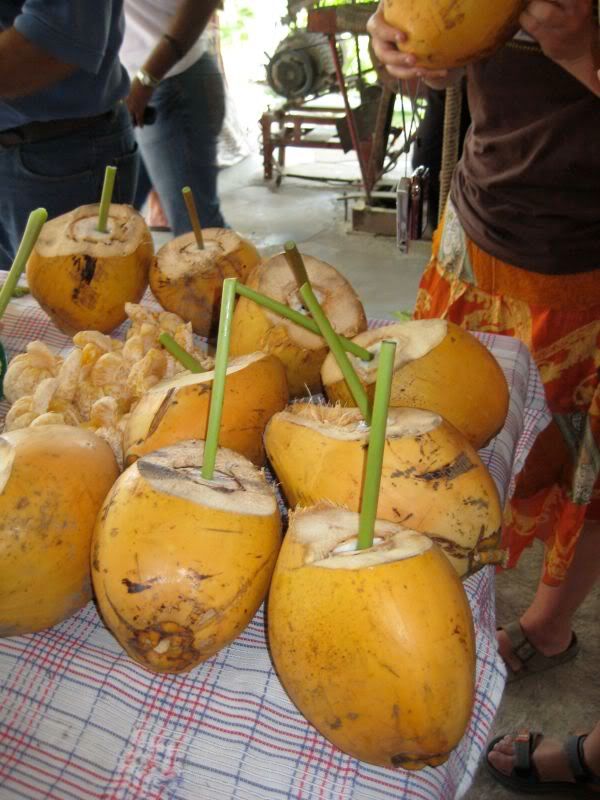 Coconuts with plants as straws
Luz (my friend from Colombia) and I drinking coconut water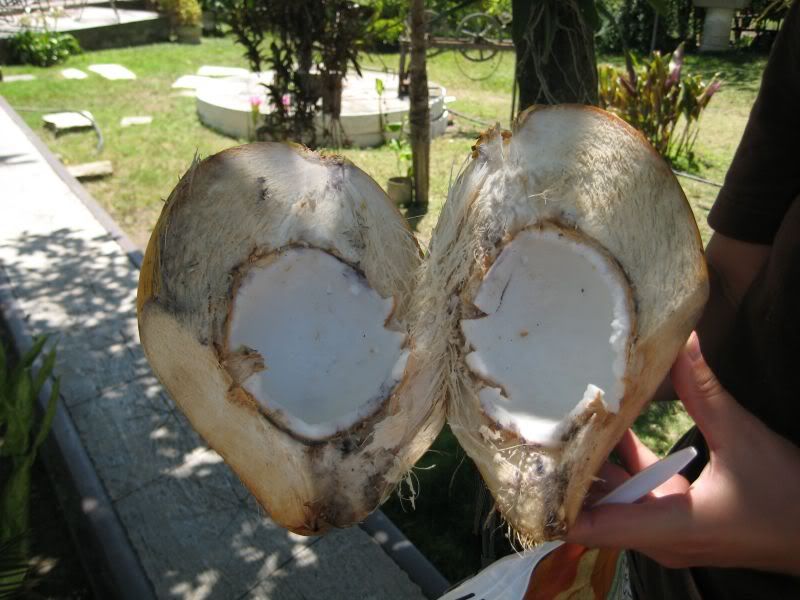 The inside of the coconut
From there, we drove to the province of Villa Clara where we visited an organipónico called Patria ("Homeland") in the capital city of Santa Clara. The organipónico was truly in the city, surrounded by what I assumed were apartment building and next to several carnival rides. They produced fruit and vegetables for the surrounding community and a nearby daycare and they were awarded the title of Best Producer in their province by the Cuban Association of Technicians of Agriculture and Forests (ACTAF). This organipónico was founded in 1995 and it consisted of 1.2 hectares, 792 square meters of which was semi-covered with a shade cloth.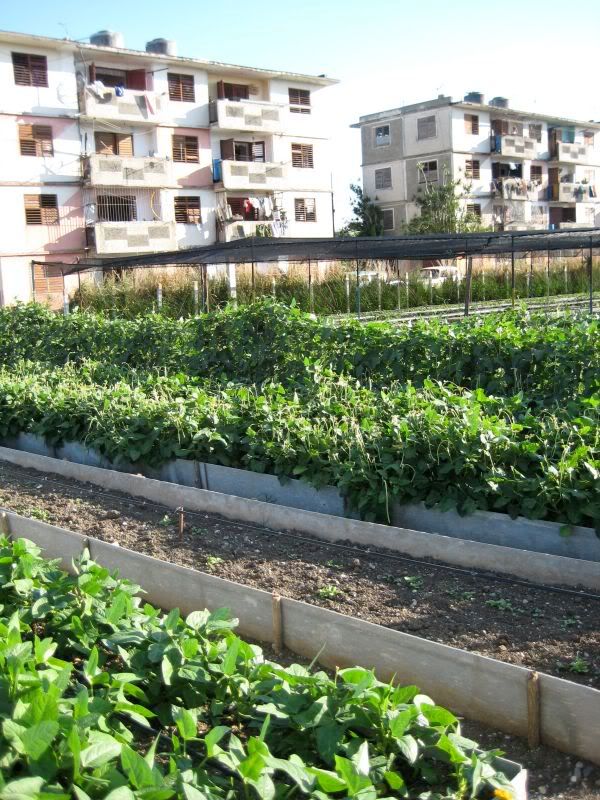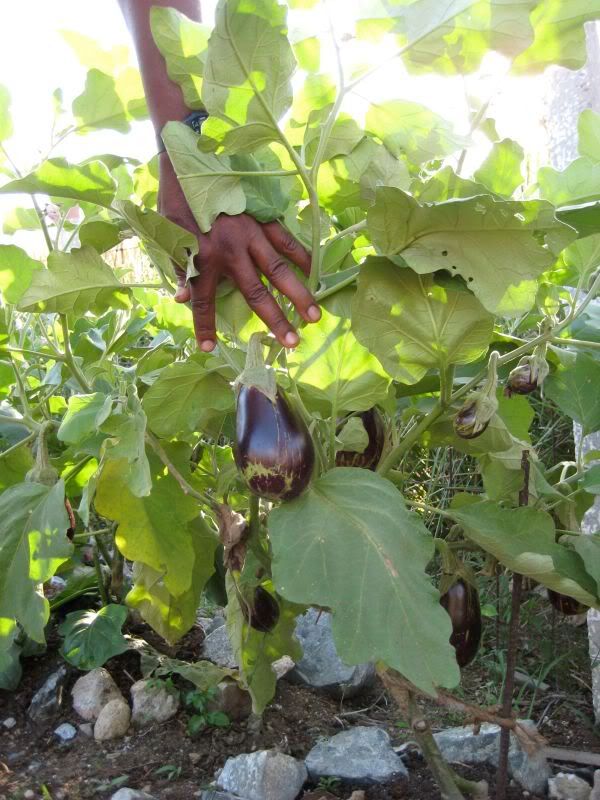 Eggplant
A candid shot of our group looking at the farm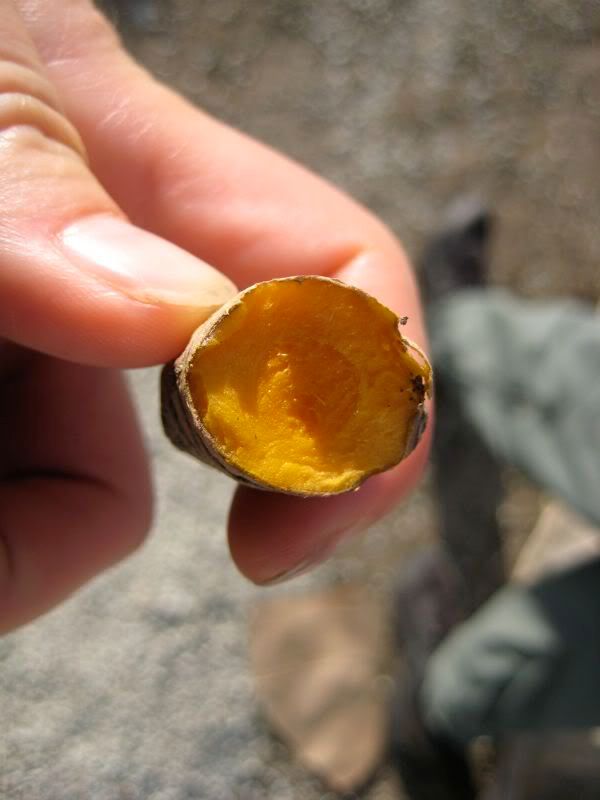 Turmeric
The six workers at Patria grew 18 different types of vegetables to sell as well as some ornamentals that were not for sale. We walked around, seeing the same crops we had seen at other sites. Here they grew the same strange variety of spinach that we had seen at every other farm in Cuba. It looked nothing like the Bloomsdale spinach growing in my own garden, and at first I had a hard time believing it was actually spinach (after all, my Spanish is not terrific… perhaps espinaca means something other than spinach?). When we saw this strange spinach at Patria, a friend on our tour said, "It tastes like spinach but it looks like a sea creature!"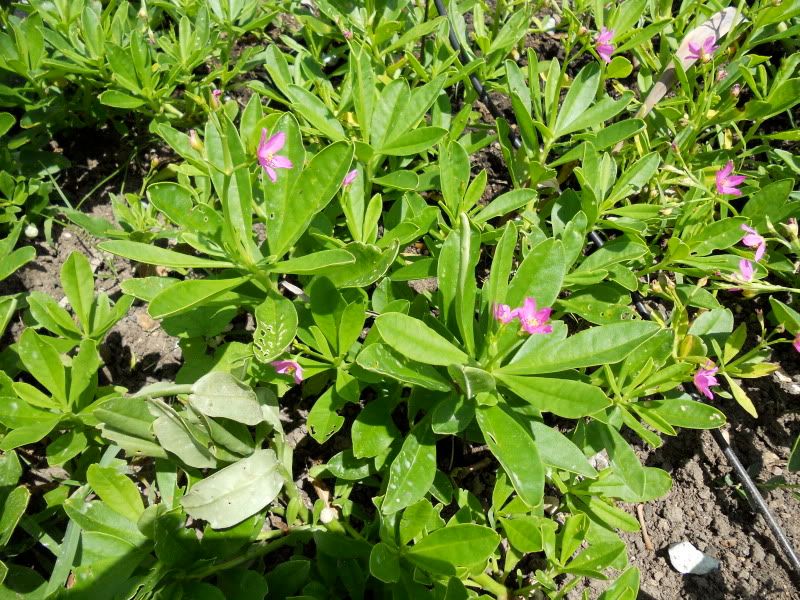 Spinach
Our guides at Patria told us they never used chemicals, only biological products like worm castings, Bt (a bacteria that is used as a pesticide in organic farming), trichoderma, trichogramma (a parasitic wasp that kills pests), and ladybugs. When a member of our group asked if they had a neem tree, our tour guide told us that practically every farm in Cuba had at least one neem tree to repel pests.
The compost pile
My favorite part of Patria was the "seed warehouse" – a small area (1' x 3' or so) where the farmers had buried bottles of saved seeds. In these bottles, underground, the seeds would keep for up to 4 years. The tops of the bottles poked out above the soil and each was labeled with a metal tag bearing a number to identify its contents. The farmer kept the entire "warehouse" covered, and no one who visited would ever suspect its presence. As we looked at it, a member of our group asked if vandalism or theft was a problem in such an urban setting. No, was the reply, because the people in the community rely on the organipónico for their food. They feel as if it is theirs, as if they have a stake in it. They would no sooner vandalize it than they would vandalize their own houses.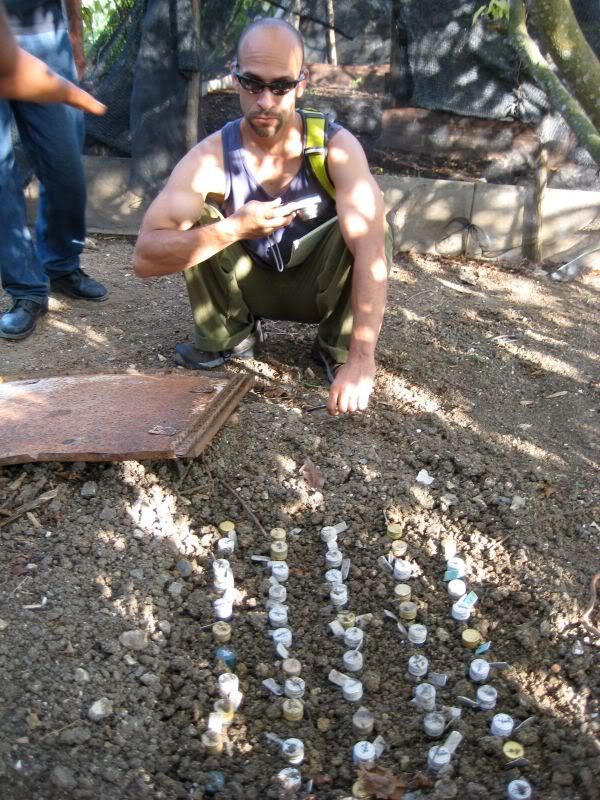 Jesse looking at the seed warehouse
List of prices for food at Patria. These prices are most likely in "local pesos" which are each worth about 4.5 cents. I'm pretty sure there are decimals in there, making the prices $1.00, not $100
Our visit to Patria ended with more tropical fruit and coconut water. As we visited with the workers, our tour guides, and each other, I mentioned my love of mangos to one of the Cubans mingling with our group, and he handed me two mangos to take with me. Unfortunately, my visit to Cuba did not coincide with peak mango season, which occurs in July and August. (And after experiencing the heat and humidity of May, I would never dream of visiting in July and August).
A candid shot of me with a coconut
Margaret and Luz with coconuts
After our long day of travel, our bus driver finally brought us to our hotel in Villa Clara. It was a gorgeous hotel, scattered around large grounds covered in tropical vegetation. Among the royal palms and other tropical plants were little bungalows with thatched roofs, each containing two rooms (one upstairs, one downstairs). Our hotel room came with very comfortable beds, a well-equipped bathroom, air conditioning, and a frog and a lizard.
Frog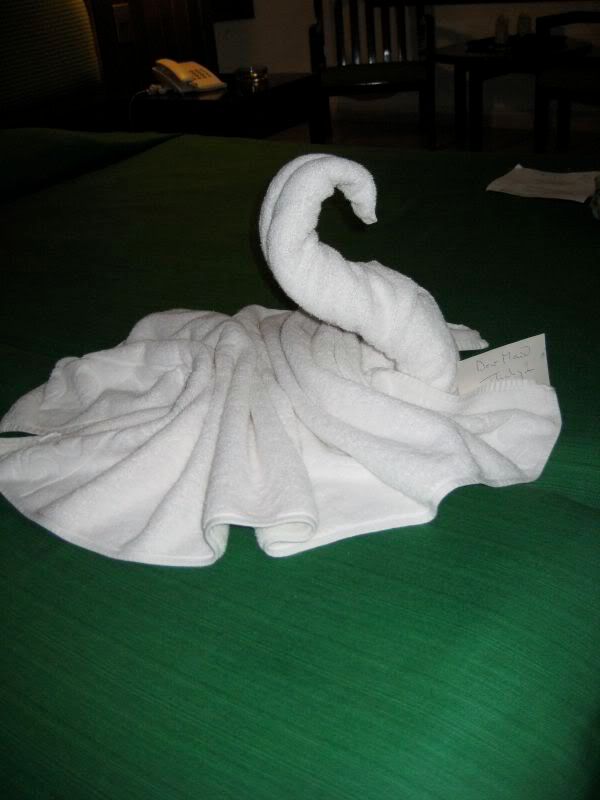 The towels, artfully arranged on our bed in the hotel
For dinner, instead of a buffet, we ordered off a menu. The options were meat, meat, and meat (mostly). I ordered black beans (which were not on the menu, but the waiter took pity on me) and fried plaintains. Unfortunately, the fried plantains were not the sweet variety I've had in Cuban restaurants in the United States; instead they were crispy and savory like banana chips. After dinner, much of our group went to the hotel's "disco" (a smoky room full of loud music and trashy looking European tourists) and I used the very slow hotel internet, posting one blog post and replying to a few emails before giving up and going to bed.