Hola from Mexico! I'm in Cancun with 4 of my fellow Cuba travelers, shacking up together in a free room at the Marriott courtesy of my former employment in corporate America and all of the Marriott points I accrued during that time. We're right on the beach and the water is warm and perfectly aqua blue. It's quite a shock after 10 days in Cuba.
Below is the first of my photos and writing about my trip to Cuba. I will continue to share about all 10 days of the trip, during which time we explored much of the island, visited many urban farms and gardens, and got to know quite a few Cubans.
Day 1: Havana
Our journey to Cuba truly began as we boarded Cubana airlines flight 153 from Cancun. Although we were still in Mexico, the Russian signs adorning the plane were the first hint that we were headed for a Communist country (and for that matter, one that America does not trade with). Later, others told me that the name of the plane's model was "The Yak." Other than that, I did not expect this flight to be any different than any other flight. As we began to taxi, I saw smoke rise from the floor a few rows ahead of me. Shit. What was going on, and why was no one paying attention? Should I call a flight attendant? The girl next to me, also a member of my tour group, told me that the mist (not smoke) was normal. She had been to Cuba once before. Apart from the mist at take off and landing and of course the Russian, there was nothing that made the flight seem particularly different or Cuban.
Boarding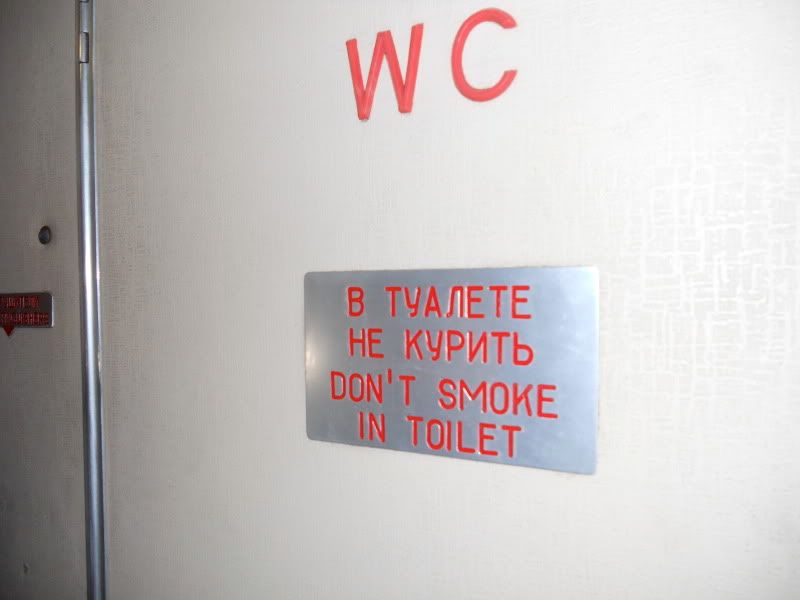 Russian sign on our Cuban plane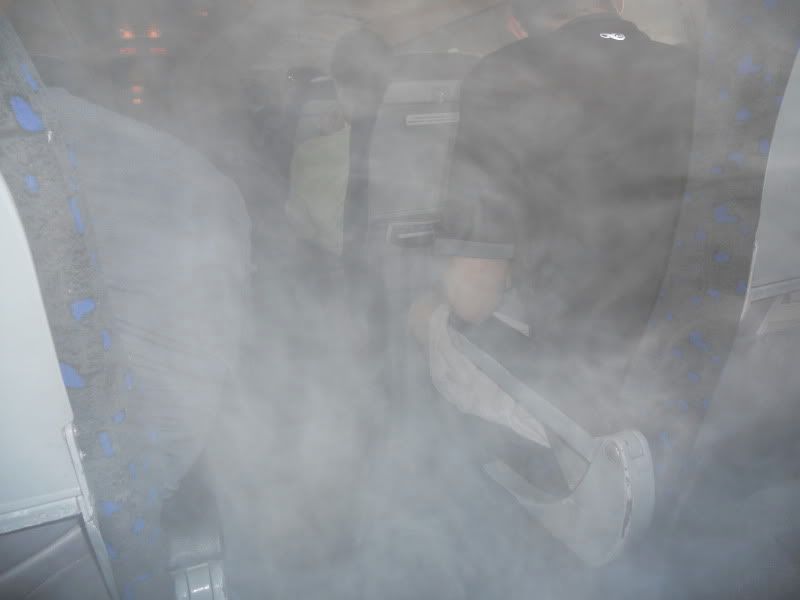 Mist during the landing
Customs in Cuba was a breeze – for me. I waited in line, showed my passport, let them X-ray my bags, picked up my luggage from the carousel (which was unbearably noisy in a fingernails on chalkboard sort of way), answered a few questions about myself and my visit to Cuba (My name, my profession, and my hotel in Cuba) and that was it. "Welcome to Cuba," said the customs agent. I looked flustered, thinking he said "Why come to Cuba?" and tried to think how I could explain the difference between Cuban and American agriculture in Spanish. "Welcome to Cuba," he repeated, smiling, and gestured towards the door. So, with my two rolling bags (one full of donations to Cubans), I went through the doors and entered Cuba. The only unique thing I noticed were the car tires on the luggage carousel. I guess in most countries you can just buy tires if you want tires and you don't need to bring them with you as checked luggage on the plane.
In the airport, I was greeted by a woman named Sara Daisy. She would be one of our guides for the trip. In turn, she introduced me to a second guide for the trip, Michelle. Sara was Cuban, working for a Cuban tour company. Michelle was American but had lived in Cuba for decades. Thankfully, both were bilingual. Another member of the group soon arrived and joined us. Not long afterwards, we were instructed to go with a man to our bus. We followed him to a parking lot filled with identical tour buses and boarded the bus. Then we waited… and waited… and waited.
As we waited, we saw person after person arrive in the parking lot with their bags. Most appeared American (although, unless they were breaking the American law or a flood of Americans had gotten Cuban visas, they were likely Canadians) but none were from our group. Finally, our group all arrived together. There were 12 of us in all, plus the tour guides. Others had trouble in customs because we all arrived on tourist visas but we came to attend an international agriculture conference. A lesser problem was a new law requiring Americans to buy health insurance while in Cuba. Our trip fare included the fee, but as the law had only gone into effect this week, it was causing chaos in customs. With everything resolved, we were finally on our way to the hotel.
The view out the window between the airport and Havana (La Habana in Spanish) was wonderful. We passed farm after farm after farm. Most were small, the size of very large gardens. Many had raised beds, each about one meter wide and many meters long. I noticed mango trees and vowed to aspire to an all-mango diet during my time in Cuba. And I saw animals, mostly goats, horses, and cows. As we approached Havana's "Vedado" (Forbidden) area, the views of farms abated and instead we saw architecture that gave away some of the city's history. The buildings ranged in appearance, some built in the Victorian, Beaux Artes, and Art Deco styles of decades before the Revolution, and others similar to the Soviet-style buildings I've also observed in Eastern Europe. The Vedado area, where our hotel was located, borders the ocean. The name comes from the 16th century, when building in the Vedado was forbidden to allow residents of Havana to see any pirates approaching.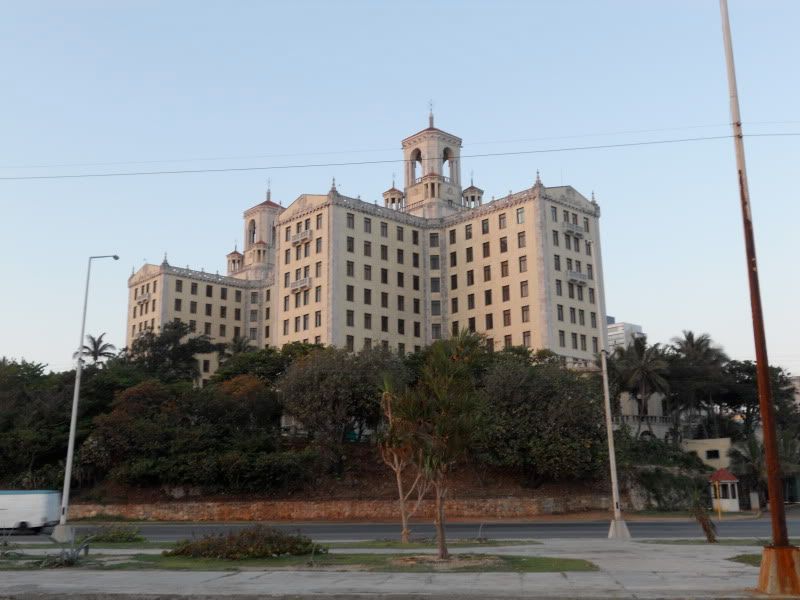 Hotel Nacional
The hotel's entrance
A closer view of the hotel entrance
The hotel, it turns out, is the nicest hotel in all of Cuba. The National Hotel of Cuba, a historic hotel with the grandeur and elegance of the 1930's. It fit well with the antique cars on the road, evoking an earlier era that I only know from movies. The bus stopped in front of an enormous entrance with columns and a marble staircase, an impractical setup for a hotel where every guest came with luggage. Perhaps the stairs were more practical before suitcases had wheels. Inside I noticed framed pictures of movie stars who had stayed at the hotel, including Americans who likely broke the law to come here. Any hostility the Cubans held against America or its government was certainly not extended to its movie stars. Our room – I shared with a food writer from Canada – was also decorated in the style of a previous era, complete with an ashtray. After a few days in Cuba, I realized that the ashtray was in the room as a practical measure and not as an antique. Nobody thinks twice about smoking indoors in Cuba. Everything in the room was entirely normal for a hotel – furniture, a TV, lamps, little bottles of shampoo, etc. The only difference (aside from the décor) was the number of pillows. I can't remember the last hotel that only provided one pillow per bed, as this one did.
After dropping our luggage in the room, we went downstairs to meet the group for our orientation meeting. We went out the back door to an elegant patio and sat down, facing the ocean. Almost immediately, a man named Chuck joined us. He was the elusive 13th tourist in our group, and we had not yet met him because he flew in the day before from Montreal. A nearby waiter must have read my mind because he approached us and asked if we would like beer or mojitos. Yes, please. One mojito, por favor, and more if I can hold my liquor (which is not a particular skill of mine).
The Hotel Patio
A few minutes later, I got my first sip of a real Cuban mojito. Other than soda water, which I assume is not particularly local to Cuba, the drink is perfectly Cuban: rum, sugar, mint, and lime. I suppose that any number of other islands in the Caribbean could boast the same local ingredients, but I believe rum was invented here (does the name Bacardi ring a bell?).
Mojito
Then the waiter presented our bill, seven pesos. Crap. Neither of us had changed money yet, a task I was awaiting with dread. Cuba gets its revenge on the U.S. when Americans who visit change money: they skim 20 percent off the top of every transaction. I could have first changed my dollars to Euros or Canadian dollars, but I wasn't sure if the loss from converting my money twice (to Euros or Canadian dollars and then to pesos) would be greater than the loss from converting from dollars directly to pesos. I was probably silly to bring dollars to Cuba but it was too late. Chuck saved us by picking up the bill. He had changed money the day before.
The remainder of our group joined us and we followed our guides away from the hotel, past a beautiful fountain with sunflowers floating in it, to a table with a breathtaking view of the Cuban sunset against the backdrop of palm trees. The Royal Palm is the official tree of Cuba. While we introduced ourselves and received the most updated form of our trip itinerary, I noticed a few guineas walking around hotel grounds. Guineas are native to Africa, but they are kept on farms around the world for pest control. Like chickens, they will eat bugs, but unlike chickens, they won't eat your crops too. What were they doing at the hotel? From the little I know about guineas, it's unlikely that they were lost. Our hotel has its own flock of guineas, I guess.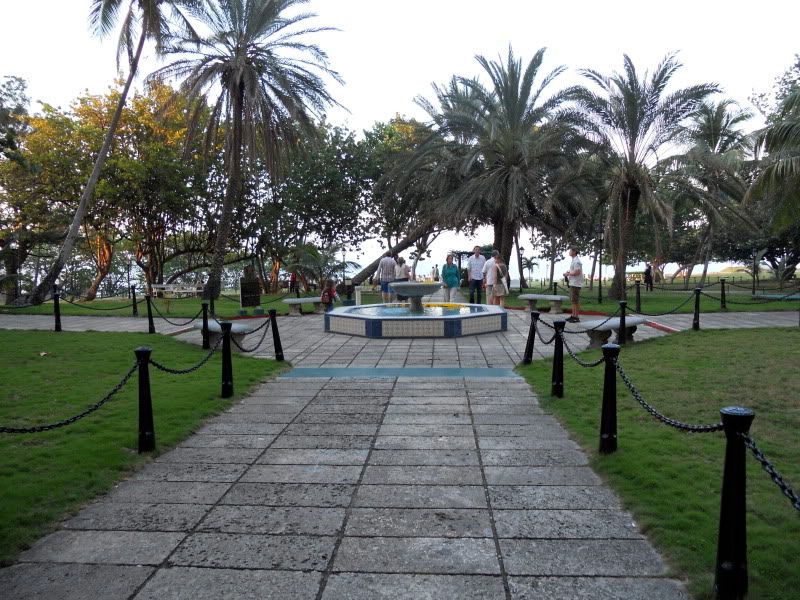 Fountain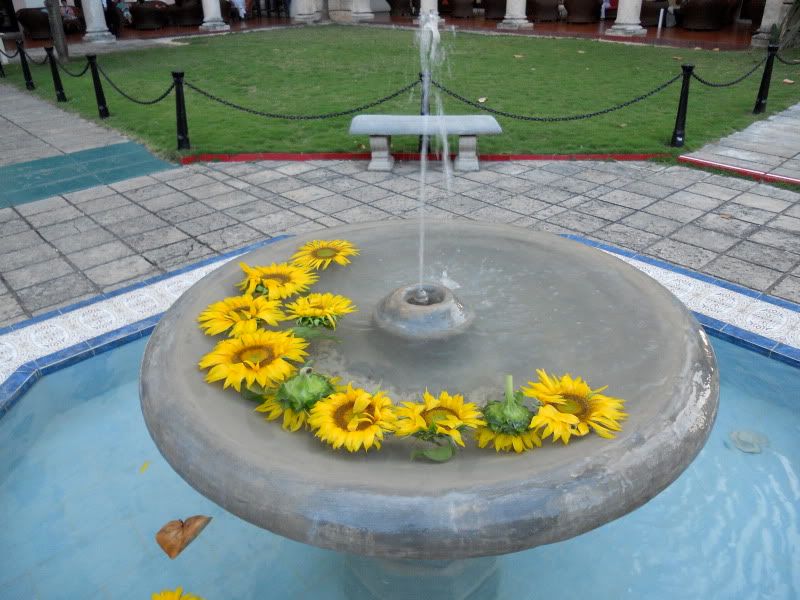 Fountain
Sunset
After our meeting, at long last, we went to the hotel's buffet for dinner. Our group contains several vegetarians, and the standard Cuban diet is anything but vegetarian. Therefore, the trip planners chose this hotel specifically for its buffets, which offer many vegetarian options. I can't stand buffets as often the food is cold by the time you eat it, and I'd honestly rather eat an authentic Cuban meal with meat than a non-Cuban vegetarian meal from a buffet. I'm hear to experience the culture and if that means eating meat, particularly if it was not factory farmed (as I doubt much meat here is), then I'll do it. That said, I had little choice about the hotel buffet, so I ate it.
From the buffet, I chose vegetarian paella, a few cheeseless varieties of pizza, fresh fruit (no mangos), a few vegetables including a white sweet potato, a rather bland winter squash, and a very chewy piece of eggplant, and a "chickpea soup" that I realized after the fact had meat in it. The meal was not good, but it filled my stomach. To make sure I would not be hungry later (which was perhaps an excuse to eat extra junk), I helped myself to a second serving of dessert, a brownie-ish item and something that tasted like coconut.
And thus, I ended my first day in Cuba. Upstairs, I took a shower, read for a bit, and went to bed. Normally I'm a night owl, but Cuba – with its lack of oil – uses compact fluorescent lights exclusively, and they give me migraines. I was eager to turn off the lights and close my eyes before my head hurt worse than it already did. Before leaving the hotel in Cancun, I downloaded all of my favorite U.S. news shows – the last news I would get for two weeks – onto my iPod. Now I turned on Rachel Maddow to listen as I fell asleep. I lasted only 15 minutes before nodding off. Apparently the lack of multiple pillows did not bother me very much.